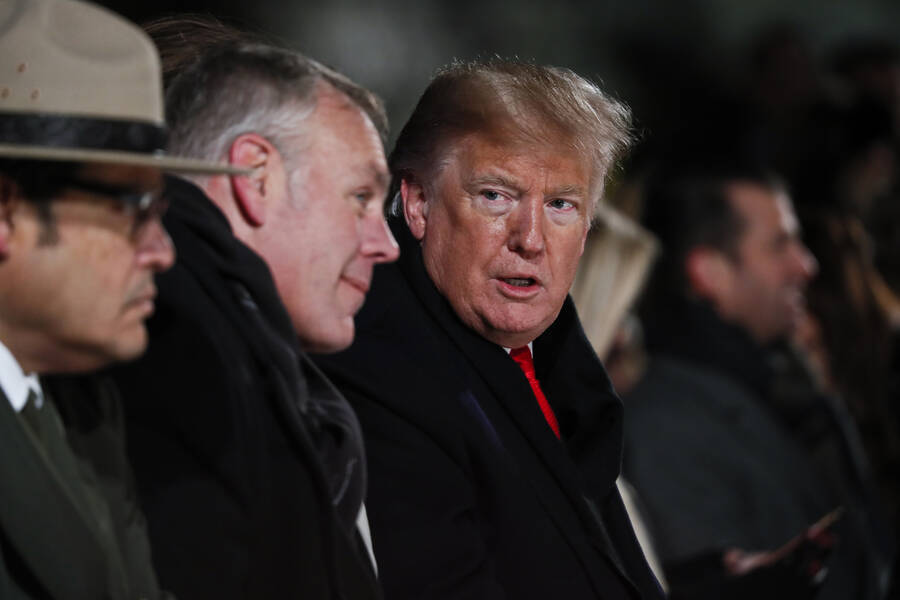 A new report by the Union of Con­cerned Sci­en­tists lays out in shock­ing detail the scale and depth of the Trump administration's assault on sci­ence and scientists.
At the highest levels of government, deep-pocketed polluters have friends ready to implement their agendas. The attack on science must be seen in this context.
It describes how the Inte­ri­or Depart­ment has sin­gle-mind­ed­ly pur­sued an agen­da of hand­ing over the pub­lic lands it man­ages to oil and gas and oth­er pol­lut­ing and extrac­tive indus­tries, brush­ing aside con­cerns raised by its own sci­en­tists about cli­mate change and oth­er ecosys­tem impacts.
Lead­er­ship at Inte­ri­or has dis­band­ed sci­en­tif­ic advi­so­ry com­mit­tees, attempt­ed to alter the con­tent of reports that men­tion cli­mate change, and placed a polit­i­cal appointee with no sci­en­tif­ic degree as gate­keep­er for all sci­ence grants of over $50,000. They've end­ed research projects on the health effects of moun­tain­top removal coal min­ing and on safe­ty inspec­tions of off­shore drilling, with­out con­vinc­ing explanations.
They've pushed reg­u­la­to­ry changes to weak­en endan­gered species pro­tec­tions with utter dis­re­gard for sci­en­tif­ic evi­dence. They've retal­i­at­ed against agency sci­en­tists who've blown the whis­tle on these attacks. And in one par­tic­u­lar­ly egre­gious instance, Sec­re­tary Ryan Zinke per­son­al­ly berat­ed the super­in­ten­dent of Joshua Tree Nation­al Park for tweet­ing about cli­mate change.
In the ash­es of California
The report comes fol­low­ing cat­a­stroph­ic wild­fires in Cal­i­for­nia. On top of the 88 known deaths from the recent Camp Fire, many are still miss­ing, and almost 14,000 homes have been destroyed. Cal­i­for­nia was also dev­as­tat­ed by fire last year, and so was the Pacif­ic North­west more recently.
The fires are becom­ing more severe and fre­quent. Since Cal­i­for­nia start­ed keep­ing wild­fire records in 1932, five of the 20 largest wild­fires (mea­sured in acres affect­ed), five of the 20 dead­liest (in terms of fatal­i­ties), and nine of the 20 most destruc­tive (in terms of prop­er­ty dam­age) have occurred just over the last five years. The Camp Fire is num­ber one on two of those lists.
Human suf­fer­ing on this scale is not unavoid­able. And con­trary to Pres­i­dent Trump's insis­tence, it has noth­ing to do with rakes.
While indi­vid­ual fires can have nat­ur­al caus­es, large-scale human activ­i­ty has a pro­found influ­ence on the fre­quen­cy and destruc­tive­ness of fires. The main human influ­ences are cli­mate change and reck­less overdevelopment.
As human emis­sions of green­house gas­es warm the plan­et, veg­e­ta­tion is dried out and becomes like­li­er to burn. Increased water scarci­ty, also attrib­ut­able to cli­mate change, mag­ni­fies this effect — after all, it's much hard­er to burn wet­ter, sog­gi­er wood.
With lax reg­u­la­tion of land use and the result­ing sprawl, more peo­ple are liv­ing, work­ing or trav­el­ing through areas in close prox­im­i­ty to expans­es of wilder­ness that are at high risk from wild­fires. In the words of cli­mate sci­en­tist Daniel Swain, the impacts of cli­mate change and overde­vel­op­ment ​"are hap­pen­ing simul­ta­ne­ous­ly and ampli­fy­ing each oth­er's effects."
A gov­ern­ment-wide epidemic
In keep­ing with the anti-sci­ence zealotry on dis­play at the Inte­ri­or Depart­ment, Pres­i­dent Trump lied about for­est mis­man­age­ment being the prime cause of wild­fires. And his Sec­re­tary Zinke him­self has dis­missed legit­i­mate ques­tions about under­ly­ing caus­es as attempts to ​"point fin­gers."
These deflec­tions are any­thing but crude — in fact, they fit into a well-planned agen­da of cen­sor­ing sci­ence and silenc­ing scientists.
And it's not only at the Inte­ri­or Depart­ment. Trump says he does­n't ​"believe" a painstak­ing­ly researched recent report by his own government's sci­en­tists doc­u­ment­ing the dev­as­tat­ing impact of cli­mate change on the Unit­ed States. And his EPA direc­tor, a for­mer coal lob­by­ist, implic­it­ly threat­ens to med­dle with future gov­ern­men­tal cli­mate sci­ence assess­ments by cast­ing doubt on ​"the assump­tions" that pro­duced pri­or cli­mate assessments.
This dis­re­gard for sci­ence shows up in real pol­i­cy pro­pos­als, not just press statements.
The EPA and the Nation­al High­way Traf­fic Safe­ty Admin­is­tra­tion are propos­ing a roll­back of auto­mo­bile fuel econ­o­my stan­dards, based on analy­sis that a recent sci­en­tif­ic paper char­ac­ter­izes as ​"mis­lead­ing," ​"at odds with basic eco­nom­ic the­o­ry and empir­i­cal stud­ies," and rife with ​"fun­da­men­tal flaws and inconsistencies."
By freez­ing fuel econ­o­my improve­ments between 2020 and 2025, the pro­pos­al will direct­ly lead to more green­house gas emis­sions, dirt­i­er air and more adverse health impacts. And Amer­i­cans will pay more at the pump.
Mean­while, the Fed­er­al Emer­gency Man­age­ment Agency (FEMA) — the very agency that is tasked with respond­ing to the dis­as­ters that are becom­ing the new nor­mal in our cli­mate-changed world — has delet­ed the words ​"cli­mate change" from its strate­gic plan.
Across many agen­cies, in fact, cli­mate sci­ence is being cen­sored from gov­ern­ment web­sites. The prob­lem is government-wide.
Fol­low the money
This is like a return of the Inqui­si­tion. But unlike the Inqui­si­tion in the time of Galileo, the U.S. government's polit­i­cal­ly moti­vat­ed attack on sci­ence is not (or at least, not sole­ly) moti­vat­ed by ide­o­log­i­cal antipa­thy to sci­ence. Rather, it's intend­ed to serve the mate­r­i­al inter­ests of polluters.
That fact was made plain by a recent New York Times report on the exten­sive cam­paign by oil com­pa­nies like Marathon and the Koch net­work to roll back those auto­mo­bile fuel effi­cien­cy stan­dards. The administration's pro­posed cuts end­ed up being so severe that they sur­prised even the automak­ers who had request­ed more flex­i­bil­i­ty in imple­ment­ing the stan­dards. They're designed to Make Oil Barons Rich Again at the expense of just about every­one else, and the plan­et we live on.
But there was ample evi­dence even ear­li­er. In one par­tic­u­lar­ly plain case, coal baron Robert Mur­ray con­tributed to the president's inau­gu­ra­tion — and hand­ed Ener­gy Sec­re­tary Rick Per­ry a pol­i­cy agen­da, which the admin­is­tra­tion is fol­low­ing to a T, or at least try­ing to.
At the high­est lev­els of gov­ern­ment, deep-pock­et­ed pol­luters have friends ready to imple­ment their agen­das. The attack on sci­ence must be seen in this context.
With­out sci­en­tif­ic data, it's hard­er to doc­u­ment and mea­sure the dam­age that fos­sil fuel use and oth­er pol­lut­ing activ­i­ties are doing to peo­ple and the plan­et — and hard­er to jus­ti­fy strict reg­u­la­tion of pol­luters. Cen­sor­ing sci­ence on harm­ful envi­ron­men­tal impacts of pol­lut­ing indus­tries direct­ly helps these indus­tries make more money.
And that's pre­cise­ly why the fed­er­al gov­ern­ment is attack­ing science.
Basav Sen
is the cli­mate jus­tice project direc­tor at the Insti­tute for Pol­i­cy Stud­ies (IPS) and writes on the inter­sec­tions of cli­mate change and social and eco­nom­ic jus­tice. Pri­or to join­ing IPS, Basav worked for
11
years as a cam­paign researcher for the Unit­ed Food and Com­mer­cial Workers.