It's Not Just About Deportations: Trump Wants To Create a Permanent Underclass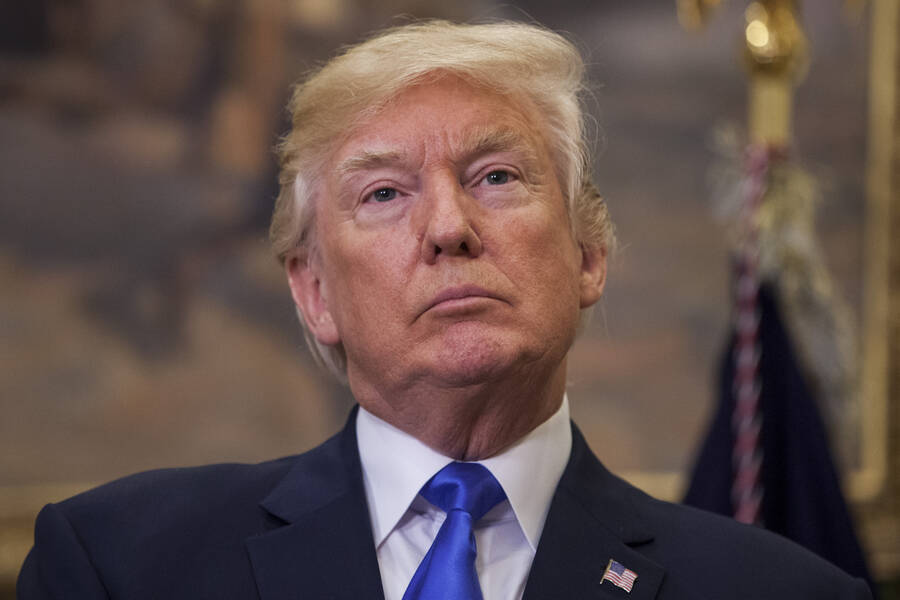 When the Pres­i­dent announced in an omi­nous tweet two weeks ago that mass immi­gra­tion raids tar­get­ing ​"mil­lions of ille­gal aliens" around the coun­try were immi­nent, those who would suf­fer the worst did not have the lux­u­ry of won­der­ing whether or not he was bluff­ing. Days lat­er, the worst fears of many were seem­ing­ly con­firmed as news came in that ICE agents were mobi­liz­ing to car­ry out what they and the DHS chill­ing­ly referred to as the ​"fam­i­ly op," which was expect­ed to include predawn raids and arrests of up to 2,000 fam­i­lies begin­ning on June 23. Com­mu­ni­ties around the coun­try were brac­ing for impact. And as news broke one day before raids were set to com­mence that Pres­i­dent Trump had abrupt­ly called for a two-week post­pone­ment, undoc­u­ment­ed indi­vid­u­als, fam­i­lies and com­mu­ni­ties were once again left with frayed nerves and an unshake­able fear that the night­mare was far from over.
As some have rea­son­ably argued, this episode demon­strates, at best, a famil­iar hard­line bar­gain­ing tac­tic that Trump is employ­ing to get what he wants from con­gres­sion­al Democ­rats, or, at worst, a cal­lous pub­lic­i­ty stunt aimed at amp­ing up Trump's base as his re-elec­tion cam­paign launch­es in earnest. But it must be remem­bered that the peo­ple who are suf­fer­ing as a direct result of his threats are not an after­thought in this hor­rid melo­dra­ma, nor are they mere­ly col­lat­er­al dam­age in some polit­i­cal bat­tle play­ing out over their heads. They are the pri­ma­ry targets.
Trump's advance alerts about the raids, which clear­ly com­pro­mised ICE's stealth (and rushed) plans to car­ry them out, and his dra­mat­ic dec­la­ra­tion of post­pone­ment just hours before the ​"fam­i­ly op" was set to com­mence, are tell­tale signs of what these head­line-grab­bing raid threats are actu­al­ly about. Like the loud, bru­tal spec­ta­cle of phys­i­cal home and work­place raids, these threats are a trans­par­ent, cal­cu­lat­ed effort to ter­ror­ize peo­ple, their fam­i­lies and their com­mu­ni­ties.
Even if ICE doesn't car­ry out this most recent round of planned raids, and even if such raids are ulti­mate­ly less effec­tive at deport­ing peo­ple than the Oba­ma administration's qui­eter, more bureau­crat­ic meth­ods of immi­gra­tion enforce­ment, they are still, as far as the Trump admin­is­tra­tion is con­cerned, a ​"suc­cess." Because it's not about raw depor­ta­tion num­bers: It's about the role ter­ror plays in trans­form­ing immi­grant com­mu­ni­ties into a per­ma­nent, hyper-exploit­ed underclass.
This is why the announced post­pone­ment from Trump is by no means a cri­sis avert­ed. The effect these raids – and the threat of raids – are designed to man­u­fac­ture has already become part of our world. It hides in plain sight, beneath the mirage of busi­ness as usu­al keep­ing aver­age cit­i­zens from hav­ing to con­front the dai­ly tor­ture of peo­ple they live, work and wor­ship next to. The ter­ror is already here: It's in people's fear­ful good­byes every morn­ing, in the car parked across the street, in the foot­steps com­ing up the stairs.
Spec­tac­u­lar cruelty
From the dra­mat­ic increase in work­place raids and arrests car­ried out by ICE to the vicious ​"zero-tol­er­ance" pol­i­cy that result­ed in thou­sands of fam­i­ly sep­a­ra­tions, the Trump admin­is­tra­tion has made it clear that the cor­ner­stone of its immi­gra­tion enforce­ment pol­i­cy is high­ly vis­i­ble and spec­tac­u­lar cru­el­ty. As report­ed in The Wash­ing­ton Post on May 13, senior pol­i­cy advis­er Stephen Miller and ICE Deputy Direc­tor Matthew Albence have expressed their eager­ness ​"to exe­cute dra­mat­ic, high­ly vis­i­ble mass arrests that they argued would help deter the soar­ing influx of families."
Con­sis­tent with the can­non of Trump­ism, these inhu­mane acts are, at base, a mor­bid ​"mar­ket­ing strat­e­gy." The cru­el­ty is the point, but not because cru­el­ty is an end in itself. As then-Attor­ney Gen­er­al Jeff Ses­sions summed up in one of his most har­row­ing speech­es, the point of all this cru­el­ty is to ​"send a mes­sage." And this mes­sage is designed to sow ter­ror among all mem­bers of a sys­tem­at­i­cal­ly sub­or­di­nat­ed under­class, fur­ther secur­ing their subordination.
The per­verse desire to man­u­fac­ture such ter­ror echoes through­out the admin­is­tra­tion. ​"If you're in this coun­try ille­gal­ly … you should be uncom­fort­able," then-ICE Act­ing Direc­tor Thomas Homan told the House Appro­pri­a­tions Committee's Home­land Secu­ri­ty Sub­com­mit­tee in 2017. ​"You should look over your shoul­der, and you need to be worried."
As a result of this ter­ror, plen­ty more undoc­u­ment­ed migrants will leave or be forced out of the coun­try: The num­ber of immi­gra­tion arrests, depor­ta­tions and work­place raids is ris­ing. As The Mar­shall Project reports, ​"vol­un­tary depar­tures" — or ​"self-depor­ta­tions," as Mitt Rom­ney has described them — have also increased sig­nif­i­cant­ly under the Trump admin­is­tra­tion. Trump sup­port­ers have cit­ed this increase as proof that the Pres­i­den­t's immi­gra­tion enforce­ment pol­i­cy is work­ing as promised.
But when Trump and his sub­or­di­nates repeat­ed­ly and pub­licly stress the need to remove all undoc­u­ment­ed migrants and ​"end ille­gal immi­gra­tion," they aren't so much detail­ing the administration's immi­gra­tion pol­i­cy as help­ing to enforce it. These words do more than they describe: They are air-born poi­son, mak­ing us sick and scared. Because, for Trump and the larg­er sys­tems of class and racial dom­i­na­tion his admin­is­tra­tion serves, phys­i­cal­ly expelling undoc­u­ment­ed peo­ple from the U.S. is ulti­mate­ly less of a con­crete pri­or­i­ty than cre­at­ing the con­di­tions for mil­lions of peo­ple to live in con­stant fear that they could be next.
A life of exploita­tion and precariousness
This max­i­mal­ist rhetoric becomes increas­ing­ly appar­ent the more we weigh the stat­ed goals of Trump's immi­gra­tion enforce­ment pol­i­cy against the con­crete steps his admin­is­tra­tion has tak­en to enact it. If the pre­sumed goal is to end ille­gal imm­gra­tion while expelling as many undoc­u­ment­ed peo­ple from the U.S. as pos­si­ble, then his­to­ry strong­ly sug­gests that Trump's pre­ferred means for doing so won't work. The recent increase in work­place raids is a case in point.
There's a rea­son work­place raids had seem­ing­ly gone away – until Trump brought them roar­ing back. It was in May of 2008 when Postville, Iowa, a fac­to­ry town with a pop­u­la­tion just a nose above 2,000, bore wit­ness to one of the largest ICE work­place raids in U.S. his­to­ry, which result­ed in 398 arrests. The town itself became a bleak mon­u­ment to the era of major work­place raids, which seemed to have melt­ed into his­to­ry along with the Bush administration.
The dev­as­ta­tion and out­cry in the wake of the Postville raid was vast and sur­pris­ing­ly effec­tive in turn­ing the pub­lic against the Bush administration's hard­line approach. And over the next eight years, due in part to the cat­a­stro­phe of Postville, the incom­ing Oba­ma admin­is­tra­tion would end up tak­ing a less pub­lic, more bureau­crat­ic approach to immi­gra­tion enforce­ment. Though it didn't avoid them entire­ly, the Oba­ma administration's strat­e­gy focused less on phys­i­cal work­place raids and more on I‑9 audits, or ​"paper raids." This strat­e­gy proved to be far more effec­tive and pub­licly palat­able than Bush's Postville play­book: Oba­ma, the ​"Deporter-in-Chief," still holds the title for most depor­ta­tions car­ried out dur­ing a pres­i­den­tial term.
If Obama's ​"silent raid" approach proved to be a chill­ing­ly more effec­tive method for hunt­ing and deport­ing peo­ple than the work­place raids of the Bush era, then why is the Trump admin­is­tra­tion dead set on bring­ing work­place raids back? Pro­po­nents of the Trump doc­trine tend to respond by extolling the val­ue of the ​"deter­rent" effect of such tac­tics, but this defense doesn't real­ly hold up either. As any immi­gra­tion schol­ar or advo­cate could tell you, there's scant evi­dence that increas­es in raids will deter undoc­u­ment­ed migrants from enter­ing the coun­try, nor will they push more than a frac­tion to leave the coun­try ​"vol­un­tar­i­ly."
It is a doc­u­ment­ed fact that, rather than leave their jobs when the threat of raids and depor­ta­tions looms large, undoc­u­ment­ed work­ers will sub­ject them­selves — out of fear and neces­si­ty — to greater exploita­tion, wage theft and pre­car­i­ous­ness. Employ­ers, in turn, will seize on the ​"oppor­tu­ni­ty" to squeeze as much sur­plus val­ue out of work­ers under the coer­cive threat of destroy­ing their lives and fam­i­lies with one phone call. From boss­es and man­agers to law enforce­ment to cit­i­zens with a grudge, any­one with even a mod­icum of pow­er will con­tin­ue to inter­nal­ize and reg­u­lar­ize the fact that they can lever­age state-sanc­tioned ter­ror to exploit, assault and shake down our most vul­ner­a­ble neigh­bors, class­mates and cowork­ers. And the vast major­i­ty of undoc­u­ment­ed peo­ple will con­tin­ue to live and work in the cracks of the Amer­i­can dream, increas­ing­ly rel­e­gat­ed to a high­ly exploitable, bare-life exis­tence that is both ​"out­side" of our sys­tems of gov­er­nance and com­merce and entire­ly inte­gral to their functioning.
The per­ma­nent underclass
"His­to­ry," as K‑Sue Park writes in the Har­vard Law Review, ​"instructs us to look past what self-depor­ta­tion pol­i­cy avows to what it accom­plish­es in the con­tem­po­rary envi­ron­ment." And beyond what Trump's immi­gra­tion enforce­ment régime claims or avows to do, what it effec­tive­ly accom­plish­es is ​"the sub­or­di­na­tion of an ever-widen­ing pop­u­la­tion vul­ner­a­ble to exploita­tion and not desired as a part of the nation's poli­ty" — a sec­ond class of cheap, exploitable non-cit­i­zens and per­pet­u­al polit­i­cal scape­goats that our polit­i­cal sys­tem depends on. "[T]he pres­ence of these indi­vid­u­als may be tol­er­a­ble or even desir­able," Park con­tin­ues, ​"as long as they remain com­pli­ant with the policy."
What appear to be inef­fi­cien­cies in the Trump administration's (avowed) immi­gra­tion enforce­ment pol­i­cy have nev­er­the­less served to effec­tive­ly secure and ampli­fy the sub­or­di­na­tion of a great domes­tic under­class. ​"As for extend­ed bor­der con­trol depor­ta­tion," Daniel Kanstroom writes in Depor­ta­tion Nation, ​"his­to­ry shows how poor­ly that sys­tem has actu­al­ly worked. It has func­tioned pri­mar­i­ly as a labor con­trol device, a kind of extra tool in the hands of large busi­ness­es (and, for that mat­ter, Amer­i­can fam­i­lies seek­ing nan­nies, gar­den­ers, and so forth) to pro­vide a cheap, flex­i­ble, and large­ly right­less labor sup­ply. Worse, it has facil­i­tat­ed selec­tive enforce­ment against par­tic­u­lar racial and eth­nic groups."
State-man­u­fac­tured ter­ror is — as it's always been—a vital tool in this his­tor­i­cal strug­gle for class and racial dom­i­na­tion. It is a vicious­ly potent means for keep­ing work­ers, fam­i­lies and com­mu­ni­ties down. If it is sup­pos­ed­ly a sign of fail­ure that our immi­gra­tion sys­tem has yet to find and deport over 10 mil­lion undoc­u­ment­ed peo­ple, then it is a hor­ri­fy­ing sign of suc­cess that the machin­ery of state ter­ror con­tin­ues to iso­late, oppress and drain this sub­or­di­nat­ed pop­u­la­tion for all it's worth. ​"The threat of raids from the high­est offi­cial in office sends a son­ic effect of fear through our immi­grant com­mu­ni­ties — it affects us all," Diana Marin, super­vis­ing attor­ney at the Michi­gan Immi­grant Rights Cen­ter, told In These Times. ​"It sends peo­ple into hid­ing, unwill­ing to inter­act with school, police, any state affil­i­at­ed insti­tu­tions. It saps resources from orga­ni­za­tions work­ing with immi­grant com­mu­ni­ties as they work to put into action emer­gency plans."
The mea­sur­able dimen­sions in which this ter­ror sys­tem­at­i­cal­ly works peo­ple over are wide and var­ied: It is scorched onto their bod­ies and brains, it mars their social and psy­chic lives. For instance, in a 2017 study pub­lished in the Inter­na­tion­al Jour­nal of Epi­demi­ol­o­gy, Nicole L. Novak, Arline Geron­imus and Are­sha Mar­tinez-Car­doso stud­ied the effects of the 2008 raid in Postville on low­er birth weights (LBW) in White and Lati­na moth­ers in Iowa. They found that the ​"rates of LBW were steady among White and Lati­na moth­ers in the 2 years pre­ced­ing the raid, but that rates of LBW rose only among Lati­na moth­ers after the raid." For Lat­inxs in Iowa — undoc­u­ment­ed peo­ple and cit­i­zens alike — the ter­ror from the raid was phys­i­cal­ly passed onto the next generation.
This is to say noth­ing of the many oth­er phys­i­cal, emo­tion­al, psy­cho­log­i­cal, social and civic reg­is­ters in which the ter­ror man­i­fests, inten­si­fy­ing the cumu­la­tive sub­or­di­na­tion of the racial­ized under­class. In a pol­i­cy state­ment, the Soci­ety for Com­mu­ni­ty Research and Action notes, ​"Immi­grant chil­dren liv­ing in com­mu­ni­ties where immi­gra­tion raids have tak­en place feel aban­doned, iso­lat­ed, fear­ful, trau­ma­tized, and depressed." The paper notes that ​"com­mu­ni­ty mem­bers are often more fear­ful and mis­trust­ful of pub­lic insti­tu­tions, less like­ly to par­tic­i­pate in church­es, schools, health clin­ics, cul­tur­al activ­i­ties and social services."
Along with mak­ing undoc­u­ment­ed peo­ple more vul­ner­a­ble, the ter­ror serves the sin­is­ter aim of dis­ap­pear­ing them from polit­i­cal life and com­mu­ni­ty, con­tin­u­al­ly erod­ing their capac­i­ty to trust in oth­ers and build sol­i­dar­i­ty. State-man­u­fac­tured ter­ror, of which the re-emer­gence of work­place raids is a func­tion­al part, con­sti­tutes a direct attack on our most vul­ner­a­ble work­ers and their loved ones — and it, in turn, con­sti­tutes an indi­rect attack on work­ers every­where. Such cal­lous­ly imposed imped­i­ments to build­ing sol­i­dar­i­ty with our fel­low work­ers are always a gift for the rul­ing class, for which a unit­ed work­ing class will always pose an exis­ten­tial threat.
To resist this sys­tem­at­ic assault, we need sol­i­dar­i­ty. And we need to show sol­i­dar­i­ty mate­ri­al­ly, by tak­ing care of each other
"This real­ly goes to allies," undoc­u­ment­ed activist Aly Wane urged over the phone. ​"If you are an ally to undoc­u­ment­ed folks in your com­mu­ni­ty, first check in on them [and see] how they're doing in terms of their men­tal health and if they have phys­i­cal needs."
"At the end of the day," he con­tin­ued, ​"noth­ing beats a local com­mu­ni­ty response net­work where allies actu­al­ly step up and do the work that's required. That includes mak­ing sure that, if there are raids in the area, that they show up, that they doc­u­ment what hap­pens, that they take the names of the offi­cers involved." Accord­ing to Wane, ​"That's real­ly the last bas­tion that we have: allies step­ping up."
Max­imil­lian Alvarez is a dual-PhD can­di­date at the Uni­ver­si­ty of Michi­gan. His writ­ing has been fea­tured in The Baf­fler, Boston Review, Cur­rent Affairs, Truthout, etc. He is the host of Work­ing Peo­ple, ​
"
a pod­cast by, for, and about the work­ing class today."
William Lopez is a Clin­i­cal Assis­tant Pro­fes­sor at the Uni­ver­si­ty of Michi­gan School of Pub­lic Health and Fac­ul­ty Direc­tor of Pub­lic Schol­ar­ship at the Nation­al Cen­ter for Insti­tu­tion­al Diver­si­ty. He is the author of Sep­a­rat­ed: Fam­i­ly and Com­mu­ni­ty in the After­math of an Immi­gra­tion Raid, pub­lished by Johns Hop­kins Uni­ver­si­ty Press.