Labor's Far-Right Problem: ICE and Border Patrol Unions Cheer Trump's Immigration Crackdown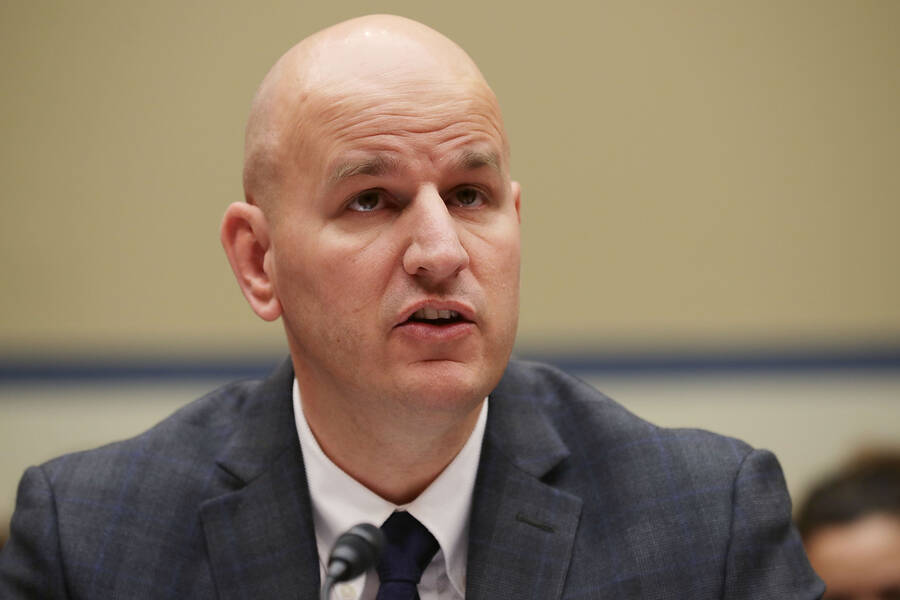 On June 21, Richard Trum­ka, pres­i­dent of the Amer­i­can Fed­er­a­tion of Labor and Con­gress of Indus­tri­al Orga­ni­za­tions (AFL-CIO), released a state­ment con­demn­ing the Trump administration's immi­gra­tion ​"enforce­ment over­reach," includ­ing the forcible sep­a­ra­tion of chil­dren from their parents.
"Noth­ing embod­ies our bro­ken immi­gra­tion sys­tem more than the unnec­es­sary pain and suf­fer­ing of our immi­grant broth­ers and sis­ters as fam­i­lies are torn apart at the bor­der," wrote the head of the fed­er­a­tion, which is com­posed of 55 unions rep­re­sent­ing a total of 12.5 mil­lion workers.
Just eight days lat­er, the pres­i­dent of an AFL-CIO affil­i­ate — the Nation­al Bor­der Patrol Coun­cil (NBPC) — wrote a col­umn for Fox News force­ful­ly defend­ing Trump and argu­ing for more hard­line immi­gra­tion poli­cies, includ­ing a wall between the Unit­ed States and Mex­i­co. ​"If fam­i­lies can't enter ille­gal­ly, then they won't be sep­a­rat­ed while the adults await tri­al and sen­tenc­ing," wrote Bran­don Judd, head of the NBPC, which rep­re­sents 16,000 bor­der patrol agents.
This divide rais­es press­ing eth­i­cal ques­tions for the U.S. labor move­ment, whose ranks are filled with undoc­u­ment­ed work­ers demand­ing basic safe­ty and dig­ni­ty on the job, but which also includes unions rep­re­sent­ing U.S. Bor­der Patrol and Immi­gra­tion and Cus­toms Enforce­ment (ICE) agents. Those unions con­sti­tute the far-right pole of the labor move­ment — and of the U.S. polit­i­cal spec­trum — back­ing Trump and his hard­line immi­gra­tion poli­cies. In These Times spoke with union mem­bers, as well as immi­grant jus­tice activists, who say the white suprema­cist and xeno­pho­bic posi­tions of immi­gra­tion enforce­ment unions are an affront to the prin­ci­ples of jus­tice and sol­i­dar­i­ty that the labor move­ment should embrace as the undoc­u­ment­ed work­ers in its ranks face unprece­dent­ed attack.
"There is no place for racism or xeno­pho­bia in the labor move­ment," Sam Gutier­rez, an activist mem­ber of Amer­i­can Fed­er­a­tion of State, Coun­ty and Munic­i­pal Employ­ees (AFSCME) Local 2822, tells In These Times. ​"We have to under­stand when we are fight­ing for our rights, we are also fight­ing for everyone."
The NBPC and the Nation­al ICE Coun­cil, a union rep­re­sent­ing ICE employ­ees, have emerged as among the biggest cheer­lead­ers of Trump's hard­line immi­gra­tion poli­cies. They endorsed him dur­ing the pres­i­den­tial elec­tion and have force­ful­ly defend­ed him in the press and lob­bied for his most aggres­sive immi­gra­tion poli­cies. Amid mount­ing pub­lic out­rage at fam­i­ly sep­a­ra­tions, Judd pub­licly defend­ed the pol­i­cy and called for more dra­con­ian actions, includ­ing the con­struc­tion of a wall along the U.S.-Mexico bor­der. The lead­er­ship of Nation­al ICE Coun­cil, mean­while, has pub­licly expressed frus­tra­tion that the pres­i­dent is too soft on immi­gra­tion and is open about its inten­tions to push the Trump admin­is­tra­tion fur­ther to the right.
Doing pub­lic rela­tions for Trump
The Trump administration's ​"zero-tol­er­ance" immi­gra­tion pol­i­cy, includ­ing the forced sep­a­ra­tion of more than 2,300 chil­dren from their par­ents at the bor­der, has pro­voked wide­spread pub­lic out­rage. Peo­ple have tak­en to the streets across the coun­try, occu­pied ICE deten­tion cen­ters and block­ad­ed court pro­ceed­ings. As the call to Abol­ish ICE goes main­stream, the Trump admin­is­tra­tion claims it will jail fam­i­lies togeth­er — yet, in real­i­ty, thou­sands of chil­dren are still separated.
In this cli­mate, Judd hit the media cir­cuit to defend Trump's poli­cies, appear­ing June 19 on NPR, where he argued that the media is large­ly overblow­ing the hor­rors of the Trump administration's immi­gra­tion poli­cies — and false­ly claimed that Bor­der Patrol agents are not sep­a­rat­ing fam­i­lies for mean­ing­ful amounts of time. In a June 30 appear­ance on Fox and Friends, Judd again cham­pi­oned Trump's pro­posed wall, which he said is a result of the ​"busi­ness exper­tise" Trump is ​"tak­ing to the White House." In a May 20 inter­view with Fox News, Judd defend­ed Trump's descrip­tion of some immi­grants as ​"ani­mals," say­ing ""They're worse than ani­mals, in my opin­ion. … Ani­mals do not treat oth­er ani­mals the way MS-13 treats oth­er human beings."
Dur­ing this peri­od, the web­site and social media account of the NBPC looked near­ly indis­tin­guish­able from the web­site of white nation­al­ist pub­li­ca­tion Bre­it­bart, refer­ring to immi­grants as ​"ille­gals" and choos­ing inflam­ma­to­ry head­lines for its posts. Bre­it­bart, inci­den­tal­ly, is where the union records its offi­cial podcast.
But the union's pro-Trump pub­lic rela­tions efforts pre­date his pres­i­den­tial vic­to­ry. In March 2016, the NBPC broke with past prac­tice of not endors­ing pres­i­den­tial pri­ma­ry can­di­dates, and came out in sup­port of Trump. ​"We think it is that impor­tant: If we do not secure our bor­ders, Amer­i­can com­mu­ni­ties will con­tin­ue to suf­fer at the hands of gangs, car­tels and vio­lent crim­i­nals prey­ing on the inno­cent," said the union in its endorse­ment statement.
There is rea­son to believe Trump finds the alliance use­ful. In Jan­u­ary, Judd appeared in an offi­cial White House video, in which he says, ​"The Trump admin­is­tra­tion has accom­plished more in one year to secure our bor­der than any oth­er pres­i­dents. … He wants to ensure the Amer­i­can pub­lic is safe. He wants to ensure that we can go about our dai­ly lives and not fear what might be com­ing across the border."
On April 1, Judd went on Fox and Friends to call for even more hard­line immi­gra­tion poli­cies, crit­i­ciz­ing the poli­cies that allow some peo­ple to leave deten­tion facil­i­ties to attend immi­gra­tion court at a lat­er time. ​"They need to pass laws to end the catch-and-release pro­gram that'll allow us to hold them for a long time," Judd said. Trump imme­di­ate­ly took to Twit­ter to echo Judd's call, pro­claim­ing: ​"Bor­der Patrol Agents are not allowed to prop­er­ly do their job at the Bor­der because of ridicu­lous lib­er­al (Demo­c­rat) laws like Catch & Release."
The exchange prompt­ed the New York Times to write a head­line about Judd's influ­ence: ​"A Bor­der Patrol Agent (and Fre­quent Fox News Guest) Has Trump's Ear on Immi­gra­tion." Judd reit­er­at­ed the demands in April 12 in tes­ti­mo­ny before the U.S. House of Rep­re­sen­ta­tives Com­mit­tee on Over­sight and Gov­ern­ment Reform.
Push­ing Trump fur­ther right
If any­thing, the ICE union is to the right of the NBPC — and of Trump. The Nation­al ICE Coun­cil, which says it rep­re­sents rough­ly 7,600 ​"offi­cers, agents and employ­ees who work for the U.S. Immi­gra­tion and Cus­toms Enforce­ment," endorsed Trump on the cam­paign trail but has grown frus­trat­ed with the Trump admin­is­tra­tion for not being aggres­sive enough on immi­gra­tion. In a Sep­tem­ber 2016 state­ment explain­ing its first-ever pres­i­den­tial endorse­ment, the union cit­ed Trump's con­fronta­tion­al stance toward immi­grants: ​"He has out­lined core poli­cies need­ed to restore immi­gra­tion secu­ri­ty — includ­ing sup­port for increased inte­ri­or enforce­ment and bor­der secu­ri­ty, an end to Sanc­tu­ary Cities, an end to catch-and-release, manda­to­ry detain­ers, and the can­cel­ing of exec­u­tive amnesty and non-enforce­ment directives."
In Jan­u­ary 2017, the union cheered Trump's deci­sion to build a wall along the Mex­i­can bor­der. ​"Pres­i­dent Trump's actions now empow­er us to ful­fill this life sav­ing mis­sion," reads part of its joint state­ment with the NBPC. By Novem­ber 2017, how­ev­er, the union began pub­licly declar­ing that the Trump admin­is­tra­tion had ​"betrayed" it by leav­ing Obama's ICE team in place. That same month, its pres­i­dent Chris Crane wrote an open let­ter accus­ing Trump of inflict­ing ​"a stab in the back to the men and women of law enforce­ment who we know you sup­port whole­heart­ed­ly." Among his griev­ances, he cit­ed ​"ICE man­agers order­ing their own offi­cers in the field not to wear bul­let-proof vests because ille­gal aliens might find it offen­sive." The let­ter also cites alleged deal-mak­ing that ICE man­agers are mak­ing with so-called sanc­tu­ary cities.
In Feb­ru­ary, Crane released anoth­er let­ter to the White House crit­i­ciz­ing Trump's immi­gra­tion strat­e­gy: ​"We sim­ply can­not in good faith sup­port any leg­isla­tive effort on immi­gra­tion that does not include pro­vi­sions regard­ing immi­gra­tion detain­ers, sanc­tu­ary cities and the smug­gling and traf­fick­ing of chil­dren across U.S. bor­ders." The union wants more mon­ey to detain peo­ple, as well as an end to ​"catch and release."
Anony­mous ICE employ­ees have also cre­at­ed a web­site that crit­i­cizes the lead­er­ship of ICE and the Depart­ment of Home­land Secu­ri­ty for not being tough enough on immi­grants, cit­ing arti­cles from Bre­it­bart. One typ­i­cal head­line reads, ​"ICE Offi­cers forced to warn city offi­cials before mak­ing arrests; Crim­i­nals and Fugi­tives ​'mag­i­cal­ly dis­ap­pear' before they can be arrested."
There are signs that the Trump admin­is­tra­tion has been influ­enced by the polit­i­cal efforts of these unions. In Jan­u­ary 2017, the pres­i­dent pub­licly thanked Judd and Crane, iden­ti­fy­ing them as ​"two friends of mine." Trump said, ​"You guys are about to be very, very busy doing your job the way you want to do them."
An unac­cept­able affiliation?
Both unions are char­tered by the Amer­i­can Fed­er­a­tion of Gov­ern­ment Employ­ees (AFGE), an AFL-CIO affil­i­ate. The AFGE hasn't tak­en an offi­cial posi­tion on the bor­der cri­sis, but in the past, the bor­der patrol union has praised the AFGE, say­ing the NBPC's par­ent union has ​"gone above and beyond" in sup­port­ing it.
The NBPC is less pleased with the AFL-CIO and its stance on immi­gra­tion. In the FAQ on its web­site, the union jus­ti­fies its AFL-CIO affil­i­a­tion to its mem­bers by stat­ing that, if it dis­af­fil­i­at­ed, the union would be placed in trustee­ship by AFGE and lose its assets and sta­tus as the exclu­sive rep­re­sen­ta­tive of bor­der patrol agents. ​"Although NBPC is opposed to the shame­less pro­mo­tion of ille­gal aliens by the AFL-CIO, the NBPC must work through inter­nal mea­sures to change the posi­tion of AFL-CIO or risk jeop­ar­diz­ing our sta­tus," reads the sec­tion. (When asked for com­ment, the AFL-CIO referred In These Times to Trumka's afore­men­tioned state­ment on the bor­der crisis.)
For some labor and immi­grant-jus­tice activists, the affil­i­a­tion is unac­cept­able. In 2016, the immi­grant jus­tice group #Not1MoreDeportation released a peti­tion call­ing on the AFL-CIO to ter­mi­nate the NBPC's mem­ber­ship after the bor­der patrol union endorsed Trump. ​"NBPC's endorse­ment shines light on the dis­con­nect between Bor­der Patrol, immi­grant com­mu­ni­ties and the rest of the labor move­ment across the Unit­ed States," reads the state­ment. ​"By endors­ing Trump, Bor­der Patrol endors­es a racist, xeno­pho­bic and misog­y­nist cam­paign that advo­cates mass depor­ta­tion, tor­ture, state-sanc­tioned dis­crim­i­na­tion against Mus­lims, sub­or­di­na­tion of women, and more broad­ly under­mines the val­ues and goals of the labor movement."
There's a prece­dent for the AFL-CIO to expel unions for polit­i­cal rea­sons — although, trou­bling­ly, it has only been applied to pro­gres­sive unions: In 1949 and 1950, the CIO expelled 11 left-led unions, join­ing the lib­er­al Cold War con­sen­sus and align­ing itself with McCarthy­ism. The unions rep­re­sent­ed almost one mil­lion work­ers alto­geth­er and the ensu­ing strife ulti­mate­ly led to the CIO merg­ing with the Amer­i­can Fed­er­a­tion of Labor (AFL) in 1955. Some of the expelled unions were able to sur­vive out­side of the AFL-CIO. One, the Inter­na­tion­al Long­shore and Ware­house Union (ILWU), rejoined the AFL-CIO in 1988, but chose to leave again in 2013 after the AFL-CIO failed to pun­ish unions whose mem­bers had crossed an ILWU pick­et line.
The way the con­sti­tu­tion of the AFL-CIO is cur­rent­ly writ­ten, it would be dif­fi­cult to iso­late the Bor­der Patrol and ICE unions, since they're with­in the AFGE, which also rep­re­sents oth­er fed­er­al and Wash­ing­ton, D.C.-based work­ers. How­ev­er, with a two-thirds vote at one if its con­ven­tions, the AFL-CIO could con­ceiv­ably amend the con­sti­tu­tion to say it can expel cer­tain chap­ters with­out expelling the whole affil­i­ate. The AFL-CIO also has the option of pres­sur­ing AFGE to stop char­ter­ing the Bor­der Patrol and ICE unions.
What­ev­er the best pro­ce­dur­al path, some rank-and-file union mem­bers say the labor move­ment must grap­ple now with the urgent moral ques­tions pre­sent­ed by the actions of bor­der patrol and ICE unions. ​"As a fed­er­a­tion, we can­not con­done their behav­ior," says Gutier­rez, whose union is part of the AFL-CIO.
Carl Rosen, pres­i­dent of Unit­ed Elec­tri­cal Work­ers West­ern Region, told In These Times that he prefers not to com­ment on the AFL-CIO ques­tion, since his union is not a part of the fed­er­a­tion. But he argues that the actions of bor­der patrol and ICE unions should prompt soul search­ing on the part of the labor move­ment. ​"It's extreme­ly unfor­tu­nate that these orga­ni­za­tions are tak­ing those sorts of posi­tions that are extreme­ly destruc­tive to the work­ing class and anti­thet­i­cal to what the labor move­ment ought to stand for," he said. ​"I think it is impor­tant for the labor move­ment as a whole to stand up on the side of jus­tice and con­demn orga­ni­za­tions tak­ing those positions."
In a labor move­ment where oth­er law enforce­ment unions have his­tor­i­cal­ly gen­er­at­ed con­tro­ver­sy and inter­nal oppo­si­tion, at least one labor coun­cil appears to be encour­ag­ing immi­gra­tion enforce­ment agents to refuse orders. On June 26, Rusty Hicks, the head of the Los Ange­les Coun­ty Fed­er­a­tion of Labor, released a state­ment declar­ing, ​"As L.A. labor, we call on imme­di­ate and com­pre­hen­sive reform of the U.S. immi­gra­tion deten­tion sys­tem. We com­mit to defend­ing and pro­tect­ing all immi­grants. We also com­mit to defend­ing and pro­tect­ing all work­ers who take a stand against orders they are asked to car­ry out in vio­la­tion of basic human rights."
And in Feb­ru­ary, Jor­don Dyr­dahl-Roberts, an employ­ee at Montana's labor depart­ment, quit his job after he learned that his agency was send­ing employ­ee infor­ma­tion to ICE. He called on oth­er gov­ern­ment employ­ees to do the same. ​"So this is me, point­ing at you, and telling you to act," he wrote in a Medi­um post. ​"I'm espe­cial­ly telling you to take action if you find your­self as part of one of the agen­cies help­ing com­mit these atrocities."
As the labor move­ment fends off attacks from Trump's Nation­al Labor Rela­tions Board and attempts to orga­nize more work­ers, includ­ing undoc­u­ment­ed immi­grants, who are high­ly exploit­ed by employ­ers, its response to the cur­rent crack­down on immi­grants could impact its suc­cess mov­ing for­ward. Accord­ing to Amy Liv­ingston, a labor edu­ca­tor at the Uni­ver­si­ty of Min­neso­ta at Min­neapo­lis, ​"The call for the labor move­ment to divest from Bor­der Patrol and ICE unions is a mean­ing­ful oppor­tu­ni­ty for the main­stream U.S. labor move­ment to stand with work­ers and com­mu­ni­ties of col­or by reject­ing white supremacy."
Car­los Rojas Rodriguez is an orga­niz­er with Movimien­to Cosecha, which orga­nizes undoc­u­ment­ed work­ers to build col­lec­tive pow­er. He tells In These Times, ​"Unions have a respon­si­bil­i­ty to pro­tect work­ers, and in the Unit­ed States we have one of the most diverse work­forces in the whole world. The recent state­ments made by the ICE and CBP unions defend­ing Trump's anti-immi­grant and anti-work­er poli­cies are a betray­al to union values."
Sarah Lazare is web edi­tor at In These Times. She comes from a back­ground in inde­pen­dent jour­nal­ism for pub­li­ca­tions includ­ing The Inter­cept, The Nation, and Tom Dis­patch. She tweets at @sarahlazareMichael Arria cov­ers labor and social move­ments. Fol­low him on Twit­ter: @michaelarria