Trump's Quiet Meeting with Saudi Arabia and Israel Portends a Dangerous Collision Course with Iran
An under-the radar gathering at the White House exposes troubling new drifts in U.S. foreign policy.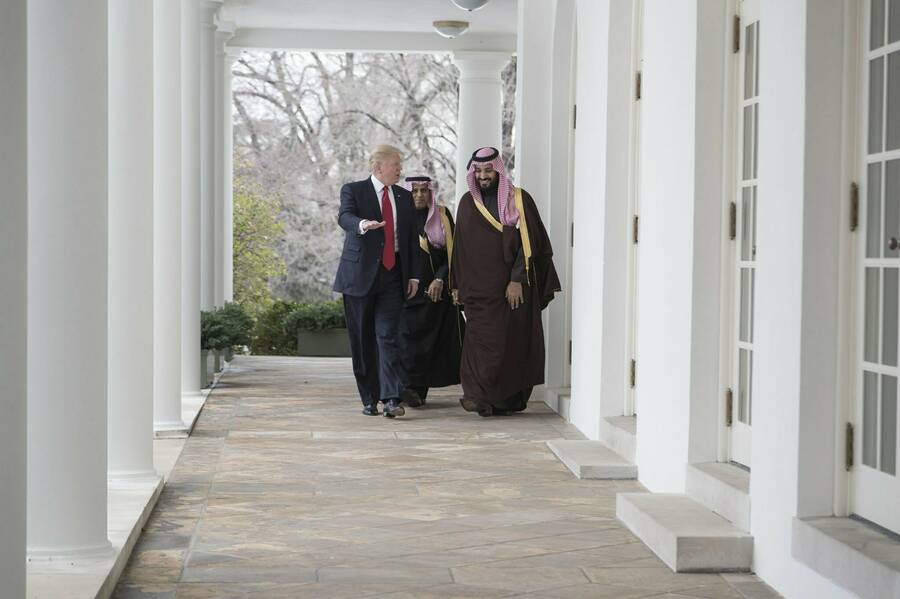 This arti­cle was pro­duced in part­ner­ship with For­eign Pol­i­cy In Focus.
With these people running U.S. foreign policy, any moves by Washington to encourage the Israeli and Gulf Arab governments to join forces against Iran becomes even more dangerous.
It was a lot to take in, even in these whip­sawed media moments.
In one 24-hour news cycle, Pres­i­dent Don­ald Trump fired Sec­re­tary of State Rex Tiller­son, appoint­ed the war and tor­ture-back­ing CIA chief Mike Pom­peo to replace him, and then tapped Gina Haspel — who cov­ered up CIA tor­ture in Thai­land — to replace Pompeo.
While the media descend­ed on that cir­cus, many missed that the White House qui­et­ly con­vened high-lev­el rep­re­sen­ta­tives of 20 coun­tries osten­si­bly to ​"brain­storm" about the cri­sis in Gaza, where Israel's repeat­ed mil­i­tary incur­sions and block­ade have dev­as­tat­ed the ter­ri­to­ry's infra­struc­ture, health and water systems.
The gath­er­ing, which took place on March 13, was less splashy than the Tiller­son-Pom­peo-Haspel saga. But it spoke vol­umes about dan­ger­ous new drifts in U.S. for­eign policy.
Look who's in the room together
The Unit­ed States has long backed Israel's siege of Gaza and defend­ed Tel Aviv's suc­ces­sion of mil­i­tary assaults on the impov­er­ished, dense­ly pop­u­lat­ed ter­ri­to­ry of 2 million.
So the notion that Trump, whose uncrit­i­cal sup­port for the Israeli gov­ern­ment sur­pass­es that of any of his pre­de­ces­sors, is sud­den­ly con­cerned about mit­i­gat­ing the human­i­tar­i­an cat­a­stro­phe in Gaza seems pret­ty far-fetched. Espe­cial­ly when Israel, the coun­try most imme­di­ate­ly respon­si­ble for the destruc­tion of Gaza, was one of the nations play­ing a star­ring role in the White House gathering.
On the human­i­tar­i­an front, lit­tle came of the meet­ing. Offi­cial­ly, Reuters reports, ​"the mul­ti-nation human­i­tar­i­an and recon­struc­tion effort remains in begin­ning stages."
More sig­nif­i­cant than the out­come, how­ev­er, is the group­ing the meet­ing brought together.
The gath­er­ing fea­tured Euro­peans, Israelis, Egyp­tians and rep­re­sen­ta­tives of most of the Gulf Arab monar­chies — Sau­di Ara­bia, the UAE, Jor­dan, Qatar, Oman, and Bahrain — all sit­ting in the room togeth­er. Not includ­ed were Pales­tini­ans, who have been clear they won't fol­low U.S. diplo­mat­ic lead­er­ship since Trump's provoca­tive deci­sion to move the U.S. embassy to Jerusalem.
Accord­ing to Reuters, unnamed offi­cials insist­ed that ​"the for­mat did not allow for direct dis­cus­sions between Israel and the Arab states." But that is like­ly not the end of the story.
It's been clear for a long time that Israel and the Gulf monar­chies, led by Sau­di Ara­bia, are des­per­ate to cozy up to each oth­er. Both are U.S. allies and huge pur­chasers of U.S. arms. And both rely on U.S. diplo­mat­ic pro­tec­tion at the Unit­ed Nations to avoid account­abil­i­ty for their human rights violations.
And most impor­tant­ly, at this moment, both sides are eager to join forces against Iran.
Sau­di Ara­bia and Iran have been bat­tling for region­al dom­i­nance for a long time. Their com­pe­ti­tion has stoked a bru­tal proxy con­flict in Syr­ia, and Sau­di Crown Prince Mohammed bin Salman has orches­trat­ed a dev­as­tat­ing attack on Yemen as a chal­lenge to Iran's influ­ence there.
Mean­while, Israeli Prime Min­is­ter Ben­jamin Netanyahu's efforts to per­suade the Unit­ed States to aban­don the nuclear deal and attack Iran have served as a back­drop to Israel's region­al pol­i­cy for years.
At a qui­et Wash­ing­ton meet­ing sup­pos­ed­ly dis­cussing some­thing quite unre­lat­ed, they were all sit­ting down togeth­er — ahead of Sau­di Crown Prince Mohammed bin Salman's own vis­it to Wash­ing­ton.
A dan­ger­ous region­al agenda
Despite years of Israeli and Sau­di pro­pa­gan­da, Iran isn't actu­al­ly an exis­ten­tial threat to either Israel or to Sau­di Ara­bia. But Iran's rise is def­i­nite­ly a chal­lenge to long-stand­ing Israeli and Sau­di efforts at region­al dominance.
The more dire region­al threat, how­ev­er, is that the Trump admin­is­tra­tion is show­ing every indi­ca­tion of want­i­ng to esca­late ten­sions with Iran. That's exact­ly what will hap­pen if the Trump admin­is­tra­tion pulls out of the Iran nuclear deal, as Netanyahu con­tin­ues to urge, and as Sen­ate For­eign Rela­tions chair­man Bob Cork­er (R‑TN) recent­ly pre­dict­ed.
Trump's appoint­ment of Mike Pom­peo, a lead­ing Iran hawk, to the post of Sec­re­tary of State increas­es this risk. Pom­peo has gone even beyond Trump him­self in crit­i­ciz­ing the Iran nuclear deal, a posi­tion that bodes very bad­ly for diplo­ma­cy under this poten­tial new diplo­mat-in-chief. So does the fact, as Peter Beinart wrote in The Atlantic that ​"Pom­peo embraces anti-Mus­lim big­ots, and defames Mus­lims, with almost as much gus­to as Trump himself."
As Sec­re­tary of State, it will be up to Pom­peo to inform the pres­i­dent whether or not Iran is com­ply­ing with its oblig­a­tions under the nuclear deal. The inter­na­tion­al agency charged with mon­i­tor­ing Iran says it is com­ply­ing. But Pom­peo, even before he became CIA direc­tor, was already tweet­ing that he was look­ing for­ward to ​"rolling back" the ​"dis­as­trous" nuclear deal.
Pales­tini­ans left out
With these peo­ple run­ning U.S. for­eign pol­i­cy, any moves by Wash­ing­ton to encour­age the Israeli and Gulf Arab gov­ern­ments to join forces against Iran becomes even more dangerous.
Tel Aviv and Riyadh are both eager for this front. What stands in their way is pop­u­lar out­rage at home.
In places like Sau­di Ara­bia, absolute mon­archs shed croc­o­dile tears about the plight of Pales­tini­ans while doing noth­ing to actu­al­ly end Israel's oppres­sion of Pales­tini­ans. But thanks to wide­spread pop­u­lar sup­port for the Pales­tin­ian cause in the Arab world, Arab offi­cials are pret­ty much for­bid­den to pub­licly meet with Israelis.
Trump son-in-law Jared Kush­n­er and his BFF Prince Mohammed bin Salman are work­ing to change that. Get­ting Saud­is and oth­ers in the region accus­tomed to the idea of Israelis and Arab lead­ers sit­ting in a room togeth­er is a key com­po­nent of this strat­e­gy. That not-so-pub­lic meet­ing in the White House may have been just the beginning.
Once again, the Pales­tini­ans — and espe­cial­ly the peo­ple of Gaza — are being held hostage to the region­al and glob­al aspi­ra­tions of more pow­er­ful coun­tries. Instead of actu­al­ly address­ing the suf­fer­ing in Gaza, the Unit­ed States and its allies may have turned a con­fer­ence on human­i­tar­i­an assis­tance into a war room aimed at Iran,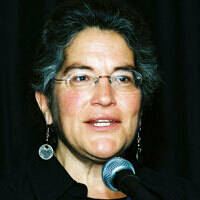 Phyl­lis Ben­nis
is a fel­low of the Insti­tute for Pol­i­cy Stud­ies. Her most recent book is the
2018
edi­tion of Under­stand­ing the Pales­tin­ian-Israeli Con­flict: A Primer.