Trump Is Using Old Jim Crow Tactics to Usher in a New Era of Racist Violence
To defeat this administration's racist governance-by-suggestion, we need movements—not just policy.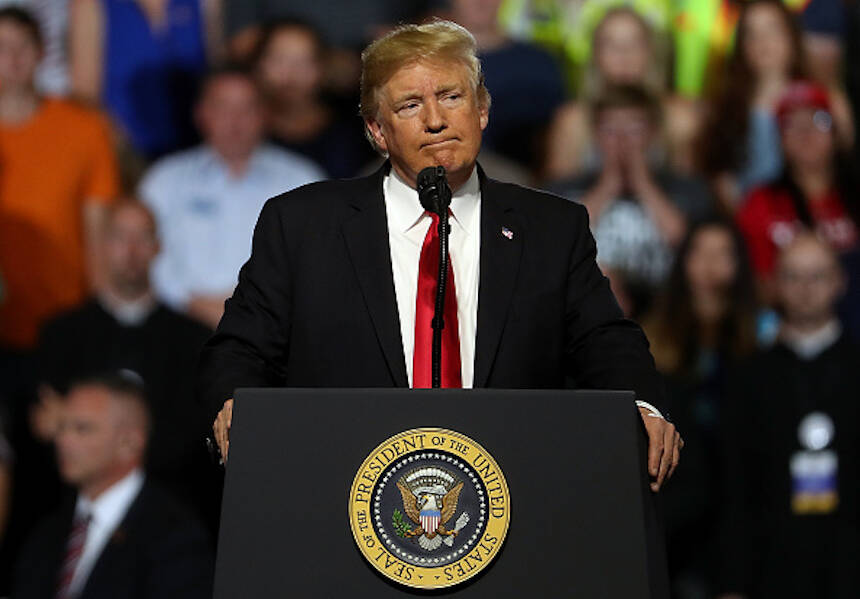 If you know the ene­my and know your­self, you need not fear the result of a hun­dred bat­tles. —Sun Tzu
Suggestion is powerful and has real-life implications. Suggestion also implies a vulnerability that we can exploit.
The Trump admin­is­tra­tion is hav­ing a hard time gov­ern­ing by leg­is­la­tion. We can count the administration's fail­ures in Con­gress as cold com­fort, but it is imper­a­tive to work hard­er to under­stand what is real­ly hap­pen­ing on the polit­i­cal land­scape. Exec­u­tive orders, tweets, pub­lic speech­es, briefs and mem­os are the sig­nals of gov­er­nance that point towards repres­sive state pol­i­cy and brew social hos­til­i­ty on the ground. The Trump admin­is­tra­tion is gov­ern­ing by sug­ges­tion, and the impact is deadly.
Char­lottesville is erupt­ing and, sim­i­lar to the social erup­tion in Fer­gu­son three years ago, this is not a moment to call our­selves ​"pro­test­ers." We are com­mu­ni­ty mem­bers who are hor­ri­fied and out­raged at height­ened, orga­nized and vio­lent white suprema­cy, whether it man­i­fests as police mur­ders or Nazi rallies.
This is also not a moment to claim the term ​"ter­ror­ism," which was craft­ed by the U.S. state after Sep­tem­ber 11, 2001 to jus­ti­fy mil­i­ta­rized cities at home and per­ma­nent war abroad. Social move­ment dis­sent is being crim­i­nal­ized in anti-protest bills pro­posed in more than 20 states, as politi­cians slan­der protest as ​"eco­nom­ic ter­ror­ism." The real­i­ty is that the State has con­sis­tent­ly failed to pro­tect Black-led, indige­nous-led and immi­grant-led protests. Our com­mu­ni­ties require new nar­ra­tives that reflect the ter­ror we expe­ri­ence and envi­sion new pro­tec­tions — rather than use the State's terms to call more police and sur­veil­lance into our streets, homes and workplaces.
The cur­rent polit­i­cal cli­mate is chaot­ic and con­fus­ing, and the sheer vol­ume of infor­ma­tion and attacks makes it dif­fi­cult to absorb. We would be mis­guid­ed to mis­take all the noise as blus­ter. It sig­nals a plan, and that plan does not oper­ate by leg­is­la­tion alone. Sig­nals and sym­bols are pow­er­ful mechanisms.
Gov­er­nance by sug­ges­tion is an old Jim Crow tac­tic where vio­lence and white suprema­cy are active social norms — not always sup­port­ed by laws or courts. Politi­cians endorse racist vio­lence, and insti­tu­tion­al prac­tices reflect that man­date, through state and local poli­cies, police pro­to­col and social hos­til­i­ty. From Reagan's states' rights speech in 1980 near the site where civ­il rights work­ers were mur­dered in Mis­sis­sip­pi in 1964 to the emer­gence of racist Pepe le Frog and 4chan memes, sig­nals dom­i­nate the cul­tur­al strate­gies of white suprema­cy today. We are wit­ness­ing the effects of sug­ges­tion in Char­lottesville, Va. and oth­er con­ver­gences of orga­nized white suprema­cists and fas­cists, like the white suprema­cist ral­ly in Pikeville, Ky. in April.
Trump's speech to law enforce­ment agen­cies on Long Island on July 28 encour­aged police to ignore pro­ce­dures and ​"rough up" peo­ple who have been arrest­ed. When police are bru­tal­iz­ing and killing Black peo­ple and peo­ple of col­or, a mes­sage from the com­man­der-in-chief to increase state-sanc­tioned vio­lence is chill­ing. Despite con­dem­na­tions and assur­ances that he was kid­ding, the sug­ges­tion is clear. The Trump administration's direct and indi­rect sup­port of white suprema­cist orga­ni­za­tions on the basis of anti-Black, racist ide­ol­o­gy advances a per­ceived legit­i­ma­cy of the groups present in Charlottesville.
What hap­pened in Char­lottesville was also a vio­lent and pro­found expres­sion of his­to­ry, the result of a social, polit­i­cal and eco­nom­ic sys­tem found­ed in geno­cide of African and indige­nous peo­ples. This coun­try has nev­er sys­tem­at­i­cal­ly faced or sought to repair the immense and ongo­ing harm pro­duced by the transat­lantic slave trade and the evo­lu­tion of chat­tel slav­ery. This evil sys­tem of glob­al trade and enslave­ment served as the foun­da­tion for our social, polit­i­cal and eco­nom­ic sys­tem that con­tin­ues to rule today. We have a high­ly evolved and com­plex sys­tem of gov­er­nance that is ded­i­cat­ed to and fueled by mass vio­lence, and often that gov­er­nance is expressed through a con­flu­ence of the state, pri­vate sec­tor inter­ests, and ground-lev­el hos­til­i­ties to con­trol and contain.
Trump's Poland speech, penned by Stephen Miller, paint­ed a vision of a stark, West­ern civ­i­liza­tion gov­erned by ​"indi­vid­ual free­dom," a sug­ges­tion that indi­cates a new era of civ­il rights defined by indi­vid­u­al­ized moral whims and posi­tions rather than a shared social con­tract. The speech artic­u­lat­ed that threats from ​"the South or the East" will be met with a ​"tough stance" and expen­sive weapon­ry. If we look close­ly at this era of sug­ges­tion, even with­in the Trump administration's failed poli­cies, we can see a roadmap toward the legal and polit­i­cal imple­men­ta­tion of that vision: a sur­veil­lance state that vio­lent­ly polices and expels pop­u­la­tions per­ceived as threats, dis­man­tles exist­ing demo­c­ra­t­ic sys­tems and under­mines our col­lec­tive eco­nom­ic self-deter­mi­na­tion. If we focus on each inci­dent or attack, we will miss the sum of the whole.
Infor­ma­tion is crit­i­cal to bet­ter under­stand what is hap­pen­ing, but the trick is to keep our eyes on the big pic­ture as well as tend to the imme­di­ate crises. As orga­niz­ers, our respon­si­bil­i­ty is to antic­i­pate how repres­sive forces are mov­ing so that we can pro­tect our­selves and suc­cess­ful­ly carve our own col­lec­tive path for­ward for jus­tice and free­dom. With the real­i­ties of Char­lottesville on our minds, let's inves­ti­gate the pat­terns of sug­ges­tion and impact over the last nine months.
Mus­lim Ban
Clos­ing the bor­ders to non-West­ern nations was test­ed imme­di­ate­ly upon inau­gu­ra­tion. Trump's counter to the judi­cial block was to sug­gest the ​"unre­viewa­bil­i­ty" of the pres­i­dent, a clear test to broad­en exec­u­tive pow­ers and the abil­i­ty to counter con­sti­tu­tion­al man­dates. The ban also sug­gests and implies that Islam is a dan­ger­ous ide­ol­o­gy, not a reli­gion to be pro­tect­ed. The prece­dent sets up the poten­tial legal frame­works to deny entry and expel Mus­lims or any­one else deemed a threat.
Immi­gra­tion Ban
Regard­less of offi­cial poli­cies passed or con­crete walls built, the effects of the anti-immi­grant rhetoric have led to dra­mat­ic increas­es in ICE raids, depor­ta­tions and deten­tions. The threat alone has decreased the num­bers of peo­ple cross­ing the U.S.-Mexico bor­der, and many peo­ple liv­ing inside the Unit­ed States are afraid to report sex­u­al assault or dri­ve to work. The notion of a mer­it-based or Eng­lish-only immi­gra­tion pol­i­cy sig­nals a new lev­el of attack cen­ter­ing not on doc­u­men­ta­tion or sta­tus, but on per­ceived val­ue and assimilation.
Trans­gen­der Ban
The sug­ges­tion with Trump's tweet about not allow­ing trans­gen­der peo­ple in the mil­i­tary, whether or not the Pen­ta­gon could even enforce such a thing, is that any type of per­son for any rea­son can be denied access to pub­lic space and ser­vices with­in U.S. bor­ders, par­tic­u­lar­ly employ­ment, health care and edu­ca­tion. Those of us ded­i­cat­ed to queer lib­er­a­tion chal­lenge the impe­ri­al­ist and racist U.S. mil­i­tary — and must also rec­og­nize the impli­ca­tions of this posi­tion in a time of grow­ing dan­ger for all com­mu­ni­ties. As media react­ed to the tweet, the Depart­ment of Jus­tice issued a brief that excludes sex­u­al­i­ty and gen­der iden­ti­ty from pro­tec­tions against employ­ment dis­crim­i­na­tion. That the mil­i­tary requires near­ly $700 bil­lion in annu­al spend­ing — the Nation­al Defense Autho­riza­tion Act passed eas­i­ly in the House on July 14 — but can­not afford health­care for its employ­ees sug­gests cur­rent pri­or­i­ties and future restric­tions. In a moment when so-called ​"bath­room bills" are sweep­ing the South, the direc­tive is to iso­late trans peo­ple fur­ther and crim­i­nal­ize gen­der transgression.
Trump Bud­get
The Trump bud­get, although unlike­ly to be passed by Con­gress, is a pow­er­ful guid­ing man­date for fed­er­al agen­cies, now almost ful­ly drained of staff and stocked with oper­a­tives from finance and cor­po­rate wealth insti­tu­tions. The bud­get calls for the elim­i­na­tion of 66 fed­er­al pro­grams, and these agen­cies now have a pow­er­ful ref­er­ence to pro­vide cred­i­bil­i­ty for mas­sive cuts in essen­tial ser­vices. Eco­nom­ic nation­al­ism, as Stephen Ban­non argues in Amer­i­can Prospect will be the administration's strat­e­gy, and the bud­get is a sig­nal towards that iso­la­tion and reduc­tion in pub­lic infrastructure.
Rewrit­ing Democracy
The Amer­i­can Leg­isla­tive Exchange Coun­sel (ALEC) is propos­ing a repeal to the 17th amend­ment which would open the door for U.S. sen­a­tors to be appoint­ed by state leg­is­la­tors — not vot­ers. Unlike­ly to hap­pen any time soon, the pro­pos­al is con­nect­ed to the grow­ing momen­tum to call for a Con­ven­tion of States, a much more pos­si­ble feat giv­en a decade of redis­trict­ing and ger­ry­man­der­ing. Rough­ly 27 states have passed ordi­nances to re-write the U.S. Con­sti­tu­tion, and they only need 34.
These sug­ges­tions, and many oth­ers, are re-wiring a new frame­work for gov­er­nance that under­mines our rights, our access to pub­lic infra­struc­ture, our abil­i­ty to move freely, and our basic due process.
As we wit­ness and expe­ri­ence the hor­ror of peo­ple being run down in the streets or dropped from life­sav­ing health­care, we ask our­selves, What do we need to under­stand about this moment and what do we do? Here are a few rec­om­men­da­tions dur­ing this time of crisis:
Social move­ments are the vehi­cles to sur­vive and build.
Social move­ments are the most effec­tive vehi­cles to dis­man­tle the sys­tems imple­ment­ing these vio­lent sug­ges­tions and to build the infra­struc­ture to take its place. Pol­i­cy change is not a strong strat­e­gy when rules are being rewrit­ten, and many of the sug­ges­tions are affect­ing our com­mu­ni­ties before laws are on the books. Social move­ments with base, force, trust, clear polit­i­cal vision and infra­struc­ture are essen­tial for authen­tic, long-last­ing jus­tice. Pol­i­cy and legal bat­tles are nec­es­sary for defense but stronger when aligned with a bot­tom-up move­ment. Now is the time to invest in insti­tu­tions, com­mu­ni­ty-con­trolled land, eco­nom­ic devel­op­ment projects, legal infra­struc­ture and mutu­al aid cen­ters that can pro­vide edu­ca­tion and sanc­tu­ary. We need to invite folks to work togeth­er to devel­op polit­i­cal pro­grams that last beyond this cri­sis and include all of us.
We are in this together.
In the South, we can­not afford to demo­nize or over-gen­er­al­ize a ​"Trump base" that does not exist. Reac­tionary forces use grass­roots tac­tics at times to raise mon­ey, pan­der or win an elec­tion, but we must be clear that these forces are being dri­ven by elite mon­eyed U.S. pow­er. The allu­sive elec­toral base of ​"Trump sup­port­ers" that rep­re­sent some mono­lith­ic angry poor white man is part of a nation­al myth about the South, rur­al peo­ple and pover­ty in the Unit­ed States. The myth deep­ens divi­sions, and we must find ways to con­nect across frac­tures, not widen them. (More on the dan­ger of this nar­ra­tive in a pow­er­ful piece by Bar­bara Ellen Smith and Jamie Winders.) The rise of white suprema­cy in the 21st cen­tu­ry as an anti-social move­ment is less about indi­vid­ual peo­ple who vot­ed for Trump and more about the peo­ple with mon­ey and influ­ence who are con­struct­ing this mobi­liza­tion from the top down around hate-filled nar­ra­tives and fear. Our imper­a­tive is to under­stand the big­ger con­text in order to reject vio­lent white suprema­cists and engage all folks who are dis­en­fran­chised, dis­cour­aged, and displaced.
Reject­ing the false equiv­a­len­cy of the ​"both sides" argument.
The left-right and blue-red frame­work is not as use­ful as it was in the past. The lan­guage of ​"both sides" and pro­test­er/­counter-pro­test­er legit­i­mates bla­tant racist vio­lence in Char­lottesville and reveals the dan­ger of not being clear about who we are and what we are doing. The bina­ry is a clas­sic tool of colo­nial­ism, and author­i­tar­i­an­ism feeds on racial, gen­der and class dichotomies that erase our com­plex lives and lim­it our full auton­o­my. We can name the ene­my with­out lim­it­ing our scope. Let us re-imag­ine our polit­i­cal lan­guage and prac­tice to be more pre­cise, inclu­sive, and visionary.
Dis­trac­tions will waste time and yield nothing.
The Demo­c­ra­t­ic Party's obses­sion with the details of the Trump campaign's obvi­ous engage­ment with Rus­sia is not a win­ning plat­form or a ral­ly­ing call, only more dis­trac­tion. The Repub­li­can Party's fix­a­tion on the media is a dan­ger­ous threat to jour­nal­ism, but also an easy tac­tic of mis­di­rec­tion. We need to pay atten­tion to what is hap­pen­ing in the cir­cus, but we have to be cau­tious. We can­not waste time re-build­ing or reviv­ing the Demo­c­ra­t­ic Par­ty. Our lim­it­ed resources need to be more strate­gi­cal­ly uti­lized beyond reac­tion and response — and mus­tered toward build­ing demo­c­ra­t­ic self-governance.
Self-deter­mi­na­tion is lever­age for resistance.
Gov­er­nance is con­test­ed ter­ri­to­ry across the globe in this polit­i­cal moment. A major ques­tion fac­ing our move­ments is how we gov­ern our­selves and the dis­tri­b­u­tion of resources, knowl­edge, and rela­tion­ships. Gov­ern­ment has blurred itself with pri­vate inter­ests, fun­da­men­tal­ist ide­olo­gies and fas­cist orga­ni­za­tions. Wins in the South include local city coun­cils, school boards and munic­i­pal­i­ties hold­ing ground, block­ing ICE and resist­ing white suprema­cy. Front­line assem­blies coor­di­nat­ed across region­al spaces offer oppor­tu­ni­ties for com­mu­ni­ties to design and prac­tice a ​"people's democ­ra­cy" — and build a new econ­o­my and com­mu­ni­ties that are tru­ly pro­tect­ed and defended.
Sug­ges­tion is pow­er­ful and has real-life impli­ca­tions. Sug­ges­tion also implies a vul­ner­a­bil­i­ty that we can exploit. It is not direct, so our attempts to com­bat with moral or right­eous direct­ness will fail. But if we work hard to see and under­stand the sug­ges­tions, sig­nals and signs of this moment, we can chart our own course for­ward, not only to respond to the cri­sis but to build a lib­er­at­ed future for all people.