After Trump's Election, I Regret Being Leftier-Than-Thou. It's Time To Get To Know My Neighbors.
In addition to organizing resistance, progressives should build communities that support and protect the vulnerable.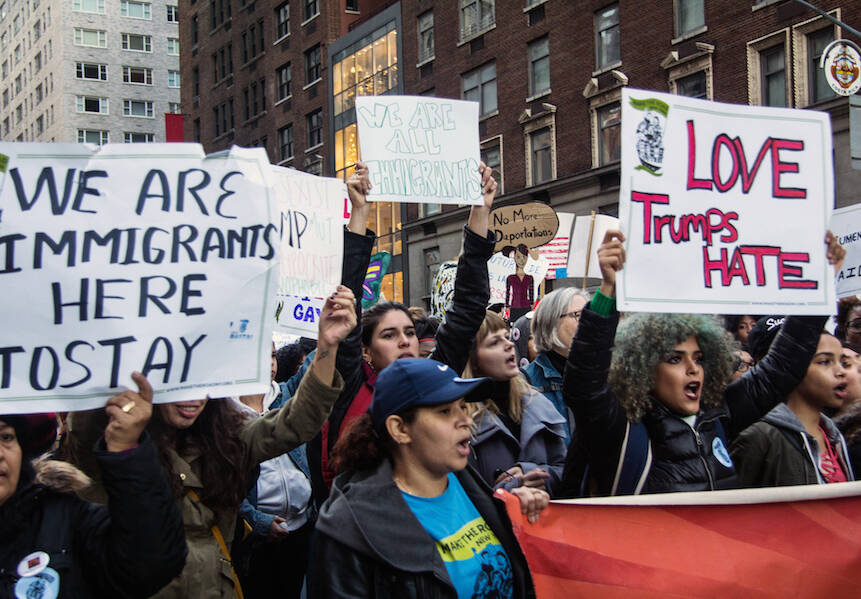 This arti­cle first appeared at Wag­ing Nonviolence.
I'm already planning my garden for 2017. It won't be as big or as well funded as Michelle Obama's, but I am going to grow a lot of vegetables and share them with my neighbors—even the ones who voted for Trump—because we are all going to be hungry for community in these coming months."
Like the rest of the world, I woke up to the night­mare of a Pres­i­dent Trump on Wednes­day. But the first noise I heard that morn­ing was the laugh­ter of my daugh­ters Rose­na and Made­line — that qui­et ear­ly morn­ing gur­gle of gig­gles that sis­ters make with­out even think­ing, that delight of being alive and togeth­er and whol­ly com­fort­able. My son Sea­mus was still in bed, singing to him­self ​"oh the Lord is good to me, and so I thank the Lord," as he played with his pil­low and snug­gled him­self deep­er into the warmth.
"They don't know," I thought in hor­ror. ​"They don't know."
Our kids — ages two, four and nine — had a lot of fun on Elec­tion Day. Rose­na vot­ed first thing in the morn­ing with her mom and then got dropped off at the New Lon­don, Con­necti­cut polls to vote with us. Our whole fam­i­ly then spent a few hours at the high school on Tues­day morn­ing. We vot­ed and chat­ted over our Green Par­ty signs in the morn­ing sun­shine. The lines were long, the mood was high and the kids had smiles for every­one — prob­a­bly because we emp­tied our wal­lets in exchange for pump­kin whoopee pies, cof­fee, cook­ies, donuts and more whoopee pies at the march­ing band's bake sale.
After spend­ing too much time on Face­book on Mon­day night, I thought that peo­ple would be mean to us at the polls — blam­ing us for Trump or hec­tor­ing us to vote for Hillary. But that didn't hap­pen. Civil­i­ty reigned at the home of the New Lon­don Whalers. The pantsuit­ers and the suf­frag­ists and the peo­ple wear­ing ​"Make Amer­i­ca Great Again" hats stood togeth­er in the con­fus­ing, long lines — and not a sin­gle punch was thrown.
In the sun­shine of Tues­day morn­ing, it did not occur to me that Tronald Dump (as the kids have tak­en to call­ing him) would win. I felt total­ly secure vot­ing for Jill Stein and Amaru Bara­ka in the solid­ly blue Nut­meg State. Going into my vot­ing car­rel, I remind­ed myself of Pres­i­dent Obama's drone war­fare in Afghanistan, his bro­ken promise about clos­ing Guan­tanamo and wip­ing away the moral stain of tor­ture, his fail­ure to end the war in Iraq, which raged ever more fierce­ly as we filled in bub­bles on our bal­lots. I gird­ed myself for a third-par­ty-cast­ing-bread-on-the-water sort of vote by recall­ing the ick and the ill of Bill Clinton's two terms in office, which were marked by a fix­a­tion on a stained blue dress, a tawdry impeach­ment, the war on drugs, manda­to­ry min­i­mum sen­tenc­ing, wel­fare ​"reform" and his now long for­got­ten wars. I vot­ed for the Green Par­ty across the bal­lot despite an admi­ra­tion for Hillary Clinton's deter­mined fight and all the awful, hate­ful poi­son she had to endure over the course of what felt to me like the longest pres­i­den­tial run ever.
I felt safe and com­fort­able vot­ing for Stein in Con­necti­cut, but 54,726 peo­ple in New Lon­don Coun­ty vot­ed for Trump. Those are our neigh­bors. So are the 4,797 peo­ple who cast their votes for Gary John­son. I have to hold onto those num­bers. I have to ask ques­tions and lis­ten to answers. We can't just be friends with the 2,225 oth­er peo­ple who vot­ed for Jill Stein. Com­mu­ni­ty doesn't work that way.
Rosena's eyes got big and round, seri­ous and dis­ap­point­ed, when we told her that Tronald Dump is our next pres­i­dent. And then we tried to explain the Elec­toral Col­lege, the pop­u­lar vote and how we don't real­ly live in a democ­ra­cy, but we lost her atten­tion. We got it back when we returned to the sim­ple: We need to be nice, we need to be coura­geous and we need to be stand­ing up for peo­ple who are vul­ner­a­ble. That was how sent Sea­mus and Rose­na went off to school on that awful Wednes­day morning.
We urged them to be super kind to their class­mates and friends, to pay spe­cial atten­tion to the Eng­lish lan­guage learn­ers in their class­es, to show­er their Syr­i­an and Sudanese school­mates with extra love. ​"Some of your friends are going to feel like this coun­try doesn't want them and their fam­i­lies here any­more. That's what the Trump win means for a lot of peo­ple. You have to reas­sure them that they belong here as much as you do."
"Not a prob­lem," our kids respond­ed. ​"We love being kind," they remind­ed us. ​"Ms. L says Trump doesn't want her here either, but she says she's stay­ing!" Rose­na said, awed by her beloved teacher's pow­er and fearlessness.
I wasn't raised to care all that much who occu­pied the big White House my fam­i­ly protest­ed in front of so reg­u­lar­ly. Carter, Rea­gan, Bush, Clin­ton, Bush Junior, Oba­ma: Those are the pres­i­dents of my 42 years, and I am pret­ty sure I've been arrest­ed at the White House dur­ing all but Carter's tenure at 1600 Penn­syl­va­nia Avenue. I wasn't going to vote for Hillary Clin­ton for pres­i­dent, and I can point to the pol­i­cy and social class sim­i­lar­i­ties between her and Trump pret­ty well. I even said (more than once) dur­ing this elec­tion sea­son that the Amer­i­can peo­ple deserved a Pres­i­dent Trump — the ur-Amer­i­can who rep­re­sents the kind of naked aggres­sion that the peo­ple of Afghanistan, Iraq, Yemen and else­where have seen from us every day for the last decade and count­ing. I wish I could take back those words and my right­eous, left­i­er-than-thou atti­tude — now that I am faced with the harsh, cold fact of it all.
While I wasn't raised to care about the pres­i­den­cy, my kids care. And, it turns out, I do care about who sits in that Oval Office, who signs all those exec­u­tive orders, who gets all those clas­si­fied intel­li­gence brief­in­gs, who reviews all those drone kill lists. I care about all that Trump has tried to dam­age and demo­nize. I care about repro­duc­tive rights. I care about immi­grants. I care about peo­ple who are queer and trans. I care about peo­ple of col­or. I care about peo­ple in wheel­chairs, who use canes, who live with phys­i­cal lim­i­ta­tions, who are blind and deaf, who work to over­come learn­ing bar­ri­ers, who strug­gle to main­tain their men­tal equi­lib­ri­um and health. They don't deserve Trump. I care about glac­i­ers and moun­tains and sea lev­els and the lim­its on glob­al tem­per­a­ture increas­es signed unto in Paris last year.
My friend is an edu­ca­tor, and two Sal­vado­ran sixth-grad­er boys cried to her, express­ing their fears about depor­ta­tion under Pres­i­dent Trump. They don't deserve him. Our Syr­i­an neigh­bors don't deserve him, espe­cial­ly after com­ing to Con­necti­cut when Indi­ana (under then-Gov. Mike Pence) refused them entry, fol­low­ing the Paris bomb­ings. Our Sudanese friends — who carved a pump­kin with us and were over­whelmed and delight­ed by our cos­tume col­lec­tion before Hal­loween — don't deserve Pres­i­dent Trump. Their girls are learn­ing Eng­lish and mak­ing friends so fast. They are so cool that Rosena's whole school is going to want to wear a hijab before the end of the year. None of those kids deserve Pres­i­dent Trump. Even those white, work­ing-class vot­ers who were manip­u­lat­ed and played into fill­ing in the bub­bles for Trump don't deserve him.
We all deserve bet­ter. And as long as we're list­ing things, we also deserve a bet­ter polit­i­cal sys­tem, pro­por­tion­al rep­re­sen­ta­tion, clean cor­po­rate-free elec­tions, and a real stake in real politics.
But this is what we got. And bar­ring some ghost of Jacob Mar­ley-inspired Ebenez­er Trump Christ­mas mir­a­cle, this man with all his hate, blus­ter, igno­rance, greed and grab­bi­ness, will take office in a mat­ter of weeks. What do we do?
Well, so many are already mobi­liz­ing. School kids in Berke­ley, Seat­tle, Philadel­phia, and all over the coun­try poured out of their schools and busi­ness-as-usu­al to say no to Trump's hate. Friends in Stand­ing Rock, North Dako­ta are get­ting out of jail and head­ing back to the plains to con­tin­ue stand­ing for Native sov­er­eign­ty and the earth. The ACLU has already opened their can of whoop on Trump, threat­en­ing to bury the worst of his pro­posed poli­cies in a bliz­zard of legal paper. That list can go on and on.
Peo­ple all over the coun­try are sit­ting down in small cir­cles, as our fam­i­ly did last night with friends, and ask­ing: What can we do to take care of one anoth­er? Where are we going to find the hope to keep going for the next four years?
What am I doing? I'm avoid­ing the 24-hour-news crawl and the Twit­ter­sphere and Face­book, and I am look­ing peo­ple in the eyes. I'm keep­ing my kids up too late to be with oth­er peo­ple in prayer, vig­il, march­es and meet­ings. I'm answer­ing every one of their end­less ques­tions and read­ing up so I'll be bet­ter pre­pared with more con­cise and pre­cise respons­es. I'll go back to Wash­ing­ton, D.C., and I'll get arrest­ed in front of Trump's White House (prob­a­bly in Jan­u­ary to demand the clo­sure of Guan­tanamo, a place Trump promised to ​"load up with bad dudes"). But I am real­ly inter­est­ed in keep­ing close to home, focus­ing on what's local and what's good. I'm open­ing my front door and my heart. I'm already plan­ning my gar­den for 2017. It won't be as big or as well fund­ed as Michelle Obama's, but I am going to grow a lot of veg­eta­bles and share them with my neigh­bors — even the ones who vot­ed for Trump — because we are all going to be hun­gry for com­mu­ni­ty in these com­ing months.
It doesn't feel like enough. Prob­a­bly noth­ing would feel like enough. Resis­tance. Orga­niz­ing. Work­ing togeth­er. Build­ing some­thing new. We do it to change the world and so that the world doesn't change us. Right, A.J. Muste?
At 10 p.m. on Trump's ter­ri­ble Wednes­day of tri­umph, way past her bed­time, I held two-year-old Made­line, as she screamed and writhed, fight­ing sleep's inevitabil­i­ty with a vengeance. She is cry­ing for all of us, I thought. This is where her rage is com­ing from. She is cry­ing for all the peo­ple who had to keep it all bot­tled up today.
"Thank you for your tears and anger, Made­line," I said, even though I was des­per­ate that she sleep. I snug­gled clos­er and tucked her blan­kets in again. She kept on cry­ing. Lat­er, final­ly calm, she whis­pered, ​"You're a nice mom­my. You are nice." She pat­ted my face and fell asleep.
Yep. The instinc­tive kind­ness of a tod­dler: It was the anti­dote to heartache. It was the fuel for the fire of resis­tance. It was the balm to fears and despair. It was the stick­ing-place for courage. Tomor­row is a new day; greet it with hope and action. I'll see you out there.