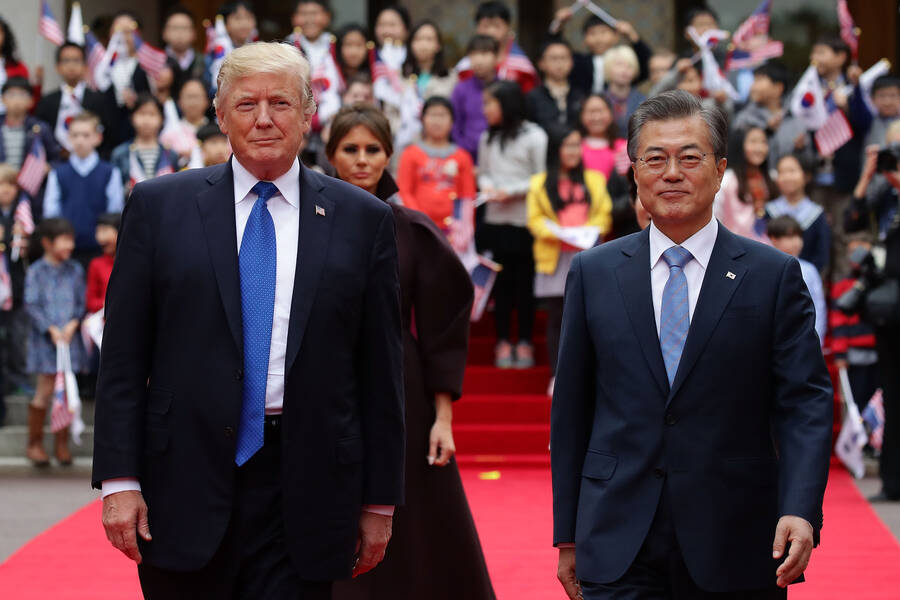 The U.S. Forces in Korea (USFK) has fur­loughed about half of its 8,500 local hires, not for fear of the COVID 19 pan­dem­ic, but in a ploy to extract more sub­si­dies from the South Kore­an gov­ern­ment, using work­ers as pawns.
As of April 1, about 4,000 Kore­an employ­ees were put on unpaid leave until fur­ther notice after the U.S. and South Kore­an gov­ern­ments failed to renew a cost-shar­ing deal that expired Decem­ber 31. ​"This is an unfor­tu­nate day for us," USFK com­man­der, Gen. Robert B. Abrams, said on April 1, com­ment­ing on the unprece­dent­ed mas­sive fur­lough. ​"It's heartbreaking."
In a sar­cas­tic tweet he sent some hours lat­er, how­ev­er, the four-star army gen­er­al betrayed his sym­pa­thet­i­cal­ly toned remarks. ​"I learned today that," Gen. Abrams said, "'Don't count your chick­ens before they hatch' = ​'Don't eat your kim­chi stew before the time is right.'" He dashed any hope for a quick end to the fur­lough, dis­miss­ing local press reports that the two gov­ern­ments were a few days away from reach­ing a new deal.
Five-fold increase
The ini­tial stages of nego­ti­a­tions for the renew­al of a cost-shar­ing deal, known as the Spe­cial Mea­sures Agree­ment (SMA), were bound to fail, as the Trump admin­is­tra­tion demand­ed of the South Kore­an gov­ern­ment about $5 bil­lion a year, more than a five-fold increase from about $853 mil­lion of the pre­vi­ous agree­ment. The Trump admin­is­tra­tion reject­ed a 13% increase offered by the South Kore­an government.
How­ev­er, the mass fur­loughs could have been avoid­ed had the Unit­ed States not reject­ed an offer by South Korea to cov­er local hires' wages dur­ing the runup to a new deal.
As of press time, half the usu­al lev­el of South Kore­an staff clean and main­tain at least 17 U.S. mil­i­tary bases for 25,800 troops sta­tioned in the country.
U.S. bel­liger­ence
On the cam­paign trail, Trump rou­tine­ly attacked South Korea, one of Asia's new eco­nom­ic pow­er­hous­es, for shrewd­ly pass­ing mil­i­tary costs on to the Unit­ed States. In Jan­u­ary 2016, he slammed South Korea, say­ing, ​"South Korea is a mon­ey machine. They pay us peanuts." He went on to declare, ​"South Korea should pay us and pay us very sub­stan­tial­ly for pro­tect­ing them"
How­ev­er, South Kore­ans have been pay­ing for the U.S. mil­i­tary pres­ence on their own soil since 1953, when U.S. bases and camps began to dot their war-torn coun­try to house more than 100,000 troops, after the Kore­an War of 1950 to 1953, a civ­il war that grew into a war by proxy between the Cold War superpowers.
While pub­lic data are still scant, there were three big bumps in South Kore­an con­tri­bu­tions dur­ing the Cold War, between the 1950s and the ear­ly 1990s, when the coun­try emerged as the U.S. government's bul­wark against com­mu­nist bloc. In 1966, the Unit­ed States and South Kore­an entered into the Sta­tus of Forces Agree­ment (SOFA), under which South Korea would pay for the land and facil­i­ty use by the USFK.
In 1979 when the Carter admin­is­tra­tion stepped up pres­sure on South Korea, still a poor coun­try with a per-capi­ta GNI of $1,670, to increase mil­i­tary spend­ing and finan­cial sup­port for the USFK, U.S. ambas­sador William Gleysteen and USFK com­man­der John Wick­ham joint­ly warned Wash­ing­ton of ​"one of the most seri­ous mis­per­cep­tions" about U.S. pol­i­cy toward Korea: ​"The U.S. finances a sig­nif­i­cant por­tion of Kore­an defense." They argued that South Korea's sup­port large­ly exceed­ed that of more promi­nent allies with a U.S. mil­i­tary pres­ence. Gleysteen and Wick­ham rec­om­mend­ed grad­ual pres­sure. Any imme­di­ate, sub­stan­tial rise in host-coun­try sup­port, they warned, would result in the post­pone­ment of South Korea's infra­struc­ture expen­di­tures or even the down­grad­ing of its cred­it ratings.
In 1991, the two coun­tries signed the SMA, replac­ing much of the SOFA and fur­ther strength­en­ing South Korea's finan­cial con­tri­bu­tions to the USFK. In the three decades since 1991, South Korea's pay­outs rose by 10 times, despite the post-Cold War real­i­ty that the USFK, once com­mit­ted almost exclu­sive­ly to the Kore­an penin­su­la, were increas­ing­ly becom­ing some­thing of a rapid response force for the entire region.
Major foothold
The 28,500-strong USFK rep­re­sents the U.S. military's third-largest over­seas pres­ence. Noth­ing show­cas­es South Korea's finan­cial bur­den bet­ter than Camp Humphreys, about 40 miles south­west of Seoul, and the largest U.S. mil­i­tary base out­side the Unit­ed States. The base, which can accom­mo­date up to 45,000 per­son­nel from all mil­i­tary branch­es, was com­plet­ed in 2017, with the rise of Chi­na as mil­i­tary super­pow­er in mind. Camp Humphreys, about 250 miles away from China's east­ern seaboard, is the most fore­front of about 400 U.S. mil­i­tary bases encir­cling Chi­na. While nei­ther gov­ern­ment dis­clos­es dol­lar fig­ures, sev­er­al press reports said South Korea paid more than $9 bil­lion out of a total of $10.8 bil­lion for the construction.
Direct hit
The 4,000 USFK Kore­an employ­ees were held finan­cial­ly hostage as the coun­try grap­pled with the eco­nom­ic and social fall­out of the coro­n­avirus pan­dem­ic. Cat­e­go­rized as free­lancers under con­tract with a for­eign enti­ty, these work­ers are not enti­tled to fur­lough ben­e­fits. Their employ­ment sta­tus and con­di­tions are gov­erned under a vage­ly SOFA that does not delin­eate labor rights or employ­ment status.
USFK local hires are in a legal lim­bo that falls between U.S. and Kore­an juris­dic­tion. The work­ers are left with lit­tle legal recourse in the face of lay­offs or wage freezes. Between 2017 and 2019, the USFK shed 400 to 500 Kore­an hires despite con­tin­ued ris­es in South Kore­an sub­si­dies. Dur­ing the Great Reces­sion in 2018, the com­mand refused to approve a medi­a­tion deal by South Korea's labor rela­tions com­mis­sion over a three-year wage freeze. All of these issues should now be set­tled under SOFA struc­ture. Under the SOFA, both par­ties must agree to even dis­cuss an issue, and to date, the U.S. has refused to ini­ti­ate dis­cus­sion about these labor con­cerns. The SOFA bans work­ers from tak­ing col­lec­tive action such as stop­pages over a pend­ing settlement.
"Amid the COVID 19 pan­dem­ic, it is even dif­fi­cult find inter­im part-time jobs," said the USFK Kore­an Employ­ees Union in a state­ment. ​"Our liveli­hood will be hit directly."
Union­ists mount dai­ly pick­ets at Camp Humphreys while the gov­ern­ment con­sid­ers a one-time loan pro­gram for the work­ers. As one com­mu­ni­ty activist told the press, ​"This amounts to day­light robbery."