Congress Wants to Give Trump a Bipartisan Blank Check for Declaring War
Presidents have been declaring war by executive fiat. A new bill to replace the AUMF would rubber stamp it.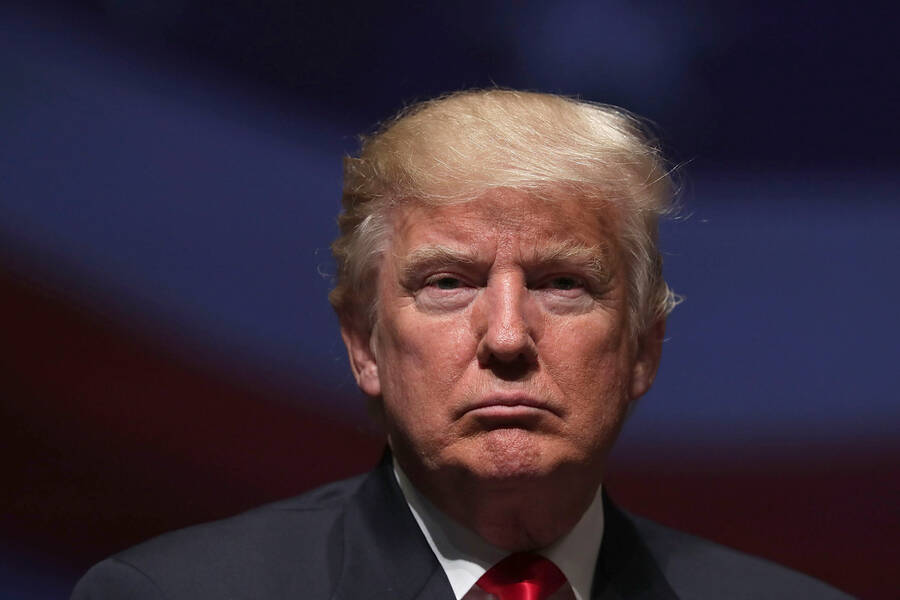 It may be too late. The pres­i­dent of the Unit­ed States is now a ver­i­ta­ble auto­crat in the realm of for­eign pol­i­cy. He has been since at least 1945, when the last con­gres­sion­al­ly declared war final­ly end­ed. Wars in Korea, Viet­nam, Grena­da, Pana­ma, Soma­lia, Koso­vo, Afghanistan, Iraq, Syr­ia, and Yemen (among oth­er places) were all waged via exec­u­tive fiat or fee­ble, open-end­ed con­gres­sion­al autho­riza­tions for the use of mil­i­tary force, aka AUMFs. So it has been with increas­ing inten­si­ty for 73 years and so, most like­ly, it will remain.
Is the United States to remain a democracy (of sorts) within its borders, but a war-making empire beyond its shores?
Along with many oth­ers, this mil­i­tary offi­cer has repeat­ed­ly decried the no-longer-new nor­mal of con­gres­sion­al acqui­es­cence to pres­i­den­tial pow­er to no avail. When, in Sep­tem­ber 2017, Repub­li­can Sen­a­tor Rand Paul sought to repeal (and replace with­in six months) the exist­ing 2001 AUMF, which had autho­rized the pres­i­dent to use force against the per­pe­tra­tors and enablers of the 9⁄11 attacks, he could bare­ly muster 35 votes. Giv­en that any pres­i­dent, Repub­li­can or Demo­c­rat, would veto such a cur­tail­ment of the essen­tial­ly unlim­it­ed exec­u­tive pre­rog­a­tive to make war, that's still some 32 votes short of a Sen­ate over­ride. In hope­less­ly divid­ed Wash­ing­ton, that's the def­i­n­i­tion of impossibility.
Fear not, two brave ​"cen­trist" sen­a­tors, Repub­li­can Bob Cork­er and Demo­c­rat Tim Kaine, are rid­ing to the res­cue. Their recent­ly announced bill to repeal and replace the exist­ing AUMF promis­es to right sev­en decades of wrong and ​"estab­lish rig­or­ous con­gres­sion­al over­sight," ​"improve trans­paren­cy," and ensure ​"reg­u­lar con­gres­sion­al review and debate."
In real­i­ty, it would do none of those things. Though Sen­a­tor Kaine gave a resound­ing speech in which he admit­ted that ​"for too long Con­gress has giv­en pres­i­dents a blank check to wage war," his bill would not stanch that pow­er. Were it ever to pass, it would prove to be just anoth­er blank check for the war-mak­ing acts of Don­ald Trump and his successors.
Though there have cer­tain­ly been many cri­tiques of their piece of leg­is­la­tion, most miss the larg­er point: the Cork­er-Kaine bill would put a final con­gres­sion­al stamp of approval on the inver­sion of the war-mak­ing process that, over the last three-quar­ters of a cen­tu­ry, has become a de fac­to con­sti­tu­tion­al real­i­ty. The men who wrote the Con­sti­tu­tion meant to make the dec­la­ra­tion of war a supreme­ly dif­fi­cult act, since both hous­es of Con­gress need­ed to agree and, in case of pres­i­den­tial dis­agree­ment, to be able to muster a super­ma­jor­i­ty to over­ride a veto.
The Cork­er-Kaine bill would insti­tu­tion­al­ize the inverse of that. It would essen­tial­ly rub­ber stamp the president's author­i­ty, for instance, to con­tin­ue the ongo­ing shoot­ing wars in at least sev­en coun­tries where the U.S. is cur­rent­ly drop­ping bombs or fir­ing off oth­er muni­tions. Worse yet, it pro­vides a mech­a­nism for the pres­i­dent to declare near­ly any future group an ​"asso­ci­at­ed force" or ​"suc­ces­sor force" linked to one of America's cur­rent foes and so ensure that Washington's near­ly 17-year-old set of for­ev­er wars can go on into eter­ni­ty with­out fur­ther con­gres­sion­al approval.
By trans­fer­ring the invo­ca­tion of war pow­ers to the exec­u­tive branch, Con­gress would, in fact, make it even more dif­fi­cult to stop a hawk­ish pres­i­dent from deploy­ing U.S. sol­diers ever more expan­sive­ly. In oth­er words, the onus for war would then be offi­cial­ly shift­ed from a pres­i­dent need­ing to make a case to a skep­ti­cal Con­gress to an unfet­tered exec­u­tive sanc­tioned to wage expan­sive war­fare as he and his advis­ers or ​"his" gen­er­als please.
How to Make War on Any Group, Any Time
Should the Cork­er-Kaine bill mirac­u­lous­ly pass, it would not stop even one of the present ongo­ing U.S. con­flicts in the Greater Mid­dle East or Africa. Instead, it would belat­ed­ly put a con­gres­sion­al stamp of approval on a world­wide counter-ter­ror cam­paign which isn't work­ing, while polite­ly request­ing that the pres­i­dent ask nice­ly before adding new ene­mies to a list of ​"asso­ci­at­ed" or ​"suc­ces­sor" forces; that is, groups that are usu­al­ly Arab and nom­i­nal­ly Mus­lim and essen­tial­ly have lit­tle or no con­nec­tion to the 9⁄11 attacks that pro­duced the 2001 AUMF.
So let's take a look at just some of the forces that would be pre­emp­tive­ly autho­rized to receive new Amer­i­can bombs and mis­siles, Spe­cial Oper­a­tions forces raids, or what­ev­er else the pres­i­dent chose under the pro­posed leg­is­la­tion, while rais­ing a ques­tion rarely asked: Are these groups actu­al­ly threats to the home­land or wor­thy of such Amer­i­can mil­i­tary efforts?
Al-Qae­da (AQ) prop­er nat­u­ral­ly makes the list. Then, of course, there's the Afghan Tal­iban, which once upon a time shel­tered AQ. As near­ly 17 years of effort have shown, how­ev­er, they are mil­i­tar­i­ly unbeat­able in a war in their own home­land that is nev­er going well for Wash­ing­ton. In addi­tion, there are no sig­nif­i­cant al-Qae­da forces left in Afghanistan for the Tal­iban to poten­tial­ly shel­ter. AQ long ago dis­persed across the region. The age of plots drawn up in the caves of the Hin­du-Kush is long over. In addi­tion, the focus of the Tal­iban remains (as it always was) high­ly local. I fought those guys for 12 months and, let me tell you, we nev­er found any transna­tion­al fight­ers or al-Qae­da vets. The vast major­i­ty of the ene­mies Wash­ing­ton mis­la­bels as ​"Tal­iban" are poor, illit­er­ate, unem­ployed farm boys inter­est­ed, at best, in local pow­er strug­gles and drug run­ning. They rarely know what's hap­pen­ing just one val­ley over, let alone in Milwaukee.
Then there's al-Qae­da in the Ara­bi­an Penin­su­la (AQAP), a par­tic­u­lar­ly vicious AQ fran­chise in Yemen. These are gen­uine bad actors and, for a while dur­ing the Oba­ma admin­is­tra­tion, were con­sid­ered the top ter­ror threat to the U.S. Still, that's not who the Amer­i­can mil­i­tary actu­al­ly fights in Yemen most of the time. U.S. Air Force fuel­ers pro­vide in-flight ser­vice, U.S. ana­lysts pro­vide updat­ed tar­get­ing intel­li­gence, and U.S. mega­cor­po­ra­tions sell guid­ed bombs to the Saud­is, who most­ly bomb Shia Houthi rebels (and often civil­ians) unaf­fil­i­at­ed with – in fact, opposed to – AQAP. Worse still, the U.S.-backed cam­paign against the Houthis actu­al­ly empow­ers AQAP by sow­ing chaos and cre­at­ing vast ungoverned spaces for it to move into. The Houthis aren't on the Cork­er-Kaine list yet, but no doubt (amid increas­ing mil­i­tary ten­sions with Iran) Mr. Trump would have lit­tle trou­ble adding them as ​"asso­ci­at­ed forces." Are they brown? Yes. Do they wor­ship Allah? Sure. Throw ​'em on the list.
Al-Shabaab in Soma­lia is also includ­ed. Its nasty mili­ti­a­men do make life mis­er­able in Soma­lia and have occa­sion­al­ly called for attacks on U.S. tar­gets. There's no evi­dence, how­ev­er, that U.S. mil­i­tary oper­a­tions there have ever sta­bi­lized the region or improved long-term secu­ri­ty. Mean­while, al-Shabaab tries to rad­i­cal­ize young Soma­li-Amer­i­can youth in immi­grant com­mu­ni­ties like cities like Min­neapo­lis. Their main gripe: the U.S. mil­i­tary pres­ence and drone strikes in East Africa. And on and on the cycle goes.
Al Qae­da in the Islam­ic Magreb (AQIM), which oper­ates in North Africa, is anoth­er ​"asso­ci­at­ed force" that's tak­en on the AQ moniker, though with a dis­tinct­ly local fla­vor. AQIM oper­ates in sev­er­al coun­tries. Does the Cork­er-Kaine bill then imply that the U.S. mil­i­tary may con­duct strikes and raids any­where in North Africa? Odds are that it does. Again, though AQIM is vio­lent and prob­lem­at­ic for local African secu­ri­ty forces, they've nev­er suc­cess­ful­ly attacked the Unit­ed States. As pro­fes­sor and Africa expert Nathaniel Pow­ell has shown, more often than not U.S. mil­i­tary oper­a­tions in the Maghreb or the Sahel (just south of the Sahara desert) tend only to exac­er­bate exist­ing con­di­tions, moti­vate yet more Islamists, and tan­gle Wash­ing­ton up in what are essen­tial­ly local prob­lems and grievances.
Final­ly, there's al-Qae­da in Syr­ia, as the bill labels them. This is the crew that used to be known as the al-Nus­ra Front. The Islam­ic State, or ISIS, even­tu­al­ly broke­off from AQ and has even fought al-Nus­ra Front mil­i­tants on occa­sion. No doubt, U.S. inter­ests are nev­er served when any al-Qae­da fran­chise gains pow­er and influ­ence. Still, there's lit­tle evi­dence that the for­mer al-Nus­ra Front, which is los­ing the civ­il war inside Syr­ia, has either the stay­ing pow­er or capac­i­ty to attack the U.S. homeland.
Add in this: the U.S. mil­i­tary in Syr­ia has rarely attacked al-Nus­ra, focus­ing instead on ISIS or occa­sion­al strikes at the régime of Syr­i­an auto­crat Bashar al-Assad. In addi­tion, in the past, America's Sau­di allies have sup­port­ed and fund­ed this and oth­er rad­i­cal Islamist groups and some U.S. aid has even inad­ver­tent­ly fall­en into the hands of al-Nus­ra Front fight­ers in the mess that pass­es for the Syr­i­an civ­il war.
And don't let me get start­ed on those ​"suc­ces­sor forces" – think ISIS and its brands around the world – a term so vague as to ensure that any Islamist orga­ni­za­tion or coun­try, includ­ing Iran, could, by a stretch of the imag­i­na­tion, be defined as a tar­get of the U.S. military.
Lump­ing these var­i­ous groups under the umbrel­la of ​"asso­ci­at­ed" or ​"suc­ces­sor" forces ignores the agency and speci­fici­ty of each of them and so pro­vides any pres­i­dent with a blank check to fight any­one he deems loose­ly Islamist the world over. And if he cares to, he can just add any new gang he choos­es onto the list and dare the Sen­ate to muster 67 votes to stop him.
Con­sid­er it a remark­able for­mu­la for for­ev­er war.
The Dan­ger­ous Evo­lu­tion of Arti­cle II of the Constitution
When you get right down to it, all the debate over AUMFs is lit­tle more than a cha­rade. It hard­ly mat­ters whether Con­gress ever updates that post‑9/​11 doc­u­ment. When, for instance, Pres­i­dent Trump recent­ly sent mis­siles soar­ing against the Assad régime in response to an alleged chem­i­cal attack on a sub­urb of Dam­as­cus, nei­ther he nor his advis­ers even both­ered to sug­gest that the strike fell under that AUMF. Instead, they sim­ply claimed that Trump was exer­cis­ing his pres­i­den­tial pre­rog­a­tive under Arti­cle II, Sec­tion 2, of the Con­sti­tu­tion, which makes him commander-in-chief.
In such moments, right-wing pres­i­dents and their advis­ers have no com­punc­tions about turn­ing the stan­dard lib­er­al argu­ment about the Con­sti­tu­tion on its head – that it's a ​"liv­ing doc­u­ment" sub­ject to the exi­gen­cies of chang­ing times. Of course, it's not exact­ly an obscure fact of his­to­ry that the framers of that doc­u­ment nev­er meant to grant the chief exec­u­tive uni­lat­er­al author­i­ty to start new con­flicts – and ​"strict­ly con­struc­tion­ist" con­ser­v­a­tives know it. The Founders were ter­ri­fied of stand­ing armies and impe­r­i­al over­reach. After all, when they wrote the doc­u­ment they'd only recent­ly brought their own revolt against impe­r­i­al Eng­land and its vaunt­ed army of red­coats to a suc­cess­ful con­clu­sion. So, to con­strue the Constitution's com­man­der-in-chief clause, which gave the pres­i­dent the author­i­ty to over­see the gen­er­als in an ongo­ing war, as let­ting him declare wars or even expand them qual­i­fies as absurd. Nonethe­less, that's just what recent pres­i­dents have claimed.
What they like to say is that times have changed, that war­fare is now too swift for an eigh­teenth-cen­tu­ry recipe involv­ing Con­gress, and that, in such abbre­vi­at­ed cir­cum­stances, pres­i­dents need the author­i­ty to apply mil­i­tary force at will on a glob­al scale. The thing is, Con­gress has already rec­og­nized this poten­tial real­i­ty and cod­i­fied it into law in the 1973 War Pow­ers Act. This fair­ly sen­si­ble, though gen­er­al­ly ignored, piece of leg­is­la­tion requires the pres­i­dent to noti­fy Con­gress with­in 48 hours of a mil­i­tary deploy­ment and remove the troops after 60 days unless leg­is­la­tion offi­cial­ly sanc­tions the esca­la­tion. Pres­i­dents tend to be metic­u­lous about the first require­ment and then – like Con­gress itself – pay no atten­tion to the second.
Obvi­ous­ly, Bashar al-Assad's régime had noth­ing to do with 9⁄11 and so falls under no imag­in­able inter­pre­ta­tion of that 2001 AUMF. There­fore, Pres­i­dent Trump has on his own essen­tial­ly launched a new con­flict, with a new ene­my, in west­ern Syr­ia. He's ​"noti­fied" Con­gress of the lat­est mis­sile strikes, of course, and that's that.
Sal­va­tion Will Not Come From the ​"Bipar­ti­san" Center
Ear­ly indi­ca­tions are that the Cork­er-Kaine bill is unlike­ly to pass the Sen­ate (no less the House) and, if it did, wouldn't have a hope in hell of out­last­ing a pres­i­den­tial veto. You know that the sys­tem is bro­ken, pos­si­bly beyond repair, when the sec­re­tary of defense – one ​"Mad Dog" Mat­tis – is report­ed­ly the only fig­ure around Don­ald Trump to have argued for get­ting a con­gres­sion­al stamp of approval before launch­ing those mis­siles against the Assad régime. Think of it this way: a retired gen­er­al, the offi­cial top dog of destruc­tion in this admin­is­tra­tion, was over­ruled by the civil­ian lead­er­ship in the White House when it came to an act of impe­r­i­al war-making.
In oth­er words, we're through the look­ing glass, folks!
As a thought exper­i­ment: What would it actu­al­ly take for a super­ma­jor­i­ty of both hous­es of Con­gress to cur­tail a president's uni­lat­er­al war-mak­ing pow­er? Lib­er­als might have thought that the elec­tion of a boor­ish, unin­formed exec­u­tive would embold­en mod­er­ates on both sides of the aisle to reclaim some author­i­ty over the lives and deaths of America's sol­diers. It didn't, nor did such pas­siv­i­ty start with Don­ald Trump. Main­stream lib­er­als cer­tain­ly treat­ed the pres­i­den­cy of George W. Bush as if it were the worst dis­as­ter since Richard Nixon, Water­gate, and Viet­nam. Even so, they nev­er had the guts to cut off funds for the obvi­ous, ongo­ing fol­ly in Iraq. Most­ly, in fact, they first vot­ed for a res­o­lu­tion sup­port­ing that inva­sion and then heck­led point­less­ly from the side­lines as Bush waged a dubi­ous­ly legal, unwinnable war to his heart's content.
Con­ser­v­a­tives absolute­ly hat­ed Oba­ma. They ques­tioned his very legit­i­ma­cy and even his cit­i­zen­ship (as did Cit­i­zen Trump, of course) – or at least stayed con­ve­nient­ly silent while the far right of the GOP cau­cus did so. Still, Repub­li­cans then essen­tial­ly did noth­ing to cur­tail his uni­lat­er­al deci­sion to expand drone attacks to a kind of fren­zy across the Greater Mid­dle East and parts of Africa and over­see a spe­cial oper­a­tions bonan­za. Rarely, for exam­ple, in the bazil­lion hear­ings the Repub­li­cans spon­sored on the deaths of an Amer­i­can ambas­sador and oth­ers in Beng­hazi, Libya, did any­one call for a seri­ous reap­praisal of exec­u­tive war-mak­ing authority.
Despite the pal­try Cork­er-Kaine bill, expect no respite or sal­va­tion from Con­gress, which is, in truth, at the heart of the prob­lem. To move the nee­dle on war-mak­ing would take grass­roots pres­sure sim­i­lar to that applied by the Viet­nam-era anti­war move­ment. But such a move­ment looks high­ly unlike­lywith the draft long gone, few cit­i­zens engaged in for­eign pol­i­cy issues, and even few­er seem­ing to notice that this coun­try has now been involved in still-spread­ing wars for almost 17 years.
To recap­ture mil­i­tary author­i­ty from an impe­r­i­al pres­i­dent and inject san­i­ty into the sys­tem, ​"We the Peo­ple" would have to break out the pink pussy caps, gath­er the young and their social media skills – Park­land-style – and bring the sort of ener­gy now going into domes­tic crises to issues of war and peace. Suf­fice it to say, I'm not hopeful.
Whether noticed or not, whether attend­ed to or not, there is, how­ev­er, a grave ques­tion before the Amer­i­can peo­ple: Is the Unit­ed States to remain a democ­ra­cy (of sorts) with­in its bor­ders, but a war-mak­ing empire beyond its shores? Cer­tain­ly, it's most of the way to such a state already with its ​"all vol­un­teer" impe­r­i­al mil­i­tary and unre­strained war presidency.
Just about every­thing is in place for an (elect­ed) exec­u­tive emper­or to move his impe­r­i­al chess pieces wher­ev­er he pleas­es. Noth­ing in the Cork­er-Kaine cop-out of a bill can or will change that. In truth, it doesn't even pre­tend to.
When it comes to war, the pres­i­dent reigns supreme – and so, it seems, he shall remain.
Hail, Cae­sar!
This post first appeared at Tom Dis­patch.
Major
Dan­ny Sjursen
is a U.S. Army offi­cer and for­mer his­to­ry instruc­tor at West Point. He served tours with recon­nais­sance units in Iraq and Afghanistan. He has writ­ten a mem­oir and crit­i­cal analy­sis of the Iraq War, Ghost Rid­ers of Bagh­dad: Sol­diers, Civil­ians, and the Myth of the Surge. He lives with his wife and four sons in Lawrence, Kansas. Fol­low him on Twit­ter at @SkepticalVet and check out his pod­cast ​
"
Fortress on a Hill," co-host­ed with fel­low vet Chris ​
'
Hen­ri' Henriksen.