Trucker's Dream? Obama Reconsiders 11th-Hour Bush Decision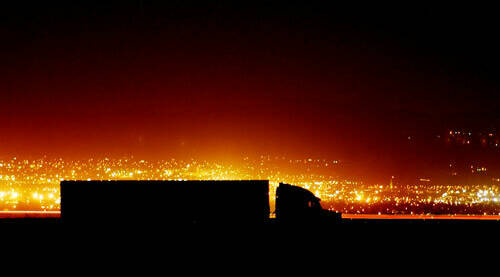 You're tired. It's dark. This part of the highway is tough driving. And the humongous truck trailing you far too closely has you worried. It keeps wandering back and forth in its lane.
Cross your fingers that the driver can make it to a rest stop. He's probably fighting hard to stay awake.
And cross your fingers again that the Obama administration fixes a bad decision on truckers' driving hours that Bush and Co. slapped on the books in its waning days.
The rule lets truck drivers put in up to 11 hours per day, and trimmed as well the rest time they must get between work weeks. Previously drivers could only put in 10 hours behind the wheel each day.
Urged on by the trucking industry, the Bush administration twice before tried to boost drivers' hours and loosen the regulations controlling them. The trucking industry had rolled out a heap of explanations why longer hours for drivers was good for business, good for the economy and just plain good for the country.
And both times federal courts knocked down the government's efforts.
Even the government's own Occupational and Safety Health Administration (OSHA), part of the labor department, opposed the rule changes proposed by the Bush administration, saying it would put more tired truckers on the road.
But in October 2008, the Republican White House went ahead with a rule not very different from the others that the courts overturned.
That was the situation until the current administration worked out a deal last month (October 2009) with the Teamsters Union, Public Citizen, Advocates for Highway Safety and the Truck Safety Coalition. Because the government agreed to reconsider the rule, those organizations dropped their lawsuit against it.
Meanwhile the 11-hour rule governs the road.
Does this matter? Well, it may not matter to those truckers who live beyond the law.
These are the small-time truckers who own their own rigs and who compete like pirates, cutting their rates while hoping to snare some business. The lower their rates go, the longer they drive and more likely they are to turn their driving logs into dream books.
In these hard times, you can be sure that business hungry truckers are doing all they can to keep on the road.
Nor does the 11-hour rule matter to the truckers who see how much more money they can make by pushing their freight hours beyond what they are allowed.
Drivers who cook their books don't worry because they know there are numerous ways not to get caught. And they also know that the government hasn't been trying very hard to catch so them.
But it surely matters if you have lost someone in a crash with a large truck. More than 4,800 persons died in such crashes in 2007, according to the most recent statistics.
And it matters to groups like Parents Against Tired Truckers, which was formed in 1994 after a trucker dozed off at the wheel of his 80,000 pound rig, killing four teenagers. Click on the organization's website for a list of memorials to victims of truck crashes.
But it's also a matter of concern to truckers who know they are driving themselves to death.
Several years ago, the Owner-Operator Independent Drivers Association came up with startling figures. By its calculations, its average member was dropping dead at 55 and its members were running a higher than average suicide rate.
So, hope that the trucker behind you, who is weaving back and forth, can finish his trip without passing out — and that Obama shows some spine in restoring safety to the nation's highways.
Stephen Franklin is a former labor and workplace reporter for the Chicago Tribune, was until recently the ethnic media project director with Public Narrative in Chicago. He is the author of Three Strikes: Labor's Heartland Losses and What They Mean for Working Americans (2002), and has reported throughout the United States and the Middle East.