Early Optimism Crushed in Maryland's Fight for $15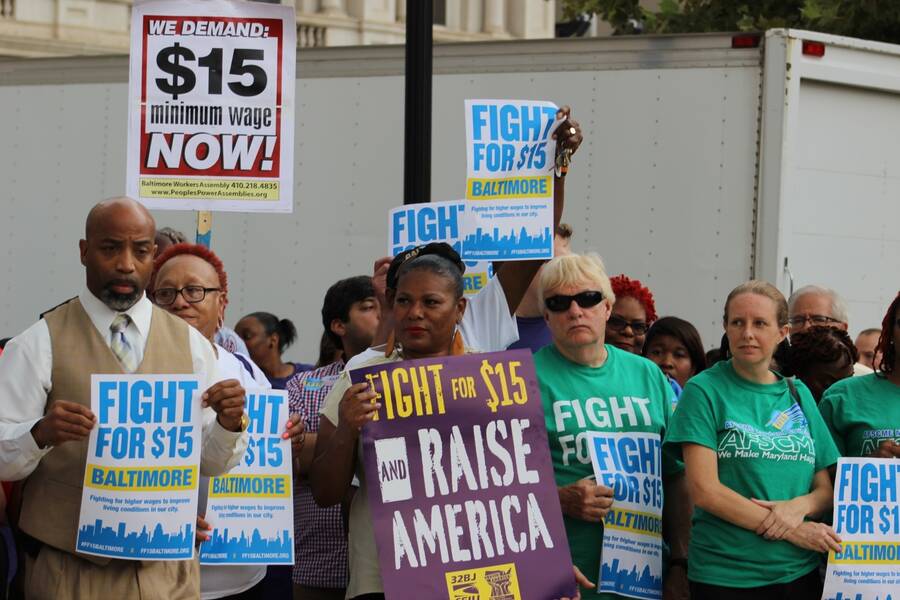 BAL­TI­MORE – The opti­mism that fueled the Fight for $15 min­i­mum wage cam­paign last year in Bal­ti­more and oth­er Mary­land juris­dic­tions is giv­ing way to a more sober assess­ment of polit­i­cal real­i­ties and caus­ing pro­po­nents to roll back expectations.
That new real­i­ty was on dis­play this week at Bal­ti­more City Hall, where Coun­cil­woman Mary Pat Clarke, a Demo­c­rat, unveiled a pro­pos­al for a city­wide min­i­mum wage. The pro­posed leg­is­la­tion adds new loop­holes and scales back a $15 min­i­mum wage bill that failed in the Bal­ti­more City Coun­cil last year in the face of intense oppo­si­tion by busi­ness inter­ests and some local Demo­c­ra­t­ic leaders.
Clarke's ini­tia­tive comes on the heels of a huge set­back for Fight for $15 in Maryland's Mont­gomery Coun­ty, a sprawl­ing sub­urb of Wash­ing­ton, D.C., that has an even larg­er pop­u­la­tion than the city of Bal­ti­more. After pass­ing the Mont­gomery Coun­ty Coun­cil in a close vote ear­ly this year, the min­i­mum wage bill was vetoed Jan­u­ary 23 by Coun­ty Exec­u­tive Ike Leggett, a Demo­c­rat, who said he was con­cerned that the coun­ty would be put at an eco­nom­ic dis­ad­van­tage in com­par­i­son with oth­er Mary­land counties.
Adding insult to injury, high­er min­i­mum wage pro­po­nents were forced to rush to the state cap­i­tal of Annapo­lis this week to tes­ti­fy against a sur­prise attack from an unex­pect­ed quar­ter. Dereck Davis, a Demo­c­ra­t­ic law­mak­er, is try­ing to rush through leg­is­la­tion that would strip cities and coun­ties of their right to set their own min­i­mum wages. Instead, if his bill were to pass, the state of Mary­land would have sole pow­er to set a statewide min­i­mum wage.
Ernie Grec­co, pres­i­dent of the Met­ro­pol­i­tan Bal­ti­more Coun­cil AFL-CIO Unions, tells In These Times the fate of $15 min­i­mum wage in Mary­land is ​"uncer­tain" and that impor­tant ele­ments of the polit­i­cal equa­tion are not clear. For exam­ple, although the Bal­ti­more City Coun­cil appears to have a major­i­ty of pro-$15 votes, the new may­or, Cather­ine Pugh, has made no defin­i­tive state­ment on the subject.
"She has been good on labor issues in the past," Grec­co says. ​"But I don't want to be cocky and say we've got it in the bag."
"I don't know where the may­or is," says Ric­cara Jones, a polit­i­cal orga­niz­er for the 1199SEIU Unit­ed Health­care Work­ers union. ​"Every­thing she says pub­licly is that she wants to do it [raise the min­i­mum wage] statewide."
Pro­po­nents of the $15 min­i­mum wage wor­ry pri­vate­ly that polit­i­cal lan­guage that stress­es statewide over city­wide action is a sig­nal of oppo­si­tion to a high­er min­i­mum wage for Bal­ti­more, specifically.
Equal­ly impor­tant, the Greater Bal­ti­more Com­mit­tee (GBC), a big busi­ness lob­by group, is pledg­ing to renew its attack on a high­er min­i­mum wage. Even before Clarke announced the details of her pro­pos­al, the GBC was out with a press release oppos­ing a $15 min­i­mum wage.
"If passed, this bill would place Bal­ti­more City at a seri­ous dis­ad­van­tage. It has the poten­tial to result in job loss­es and busi­ness­es leav­ing the city," said GBC pres­i­dent Don­ald Fry, one of the lead­ing crit­ics of last year's proposal.
This sort of polit­i­cal back-and-forth has lit­tle mean­ing for Frances Smith, a house­clean­ing work­er for Red Coats Inc., a com­mer­cial office main­te­nance com­pa­ny active in the Mid-Atlantic region. She showed up at City Hall this week with fel­low union activists from SEIU 32BJ to show sup­port for a high­er min­i­mum wage, and told In These Times she is des­per­ate­ly in need of a raise. Her union con­tract pro­vides for $13.20 an hour, she says, but she must make more mon­ey if she is to achieve her goal of mov­ing out of her depressed Poplar Grove neighborhood.
"I real­ly want to move. Most of the build­ings on my street are aban­doned and board­ed up. It's not safe," she says.
Retired house­clean­er Robert Matthews had a dif­fer­ent take. He com­plained that the newest ver­sion of Clarke's bill carved out an exemp­tion for young workers.
"I think that is real­ly unfair, espe­cial­ly to young women with chil­dren," he says.
Fight for $15 pro­po­nents are uncom­fort­able with sev­er­al pro­vi­sions of Clarke's bill and said they hoped some improve­ments could be made as it moves through the hear­ings and amend­ment process. For exam­ple, the bill:
Pro­vides a spe­cial pro­vi­sion for small busi­ness­es with less than

50

employ­ees that gives those employ­ers

10

years, until

2026

, to reach the $

15

an hour minimum,
Retains the exist­ing ​

"

tipped wage" min­i­mum for wait staff, bar­tenders, etc. at $

3

.

63

an hour,
Exempts full-time work­ers under age

21

,
Delays the begin­ning of any wage increas­es man­dat­ed by new law to

2019

, com­pared to an ear­li­er date set by Clarke's bill last year.
1199SEIU's Jones says these steps to weak­en the bill had come as a con­ces­sion to City Coun­cil Pres­i­dent Jack Young, who was the prime mover in the 2016 defeat.
Cur­rent­ly, the Mary­land state min­i­mum wage stands at $8.75 an hour. Under leg­is­la­tion passed in 2014, it is sched­uled to rise to $9.25 an hour in July 2017 and to $10.10 in 2018. The Clarke bill leaves this sched­ule in place and begins to push Bal­ti­more wages toward a $15 min­i­mum start­ing in 2019.
Bruce Vail
is a Bal­ti­more-based free­lance writer with decades of expe­ri­ence cov­er­ing labor and busi­ness sto­ries for news­pa­pers, mag­a­zines and new media. He was a reporter for Bloomberg BNA's Dai­ly Labor Report, cov­er­ing col­lec­tive bar­gain­ing issues in a wide range of indus­tries, and a mar­itime indus­try reporter and edi­tor for the Jour­nal of Com­merce, serv­ing both in the newspaper's New York City head­quar­ters and in the Wash­ing­ton, D.C. bureau.