Early Optimism Crushed in Maryland's Fight for $15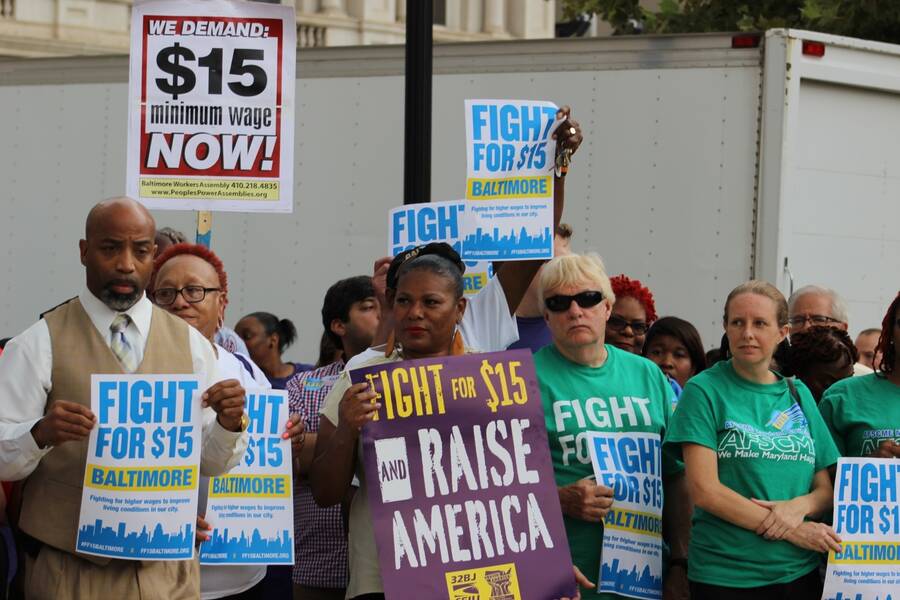 BALTIMORE – The optimism that fueled the Fight for $15 minimum wage campaign last year in Baltimore and other Maryland jurisdictions is giving way to a more sober assessment of political realities and causing proponents to roll back expectations.
That new reality was on display this week at Baltimore City Hall, where Councilwoman Mary Pat Clarke, a Democrat, unveiled a proposal for a citywide minimum wage. The proposed legislation adds new loopholes and scales back a $15 minimum wage bill that failed in the Baltimore City Council last year in the face of intense opposition by business interests and some local Democratic leaders.
Clarke's initiative comes on the heels of a huge setback for Fight for $15 in Maryland's Montgomery County, a sprawling suburb of Washington, D.C., that has an even larger population than the city of Baltimore. After passing the Montgomery County Council in a close vote early this year, the minimum wage bill was vetoed January 23 by County Executive Ike Leggett, a Democrat, who said he was concerned that the county would be put at an economic disadvantage in comparison with other Maryland counties.
Adding insult to injury, higher minimum wage proponents were forced to rush to the state capital of Annapolis this week to testify against a surprise attack from an unexpected quarter. Dereck Davis, a Democratic lawmaker, is trying to rush through legislation that would strip cities and counties of their right to set their own minimum wages. Instead, if his bill were to pass, the state of Maryland would have sole power to set a statewide minimum wage.
Ernie Grecco, president of the Metropolitan Baltimore Council AFL-CIO Unions, tells In These Times the fate of $15 minimum wage in Maryland is ​"uncertain" and that important elements of the political equation are not clear. For example, although the Baltimore City Council appears to have a majority of pro-$15 votes, the new mayor, Catherine Pugh, has made no definitive statement on the subject.
"She has been good on labor issues in the past," Grecco says. ​"But I don't want to be cocky and say we've got it in the bag."
"I don't know where the mayor is," says Riccara Jones, a political organizer for the 1199SEIU United Healthcare Workers union. ​"Everything she says publicly is that she wants to do it [raise the minimum wage] statewide."
Proponents of the $15 minimum wage worry privately that political language that stresses statewide over citywide action is a signal of opposition to a higher minimum wage for Baltimore, specifically.
Equally important, the Greater Baltimore Committee (GBC), a big business lobby group, is pledging to renew its attack on a higher minimum wage. Even before Clarke announced the details of her proposal, the GBC was out with a press release opposing a $15 minimum wage.
"If passed, this bill would place Baltimore City at a serious disadvantage. It has the potential to result in job losses and businesses leaving the city," said GBC president Donald Fry, one of the leading critics of last year's proposal.
This sort of political back-and-forth has little meaning for Frances Smith, a housecleaning worker for Red Coats Inc., a commercial office maintenance company active in the Mid-Atlantic region. She showed up at City Hall this week with fellow union activists from SEIU 32BJ to show support for a higher minimum wage, and told In These Times she is desperately in need of a raise. Her union contract provides for $13.20 an hour, she says, but she must make more money if she is to achieve her goal of moving out of her depressed Poplar Grove neighborhood.
"I really want to move. Most of the buildings on my street are abandoned and boarded up. It's not safe," she says.
Retired housecleaner Robert Matthews had a different take. He complained that the newest version of Clarke's bill carved out an exemption for young workers.
"I think that is really unfair, especially to young women with children," he says.
Fight for $15 proponents are uncomfortable with several provisions of Clarke's bill and said they hoped some improvements could be made as it moves through the hearings and amendment process. For example, the bill:
Provides a special provision for small businesses with less than

50

employees that gives those employers

10

years, until

2026

, to reach the $

15

an hour minimum,
Retains the existing ​

"

tipped wage" minimum for wait staff, bartenders, etc. at $

3

.

63

an hour,
Exempts full-time workers under age

21

,
Delays the beginning of any wage increases mandated by new law to

2019

, compared to an earlier date set by Clarke's bill last year.
1199SEIU's Jones says these steps to weaken the bill had come as a concession to City Council President Jack Young, who was the prime mover in the 2016 defeat.
Currently, the Maryland state minimum wage stands at $8.75 an hour. Under legislation passed in 2014, it is scheduled to rise to $9.25 an hour in July 2017 and to $10.10 in 2018. The Clarke bill leaves this schedule in place and begins to push Baltimore wages toward a $15 minimum starting in 2019.
Bruce Vail
is a Baltimore-based freelance writer with decades of experience covering labor and business stories for newspapers, magazines and new media. He was a reporter for Bloomberg BNA's Daily Labor Report, covering collective bargaining issues in a wide range of industries, and a maritime industry reporter and editor for the Journal of Commerce, serving both in the newspaper's New York City headquarters and in the Washington, D.C. bureau.