Remembering Ed Sadlowski: Labor Activist, Democratic Socialist and Crusader for the Rank-and-File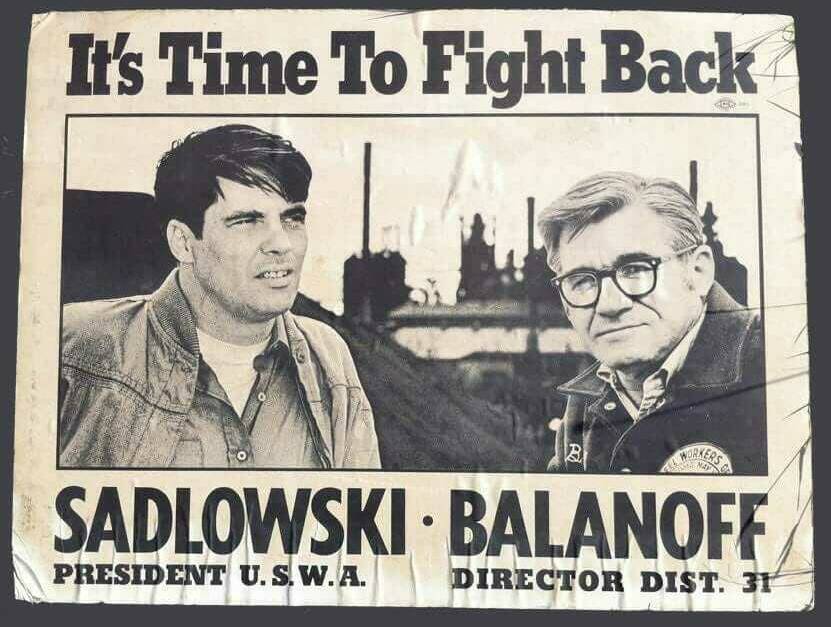 The labor move­ment, the left, and the city of Chica­go lost an icon Sun­day with the pass­ing of leg­endary steel­work­er Ed Sad­lows­ki at the age of 79.
"When you think of Chica­go and labor, you think of some­one like Eddie," Studs Terkel once remarked.
Sad­lows­ki was best known for his insur­gent run for the pres­i­den­cy of the Unit­ed Steel­work­ers (USW) in 1977, when he was 38 years old. Though large­ly for­got­ten today, Sadlowski's ​"Steel­work­ers Fight Back" cam­paign cap­ti­vat­ed the nation, with Terkel say­ing it was more impor­tant than that year's pres­i­den­tial elec­tion between Ger­ald Ford and Jim­my Carter.
Dur­ing the 1970s, a young, more diverse gen­er­a­tion of work­ers, infused with a spir­it of mil­i­tan­cy not seen since the 1930s, chal­lenged the lead­er­ship of out-of-touch union offi­cials who tend­ed to be more com­fort­able with the boss­es than with the rank and file — a move­ment for union democ­ra­cy that even­tu­al­ly led to the found­ing of the pub­li­ca­tion and orga­niz­ing project Labor Notes. Sadlowski's cam­paign was wide­ly seen as a bat­tle for the soul of the labor move­ment, pit­ting mil­i­tant social jus­tice union­ism against com­pla­cent busi­ness unionism.
In 1973, the entrenched lead­ers of the USW, who called them­selves ​"the offi­cial fam­i­ly," entered into an Exper­i­men­tal Nego­ti­at­ing Agree­ment (ENA) with the major steel com­pa­nies, agree­ing not to strike even after con­tracts had expired. The Steel­work­ers' 1.4 mil­lion mem­bers were not consulted.
While high-rank­ing union offi­cials like USW Pres­i­dent I.W. Abel thought sur­ren­der­ing the right to strike was the future of labor-man­age­ment rela­tions, Sad­lows­ki believed it was time for a return to old-fash­ioned work­er mil­i­tan­cy. His heroes were Eugene Debs, Joe Hill, Moth­er Jones, John L. Lewis and Paul Robe­son. His base­ment was a ware­house of labor his­to­ry arti­facts and memorabilia.
"The work­ers and the boss have noth­ing in com­mon. It is a class ques­tion," Sad­lows­ki once told a reporter. ​"I guess maybe I'm a roman­tic, but I look on the Amer­i­can labor move­ment as a holy cru­sade, which should be the dom­i­nant force in this coun­try to fight for the work­ing­man and the under­dog and make this a more just society."
In stark con­trast to most labor lead­ers of the time, Sad­lows­ki had opposed the Viet­nam War and sup­port­ed the civ­il rights move­ment. ​"There's no way you can be a union man and a racist," he insisted.
Born into a steel­work­er fam­i­ly on Chicago's South­east Side in 1938 — just one year after the Memo­r­i­al Day Mas­sacre—Sad­lows­ki learned the val­ues of work­ing-class sol­i­dar­i­ty and the his­to­ry of the labor move­ment from his father, who was active in the CIO orga­niz­ing dri­ve that built the USW.
At age 18, Sad­lows­ki got a job as an oil­er in the machine shop of U.S. Steel South Works, earn­ing the nick­name ​"Oil­can Eddie." At 25, in an upset vic­to­ry over the incum­bent lead­er­ship, he was elect­ed pres­i­dent of USW Local 65 where he over­saw 23,000 workers.
When the USW's ​"offi­cial fam­i­ly" agreed to the ENA in 1973, Sad­lows­ki declared it was ​"time to fight back" and ran for the direc­tor­ship of USW Dis­trict 31 — the union's largest dis­trict, rep­re­sent­ing near­ly 300 locals across Chica­go and Gary, Indiana.
After the hand­picked can­di­date of ​"the offi­cial fam­i­ly" won under sus­pi­cious cir­cum­stances, the Depart­ment of Labor inves­ti­gat­ed and found mas­sive fraud, order­ing a new elec­tion in Novem­ber 1974 under fed­er­al super­vi­sion. This time, Sad­lows­ki won near­ly 2 to 1, gain­ing nation­al fame. Rolling Stone said he ​"may be this coun­try's next great labor leader."
Soon after tak­ing over Dis­trict 31, Sad­lows­ki launched his ​"Steel­work­ers Fight Back" cam­paign for the pres­i­den­cy of the union. Build­ing a mul­tira­cial coali­tion of rank-and-file work­ers, the cam­paign fused the spir­it of the labor upsurges of the 1930s with the New Left pol­i­tics of the 1960s and 1970s.
Sad­lows­ki criss­crossed the coun­try cam­paign­ing at USW locals through­out 1976, speak­ing to packed union halls and appear­ing on nation­al tele­vi­sion, even debat­ing his oppo­nent, Lloyd McBride, on NBC's Meet the Press.
"I have heard many good speak­ers in my life, but no one any bet­ter than Ed Sad­lows­ki on a good day," labor lawyer Thomas Geoghe­gan not­ed in his mem­oir. ​"He could say the word ​'Boss' with fifty-five dif­fer­ent nuances of con­tempt, and use just the right one for each occasion."
Sadlowski's move­ment faced resis­tance in the run-up to the elec­tion. Steel­work­er Ben Corum was shot in the throat while hand­ing out ​"Fight Back" lit­er­a­ture in Hous­ton, but sur­vived. Mean­while, old-guard union lead­ers — includ­ing the octo­ge­nar­i­an pres­i­dent of the AFL-CIO, George Meany — smeared the cam­paign as the pet project of ​"lim­ou­sine lib­er­als" and oth­er ​"out­siders."
When the elec­tion was held in Feb­ru­ary 1977, Sad­lows­ki got an impres­sive 44 per­cent of the vote, but not enough to win. He lost union locals in the South and Cana­da, where ​"Fight Back" did not have elec­tion observers. Though fraud was sus­pect­ed, it was nev­er proven.
Despite the defeat, Sadlowski's move­ment ulti­mate­ly pushed the Unit­ed Steel­work­ers to become a more demo­c­ra­t­ic union, allow­ing mem­bers the right to vote on impor­tant deci­sions like the approval of con­tracts and whether to raise dues.
In more recent decades, Sad­lows­ki was active in the Demo­c­ra­t­ic Social­ists of Amer­i­ca, telling a crowd of USW mem­bers in 2009 that ​"there is noth­ing wrong with demo­c­ra­t­ic social­ism. That's the direc­tion we real­ly have to go in."
He also con­tin­ued to be a vocal sup­port­er of union democ­ra­cy and an inspi­ra­tion to work­ing-class activists, earn­ing a spot in the Illi­nois Labor His­to­ry Society's Union Hall of Hon­or in 2012.
"Ed said what few in pow­er had the decen­cy to admit: that ordi­nary work­ers have intel­li­gence and cre­ativ­i­ty and grace, and deserve the rights and work­ing con­di­tions that allow us to live with dig­ni­ty and pos­si­bil­i­ty," Chica­go Teach­ers Union (CTU) Vice Pres­i­dent Jesse Sharkey said in a state­ment this week.
Among those Sad­lows­ki inspired were his own chil­dren. His daugh­ter, Susan Sad­lows­ki Garza — a for­mer activist in the CTU — was elect­ed as Chicago's 10th Ward Alder­man in 2015 and was a del­e­gate for Bernie Sanders in 2016. His son, Edward A. Sad­lows­ki, is a long­time union orga­niz­er cur­rent­ly serv­ing as Deputy Exec­u­tive Direc­tor of the Mil­wau­kee Teach­ers' Edu­ca­tion Association.
"I love the labor move­ment," Ed Sad­lows­ki once said. ​"It's been every­thing for me, for my fam­i­ly. We could change the world, change the dis­tri­b­u­tion of the wealth we cre­ate, we can do this demo­c­ra­t­i­cal­ly — and the labor move­ment can play a big part in this."
Accord­ing to his fam­i­ly, Sad­lows­ki died on Sun­day after a bat­tle with Lewy body demen­tia. He is sur­vived by his wife of many decades, Mar­lene, four chil­dren, 11 grand­chil­dren, two great-grand­chil­dren, ​"and untold sis­ters and broth­ers in the labor movement."
On announc­ing Sadlowski's pass­ing, his son Edward invoked the famous words of anoth­er labor leg­end, Joe Hill — ​"Don't mourn, organize!"
Jeff Schuhrke has been a Work­ing In These Times con­trib­u­tor since 2013. He has a Ph.D. in His­to­ry from the Uni­ver­si­ty of Illi­nois at Chica­go and a Master's in Labor Stud­ies from UMass Amherst. Fol­low him on Twit­ter: @JeffSchuhrke