Educate All Kids Like Sasha and Malia
Obama's education policies are failing children, except for his own.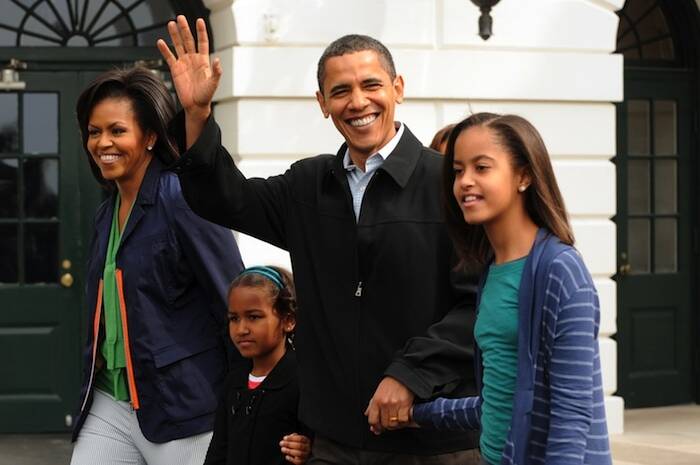 Now that Barack Oba­ma has been re-elect­ed pres­i­dent, it's time that he start mak­ing good on the edu­ca­tion issues he empha­sized dur­ing his cam­paign. While in speech­es and in ads the pres­i­dent seized on Romney's state­ment that class size doesn't mat­ter, the truth is that Obama's Edu­ca­tion Sec­re­tary Arne Dun­can has dis­missed the impor­tance of class size near­ly as strong­ly. Worse yet, Dun­can pro­pos­es cut­ting fed­er­al funds that dis­tricts can use to hire teach­ers at a time of sharp increas­es in class size.
Rather than follow blindly in the path of privatization and unleashed free-market competition that led to the collapse of our economy, it's time for Obama to start listening to parents and teachers. Cramming kids into classes of 30 or more and putting them on laptops while supervised by novices will never enhance their creativity or critical thinking skills.
While Oba­ma inveighed against ​"teach­ing to the test," his admin­is­tra­tion has inject­ed even more test prep into our schools by man­dat­ing that teach­ers and schools be eval­u­at­ed by means of unre­li­able algo­rithms based on test scores. His wrong-head­ed Race to the Top pro­gram and No Child Left Behind ​"waivers" forced dis­tricts to adopt puni­tive poli­cies like school clos­ings and mass teacher fir­ings that fur­ther under­mine the oppor­tu­ni­ties of our most at-risk stu­dents. His Depart­ment of Edu­ca­tion has wast­ed bil­lions by financ­ing the expan­sion of mer­it pay, high-stakes test­ing, online learn­ing, char­ter schools and Teach for Amer­i­ca, none of which has a pos­i­tive record. The lat­ter pro­gram puts earnest young col­lege grads in class­rooms with the most at-risk stu­dents after only five weeks of training.
Rather than fol­low blind­ly in the path of pri­va­ti­za­tion and unleashed free-mar­ket com­pe­ti­tion that led to the col­lapse of our econ­o­my, it's time for Oba­ma to start lis­ten­ing to the pri­or­i­ties of par­ents and treat­ing teach­ers as pro­fes­sion­als. Cram­ming kids into class­es of 30 or more and putting them on lap­tops while super­vised by novices will nev­er enhance their cre­ativ­i­ty or crit­i­cal think­ing skills.
On Novem­ber 6, vot­ers through­out the coun­try, includ­ing in Con­necti­cut, Indi­ana and Ida­ho, reject­ed cor­po­rate-style edu­ca­tion mea­sures and can­di­dates. In only two states did these poli­cies pre­vail: Geor­gia, which approved an appoint­ed state board that can autho­rize char­ter schools over the objec­tions of local school boards; and Wash­ing­ton, which will allow char­ter schools to be insti­tut­ed for the first time, but where the mar­gin of vic­to­ry was paper-thin and might still be reversed. In both cas­es, these pro-char­ter cam­paigns were financed pri­mar­i­ly by wealthy bil­lion­aires like Bill Gates and Alice Wal­ton (of Wal­mart fame), who out­spent their oppo­nents by more than 10 to one. In both cas­es, their mea­sures were opposed by a coali­tion of local school boards, state PTAs, teach­ers unions, civ­il rights and good gov­ern­ment groups, which are becom­ing increas­ing­ly vehe­ment in their resis­tance to the dam­ag­ing tide of bud­get cuts, class-size increas­es, pri­va­ti­za­tion and high-stakes test­ing that is over­tak­ing our schools.
Instead of pau­per­iz­ing, stan­dard­iz­ing, dig­i­tiz­ing and pri­va­tiz­ing edu­ca­tion, we know what works to increase oppor­tu­ni­ties for chil­dren. Just wit­ness the sort of edu­ca­tion Obama's own daugh­ters receive: small class­es with plen­ty of per­son­al atten­tion from expe­ri­enced teach­ers, a well-round­ed edu­ca­tion with art, sci­ence and music, and lit­tle or no stan­dard­ized test­ing. By insti­tut­ing these reforms in the 1970s, Fin­land was able to turn around its school sys­tem and now out­ranks near­ly all oth­er nations in stu­dent achieve­ment. If it's good enough for Malia and Sasha, it should be good enough for inner-city pub­lic school stu­dents in New York City or Chicago.
Across the coun­try, resis­tance to cor­po­rate-style edu­ca­tion is grow­ing in inten­si­ty and breadth. The grass­roots coali­tion of par­ent, teacher and civ­il rights groups that worked togeth­er to win crit­i­cal bat­tles on Novem­ber 6 must dou­ble down and make our voic­es heard, so that Oba­ma will under­stand that he is on the wrong track. It's not too late to for him to reject the favored poli­cies of bil­lion­aires, cor­po­rate con­sul­tants, test­ing com­pa­nies and pri­va­teers. These poli­cies defy com­mon sense and research, destroy the morale of teach­ers, treat our chil­dren as data points, and threat­en to run our pub­lic schools into the ground.
Leonie Haim­son
is a par­ent advo­cate and exec­u­tive direc­tor of the New York-based advo­ca­cy group Class Size Mat­ters. She is also the edi­tor of the NYC Pub­lic School Par­ent blog and a founder of Par­ents Across America.