Electric Companies Won't Go Green Unless the Public Takes Control
Private electric utilities are an obstacle to climate justice. Here's how to build alternatives.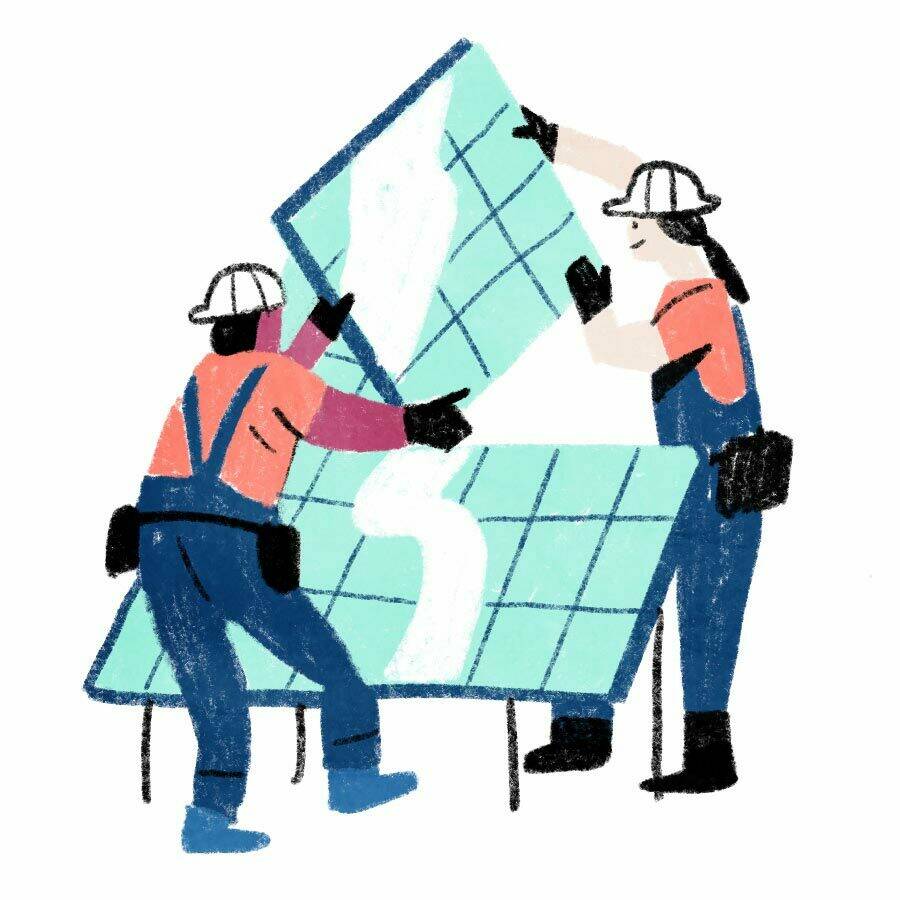 Less than 100 years ago, elec­tric­i­ty was far from a giv­en for all Amer­i­cans. As late as the mid-1930s, decades after most U.S. cities were ful­ly wired, nine out of 10 rur­al fam­i­lies made do with kerosene lamps and pumped water by hand. Pri­vate­ly owned pow­er com­pa­nies were unwill­ing to invest in any­thing that did not pro­duce extrav­a­gant prof­its, so rur­al com­mu­ni­ties were not pri­or­i­tized. The answer — though not called by this name — was ​"demo­c­ra­t­ic social­ism." Pres­i­dent Franklin D. Roo­sevelt launched the Rur­al Elec­tri­fi­ca­tion Admin­is­tra­tion (REA) in 1935 to pro­vide tools for rur­al fam­i­lies to band togeth­er to build pub­licly or coop­er­a­tive­ly owned util­i­ties. REA brought elec­tric pow­er to 90 per­cent of rur­al Amer­i­ca in around 10 years.
The Green New Deal could give communities the much-needed financing, legal authority and capacity to kick out investor-owned utilities in favor of community-run, renewable-powered ones.
Today's cor­po­rate ener­gy util­i­ties once again stand as imped­i­ments to a viable ener­gy future. More inter­est­ed in fleec­ing ratepay­ers than in sus­tain­abil­i­ty, they des­per­ate­ly guard their fos­sil fuel invest­ments, lob­by reg­u­la­to­ry agen­cies and donate to pre­ferred politicians.
We need sim­i­lar urgency and pub­lic action to avert cli­mate cat­a­stro­phe. The Green New Deal — which calls for a 10-year mobi­liza­tion to meet 100 per­cent of pow­er demand through ​"clean, renew­able and zero-emis­sion ener­gy sources" — requires not just a few new green tech­nolo­gies, but a reimag­in­ing of the way the pieces fit togeth­er. We need a sys­tem rebuilt from the ground up with insti­tu­tions of demo­c­ra­t­ic, rather than pri­vate, control.
About 17 per­cent of our elec­tric­i­ty came from renew­ables in 2018, includ­ing hydropow­er. Get­ting from here to 100 means we need to build around five to six times the renew­able capac­i­ty we cur­rent­ly have, all while phas­ing out gas-pow­ered heat­ing and oil-fueled vehi­cles in favor of new, elec­tric-pow­ered mod­els and increas­ing ener­gy efficiency.
We know that in a warm­ing world, we need a more resilient, smarter infra­struc­ture to cope with the real­i­ties of extreme weath­er events, chang­ing con­di­tions and new, inter­mit­tent sources of pow­er, like wind and solar. One key way to get there is to down­size parts of our cur­rent mono­lith­ic grid into small­er, com­mu­ni­ty-sized units, inter­linked but capa­ble of oper­at­ing inde­pen­dent­ly in an emer­gency. Here, com­mu­ni­ty- or neigh­bor­hood-size renew­able ener­gy instal­la­tions could be owned and oper­at­ed for the ben­e­fit of the com­mu­ni­ties they serve, not a giant pow­er company's investors.
The new Sun­set Park Solar project in New York City is a per­fect exam­ple of the sort of ini­tia­tive a Green New Deal could finance across the nation. Uprose, one of the old­est com­mu­ni­ty-based Lat­inx orga­ni­za­tions in the city, part­nered with sev­er­al groups, includ­ing the state gov­ern­ment agency NYC Eco­nom­ic Devel­op­ment Cor­po­ra­tion, woman-owned solar installer 770 Elec­tric and con­sumer-owned coop­er­a­tive Co-op Pow­er, to install com­mu­ni­ty-owned solar on top of the Brook­lyn Army Ter­mi­nal by the end of 2019. When fin­ished, it will serve 200 low-income res­i­dents with elec­tric­i­ty that's cheap­er and more resilient in the face of poten­tial cli­mate-relat­ed grid dis­rup­tion. At larg­er scales, dif­fer­ent forms of democ­ra­tized own­er­ship begin to come into focus. Pub­lic own­er­ship at the city lev­el cuts out investors demand­ing high­er rates and allows for long-term and holis­tic com­mu­ni­ty invest­ment. Res­i­dents of Boul­der, Colo., have waged a mul­ti-year strug­gle to take their elec­tric util­i­ty into pub­lic own­er­ship for the explic­it goal of tran­si­tion­ing to clean ener­gy. Cut­ting their con­tract with investor-owned util­i­ty Xcel would free them from the company's his­tor­i­cal foot-drag­ging on renew­able ener­gy deploy­ment, allow­ing them to make their own deci­sions about how to trans­form their grid.
At the state lev­el, cam­paigns to take pow­er sys­tems back into pub­lic hands are mak­ing strides. In Cal­i­for­nia, the fail­ures, greed and bank­rupt­cy of the statewide grid oper­a­tor, PG&E, has prompt­ed activists to push for pub­lic own­er­ship instead of an investor bailout. In Rhode Island, the Demo­c­ra­t­ic Social­ists of America's #Nation­al­ize­Grid cam­paign against pow­er com­pa­ny Nation­al Grid is pick­ing up steam. In Jan­u­ary, Rick Sav­age, a Repub­li­can and busi­ness own­er from Bethel, Maine, respond­ed to the pos­si­bil­i­ty of a pub­lic util­i­ty quite straight­for­ward­ly: ​"Cre­at­ing Maine Pow­er will reduce costs to busi­ness­es like mine, put the con­trol back in our hands, and put mon­ey back in our pock­ets as Mainers."
The Green New Deal could give com­mu­ni­ties the much-need­ed financ­ing, legal author­i­ty and capac­i­ty to kick out investor-owned util­i­ties in favor of com­mu­ni­ty-run, renew­able-pow­ered ones by launch­ing a Com­mu­ni­ty Own­er­ship of Pow­er Admin­is­tra­tion, akin to Roosevelt's REA.
We also need to think about large-scale plan­ning that can struc­tural­ly shift entire sys­tems to serve the many. Here, anoth­er pro­gram of the orig­i­nal New Deal shows what can be done: The Ten­nessee Val­ley Author­i­ty (TVA), a gov­ern­ment-owned cor­po­ra­tion cre­at­ed in 1933, was part rur­al elec­tri­fi­ca­tion pro­gram, part agri­cul­tur­al man­age­ment, part riv­er man­age­ment, and part jobs pro­gram for a region of the coun­try hit hard by pover­ty. A large-scale exper­i­ment in region­al plan­ning, TVA now pro­vides whole­sale ener­gy to sev­en states and 10 mil­lion customers.
It should be not­ed that TVA backed away from an ini­tial vision of more bot­tom-up demo­c­ra­t­ic con­trol, and its record on equi­ty is far from per­fect. When build­ing its dams in the 1930s, it used emi­nent domain to take over farm­ing land and failed to ade­quate­ly sup­port dis­placed black farm­ers. Its envi­ron­men­tal record, too, is spot­ty, marred by large hydropow­er dams, nuclear and coal power.
But TVA still offers a mod­el of the kind of large-scale plan­ning that could today allow us to devel­op — in a more demo­c­ra­t­ic, racial­ly equi­table and eco­log­i­cal­ly appro­pri­ate way — at-scale infra­struc­ture designed to pro­vide cost-effec­tive renew­able pow­er to mil­lions. A recent report by the People's Pol­i­cy Project pro­pos­es reform­ing the TVA, turn­ing the ener­gy jug­ger­naut into a ​"Green TVA" by decar­boniz­ing all of its ener­gy pro­duc­tion and expand­ing its ser­vice area so it can install large-scale clean ener­gy across the country.
Alter­nate­ly, we can look to the New Deal vision of Sen. George Nor­ris (R‑Neb.), one of the orig­i­nal archi­tects of the TVA, who helped make his large­ly con­ser­v­a­tive state the only one entire­ly served by pub­lic pow­er sys­tems. Nor­ris urged the cre­ation of ​"sev­en lit­tle TVAs" oper­at­ing across the coun­try as anchors of eco­nom­ic democ­ra­cy. Such region­al-scale ini­tia­tives could be lever­aged to sup­port a just tran­si­tion now — with spe­cif­ic reflec­tion on how to not reper­pet­u­ate the harms of the first New Deal. Imag­ine the windswept plains of Texas and Okla­homa with oil and frack­ing rigs rede­vel­oped into cen­ters for wind pow­er, along with region­al strate­gies for tran­si­tion­ing work­ers from extrac­tive indus­tries to renew­ables. And a region­al con­sor­tium of cities and coun­ties invest­ing in pub­licly owned solar and stor­age to pow­er com­mu­ni­ties across the South­west. And a mas­sive jobs pro­gram to retro­fit every house in the North­east for greater effi­cien­cy and to get it off gas heat­ing. And ful­ly elec­tri­fied region­al tran­sit systems.
This is the lev­el of ambi­tion we need to make the Green New Deal work. The tech­nol­o­gy to get us to 100 per­cent renew­ables is there, accord­ing to the research of Stan­ford engi­neer Mark Z. Jacob­son; the ques­tion is how we redesign the sys­tem fast enough and for the peo­ple. If our goal is to save and even improve human lives, the new sys­tem has to bake in equi­ty and democ­ra­cy at every lev­el — from the com­mu­ni­ty to the region­al and beyond.
Johan­na Bozuwa is a research asso­ciate with The Next Sys­tem Project at the Democ­ra­cy Col­lab­o­ra­tive. Her work focus­es on tran­si­tion­ing away from the extrac­tive, fos­sil fuel econ­o­my and toward ener­gy democ­ra­cy.Gar Alper­ovitz is co-founder of The Democ­ra­cy Col­lab­o­ra­tive and co-chair of its Next Sys­tem Project. He is author, most recent­ly, of
&
lt;/i
&
gt;Principles of a Plu­ral­ist Commonwealth.
&
lt;/i
&
gt;