Elon Musk and Rahm Emanuel's New Transportation Scheme Is a Privatization Bonanza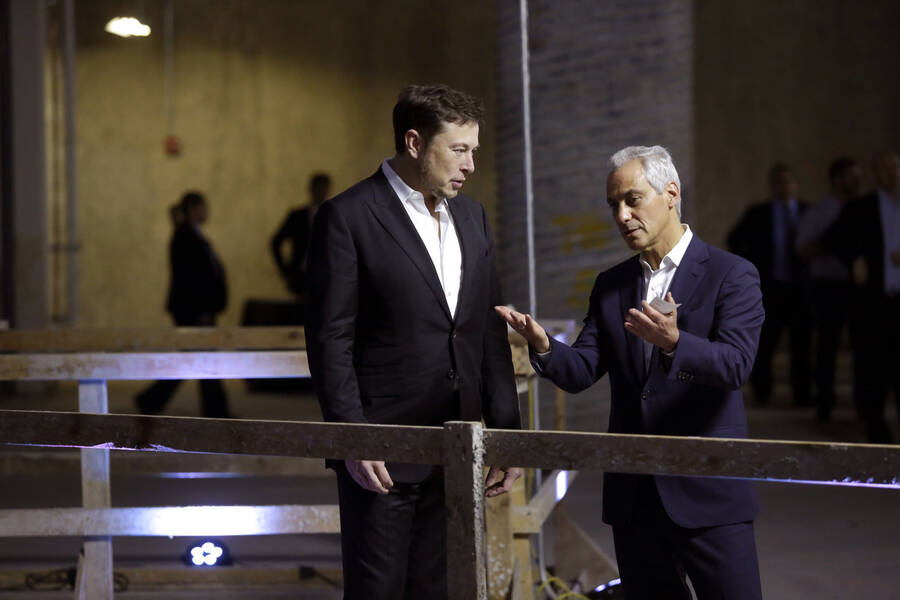 In June, Chica­go May­or Rahm Emanuel's admin­is­tra­tion select­ed Elon Musk's The Bor­ing Com­pa­ny to build a non-stop express train from down­town to O'Hare Air­port. The devel­op­ment is yet anoth­er exam­ple of Emanuel's plan to trans­form Chica­go into a city for the wealthy few.
Emanuel has stat­ed that Musk's express train will be ful­ly financed by pri­vate investors. But the city's 2009 park­ing meter fias­co has taught us that work­ing Chicagoans end up on the los­ing side of fast-tracked pri­va­ti­za­tion schemes. Mor­gan Stan­ley Invest­ment Part­ners (MSIP) paid the city over $1 bil­lion to lease the city's park­ing meter sys­tem. But in an infor­ma­tion mem­o­ran­dum released in 2010, MSIP esti­mat­ed that, by the end of the lease in 2084, the firm would rake in over $11 bil­lion from park­ing meter users by charg­ing high­er fares.
As with the park­ing meter deal, Emanuel's O'Hare express pri­va­ti­za­tion scheme will first and fore­most ben­e­fit the same set of cor­po­rate elites who have prof­it­ed from years of cuts to pub­lic goods and ser­vices. Under Emanuel, Chica­go has been on the fore­front of both recruit­ing cor­po­rate head­quar­ters and dis­plac­ing African-Amer­i­cans. Tax give­aways meant to entice cor­po­rate CEOs have coin­cid­ed with school clos­ings in poor neigh­bor­hoods of col­or and ser­vice cuts that have made life in Chica­go unten­able for many work­ing fam­i­lies. As a result, the city faces extreme eco­nom­ic dis­par­i­ty, host­ing a racial wealth divide far worse than the U.S. average.
Soon after Emanuel closed 49 pub­lic schools in 2013 in part to reduce $100 mil­lion from the Chica­go Pub­lic Schools bud­get, he autho­rized a $55 mil­lion tax­pay­er hand­out to sup­port the devel­op­ment of the Wintrust/​DePaul Sta­di­um project and a Mar­riott Hotel near McCormick Place Con­ven­tion Cen­ter. Since being opened, the sta­di­um has fall­en short of atten­dance pre­dic­tions and, as stud­ies have shown, such pub­licly fund­ed sports are­nas don't actu­al­ly spur eco­nom­ic growth but they do leave tax­pay­ers buried in more debt.
This is neolib­er­al pol­i­cy at its core: the pub­lic sec­tor is slashed while assets and ser­vices are left in the hands of the pri­vate market.
Although Musk's project would be the first air­port express train project of its kind in the Unit­ed States, such ven­tures in oth­er coun­tries have con­cen­trat­ed pub­lic wealth in pri­vate hands. A study con­duct­ed for SNCF French Nation­al Rail­ways finds that 84 per­cent of pri­vate air­port express train investors across the globe over­es­ti­mate the num­ber of rid­ers they will attract by at least 20 percent.
When such pri­vate­ly fund­ed trains fail to hit their rid­er­ship tar­gets, the projects can expect a pub­lic bailout to keep the trains run­ning. For exam­ple, low­er than expect­ed rid­er­ship on Vancouver's air­port express train forced the Cana­di­an gov­ern­ment to pay its pri­vate financier over $20 mil­lion a year.
The pro­posed O'Hare express train, set to cost rid­ers an esti­mat­ed $25 for a one-way tick­et, is poised to fur­ther deep­en Chicago's crises of grow­ing inequal­i­ty, neigh­bor­hood neglect and dis­place­ment of long­time res­i­dents. As pre­vi­ous CTA plans have sug­gest­ed, the express train will like­ly be giv­en pri­or­i­ty over expand­ing and main­tain­ing local train ser­vice, which could ulti­mate­ly force work­ing peo­ple who rely on the Blue Line to expe­ri­ence reduced ser­vice and longer trav­el times.
In light of the grow­ing unaf­ford­abil­i­ty of the city, May­or Emanuel should be pri­or­i­tiz­ing ways to make the city more afford­able and acces­si­ble for every­day res­i­dents. He should focus on adding more bus and train ser­vice fre­quen­cy to reduce long wait times and over­crowd­ing, and more train or bus rapid tran­sit con­nec­tions to job cen­ters in the sub­urbs. Instead of build­ing a sec­ond train line to O'Hare air­port, which will dis­pro­por­tion­ate­ly ben­e­fit the rich, why not make pub­lic tran­sit free for every­one and pro­vide CTA employ­ees with a fair contract?
In 2015, CTA col­lect­ed $587 mil­lion from rid­ers, on par with the near­ly half bil­lion col­lect­ed by the city's Tax Incre­ment Financ­ing dis­tricts each year between 2011 and 2015. Rather than cre­at­ing slush funds for devel­op­ers, the city could be pro­vid­ing free tran­sit for Chicagoans.
As always, these ques­tions are not decid­ed by actu­al finan­cial means — or democ­ra­cy — but by polit­i­cal pri­or­i­ties. With Musk's O'Hare express train, Rahm Emanuel is once again pri­or­i­tiz­ing adding ser­vices and ameni­ties for the rich — and stick­ing the rest of us with the bill.
Emma Tai is the exec­u­tive direc­tor of Unit­ed Work­ing Fam­i­lies. Stephanie Farmer is an Asso­ciate Pro­fes­sor of Soci­ol­o­gy at Roo­sevelt University.