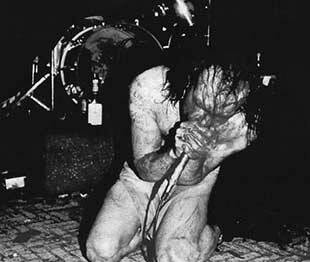 No one rolls in their own excre­ment for noth­ing. GG Allin, or Jesus Christ Allin, as he was chris­tened — his lit­tle broth­er Mer­le called him Je-Je — sure­ly had a good rea­son for becom­ing the most degrad­ed per­former in
the his­to­ry of rock ​'n' roll. But what was it? Was it Cul­ture he opposed? Or Life itself? Or was it the Nor­mal, that shuf­fling colos­sus? And did the fact that he was raised in an unheat­ed two-room cab­in in Northum­ber­land, New Hamp­shire, by a man who dug graves in the cel­lar, have any­thing to do with it?
The new DVD, GG Allin: Sav­age South — Best of 1992 Tour, gives us no answers. Here is GG naked, tooth­less, on the last tour of his life (he would die of an over­dose in 1993) with his band the Mur­der Junkies, giv­ing every­one hell. The tat­toos on his body — ​"Life Sucks," ​"Vom­i­tose," car­toon grave­stones — look like the work of a tal­ent­ed but venge­ful six-year old.
As for the music — for­get the music. The shaved, slob­ber­ing blues-punk is mere­ly a means to an end. The first song ("I Live To Be Hat­ed") has bare­ly begun before GG starts whack­ing the mike testi­ly against his bald, dent­ed skull — with­in five min­utes he is wear­ing his trade­mark invert­ed crown of blood. And soon enough the shit lit­er­al­ly starts to fly: He squats, rolls in it, then scoops it up and flings it at the crowd with lav­ish painter­ly ges­tures. Is this what the French call ​"nos­tal­gie de la boue" — a rev­el­ing in the organ­ic? Sav­age South records the mem­o­rable image of a man behind a speak­er — some bounc­er or stage­hand — stolid­ly putting on a rain­coat while the Mur­der Junkies are tun­ing up. When GG starts to eat the Bible — and a night in which he didn't get him­self arrest­ed, give some­one a ketchup ene­ma or eat a few pages of the Bible was a slow night for GG — we are re-assured: This is not insan­i­ty, this is only blasphemy.
GG (and how appro­pri­ate the baby name feels, for this rag­ing tod­dler of a man) rep­re­sent­ed the dead-end and log­i­cal ter­mi­nus of the per­for­mance aes­thet­ic pio­neered by Iggy Pop in the ​'70s. Destruc­tion, immo­la­tion, blood. And shit, which was GG's own con­tri­bu­tion. This month's oth­er notable new DVD, Iggy Pop — Live in San Fran 1981 cap­tures the Ig at a strange moment in his career. The Stooges are a mem­o­ry, and his come­back on the arm of David Bowie is fad­ing too. Still with tremen­dous bad-boy cachet, but no longer inter­est­ed in tear­ing him­self to pieces, he is on the road pro­mot­ing the most flim­si­ly hedo­nis­tic of his albums, ​"Par­ty."
Unbe­liev­ably, it sounds pret­ty good. Brain­less num­bers like ​"Bang Bang" and ​"Rock ​'n' Roll Par­ty," and even the tot­ter­ing ​"I'm a Con­ser­v­a­tive" ("I passed out on many floors/​ I don't do that any­more"), when played by a crack band that includes ex-Blondie drum­mer Clem Burke and future Bowie gui­tarist Car­los Alo­mar, achieve a kind of dark club­land rush, with Iggy's lizard bari­tone loi­ter­ing and glit­ter­ing beneath.
This is 1981. The bassist is wear­ing a Star Trek-style jump­suit and an ear­ring that hangs from his ear like a string of gold­en drool; one of the gui­tarists has a skin­ny tie. Iggy him­self is taste­ful­ly arrayed in leather jack­et, miniskirt, garters, nylons and heels; dip­ping and thrust­ing, hunch­ing and high-kick­ing, he seems to be in peak con­di­tion. When he comes out for the encore, still in his lady-gear but now wear­ing a nice oxford shirt, he looks like someone's rather racy per­son­al assistant.
A sharp­er con­trast with the beer-gut­ted and unbeau­ti­ful GG could not be imag­ined. In direct homage to Iggy, GG would occa­sion­al­ly shake it like a strip­per, arms raised, hips twitch­ing, but the effect was a sav­age par­o­dy, a sort of sex­u­al evac­u­a­tion. No one was admir­ing GG — he was not bathed like Iggy in the frankly desirous gazes of young men and women. GG's audi­ence on Sav­age South wants to beat him up (and they do — about 10 of them, at the end of a set in Texas). Put GG's sullen, much-abused flesh next to the prowess of Iggy, those stal­lion legs of his, the thor­ough­bred mus­cu­la­ture twang­ing in its black hose, and you get a sense of why one man sur­vived and the oth­er didn't.
James Park­er
, an
In These Times
con­tribut­ing edi­tor, is the author of
Turned On: A Biog­ra­phy of Hen­ry Rollins