End of the Newt & Andy Show? Breaking Up Is So Hard…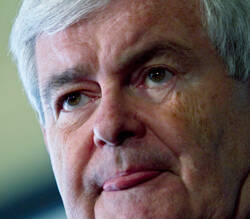 [A]fter an hour with Gin­grich, I was more than pleas­ant­ly sur­prised by his thought­ful­ness and candor….by Gingrich's smart and con­tem­pla­tive demeanor. As only a his­to­ry schol­ar can, Gin­grich talked in broad his­tor­i­cal terms of the change-mak­ing process, the chal­lenges fac­ing our coun­try, and America's need to con­front its future….Gingrich's think­ing rein­forced much of my own.
–Andy Stern, then-pres­i­dent of SEIU, in A Coun­try That Works (2006)
What­ev­er hap­pened to the bonds of sol­i­dar­i­ty between two of America's real­ly big thinkers? The odd polit­i­cal cou­pling of for­mer Ser­vice Employ­ees Inter­na­tion­al Union Pres­i­dent Andy Stern and for­mer House Speak­er Newt Gin­grich appears to be unrav­el­ing under the pres­sures of the latter's cam­paign for the Repub­li­can Pres­i­den­tial nomination.
A report in the Huff­in­g­ton Post yes­ter­day con­firms that Gin­grich is now dis­tanc­ing him­self from his past praise of Stern. In Gingrich's 2008 book, Real Change: From the World That Fails to the World That Works, the con­tem­pla­tive schol­ar who so impressed Andy described his new friend as follows:
Andy Stern…is the union leader who prob­a­bly best under­stands the chal­lenge of the world mar­ket and the need to make Amer­i­can union mem­bers pro­duc­tive in the face of world com­pe­ti­tion. Sad­ly, he is a dis­tinct minor­i­ty among union leaders.
Yes­ter­day, an ex-Gin­grich aide offered a Huff­in­g­ton Post reporter dif­fer­ent sen­ti­ments. ​"Newt finds com­mon ground with many peo­ple from the oppo­site side of the ide­o­log­i­cal spec­trum. …He met with Andy Stern sev­er­al times and Andy Stern had giv­en Newt the impres­sion that he was a for­ward-look­ing union leader. Turns out he wasn't."
In Real Change, Gin­grich went on to chide his fel­low con­ser­v­a­tives for being so ​"blind­ly anti-union." Accord­ing to Newt, ​"there are legit­i­mate rea­sons for work­ers to orga­nize togeth­er and there is a strong need for a healthy, com­pet­i­tive union move­ment that helps improve the lives of its mem­bers and the com­pet­i­tive­ness of our country."
As Sam Stein not­ed in Huff­Po yes­ter­day, even faint admi­ra­tion for labor and/​or Stern is now ​"the type of thing that would get a Repub­li­can can­di­date half an hour of intense arm­chair psy­chol­o­gy from Glenn Beck and oth­er promi­nent con­ser­v­a­tives" — not to men­tion crit­i­cism in the next GOP pres­i­den­tial can­di­date debate. So when asked by Stein about these now embar­rass­ing pas­sages from Real Change, Rick Tyler — the aide quot­ed above — ​"stressed that his for­mer boss no longer agrees with those sentiments."
Stern, on the oth­er hand, has yet to dis­tance him­self from his own lav­ish praise of Gin­grich. In his 2006 book, A Coun­try That Works: Get­ting Amer­i­ca Back on Track, Stern reports that he and then-SEIU Sec­re­tary-Trea­sur­er Anna Burg­er met Newt in Chica­go at a meet­ing of the Repub­li­can Main Street Part­ner­ship. (This encounter occurred dur­ing SEIU's ill-fat­ed quest for GOP polit­i­cal part­ners, when the union was giv­ing $500,000 to the Repub­li­can Gov­er­nors' Asso­ci­a­tion that helped elect­ed anti-union gov­er­nors like Mitch Daniels in Indiana.)
When Newt was House speak­er in the 1990s, Stern ​"con­sid­ered him the dev­il incar­nate." Only a few years lat­er, how­ev­er, Andy dis­cov­ered they had much in com­mon as fel­low fans of futur­ism and ​"change agents" who agree that labor must ​"con­tin­u­al­ly rethink its role in the chang­ing economy."
As a per­son­al memen­to of their meet­ing, Gin­grich pre­sent­ed Stern with ​"a set of dia­grams he called ​'Design­ing Trans­for­ma­tion­al Change' that com­mu­ni­cate twelve steps to pro­mote orga­ni­za­tion­al trans­for­ma­tion." Dur­ing their con­ver­sa­tion about Newt's twelve-step pro­gram: "[he] launched into his lecturer's mode… His work­ing propo­si­tion is that change is learned and prac­ticed behav­ior that require plan­ning, strat­e­gy, and lead­er­ship. The titles of the dia­grams con­vey the fla­vor of his lan­guage: Assert Truth; All Pol­i­tics Is Per­son­al; Focus on Offense Not Defense."
Newt embell­ished his ​"part­ing gift" to Andy with ​"hand­writ­ten com­ments" that elab­o­rat­ed on his ideas about insti­tu­tion­al change. After their meet­ing, Gin­grich also sent Stern a fur­ther token of his appre­ci­a­tion– ​"a per­son­al­ly anno­tat­ed edi­tion of Alvin and Hei­di Tof­flers' Cre­at­ing a New Civilization."
In A Coun­try That Works, Stern fol­lows up his med­i­ta­tion on the impor­tance of Gingrich's think­ing with ​"a plan for change" of his own. Writes Andy: ​"Accord­ing to Newt Gin­grich, suc­cess comes when we ​'Plan back from vic­to­ry, rather than for­ward from the present,' and that is my intention."
Gin­grich, of course, has moved on to high­er forms of polit­i­cal dis­course — and a hoped-for string of vic­to­ries in upcom­ing GOP pri­maries. His lat­est work of con­tem­pla­tive schol­ar­ship was pub­lished in 2010 by Reg­n­ery Press, under the title: To Save Amer­i­ca: Stop­ping Obama's Sec­u­lar-Social­ist Machine. In this smart, can­did, and thought­ful book, Newt argues that the afore­men­tioned ​"sec­u­lar social­ists" — i.e., the Democ­rats backed by Stern and SEIU in 2008 – pose ​"as great a threat to Amer­i­ca as Nazi Ger­many or the Sovi­et Union once did."
Sad­ly, Stern appears to have made only a fair-weath­er intel­lec­tu­al friend in the GOP. Clear­ly, if he wants stay on the same page with such a quick­sil­ver thinker, he will have to move more in Newt's direc­tion. Because Gin­grich, as we've just learned, only finds ​"com­mon ground" with those mov­ing his way in ​"the change-mak­ing process."
Steve Ear­ly is a labor jour­nal­ist and for­mer union orga­niz­er. He is the author, most recent­ly, of The Civ­il Wars in U.S. Labor, from Hay­mar­ket Books, a crit­i­cal study of SEIU under Andy Stern's leadership.
Steve Ear­ly worked for 27 years as an orga­niz­er and inter­na­tion­al rep­re­sen­ta­tive for the Com­mu­ni­ca­tions Work­ers of Amer­i­ca. He is the author of sev­er­al books, includ­ing Refin­ery Town: Big Oil, Big Mon­ey, and the Remak­ing of an Amer­i­can City (Bea­con Press).