To Save Species from Extinction, We Must Consider More than Just Numbers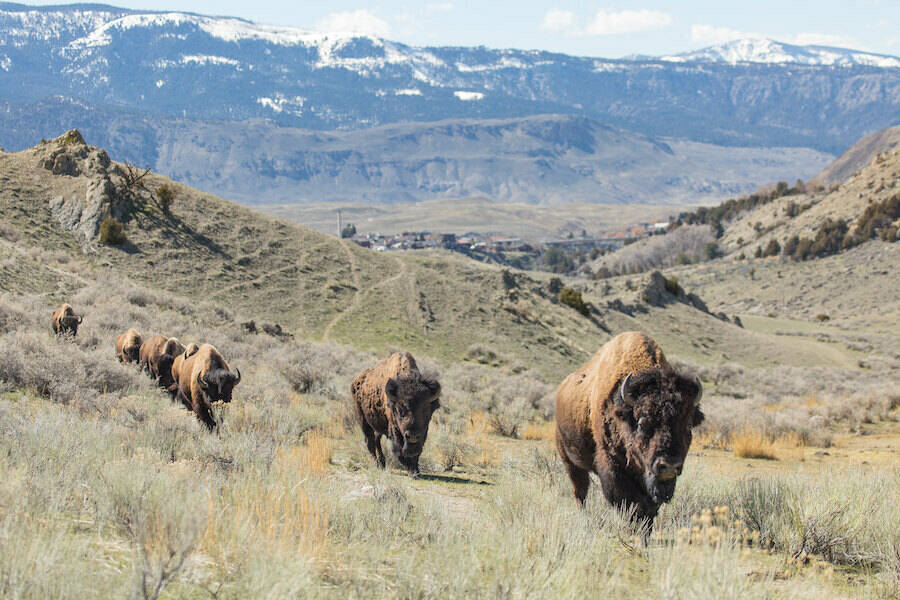 Around the world, ani­mals and plants are dis­ap­pear­ing at alarm­ing rates. In May 2019, a major U.N. report warned that around one mil­lion species were at risk of extinc­tion — more than at any oth­er time in human history.
Con­ser­va­tion sci­en­tists like me focus on pre­dict­ing and pre­vent­ing extinc­tions. But we see that as an essen­tial first step, not a final goal. Ulti­mate­ly, we want species to recover.
The chal­lenge is that while extinc­tion is easy to define, recov­ery is not. Until recent­ly, there was no gen­er­al def­i­n­i­tion of a ​"recov­ered" species. As a result, some species recov­ery plans are much less ambi­tious than oth­ers, and sci­en­tists don't have a com­mon yard­stick for rec­og­niz­ing con­ser­va­tion successes.
To address this chal­lenge, the Inter­na­tion­al Union for the Con­ser­va­tion of Nature​'s Species Sur­vival Com­mis­sion — the world's largest net­work of con­ser­va­tion­ists — is devel­op­ing a Green List of Species to high­light species recov­ery. This tool will com­ple­ment the well-known Red List, which high­lights endan­gered species.
While the Red List focus­es on extinc­tion risk, the Green List will mea­sure recov­ery and con­ser­va­tion suc­cess. As a mem­ber of the team charged with mak­ing the Green List a prac­ti­cal con­ser­va­tion tool, I see it as a way of mea­sur­ing the impact of con­ser­va­tion and com­mu­ni­cat­ing con­ser­va­tion suc­cess sto­ries, as well as learn­ing from failures.
Defin­ing recovery
To know how much con­ser­va­tion has accom­plished, and to encour­age ambi­tious con­ser­va­tion goals, we need an objec­tive way to mea­sure progress toward a species' recov­ery. Stud­ies of recov­ery plans devel­oped under the U.S. Endan­gered Species Act show that some plans con­sid­er a species recov­ered even if its pop­u­la­tion remains the same or shrinks dur­ing the recov­ery effort. A stan­dard def­i­n­i­tion of recov­ery would pre­vent such incon­sis­ten­cies and encour­age wildlife man­agers to aim higher.
Con­ser­va­tion sci­en­tists have long attempt­ed to iden­ti­fy dif­fer­ent facets of species recov­ery. Review­ing these efforts, our team came up with sev­er­al require­ments for con­sid­er­ing a species ful­ly recovered.
As I explain with an inter­na­tion­al group of col­leagues in a new study, one key idea is that pop­u­la­tions of the species should be ​"func­tion­al." By this we mean that they are able to per­form all the roles that the species is known to play in ecosys­tems where it exists. This may seem like an obvi­ous mea­sure­ment, but in fact, some species that are con­sid­ered to be ​"recov­ered" in the U.S. fail this test.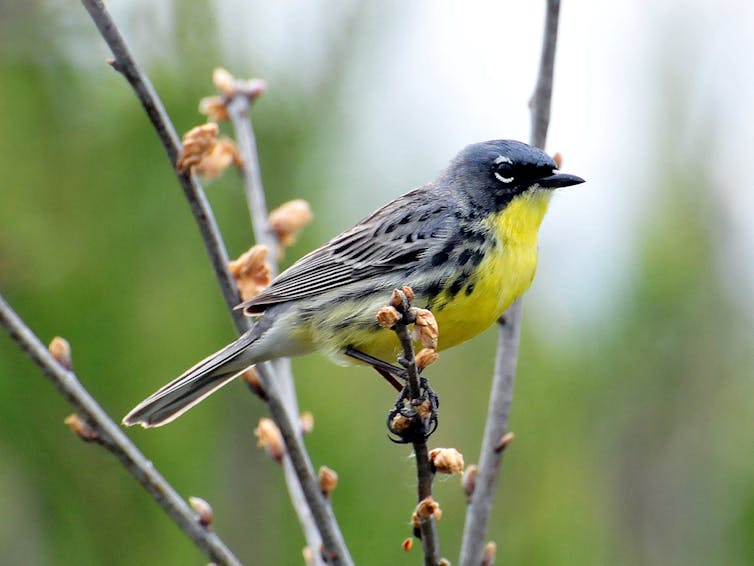 The Kirtland's War­bler was declared recov­ered in the U.S. in 2019, but will still rely on land man­agers to main­tain stands of jack pine where it nests and con­trol par­a­sitic cow­birds that prey on it. (Pho­to byJoel Trick/U.S. Fish and Wildlife Service)
What's your function?
Each species has many kinds of eco­log­i­cal func­tions. For exam­ple, bees help plants repro­duce by pol­li­nat­ing them. When birds and bats eat fruits and lat­er excrete the seeds, they help forests regenerate.
Sim­i­lar­ly, when salmon swim upstream to spawn and then are con­sumed by bears and oth­er preda­tors, that process moves essen­tial nutri­ents from the oceans up into rivers and forests. And when flam­ma­ble grass­es burn in the U.S. South­east, they fuel fires that main­tain lon­gleaf pine forests.
All these crit­i­cal func­tions are pos­si­ble only when enough mem­bers of the key species are present. Put anoth­er way, keep­ing a species alive is not enough – it also is essen­tial to keep its func­tions from going extinct.
Rein­tro­duc­ing wolves to Yel­low­stone Nation­al Park has spot­light­ed the wolves' eco­log­i­cal func­tions as reg­u­la­tors of graz­ing species. How­ev­er, wolves once influ­enced much larg­er areas than they cur­rent­ly occupy.
Func­tion­al extinction
Sci­en­tists have known for decades that species may per­sist at such low num­bers that they do not ful­fill the eco­log­i­cal roles they used to per­form. This can be true even if sig­nif­i­cant num­bers of ani­mals or plants are present.
One exam­ple is the Amer­i­can Bison, which is a great con­ser­va­tion suc­cess sto­ry in terms of pre­vent­ing its extinc­tion. Hunt­ing reduced bison to just a few hun­dred indi­vid­u­als in west­ern states at the end of the 19th cen­tu­ry, but con­ser­va­tion ini­tia­tives have restored them to pub­lic, pri­vate and Native Amer­i­can lands across the West.
Today bison do not appear to be at risk of extinc­tion. How­ev­er, they occu­py less than 1% of their his­tor­i­cal range, and most of the rough­ly 500,000 ani­mals that exist today are raised for com­mer­cial pur­pos­es. Few­er than 20,000 bison live in con­ser­va­tion herds – a small frac­tion of their pre-Columbian pop­u­la­tion, which totaled mil­lions or tens of mil­lions.

The chart shows the cur­rent IUCN clas­si­fi­ca­tion for Amer­i­can bison. (Graph­ic cour­tesy of the Inter­na­tion­al Union for the Con­ser­va­tion of Nature)
Before they were reduced to near-extinc­tion, bison shaped prairie habi­tats and land­scapes through wal­low­ing, pound­ing and graz­ing. They influ­enced ecosys­tems by con­vert­ing veg­e­ta­tion into pro­tein bio­mass for preda­tors, includ­ing peo­ple, and by redis­trib­ut­ing nutri­ents in these ecosystems.
Even though bison are not at risk of extinc­tion, for the pur­pos­es of their con­tri­bu­tions to the ecosys­tems and land­scapes they once inhab­it­ed, I believe the species should be con­sid­ered to be func­tion­al­ly extinct and not a ful­ly recov­ered species.
This does not mean its con­ser­va­tion is a fail­ure. To the con­trary, accord­ing to new con­ser­va­tion met­rics that I and oth­er sci­en­tists have pro­posed for the Green List, the bison would receive high scores on sev­er­al counts, includ­ing Con­ser­va­tion Lega­cy – mean­ing it has ben­e­fit­ed sig­nif­i­cant­ly from past pro­tec­tive efforts – and Con­ser­va­tion Gain, or poten­tial to respond pos­i­tive­ly to fur­ther initiatives.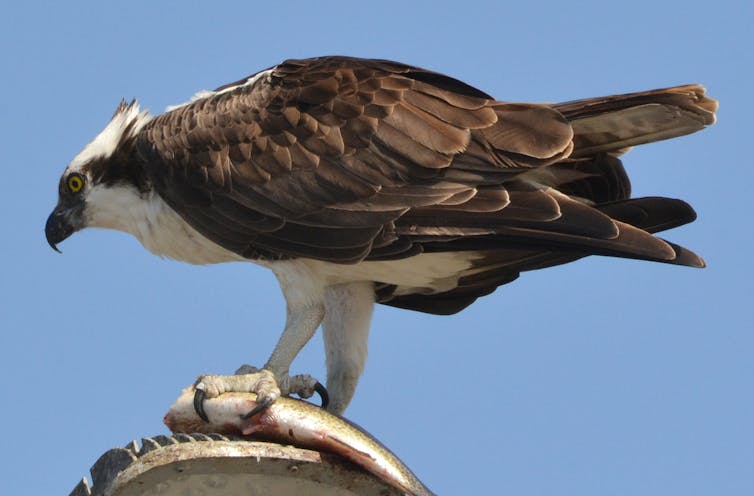 Ospreys are effi­cient hunters that help to reg­u­late fish pop­u­la­tions. (Pho­to by Tra­cie Hall, CC BY-SA)
A full recovery
For con­trast, con­sid­er anoth­er species wide­ly viewed as a con­ser­va­tion suc­cess sto­ry: The osprey. Pop­u­la­tions of this fish-eat­ing bird of prey crashed across North Amer­i­ca in the 1950s to 1970s, pri­mar­i­ly due to poi­son­ing from the insec­ti­cide DDT and its derivatives.
Con­ser­va­tion efforts since then, includ­ing a fed­er­al ban on DDT and pro­vi­sion of nest­ing struc­tures, have result­ed in a dra­mat­ic recov­ery, back to pop­u­la­tion lev­els before the declines. Actu­al­ly, many U.S. and Cana­di­an pop­u­la­tions of Osprey now exceed his­tor­i­cal num­bers. Under the Green List cri­te­ria we are propos­ing, this species would now be con­sid­ered eco­log­i­cal­ly func­tion­al in most if not all parts of its range.
Ambi­tious goals
Con­ser­va­tion sci­en­tists have long con­sid­ered a species' influ­ence on oth­ers and on the ecosys­tems it inhab­its to be a fun­da­men­tal aspect of its essence and its intrin­sic val­ue. The Green List of Species ini­tia­tive seeks to go beyond sim­ply pre­vent­ing extinc­tions to defin­ing recov­ered species as those that are eco­log­i­cal­ly func­tion­al across their nat­ur­al ranges. This new focus aims to encour­age con­ser­va­tion opti­mism by high­light­ing suc­cess sto­ries and show­ing that with help, species once at risk can reclaim their places in the web of life.
Edi­tor's Note: This arti­cle is repub­lished from The Con­ver­sa­tion under a Cre­ative Com­mons license. Read the orig­i­nal arti­cle.
H. Resit Akcakaya
is Pro­fes­sor of Ecol­o­gy and Evo­lu­tion at Stony Brook Uni­ver­si­ty of The State Uni­ver­si­ty of New York.