EPA Workers to Trump: We Don't Want Scott Pruitt as Our New Boss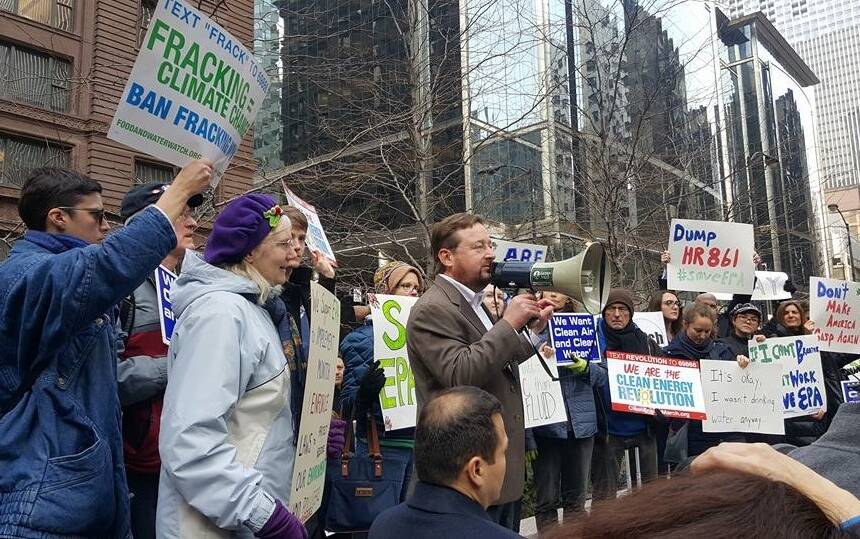 Envi­ron­men­tal Pro­tec­tion Agency (EPA) work­ers, activists and com­mu­ni­ty mem­bers protest­ed Don­ald Trump and his EPA admin­is­tra­tor nom­i­nee, Scott Pruitt, in a ral­ly out­side the EPA's Chica­go office Monday.
The Amer­i­can Fed­er­a­tion of Gov­ern­ment Employ­ees (AFGE) Local 704, the union rep­re­sent­ing the EPA's Chica­go work­ers, orga­nized the protest to oppose Pruitt's con­fir­ma­tion and to pres­sure sen­a­tors to vote against him. Speak­ers at the event includ­ed stew­ards and mem­bers of AFGE, state and city gov­ern­ment offi­cials and activists from non-prof­it envi­ron­men­tal organizations.
"Thir­ty-six years, we been fight­ing for envi­ron­men­tal jus­tice," Cheryl John­son told the crowd. "[Pruitt] don't know what a fight is, ​'cause he just start­ed one."
John­son is a res­i­dent of pub­lic hous­ing who spoke at the ral­ly. She is also the direc­tor of the Peo­ple for Com­mu­ni­ty Recov­ery, a non-prof­it orga­ni­za­tion that works for envi­ron­men­tal jus­tice in Chicago's South Side. Her moth­er, Hazel John­son, found­ed the orga­ni­za­tion in 1979 to press for repair work in a Chica­go Hous­ing Author­i­ty devel­op­ment called Alt­geld Gardens.
"These are real­ly dif­fi­cult issues," Jef­fery Trevi­no, stew­ard of AFGE Local 704, told a young man who began to cry as he expressed fears that the effects of Trump's cli­mate skep­ti­cism would out­live his administration.
"We def­i­nite­ly have the pub­lic on board," said Trevi­no. ​"We def­i­nite­ly have many of our elect­ed offi­cials, at both the state lev­el and the fed­er­al lev­el on board. But we need more people."
Cur­rent EPA employ­ees are not the only ones denounc­ing Pruitt. Near­ly 450 for­mer EPA employ­ees, includ­ing many who served under Repub­li­can admin­is­tra­tions, sent a let­ter to the Sen­ate on Mon­day express­ing seri­ous reser­va­tions about Pruitt's record. The let­ter empha­sized con­cerns over Pruitt's his­to­ry of law­suits, con­sis­tent sup­port for busi­ness inter­ests, oppo­si­tion to reg­u­la­tion and reluc­tance to accept the sci­ence of cli­mate change.
Pruitt sued the EPA 14 times as Oklahoma's attor­ney gen­er­al and is expect­ed to cut and weak­en the orga­ni­za­tion if con­firmed as its admin­is­tra­tor. On Feb­ru­ary 1, Democ­rats in the Senate's Envi­ron­ment and Pub­lic Works Com­mit­tee boy­cotted a vote that would have sent Pruitt out of com­mit­tee to be vot­ed on by the full Sen­ate. The next day, Repub­li­cans sus­pend­ed the rules of the com­mit­tee and held the vote with­out any Democ­rats. The full Sen­ate is expect­ed to vote on Pruitt's con­fir­ma­tion this week.
State and city gov­ern­ment offi­cials who attend­ed the ral­ly spoke to their com­mit­ment to fight­ing Trump and to serv­ing as a resource for the community.
"You have allies in state gov­ern­ment who are going to stand with you," said Illi­nois State Rep. Will Guzzardi.
"Some of our Repub­li­can friends will say, ​'Oh I don't know, this is kind of awk­ward for me, I'm in a tough polit­i­cal spot,'" said Illi­nois State Sen. Daniel Biss. ​"Clean air is not a par­ti­san issue … Slow­ing and even­tu­al­ly revers­ing cli­mate change so that our plan­et is inhab­it­able is not a par­ti­san issue."
Lin­da Sul­li­van is a retired his­to­ry teacher who remem­bers when the high­ly-pol­lut­ed Cuya­hoga Riv­er caught fire in 1969.
"There's absolute­ly no enforce­ment with­out mon­ey for the EPA," she told In These Times. ​"The states can't do it. And I'm afraid for my water. I'm afraid for my air. I'm afraid for my grand­child. I'm afraid for the planet."
Sul­li­van added, ​"There are some things that are reversible when we vote him out. But the dam­age to the plan­et, espe­cial­ly the cli­mate, is irreversible."
Nida Bajwa
is a win­ter
2017
In These Times edi­to­r­i­al intern.