Escalating the War Against Drones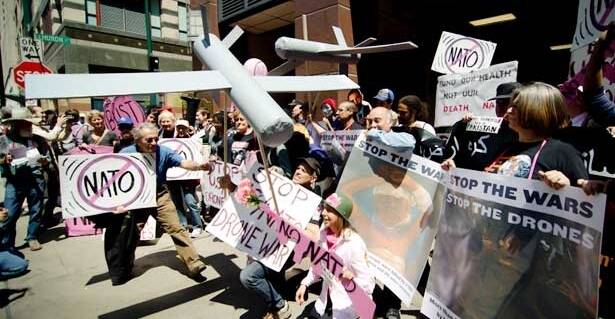 The 11th anniversary of the war in Afghanistan passed quietly this weekend, the mass demonstrations of years past mostly replaced by solemn vigils. There are a number of factors behind the apparently-waning strength of the U.S. peace movement. Several studies suggest that protests against the occupation of Iraq and Afghanistan drew their strength from partisan fervor, and that President Obama's election demobilized large numbers of activists, even while the occupations continued. In a recent piece in the Nation, Frances Fox Piven and Lorraine Minnite argue that the anti-war movement has failed to connect to an anti-war voter bloc, and therefore left politicians free to ignore large-scale protests.
But even as dissent dwindles in the face of an occupation that is ostensibly winding down, peace activists are ramping up their resistance to another front likely to be part of U.S. warfare for the foreseeable future – drone strikes. Today, a peace delegation led by Washington, D.C.-based Code Pink is concluding a week-long visit to Pakistan intended to raise awareness of drones' impact. For many Pakistani citizens, drone strikes have become a part of life. Their presence is felt far beyond the realms of Taliban extremism they were intended for, extending into the lives of civilians whose executions are written off as collateral damage.
As In These Times has reported previously, opposition to drone strikes has been slow to mobilize. In April, Code Pink and other antiwar organizations held a first-ever ​"drone summit" that brought human rights and civil liberties groups together with robotics experts.Yesterday, the anti-drone delegation of 40 Americans, mostly women, gathered in front of the Islamabad Press Club for a day-long fast. The group displayed pictures of over 160 Pakistani children killed by American drones.
"[The fast is] a symbolic show of apology and atonement from a small group of Americans," Rae Abileah, co-director of Code Pink, told In These Times. ​"It's a small gesture with a large heart behind it."
Drone attacks, Abileah said, are ​"primary recruiting for the Taliban." She calls their use ​"completely nonsensical," a view shared by many in the international community. In an interview on NPR​'s Morning Edition, Pakistani Justice Party leader Imran Khan told listeners how a ​"war to end extremism" has led to ​"more extremism and radicalism" in the country's history:
"[T]he drones cause anti-Americanism, which then feeds onto the militants. Secondly, the Pakistan army is perceived to be a collaborator of the Americans because the feeling is that these drone attacks they place with the complicity of the Pakistan government. What happens is that one, it stops the Pakistan army dealing with the militants because they're perceived to be collaborators. And secondly, the more anti-Americanism, the more it feeds into militants. So both ways, we Pakistanis suffer."
The fast followed an unsuccessful attempt over the weekend to lead a peace march to South Waziristan, an insurgency-heavy tribal region of Pakistan. On Sunday, the group of American delegates traveled behind a 500-vehicle convoy made up of Khan and thousands of his supporters. Khan and his followers hoped to promote peace talks with the Taliban, but were blocked by the Pakistani military, which said it could not guarantee security for the group, within 15 miles of the border. Code Pink travelled without security, with a simple message emblazoned on the side of their vehicles: ​"We are against drones."
​"It was inspiring," says Ann Wright, a former U.S. colonel and leader of Code Pink's pre-delegation group, of the reception the group received in Pakistan. ​"We were greeted with open arms. It was overwhelming."
The anti-drone delegation comes in the wake of a new academic study, based on interviews with civilians living in northwest Pakistan, pronouncing drone strikes ​"damaging and counterproductive." Wright describes the atmosphere in Pakistan as tense and says that the anti-American feeling is strong: ​"When you get here, you see the Pakistani have suffered tremendously in this war on terror."