Escape From Recession
What you should know about the economic stimulus package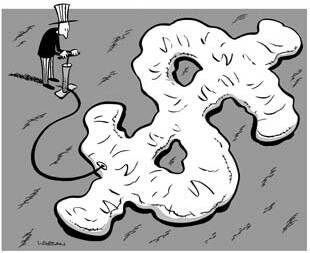 We hate to ful­fill the stereo­type of dis­mal sci­en­tists, but the news is bad: The econ­o­my is slow­ing sharply and may be in reces­sion. The nation's broad­est mea­sure of growth, real gross domes­tic prod­uct (GDP), grew a scant annu­al rate of 0.6 per­cent at the end of last year. Unem­ploy­ment has risen, and job growth has slowed sharply. The hous­ing mar­ket has yet to hit bot­tom, and cred­it mar­kets are still deeply chilled, if not frozen.
Here's the bet­ter news: When this type of sce­nario devel­ops, the case for an eco­nom­ic stim­u­lus pack­age to off­set the down­turn is both sim­ple and wide­ly accept­ed. But there are many ways to craft a growth pack­age, and if we don't get this right, we risk wast­ing big mon­ey while fail­ing to mit­i­gate the pain of recession.
As In These Times went to press, both cham­bers of Con­gress had passed bills, and their rat­i­fi­ca­tion looked all but cer­tain. (Pres­i­dent Bush had signed off on the House bill, and had agreed to sup­port the Senate's pack­age after it had been sig­nif­cant­ly scaled back.) The bills spend about $150 bil­lion this year and next on a com­bi­na­tion of ​"tax rebates" (though that's real­ly a mis­nomer) and busi­ness tax cuts.
Will that be good enough? Here's a Stim­u­lus 101 primer, as well as a list of what we think is miss­ing from the cur­rent eco­nom­ic recov­ery plan.
The basics
Economies depend on robust demand. When folks stop buy­ing, when investors leave the room, when gov­ern­ments stop build­ing and improv­ing pub­lic goods, growth grinds to a halt. And when that hap­pens, the job machine stalls, unem­ploy­ment ris­es, those with jobs work few­er hours, wages rise more slow­ly, and incomes decline, espe­cial­ly for the low­est earn­ers and many minorities.
The last two reces­sions – in the ear­ly ​'90s and ear­ly 2000s – led to declines in the typ­i­cal family's income by about $2,500 (in today's dol­lars). That ain't peanuts.
Such a poten­tial income loss is espe­cial­ly wor­ri­some now, as the infla­tion-adjust­ed medi­an fam­i­ly income actu­al­ly remains about $1,000 below where it stood in 2000. If reces­sion is immi­nent, this would be the first time that real incomes at the end of a recov­ery have not exceed­ed those at the pre­vi­ous eco­nom­ic peak.
That fact might be the great­est indict­ment against Bushon­om­ics and the ​"own­er­ship soci­ety" he tout­ed. It is a stark reminder that while the stim­u­lus appro­pri­ate­ly tar­gets a short-term prob­lem, the mech­a­nisms that serve to fair­ly dis­trib­ute income have been bro­ken for some time. Most fam­i­lies in the Unit­ed States have not fared near­ly as well as they should have, giv­en their con­tri­bu­tions to the growth we've expe­ri­enced. The com­ing slow­down will only sub­merge them in deep­er water.
That's what makes fis­cal stim­u­lus so nec­es­sary. By fis­cal stim­u­lus, we mean a tem­po­rary infu­sion of expen­di­tures into the econ­o­my by the fed­er­al gov­ern­ment to raise demand. The infu­sion nec­es­sar­i­ly takes the form of some com­bi­na­tion of a reduc­tion in tax­es and spend­ing increases.
We've also got more time than we think. Each of the last two reces­sions was short (eight months) in GDP terms, but far longer in terms that mat­ter most to most peo­ple: jobs and unemployment.
Unem­ploy­ment rose for 19 months after Novem­ber 2001, which was the offi­cial end of the last reces­sion, and employ­ment declined by anoth­er 1.1 mil­lion and did not start grow­ing until Sep­tem­ber 2003. Had an effec­tive stim­u­lus pack­age come late in the game, as offi­cial­ly mea­sured, it would have helped short­en what turned out to be the longest job­less recov­ery on record.
Cur­rent proposals
The pres­i­dent and the House agreed on a stim­u­lus pack­age that spends about $100 bil­lion on per­son­al tax rebates and $50 bil­lion on busi­ness, by allow­ing them to depre­ci­ate new invest­ments faster than usu­al, and there­by pay few­er tax­es. (Firms can deduct the cost of depre­ci­a­tion from their income to low­er tax liabilities.)
The pack­age has some plus­es, but it could have been much improved. Thanks to nego­ti­a­tions by House Democ­rats, $28 bil­lion more of the rebates will reach 35 mil­lion more low-income per­sons than were includ­ed in the ini­tial White House pack­age. Under Bush's orig­i­nal plan, only 8 per­cent of the rebate made it down to the bot­tom 40 per­cent. It's now 21 per­cent. That gets mon­ey to folks who need it, but also helps because those folks will spend the mon­ey (rather than save it) and gen­er­ate more demand.
But the bonus depre­ci­a­tion for busi­ness­es is a par­tic­u­lar­ly inef­fec­tive form of stim­u­lus. For each dol­lar of tax rev­enue we sac­ri­fice in this way, we get back a measly 27 cents in new demand, accord­ing to econ­o­mist Mark Zan­di. Of the 13 types of stim­u­lus Zan­di test­ed, this one was the worst. (Mak­ing the Bush tax cuts per­ma­nent was, at $0.29, a close second.)
This pack­age, while cost­ing 1 per­cent of GDP, could boost the econ­o­my by less than 1 per­cent, per­haps around 0.75 per­cent. That's unac­cept­able. We should get at least 1‑for‑1. Any stim­u­lus worth pass­ing should get back at least as much in GDP terms as it costs, and even that's a low bar.
The Senate's plan is a lit­tle bet­ter in this regard. While spend­ing about the same amount on rebates, it gets them to even more low-income peo­ple. (Seniors depen­dent on Social Secu­ri­ty were left out of the House plan.) But Sen­ate Repub­li­cans blocked its orig­i­nal­ly pro­posed 13-week exten­sion to unem­ploy­ment insur­ance (beyond the nor­mal 26 weeks), which offered a strong bang-for-the-buck: A dol­lar spent here gets you $1.64 in stim­u­lus. The rea­son is sim­ple: Peo­ple unem­ployed long-term need mon­ey and spend mon­ey. That's not always the case with rebates.
What's miss­ing
One thing the cur­rent stim­u­lus pack­age got right was mak­ing pay­ments to indi­vid­u­als. But these are not ​"tax rebates," which implies that the gov­ern­ment is return­ing tax­pay­ers' mon­ey to peo­ple who over­paid their tax­es. Rather, these are checks pro­vid­ed to peo­ple in the expec­ta­tion that they will spend the mon­ey on goods and services.
Why is that help­ful? Because as they spend these pay­ments, they cre­ate demand. For instance, when you buy items at Cost­co, the store will restock its shelves and re-order goods from its sup­pli­ers, a process that main­tains employ­ment and wages being paid and spent, all of which boosts the econ­o­my. But, to ener­gize the econ­o­my, these pay­ments have to be spent, not saved. Bet­ter yet, they need to be spent on domes­tic items, as import­ed goods stim­u­late anoth­er country's economy.
When the pay­ments are spent domes­ti­cal­ly, their impact rever­ber­ates through­out the econ­o­my. The soon­er income-con­strained house­holds receive these checks, the soon­er these pay­ments will help both the recip­i­ents and the larg­er econ­o­my, thus achiev­ing the dual goals of both fair­ness and effectiveness.
How­ev­er, fail­ing to extend unem­ploy­ment insur­ance was a big mis­take. Such pay­ments have the great­est prob­a­bil­i­ty of being spent, and the unem­ploy­ment insur­ance sys­tem needs to pro­vide a bet­ter safe­ty net for low-income, part-time and oth­er work­ers. Tem­po­rary improve­ments in food stamp allo­ca­tions and greater assis­tance for ener­gy bills would also have a sim­i­lar pos­i­tive effect.
Pro­vid­ing pay­ments to state and local gov­ern­ments (for their Med­ic­aid costs or oth­er­wise) would also have helped mit­i­gate ris­ing unem­ploy­ment. Down­turns cause state rev­enues to fall and spend­ing to rise, espe­cial­ly when they orig­i­nate in hous­ing mar­kets. That's because, as more peo­ple need assis­tance, pub­lic pro­grams kick in. But when states need to bal­ance their bud­gets, they often respond by rais­ing tax­es, cut­ting ser­vices and lay­ing off work­ers – slow­ing down the econ­o­my even more. It's nec­es­sary for the fed­er­al gov­ern­ment to pro­vide relief for the states to fore­stall these des­per­ate moves.
Final­ly, though it's received scant atten­tion, one of the best things we could do is put Amer­i­cans to work build­ing or repair­ing need­ed infra­struc­ture. Jobs spun off by these projects put goods in the pock­ets of work­ers who would oth­er­wise strug­gle, and the improve­ments in roads, bridges, schools and sewage treat­ment facil­i­ties can lead to high­er pro­duc­tiv­i­ty, bet­ter health and bet­ter edu­ca­tion. Giv­en the depre­ci­a­tion of our pub­lic infra­struc­ture, these efforts only accel­er­ate what we need to do any­way. To be time­ly, we should invest in projects that are planned or under­way, but strapped for resources due to the slow­down. Anoth­er advan­tage is that none of such spend­ing is ​"saved": While cit­i­zens may spend less than two-thirds of the pay­ments made to them, gov­ern­ments spend all the money.
Though a reces­sion has not offi­cial­ly been called, polls show that most peo­ple think we're already in one. While this may be a head-scratch­er for those focus­ing on GDP and finan­cial mar­kets, it's clear to us that too many fam­i­lies have been eco­nom­i­cal­ly squeezed in recent years, even in good times. Imag­ine what they are like­ly to face in bad times.
Our polit­i­cal rep­re­sen­ta­tives had every rea­son to quick­ly pass a pack­age to jump­start our slump­ing econ­o­my. But they didn't get it com­plete­ly right. It's up to us to make sure they do.
Jared Bern­stein
is a senior econ­o­mist at the Eco­nom­ic Pol­i­cy Insti­tute and author of the forth­com­ing book,
Crunch: Why Do I Feel So Squeezed? (And Oth­er Unsolved Eco­nom­ic Mys­ter­ies)
(Berrett-Koehler,
2008
).
Lawrence Mishel
is pres­i­dent of the Eco­nom­ic Pol­i­cy Institute.