Eve of Destruction: Bureau of Land Management Sacrifices Native Site to Mining Group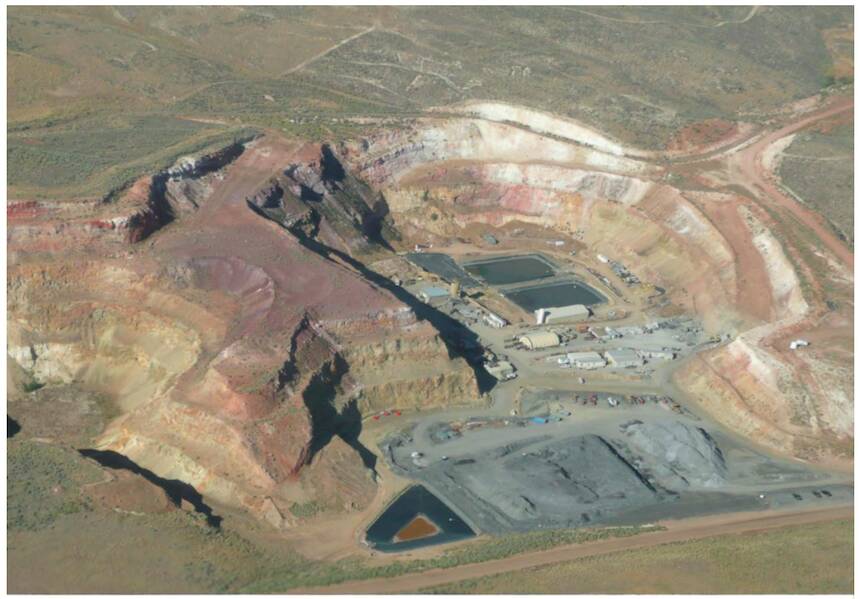 This isn't the ​"new" world for the West­ern Shoshone. And their West was nev­er ​"wild." It is a place of deep cul­tur­al con­nec­tions to a home­land that at one time extend­ed across por­tions of Ida­ho, Neva­da, Utah and Cal­i­for­nia. For more than 10,000 years, they have met in what is today called the Tosaw­i­hi Quar­ries, a stretch of Elko Coun­ty, Neva­da, to gath­er a type of white flint and to prac­tice their sacred rituals.
"That stone is very sacred to us," says Joe Hol­ley, chair­man of the Bat­tle Moun­tain Band of the Te-Moak West­ern Shoshone, one of sev­er­al fed­er­al­ly rec­og­nized, relat­ed tribes. ​"We use it every day and have done so for mil­len­nia, for tools, cer­e­monies and heal­ing. The stone, the water, the entire place is sacred." The word Tosaw­i­hi means White Knives, an ances­tral Shoshone trib­al name that ties the land and its fea­tures to their cul­ture and iden­ti­ty. The Tosaw­i­hi Quar­ries has been deemed eli­gi­ble for the Nation­al Reg­is­ter of His­toric Places and part of it was declared an Archae­o­log­i­cal Dis­trict in 2010.
How­ev­er, gold lies under the flint, also called chert, and a multi­na­tion­al min­ing group wants it.
In 2013, Neva­da-based Water­ton Glob­al Min­ing Com­pa­ny, owned by a firm reg­is­tered in the Cay­man Islands, bought a bank­rupt gold-min­ing oper­a­tion that had been explor­ing for and extract­ing gold in the Tosaw­i­hi Quar­ries. In March 2014, an offi­cial at a relat­ed Cana­di­an pri­vate-equi­ty firm, Water­ton Glob­al Resource Man­age­ment, told Reuters it had been snap­ping up strug­gling U.S. min­ing con­cerns hurt by the sev­er­al-year down­turn in gold prices. Reuters quot­ed the firm's chief invest­ment offi­cer as say­ing, ​"This year I think [acqui­si­tions] will pick up dramatically."
By 2014, min­ing oper­a­tions had resumed on the Shoshon­e's ances­tral lands, and Water­ton Glob­al Min­ing Com­pa­ny had changed its name to Car­lin Resources. The new work began in pre­vi­ous­ly dis­turbed ground and moved out from there. ​"A drilling pad was built in a once-pris­tine area," says Hol­ley, ​"and sev­er­al rock shel­ters were demol­ished when they pushed through a road." On a recent trip to the area, he saw that sev­er­al ancient stone hunt­ing blinds, from which con­cealed hunters observed their prey, were gone. Trib­al mem­bers report that work­ers have video­taped them when they visit.
The band has also expressed con­cern to fed­er­al author­i­ties that the min­ing com­pa­ny does not have the required ground­wa­ter mon­i­tor­ing well in place. ​"This is crit­i­cal," says Hol­ley. ​"At the cen­ter of all our cer­e­monies is water. It is the lifeblood of the universe."
Min­ing was already engulf­ing the sacred land­scape, says the Bat­tle Moun­tain Band's attor­ney Rol­lie Wil­son, who works in the Wash­ing­ton, D.C. office of the Oma­ha law firm Fred­er­icks Pee­bles & Mor­gan. ​"Now mat­ters are get­ting worse. With impor­tant sites dam­aged or destroyed, trib­al mem­bers are being pushed into an ever-small­er area." Wil­son has filed an emer­gency appeal with the Inte­ri­or Board of Land Appeals (IBLA), an Inte­ri­or Depart­ment admin­is­tra­tive court. It asks the court to sus­pend min­ing until a plan can be devised that safe­guards the site.
In 1992 (on the 500th anniver­sary of Colum­bus' first vis­it), pro­tec­tion of Native Amer­i­can cul­tur­al resources was added to the Nation­al His­toric Preser­va­tion Act. Since then, fed­er­al agen­cies have been required to con­sult with tribes when min­ing, con­struct­ing dams, road build­ing and oth­er projects on fed­er­al land that could affect their tra­di­tion­al cul­tur­al prop­er­ties (TCPs). These may include loca­tions where cul­tur­al­ly impor­tant prac­tices occur, or occurred in the past, as well as structures.
This process is a part of the fed­er­al government's trust rela­tion­ship with the tribes, which requires the Unit­ed States to pro­tect Native treaty rights, land and oth­er assets. In prac­tice, tribes and their rep­re­sen­ta­tives reg­u­lar­ly report that they aren't noti­fied ear­ly enough in the process to make a dif­fer­ence and when they do speak up fed­er­al offi­cials don't pay attention.
Hol­ley says work­ing with the Inte­ri­or Depart­men­t's Bureau of Land Man­age­ment (BLM) can be like ​"talk­ing to a wall." As the Neva­da State His­toric Preser­va­tion Office puts it: The BLM can oper­ate ​"uni­lat­er­al­ly."
Some offi­cials may have a hard time under­stand­ing a com­plex Native cul­tur­al land­scape like the Tosaw­i­hi Quar­ries, which has been sub­tly shaped for many cen­turies by a range of activ­i­ties includ­ing cer­e­monies, tool mak­ing, med­i­cine-plant gath­er­ing and hunt­ing. ​"The con­cept of ​'cul­tur­al land­scape' emerged in the late 1980s, which real­ly isn't that long ago," says Paul Loether, Chief of the Nation­al Reg­is­ter of His­toric Places, a Nation­al Park Ser­vice pro­gram. As a result, Loether says, most eval­u­a­tors are bet­ter at assess­ing an his­toric house than a tract of land, no mat­ter what cul­ture, Native or non-Native, shaped it.
Car­lin Resources has less patience for the process than the Bat­tle Moun­tain Band would wish. In Carlin's legal response to the band's attempt to tem­porar­i­ly halt drilling, the min­ing com­pa­ny said their IBLA appeal was based on ​"erro­neous and sen­sa­tion­al­is­tic asser­tions" that ​"the entire Tosaw­i­hi Quar­ries con­sti­tutes a TCP." Car­lin, in its brief, told the court that it had com­plied with all oblig­a­tions and that the band's ongo­ing objec­tions had already caused it to run up sub­stan­tial addi­tion­al costs.
Because the Tosaw­i­hi Quar­ries are on fed­er­al land admin­is­tered by the BLM, that agency han­dled the area's TCP eval­u­a­tion. Ear­li­er min­ing had already tak­en a big chunk out of the Shoshone land­scape, but Holley's band hoped it could work with the BLM to pre­vent fur­ther destruc­tion. ​"We were hop­ing to keep the min­ing out of what's left of our most impor­tant areas," Hol­ley says.
To study and pro­tect a land­scape, archae­ol­o­gy is often the dis­ci­pline of choice. At Tosaw­i­hi Quar­ries, the BLM focused on items of archae­o­log­i­cal inter­est that might be saved — includ­ing what it termed ​"loci," with a cer­tain num­ber of arti­facts, such as stone tools, per square meter. The agency marked the items on maps, drew lines around them and told the min­ing com­pa­ny to stay at least 250 feet away.
"Archae­ol­o­gy is a great field," says Loether. ​"But unfor­tu­nate­ly, used that way, the result is like see­ing the Mona Lisa's smile, but not the rest of the paint­ing. You can't under­stand its beau­ty and mean­ing with­out con­sid­er­ing the entire thing."
"Main­stream sci­ence looks at sites dif­fer­ent­ly from Indi­an peo­ple, who see the spir­i­tu­al sig­nif­i­cance," says Ted Howard, cul­tur­al resources direc­tor and mem­ber of the Shoshone-Paiute Tribes.
With about 500 enrolled mem­bers and a 683-acre reser­va­tion that has ​"lit­tle eco­nom­ic activ­i­ty," accord­ing to its web­site, the tiny Bat­tle Moun­tain Band has set itself a gar­gan­tu­an task. ​"I grew up in this fight," says Hol­ley. ​"My grand­fa­ther, father and uncle all fought min­ing in the Tosaw­i­hi Quar­ries. I've lived my whole life hear­ing them talk about this."
"Chair­man Hol­ley and the Bat­tle Moun­tain Band have tak­en the lead in this strug­gle," says Howard. ​"How­ev­er, many of the Shoshone peo­ple came from or used that area. Now we are sep­a­rat­ed on dif­fer­ent reser­va­tions, but that is not how we lived before the reser­va­tion era. Our shared oral his­to­ry goes way back. And the Tosaw­i­hi Quar­ries are the cen­ter of our spir­i­tu­al being."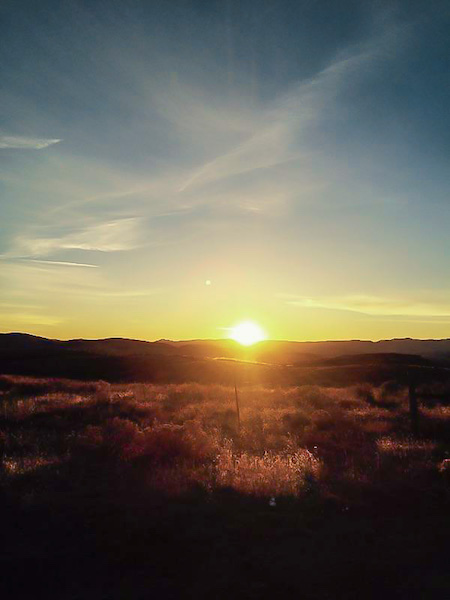 The sun ris­es over the Tosaw­i­hi Quar­ries. (Pho­to cour­tesy of Joe Hol­ley, Chair­man of the Bat­tle Mount­ian Band of the Te-Moak Tribe of West­ern Shoshone)
'

Smok­ing gun' at the BLM

Some­times, lack of under­stand­ing isn't the only prob­lem at a fed­er­al agency. Oth­er inter­ests can weigh heav­i­ly. In spring 2014, the BLM's analy­sis of the mine project was still under review. It had yet to issue its final approval, or Record of Deci­sion (ROD).

But then the min­ing com­pa­ny need­ed the gold — and fast.

Accord­ing to pub­lic doc­u­ments obtained by Rur­al Amer­i­ca In These Times, Water­ton con­tact­ed the BLM on Fri­day, March 28, 2014. It want­ed the agency to issue the Record of Deci­sion by the fol­low­ing Mon­day, March 31. A BLM offi­cial, Steph Con­nol­ly, the act­ing-senior spe­cial assis­tant to the direc­tor, noti­fied col­leagues of this request with an email head­ed ​"URGENT."

Thomas Schmidt, a BLM geol­o­gist in a Neva­da field office, replied, ​"I do not believe we have com­plete­ly sat­is­fied Tribe concerns."

Anoth­er BLM geol­o­gist, Jan­ice Stadel­man, chimed in, warn­ing against delay. ​"I received a call from Waterton's legal coun­sel," she emailed. ​"They are request­ing that the ROD and approval be signed or dat­ed no lat­er than March 31 [2014]. March 31 is the end (last day) of the first quar­ter. … Waterton's con­cern is with the first quar­ter audit­ing and finan­cial report­ing to there [sic] investors and the ram­i­fi­ca­tions that they will encounter."

By March 31, the ROD was signed, sealed and deliv­ered. Thanks to the BLM rush­ing it through, the min­ing group had its gold and the win­dow-dress­ing for its quar­ter­ly report. In May, Water­ton issued a press release announc­ing a ​"sig­nif­i­cant per­mit­ting mile­stone" for the mine.

In response to a query from Rur­al Amer­i­ca In These Times, BLM spokesper­son Jeff Krauss described the per­mit­ting process as ​"robust" and ​"not hur­ried," with full con­sid­er­a­tion under the law for the Bat­tle Moun­tain Band's con­cerns. He added the agency would con­tin­ue to work with the band going for­ward. Fur­ther, accord­ing to Krauss, the BLM would require the mine's oper­a­tor to ​"imple­ment suf­fi­cient mon­i­tor­ing and mit­i­ga­tion strate­gies in order to pre­vent unnec­es­sary or undue degra­da­tion of the lands" and its sacred sites.
Look­ing and listening
Edu­cat­ing offi­cials, leg­is­la­tors and the pub­lic about respon­si­ble pro­tec­tion of our nation's shared lega­cy is an ​"uphill bat­tle," says Rebec­ca Knuf­fke, pub­lic lands project man­ag­er for the Nation­al Trust for His­toric Preser­va­tion, a non­prof­it char­tered by Con­gress to safe­guard our shared her­itage places. Build­ing aware­ness for a giv­en site can help pro­tect it, she says, point­ing to the Trust's Nation­al Trea­sures pro­gram, which describes cam­paigns to save places that are impor­tant to var­ied and some­times mul­ti­ple cultures.
In the case of a Native land­scape, pub­lic aware­ness is han­dled very care­ful­ly, adds Denise Ryan, pub­lic lands pol­i­cy direc­tor at the Trust. Such places may include vision sites, sacred springs, med­i­cine-gath­er­ing areas and oth­er geo­graph­ic fea­tures that tribes con­sid­er pri­vate or secret. Like the Tosaw­i­hi hunt­ing blinds and rock shel­ters, these frag­ile fea­tures can also be destroyed by van­dals or inad­ver­tent­ly tram­pled by hik­ers. ​"In a pro­tec­tion plan, tribes don't have to give us details. They just tell us what's sig­nif­i­cant and what they require," says Ryan.
Hol­ley wants a com­plete review of the Tosaw­i­hi Quar­ries that accounts for sub­tleties that aren't appar­ent to out­siders. ​"We Shoshone are the only ones who can say where these impor­tant things are," Hol­ley says. ​"Tosaw­i­hi is not a ​'pre­his­toric' place, used only by long-ago peo­ple. We Shoshone have used all of it con­tin­u­ous­ly for cul­tur­al and spir­i­tu­al pur­pos­es since time immemorial."
Mean­while, gold min­ing oper­a­tions continue.
Hol­ley laments, ​"All those years of strug­gle, and we're still los­ing ground."
Edi­tor's note:
Since pub­li­ca­tion of Eve of Destruc­tion, the Bat­tle Moun­tain Band of the Te-Moak West­ern Shoshone has con­tin­ued to try and pro­tect its sacred site from destruc­tion by gold min­ing. In Sep­tem­ber 2015, an Inte­ri­or Depart­ment admin­is­tra­tive court turned down the Band's request to sus­pend min­ing until a way could be found to safe­guard tra­di­tion­al cul­tur­al prop­er­ties more effectively.
The Band then turned to the influ­en­tial Advi­so­ry Coun­cil on His­toric Preser­va­tion (ACHP), which is named as the final arbiter of dis­putes under the so-called Pro­gram­mat­ic Agree­ment issued by the Bureau of Land Man­age­ment (BLM) to gov­ern min­ing activ­i­ties. In Decem­ber, ACHP issued a cau­tious deci­sion that encour­aged BLM to ​"clar­i­fy" the agreement.
"The Pro­gram­mat­ic Agree­ment doesn't need to be clar­i­fied, it needs to be imple­ment­ed," said Band attor­ney Rol­lie Wil­son, of Fred­er­icks Pee­bles & Mor­gan. ​"The doc­u­ment, signed by ACHP, requires ongo­ing eval­u­a­tion of spe­cif­ic areas as min­ing explo­ration is con­sid­ered. BLM is not doing that. It is rely­ing on old and gen­er­al­ized sur­veys of the entire area, which makes no sense. The doc­u­ment and the law require cur­rent eval­u­a­tions for project-spe­cif­ic proposals."
BLM spokesper­son Jeff Krauss has dis­agreed, say­ing that con­sul­ta­tion with the Band is ongoing.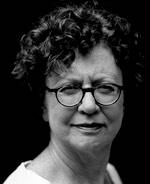 Stephanie Woodard
is an award-win­ning jour­nal­ist who has writ­ten inves­tiga­tive arti­cles for
In These Times
. Her new book is
Amer­i­can Apartheid: The Native Amer­i­can Strug­gle for Self-Deter­mi­na­tion and Inclu­sion
.