Even After Death, Jerry Tucker Inspires Labor Activists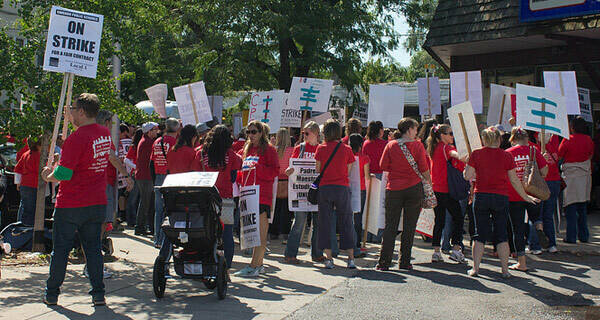 In Jan­u­ary, an obit­u­ary of Jer­ry Tuck­er, who died of pan­cre­at­ic can­cer a year ago at age 73, char­ac­ter­ized the long­time labor activist as ​"the man who could have saved orga­nized labor."
Tuck­er might have balked at the sug­ges­tion that he him­self could have been the sav­ior of orga­nized labor. He fer­vent­ly believed that work­ers could save them­selves — through demo­c­ra­t­ic, mil­i­tant union­ism led by rank-and-file mem­bers. Ear­li­er this month, Tucker's vision was remem­bered and debat­ed in his home­town of St. Louis, Mo., as about 100 union­ists from through­out the coun­try gath­ered at the ​"Jer­ry Tuck­er: The Per­son, The Mis­sion, The Lega­cy" con­fer­ence at the Uni­ver­si­ty of Mis­souri-St. Louis.
The conference's pro­gram spanned the inno­v­a­tive and suc­cess­ful union cam­paigns Tuck­er helped design and lead as well as sim­i­lar union cam­paigns today. Through­out the week­end, pan­elists spoke about his insis­tence on mak­ing the labor move­ment a force that advo­cat­ed for the entire work­ing class through coali­tion-build­ing with com­mu­ni­ty groups; his time as a dis­si­dent with­in his own union, the Unit­ed Auto Work­ers (UAW), with his chal­lenges to lead­er­ship to become more demo­c­ra­t­ic and to end col­lab­o­ra­tion with cor­po­ra­tions before becom­ing per­sona non gra­ta with­in it; and the cen­tral­i­ty of con­fronting sex­ism and racism with­in unions.
A life on the barricades
After a night of per­son­al remem­brances of Tuck­er, the con­fer­ence includ­ed two days of pan­el dis­cus­sions by union activists, many of whom worked along­side Tuck­er, dis­cussing dif­fer­ent cam­paigns he helped design and their rel­e­vance for unions today.
One of Tucker's first major vic­to­ries came in 1978, when he head­ed efforts against a busi­ness-led bal­lot ref­er­en­dum to bring ​"right-to-work" to Mis­souri. Mike Can­non, Tucker's long­time assis­tant at the UAW, recalled on a pan­el dis­cus­sion on the conference's sec­ond day that labor wait­ed until the last minute to fight the cam­paign, just three months before a vote. But Tuck­er quick­ly ​"pulled out all the stops," Can­non said, over­see­ing efforts to cre­ate a mas­sive anti-ref­er­en­dum coali­tion with women's, envi­ron­men­tal, senior cit­i­zens', civ­il rights, con­sumer, and even farmer groups. More than 100,000 new vot­ers were reg­is­tered, Can­non said, and 24,000 vol­un­teers phone-banked and knocked on doors through­out the entire state.
Despite being out­spent by near­ly 30 per­cent, the fevered labor-com­mu­ni­ty cam­paign actu­al­ly flipped the vote pro­ject­ed by polls just six weeks before­hand, win­ning three-to-two against ​"right to work."
​"His vision led us to vic­to­ry in 1978," Can­non said. The state remains free of the law today, though the Right may again attempt to pass the law in the near future.
Through­out the 1980s, work­ing for the UAW's Region Five, which spans 17 states in the West and South­west, Tuck­er became a key strate­gist in pio­neer­ing win­ning work­er-led tac­tics like ​"work-to-rule." Employ­ers dur­ing this era often attempt­ed to pro­voke work­ers into strik­ing dur­ing con­tract nego­ti­a­tions, assum­ing they could take advan­tage of labor law allow­ing for per­ma­nent replace­ment of strik­ers by ​"scabs" to crush unions. Instead of walk­ing off, how­ev­er, work­ers employed the ​"work-to-rule" strat­e­gy of stay­ing at work and fol­low­ing com­pa­ny reg­u­la­tions to the let­ter with­out doing any­thing beyond what was required of them — lead­ing to sig­nif­i­cant­ly less­ened pro­duc­tion while not tech­ni­cal­ly break­ing any rules.
Cannon's plant at the time, the Moog Auto Plant in St. Louis, resist­ed strik­ing in 1981—the same year Pres­i­dent Ronald Rea­gan fired strik­ing air traf­fic con­trollers—and ran a tight work-to-rule cam­paign. Even­tu­al­ly, ​"the com­pa­ny basi­cal­ly said, ​'we have no con­trol over our pro­duc­tion process what­so­ev­er," Can­non remem­bered. ​"We have no idea what's going on in our own plant. What will it take [to set­tle with the work­ers]?" Moog had set out to destroy the union; instead, work­ers won a 36 per­cent raise over three years and ben­e­fit increases.
In 1993, Tuck­er helped run a sim­i­lar cam­paign at the A.E. Sta­ley corn pro­cess­ing plant in Decatur, Ill., where work­ers were locked out for two years in one of the key labor bat­tles of the 1990s. Art Dhermy, a for­mer Sta­ley work­er, described on a pan­el how the tac­tic Tuck­er helped design empow­ered him as a rank-and-file worker.
​"I saw the light at the end of the tun­nel. I could do some­thing. Me, the guy sit­ting on the [fac­to­ry] floor," Dhermy said.
Work­ers like Dhermy were at the cen­ter of the Sta­ley work-to-rule fight, com­ing up with strate­gies, orga­niz­ing ral­lies, build­ing sup­port com­mit­tees through­out the coun­try, and con­duct­ing com­pa­ny research themselves.
At the same time Tuck­er was advis­ing work­ers at Sta­ley, how­ev­er, his own for­mer union, the UAW, was attempt­ing a work-to-rule strat­e­gy at an embat­tled Cater­pil­lar plant in Decatur. Though Tuck­er was an expert on the tac­tic, he was not asked to advise the cam­paign, because his chal­lenges to UAW lead­er­ship in the years before had made him a pari­ah with­in the union.
While on staff at the UAW Dis­trict 5, Tuck­er and oth­er union dis­si­dents cre­at­ed a reform cau­cus, New Direc­tions, to run for the district's lead­er­ship in 1986. He opposed what he saw as the col­lab­o­ra­tionism and top-down char­ac­ter of the union's lead­er­ship; staff posi­tions pro­vid­ed ​"nice rock­ing chair oppor­tu­ni­ties," he said in 1992, while ​"work­ers … are pay­ing the price."
Recount­ing the his­to­ry of the cau­cus on a pan­el titled ​"Lessons from the New Direc­tions Move­ment," Eric Mann, direc­tor of the Labor/​Community Strat­e­gy Cen­ter in Los Ange­les, described New Direc­tions as push­ing ​"union democ­ra­cy in the mid­dle of a dic­ta­tor­ship." Ille­gal maneu­vers by the old guard dur­ing lead­er­ship elec­tions at the 1986 union con­ven­tion led to Tucker's slate los­ing; a drawn-out legal bat­tle even­tu­al­ly found the old guard guilty of wrong­do­ing, and the elec­tion was rerun, with New Direc­tions' nom­i­nat­ed lead­ers winning.
Accord­ing to Tuck­er, UAW's pres­i­dent at the time, Owen Bieber, refused to shake his hand upon his instal­la­tion as Dis­trict 5 direc­tor; instead, he imme­di­ate­ly informed Dis­trict 5 staff ​"that they weren't to take orders from [Tuck­er] — that they worked for him. And he would assure them that he would aggres­sive­ly cam­paign, as he expect­ed them to do, to remove [Tuck­er] at the fol­low­ing convention."
True to Bieber's word, the incum­bent lead­er­ship pulled out all the stops at the next union con­ven­tion, and Tuck­er was defeat­ed. Though Tuck­er ran a large­ly sym­bol­ic failed cam­paign for UAW pres­i­dent soon after­ward, he had become an out­cast with­in the union.
Tucker's lega­cy lingers
Though Tuck­er was oust­ed from the UAW more than twen­ty years ago, his style of bot­tom-up, mil­i­tant union­ism may still be a threat to some fig­ures in the labor move­ment. On the con­fer­ence's final day, Bill Fletch­er, a long­time union activist and a close friend of Tucker's, claimed that before the con­fer­ence began, there were some efforts by union lead­ers to derail the con­fer­ence in its nascent stages, though he did not indi­cate who had made the threats.
​"There were peo­ple that were deeply wor­ried that Jerry's life and work would so res­onate among the cur­rent and upcom­ing gen­er­a­tions," Fletch­er said, ​"that peo­ple may say the exist­ing or dom­i­nant form of trade union­ism is bogus, and needs to be chal­lenged, and we need to do some­thing dif­fer­ent. And these demons felt so strong­ly about it that they were will­ing to try to stran­gle this con­fer­ence to make sure it didn't get off the ground.
​"It was at that moment that I real­ized that Jer­ry was very much still among us," Fletch­er said. Con­fer­ence orga­niz­ers declined to com­ment on the alleged threats.
Indeed, it became clear soon into the con­fer­ence that Tucker's life had a huge impact on past and present union­ists through­out the coun­try. Though his time of advo­ca­cy is over, the strate­gies he helped devel­op and the vision of union activism he fer­vent­ly believed in are still present in some con­tem­po­rary work­er-led campaigns.
Rasheen Aldridge, a 19-year-old St. Louis Jim­my John's work­er who walked off the job along with oth­er St. Louis fast food strik­ers this May and received a schol­ar­ship in Tucker's name, spoke on the pan­el ​"New Voic­es, New Forms of Orga­ni­za­tion: Con­ti­nu­ities and Change."
​"We're not going to stop when we get eight bucks, we're not going to stop when we get 8.50, we're going all the way to 15 and a union," Aldridge said, in tones Tuck­er sure­ly would have approved of.
And in a pan­el on the conference's last day, Chica­go Teach­ers Union finan­cial sec­re­tary Kris­tine Mayle not­ed that the on-the-job mil­i­tan­cy and orga­niz­ing along­side com­mu­ni­ty mem­bers that Tuck­er advo­cat­ed for was also being car­ried out by Chica­go teachers.
​"I did­n't know who Jer­ry Tuck­er was com­ing here, but I'd swear there must peo­ple with­in our union who did," Mayle said. ​"Because every­thing I heard yes­ter­day [dur­ing ses­sions on Tucker's life] is what we're doing in Chicago."
A cen­tral belief of most of the conference's atten­dees was that Tucker's activism was a bright spot dur­ing par­tic­u­lar­ly dark days of Amer­i­can labor his­to­ry. At a time when the rest of labor was on the retreat, push­ing col­lab­o­ra­tion with boss­es as the only way to weath­er the storm of post-1970s dein­dus­tri­al­iza­tion, Tuck­er ratch­eted up the lev­el of strug­gle. As labor increas­ing­ly became what Tuck­er called parochial and nar­row-mind­ed, focus­ing only on the con­cerns of its own work­ers, he pushed for a labor move­ment that rep­re­sent­ed the entire work­ing class. And when the top-down style of Amer­i­can union lead­er­ship sky­rock­et­ed, Tuck­er worked to build rank-and-file work­er-led pow­er, refus­ing to back down from con­fronta­tion even with lead­ers of his own union, which even­tu­al­ly led to his own exile. He deserves to be remem­bered along­side Moth­er Jones, Big Bill Hay­wood and oth­er rad­i­cal Amer­i­can labor heroes of years gone by.
Today, as the move­ment teeters on the brink of extinc­tion, sim­i­lar bot­tom-up, mil­i­tant orga­niz­ing might be the only thing that can save orga­nized labor.
​"Jerry's life was about over­com­ing fatal­ism and cre­at­ing struc­tures where [work­ers'] actions real­ly mat­ter," said Sam Gindin, for­mer research direc­tor for the Cana­di­an Auto Work­ers, dur­ing a con­fer­ence ses­sion. Tuck­er, he said, ​"rep­re­sent­ed the very best of the Amer­i­can work­ing class."
The Inter­na­tion­al Union, Unit­ed Auto­mo­bile, Aero­space and Agri­cul­tur­al Imple­ment Work­ers of Amer­i­ca (UAW) is a spon­sor of In These Times.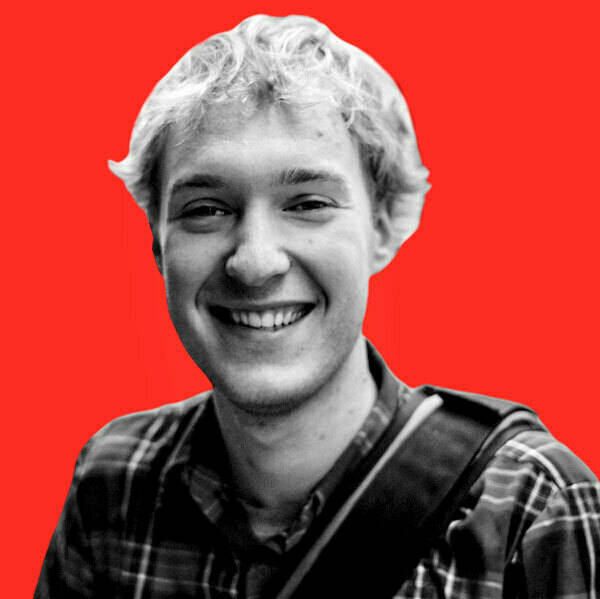 Mic­ah Uet­richt is the deputy edi­tor of Jacobin mag­a­zine and host of its pod­cast The Vast Major­i­ty. He is a con­tribut­ing edi­tor and for­mer asso­ciate edi­tor at In These Times. He is the author of Strike for Amer­i­ca: Chica­go Teach­ers Against Aus­ter­i­ty (Ver­so 2014), coau­thor of Big­ger Than Bernie: How We Go From the Sanders Cam­paign to Demo­c­ra­t­ic Social­ism (Ver­so 2020), and is cur­rent­ly at work on a book on New Left­ists who ​"indus­tri­al­ized." He pre­vi­ous­ly worked as a labor orga­niz­er. Fol­low him on Twit­ter at @micahuetricht.