Examining Irans ties to Hezbollah
Just how much influence does the Islamic Republic wield over Hezbollah?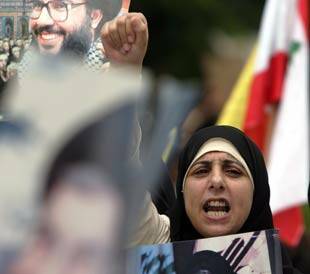 The con­flict in Lebanon between Israel and Hezbol­lah had hard­ly begun when the Bush admin­is­tra­tion and its neo­con­ser­v­a­tive sup­port­ers began blam­ing Iran for the con­fla­gra­tion. On July 25, Hen­ry Crump­ton, the State Department's coor­di­na­tor for coun­tert­er­ror­ism, told a reporter that Iran is ​"clear­ly direct­ing a lot of Hezbol­lah actions. Hezbol­lah asks their per­mis­sion to do things, espe­cial­ly if it has broad­er inter­na­tion­al impli­ca­tions." Mean­while, in the July 24 Week­ly Stan­dard, William Kris­tol called Hezbollah's fight­ing an ​"act of Iran­ian aggres­sion" and sug­gest­ed ​"we might con­sid­er coun­ter­ing [it] … with a mil­i­tary strike against Iran­ian nuclear facilities."
How­ev­er, giv­ing Iran anoth­er tongue lash­ing, or worse, decid­ing to attack it, will do noth­ing to stop the vio­lence in the region. Not only is there no evi­dence that Iran had a role in insti­gat­ing this round of vio­lence, the pos­si­bil­i­ty itself is unlikely.
Iran's con­trol over Hezbol­lah has been steadi­ly declin­ing since approx­i­mate­ly 1996, dur­ing the reformist pres­i­den­cy of Moham­mad Khata­mi. Mon­ey does con­tin­ue to come ​"from Iran" to sup­port Hezbol­lah, but not the Iran­ian gov­ern­ment. Instead, it's pri­vate reli­gious foun­da­tions that direct the bulk of sup­port, pri­mar­i­ly to Hezbollah's char­i­ta­ble activ­i­ties. Nor are the amounts cru­cial to Hezbollah's sur­vival; even the high esti­mate fre­quent­ly cit­ed in the press – $200 mil­lion per annum – is a frac­tion of Hezbollah's oper­at­ing funds. How­ev­er, the most impor­tant rea­son for not tar­get­ing Iran for the con­tin­ued fight­ing in Lebanon is that this con­flict is anti­thet­i­cal to Iran's interests.
Neo­con­ser­v­a­tives clear­ly have anoth­er agen­da in attack­ing Iran besides stop­ping Hezbol­lah. By blam­ing Iran for this lat­est flare-up, neo­con­ser­v­a­tives are fol­low­ing their decade-long pro­gram to encour­age a mil­i­tary attack against the Islam­ic Republic.
Iran's sup­port for Hezbollah
The broad asser­tion that Iran sup­ports Hezbol­lah is ver­i­fi­able, but it is impor­tant to under­stand what the nature of this sup­port is, and the extent to which Iran is able to influ­ence the actions of this Shi'ite Lebanese group.
Since 90 per­cent of Iran's pop­u­la­tion is Shi'ite, its cit­i­zens had an unde­ni­able inter­est in the fate of its co-reli­gion­ists in Lebanon fol­low­ing the Rev­o­lu­tion of 1978 – 79. Like Ira­ni­ans, the Lebanese Shi'ite com­mu­ni­ty was under oppres­sion both from Sun­nis and Maronites. More­over, Pales­tin­ian refugees, set­tled in Lebanon with­out con­sul­ta­tion with the Shi'ite com­mu­ni­ty, served as a drain on weak local eco­nom­ic resources and drew fire from Israel. The Shi'ites felt help­less and frus­trat­ed. The suc­cess­ful rev­o­lu­tion in Iran was enor­mous­ly inspi­ra­tional to them. While the Iran­ian cen­tral gov­ern­ment was weak and scat­tered after the Rev­o­lu­tion, semi-inde­pen­dent char­i­ta­ble orga­ni­za­tions, called bonyad (lit­er­al­ly, ​"foun­da­tion") spon­sored by indi­vid­ual Shi'ite cler­ics began to help the fledg­ling Hezbol­lah orga­ni­za­tion estab­lish itself as a defense force to pro­tect the Shi'ite com­mu­ni­ty. This was sim­ply not state sup­port. Giv­en the semi-inde­pen­dent cor­po­rate nature of Shi'ite cler­ics, espe­cial­ly in the ear­ly days of Iran's rev­o­lu­tion, when inter­nal pow­er strug­gles were endem­ic, there was lit­tle the Khome­i­ni gov­ern­ment could do to cur­tail these operations.
Now, after near­ly two decades, this ad hoc export of Iran­ian rev­o­lu­tion­ary ide­ol­o­gy may have suc­ceed­ed too well. Where­as today the bulk of the Iran­ian pop­u­la­tion has at least some doubts about their gov­ern­ment, Hezbol­lah main­tains a stronger com­mit­ment to the sym­bol­ic lega­cy of the Iran­ian Rev­o­lu­tion than Ira­ni­ans, accord­ing to George­town Uni­ver­si­ty pro­fes­sor Daniel Byman. In a 2003 For­eign Affairs arti­cle, Byman point­ed out that, "[Iran] lacks the means to force a sig­nif­i­cant change in the [Hezbol­lah] move­ment and its goals. It has no real pres­ence on the ground in Lebanon and a call to dis­arm or cease resis­tance would like­ly cause Hezbollah's lead­er­ship, or at least its most mil­i­tant ele­ments, sim­ply to sev­er ties with Tehran's leadership."
In short, Hezbol­lah has now tak­en on a life of its own. Even if all Iran­ian finan­cial and logis­tic sup­port were cut off, Hezbol­lah would not only con­tin­ue, it would thrive.
Hezbol­lah has achieved this inde­pen­dence by becom­ing as much a social wel­fare and polit­i­cal orga­ni­za­tion as a mil­i­tant resis­tance orga­ni­za­tion. In a 2004 speech, Dwight J. Simp­son, a pro­fes­sor of inter­na­tion­al rela­tions at San Fran­cis­co State Uni­ver­si­ty, report­ed that it had ​"12 elect­ed par­lia­men­tary members…[and] many Hezbol­lah mem­bers hold elect­ed posi­tions with­in local gov­ern­ments." At that time, the group had already built five hos­pi­tals and was build­ing more. It oper­at­ed 25 pri­mar­i­ly sec­u­lar schools, and pro­vid­ed sub­si­dies to shopkeepers.
The source for their mon­ey, Simp­son report­ed, is zakat–the char­i­ta­ble ​"tithe" required of all Mus­lims. The Shi'ites, hav­ing seen their co-reli­gion­ists in Iraq suc­ceed in ini­tial elec­tions there in 2005, had hopes that they too would assume the pow­er in Lebanon that accord­ed with their sta­tus as the nation's largest com­mu­ni­ty, approx­i­mate­ly 40 per­cent of the pop­u­la­tion. The growth of Hezbollah's char­i­ta­ble oper­a­tions increased non-state-lev­el finan­cial sup­port for the orga­ni­za­tion not only from Iran, but from the rest of the Shi'ite world, since for­mal­ized char­i­ty is a reli­gious duty. As this char­i­ta­ble activ­i­ty increased, Hezbol­lah was on the road to ceas­ing its activ­i­ties as a ter­ror­ist group and grad­u­al­ly assum­ing the role of a polit­i­cal orga­ni­za­tion. Even in its cur­rent engage­ment with Israel, its ​"ter­ror­ist" activ­i­ties have been reframed as nation­al defense, espe­cial­ly as Hezbol­lah began to use con­ven­tion­al mil­i­tary forces and weapons.
Many of these weapons, it is claimed, have been acquired from Iran over the years, but even this is not ful­ly ver­i­fied. The rock­ets used by Hezbol­lah have been ten­ta­tive­ly iden­ti­fied as Katushya rock­ets, of the form man­u­fac­tured by Iran, and known as Fajr‑3 and Fajr‑5. But the Unit­ed States has not been able to iden­ti­fy that these rock­ets are absolute­ly Iranian.
More­over, although it is cer­tain­ly pos­si­ble that branch­es of Iran's Islam­ic guard may be oper­at­ing in Lebanon with­out the full knowl­edge of the cen­tral gov­ern­ment of Iran, no coun­try has yet been able to ver­i­fy their pres­ence in the cur­rent con­flict, and rumors that they have aid­ed in the fir­ing of the rock­ets have been vehe­ment­ly denied by Hezbollah's leader, Has­san Nas­ral­lah. Giv­en the loose and ambigu­ous nature of the Iran­ian government's con­trol over sup­port for Hezbol­lah, claims by U.S. offi­cials that Iran has an orga­nized state-lev­el sup­port sys­tem for such activ­i­ties are clear­ly exaggerated.
Added to all of this is the fact that the Lebanese vio­lence does not serve Iran's polit­i­cal pur­pos­es. The ver­bal attacks of its pres­i­dent, Mah­moud Ahmadine­jad, against Israel would cause it to be tar­get­ed if Israel were ever involved in a wider con­flict with the Islam­ic world. Although Israeli Prime Min­is­ter Ehud Olmert has claimed that Iran insti­gat­ed this attack to draw atten­tion away from crit­i­cism of its nuclear devel­op­ment pro­gram, this sce­nario seems far-fetched. Indeed, Iran's strate­gic sit­u­a­tion has cer­tain­ly been wors­ened by this fight­ing. Ken­neth Katz­man, senior Mid­dle East ana­lyst at the Con­gres­sion­al Research Ser­vice, recent­ly told Voice of Amer­i­ca: ​"Iran is viewed, wide­ly viewed, as at least com­plic­it in what is going on, sup­port­ing Hezbol­lah. And that is like­ly to make some of the fence-sit­ters, I guess Rus­sia and Chi­na per­haps, take a dim­mer view of Iran­ian inten­tions and per­haps be more amenable to U.S. and oth­er argu­ments that Iran is play­ing a desta­bi­liz­ing role in the region and needs to be con­front­ed by the [U.N. Secu­ri­ty] Council."
Beyond state support
Why would the Unit­ed States repeat such unfound­ed asser­tions with such inces­sant reg­u­lar­i­ty as if they were estab­lished fact? Aside from their con­ti­nu­ity with 27 years of ongo­ing attacks against Iran, such asser­tions accord with a long­stand­ing U.S. for­eign pol­i­cy myth that believes ter­ror­ism can­not exist with­out state sup­port. If a state is need­ed to explain the con­tin­ued exis­tence of groups like Hezbol­lah, then Iran is an ide­al can­di­date. Ergo, the con­nec­tion must exist. Such claims serve to bol­ster the cen­tral, but fal­la­cious, polit­i­cal doc­trine for the Bush admin­is­tra­tion that the Glob­al War on Ter­ror­ism real­ly exists.
The alter­na­tive is to under­stand that ter­ror­ism is fun­da­men­tal­ly com­mu­ni­ty-based. Sub-state groups with griev­ances that they feel can­not be addressed in any oth­er way resort to ter­ror­ism as a way of increas­ing atten­tion to their plight and pres­sur­ing those whom they per­ceive to be oppress­ing them. Though they may wel­come exter­nal finan­cial sup­port, the impe­tus and moti­va­tion for ter­ror­ist groups' actions is not depen­dent on it. Indeed, the more pres­sure they are sub­ject­ed to, the stronger their col­lec­tive will to resist increases.
When this dynam­ic is under­stood, the prob­lems of address­ing ter­ror­ism also come into focus. Rather than look­ing for glob­al fan­ta­sy struc­tures such as al-Qae­da and their state sup­port­ers, the inter­na­tion­al com­mu­ni­ty needs to employ meth­ods to address the needs of sub-state groups, while simul­ta­ne­ous­ly work­ing to cur­tail their activ­i­ties as con­di­tions improve. For the Shi'ites in Lebanon, it may be far too late to employ such a strategy.
William O. Bee­man

is Pro­fes­sor of Anthro­pol­o­gy and Mid­dle East Stud­ies at Brown Uni­ver­si­ty. His most recent book is

The ​

"

Great Satan" vs. the ​

"

Mad Mul­lahs": How the Unit­ed States and Iran Demo­nize Each Oth­er

.