Fracking Exec Reportedly Admits Targeting the Poor, Because They Don't Have 'The Money To Fight'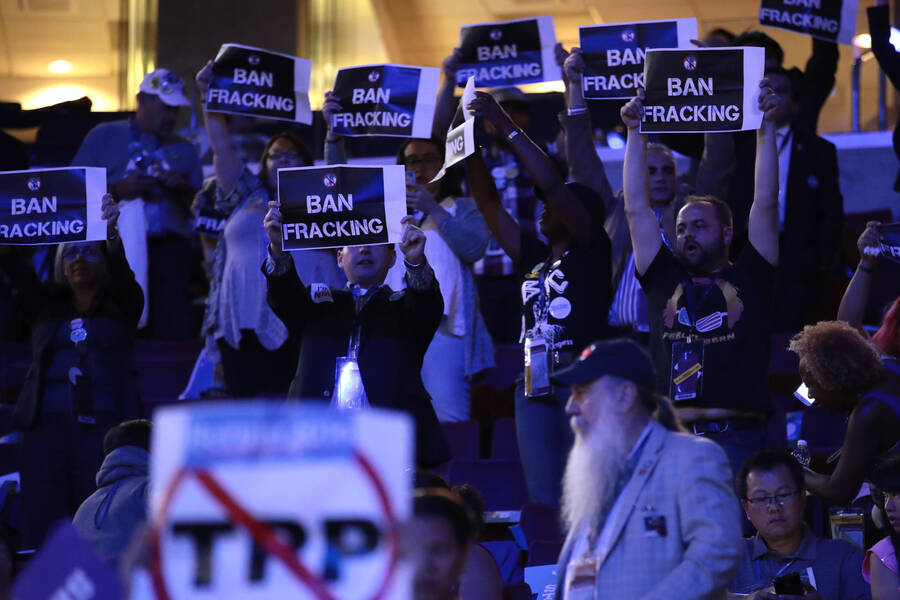 On Mon­day, the Pitts­burgh Post-Gazette report­ed accounts of unusu­al­ly can­did com­ments by an oil and nat­ur­al gas indus­try exec­u­tive, Ter­ry Bossert, at a Penn­syl­va­nia Bar Insti­tute gath­er­ing in Har­ris­burg this April.
"We heard Range Resources say it sites its shale gas wells away from large homes where wealthy peo­ple live and who might have the mon­ey to fight such drilling and frack­ing oper­a­tions," stat­ed an attendee.
Ter­ry Bossert is vice pres­i­dent for leg­isla­tive and reg­u­la­to­ry affairs at Range Resources, a nat­ur­al gas explo­ration and pro­duc­tion com­pa­ny. Range Resources was the first to tap into Penn­syl­va­ni­a's Mar­cel­lus Shale, in 2004, kick­ing off the state's cur­rent frack­ing boom. Some sci­en­tists and envi­ron­men­tal­ists warn that chem­i­cals used in frack­ing may con­t­a­m­i­nate the ground­wa­ter in sur­round­ing areas, poten­tial­ly harm­ing residents.
Accord­ing to the Post-Gazette, sev­er­al attor­neys at the Har­ris­burg event, includ­ing Joanne Kil­go­ur, direc­tor of the Penn­syl­va­nia Chap­ter of the Sier­ra Club, con­firmed Bossert's state­ments. Sev­er­al atten­dees say they recall him pref­ac­ing the remarks with, ​"To be per­fect­ly frank…"
To be per­fect­ly frank, it sounds like oil and gas com­pa­nies are tak­ing advan­tage of the vulnerable.
That's not news, although indus­try exec­u­tives have nev­er made their agen­da this explic­it. In a 2014 inves­tiga­tive report for In These Times, Han­nah Guzik found that oil and gas oper­a­tions in Cal­i­for­nia are dis­pro­por­tion­ate­ly locat­ed in poor and minor­i­ty com­mu­ni­ties. An analy­sis by the non­prof­it Frac­Track­er Alliance con­duct­ed for the arti­cle deter­mined that the 5 mil­lion Cal­i­for­ni­ans liv­ing with­in a mile of an oil or gas well had a pover­ty rate 32.5 per­cent high­er than that of the gen­er­al pop­u­la­tion. A relat­ed analy­sis for the Nat­ur­al Resources Defense Coun­cil found that the major­i­ty of peo­ple liv­ing near wells in Cal­i­for­nia are peo­ple of col­or. Guzik writes:
What all this means is that low-income com­mu­ni­ties of col­or are bear­ing the brunt of California's oil indus­try — includ­ing its frack­ing exper­i­ments, which are poor­ly reg­u­lat­ed and whose health impacts are large­ly unknown. …

"It's a civ­il rights issue," says Abre' Con­ner, the staff attor­ney at Kern County's Cen­ter on Race, Pover­ty and the Envi­ron­ment. ​"When we look at where the frack­ing wells are being locat­ed, when we look at the health impacts across the state of Cal­i­for­nia and real­ly across the coun­try, we see the same types of issues and the same types of dis­par­i­ties that we've seen with edu­ca­tion and vot­ing rights."
Range Resources is locat­ed in Fort Worth, Texas. In 2015, the com­pa­ny's aver­age total pro­duc­tion per day was 1,395.4 mil­lion cubic feet of nat­ur­al gas equiv­a­lent. Eighty-six per­cent of the total pro­duc­tion was from the Mar­cel­lus Shale. Penn­syl­va­nia has become a hot spot for frack­ing, along with many oth­er states, includ­ing Col­orado, Texas, Cal­i­for­nia and North Dakota.
The Pitts­burgh Post-Gazette reports that the Cen­ter for Coal­field Jus­tice and the Penn­syl­va­nia Chap­ter of the Sier­ra Club plan to request a state Office of Envi­ron­men­tal Jus­tice review of Range Resource's drilling sites to deter­mine whether the com­pa­ny select­ed poor­er areas for fracking.
[If you like what you read, help us spread the word. ​"Like" Rur­al Amer­i­ca In These Times on Face­book. Click on the ​"Like Page" but­ton below the bear on the upper right of your screen.]
Jes­si­ca Kozik
is an edi­to­r­i­al intern at In These Times. She is a stu­dent at Colum­bia Col­lege Chicago.