Exotic Dancers Sue Strip Club for Labor Law Violation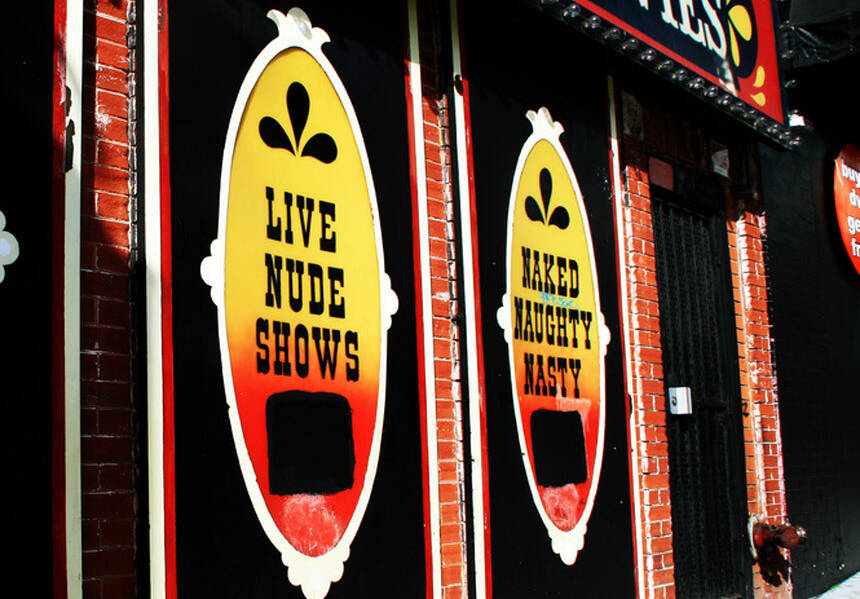 Are exotic dancers independent contractors, free to determine how and when their work will be done, but guaranteed nothing by the Fair Labor Standards Act? Or are they employees, entitled to a minimum wage, overtime pay and other workers' rights?
In the coming months, this question will likely be heard before the Illinois Southern District Court. On January 31, Brandy Apple and Amanda Sheer, two exotic dancers, filed a class-action lawsuit against the nightclub company VCG Holding Corporation. The latest of several lawsuits to accuse a strip club of misclassifying its workers, Apple et al v. VCG Holding Corp. alleges the dancers were treated as employees but misclassified as independent contractors during their time working for PT's Showclub, a subsidiary of VCG, in the St. Louis area.
In the United States, employees — not independent contractors — are assured a minimum wage and other protections under the Fair Labor Standards Act. Apple and Sheer claim their misclassification resulted in thousands of dollars of lost wages and a violation of their rights as de facto employees. The dancers also say PT's illegally required them to share their tips with managers and threatened them with retaliation when they asked to be reclassified.
According to the Internal Revenue Service, ​"the general rule is that an individual is an independent contractor if the payer has the right to control or direct only the result of the work and not what will be done and how it will be done." By contrast, Apple and Sheer's lawsuit claims the nightclubs exercised a level of control over the dancers' work the performers would not have been subject to had they truly been independent contractors:
Defendants [VCG Holding Corp.] set the hours of operation; length of shifts dancers must work; the show times during which a dancer may perform; … the sequence in which a dancer may perform on stage during her stage rotation; the format and themes of dancers' performances (including their costuming and appearances); … conduct while at work (i.e. that they be on the floor as much as possible when not on stage and mingle with patrons in a manner that supports Defendant's general business plan) …
Regardless of the schedule and conduct restrictions, Brad Shafer, the Shafer & Associates lawyer defending VCG Holdings, told the St. Louis news website Daily RFT that while some of VCG's companies do hire dancers as employees, the plaintiffs in this case are actually financially stronger as independent contractors. He says dancers ​"can't take the good parts of being an independent contractor and then say, ​'I want the good parts of being an employee as well.' …You can have one or the other."
Apple and Sheer argue, however, that they don't have the ​"good parts" of either classification — they don't have the freedom typically granted to independent contractors, they say, but they're not paid the $4.95 an hour wages of tipped employees either.
In ideal situations, being an independent contractor has its advantages for many strippers. Rachel Aimee, co-founder of the exotic dancer advocacy organization We Are Dancers, writes in a 2012 essay for In These Times that ​"most strippers balk at the thought of working for an hourly wage instead of hustling for tips."
The common problem, Aimee clarifies, is not that clubs classify their dancers as independent contractors, but that they classify them as such yet treat them as employees. She points to a club in California (owned and operated by former dancers) where dancers ​"are actually treated like independent contractors," meaning no schedules. The contracted workers use the club's stage when they please. Nevertheless, writes Aimee,
the industry-wide shift toward classifying dancers as independent contractors … has certainly made it more difficult for dancers to organize for labor rights. By law, independent contractors are unable to unionize. More insidiously, dancers' endless competition for tips undermines the worker solidarity necessary for any sort of workplace organizing.
According to Catherine Ruckelshaus, legal co-director of the National Employment Law Project, there is a rule of thumb for determining if an exotic dancer is an independent contractor: ​"Is she running her own business or not?"
That question ​"sloughs away some of the confusion," she says, ​"Because then you start to see, ​'Well, wait, she's not running a business, she's just part of this strip club's lineup.' … Sometimes in the courts and in the media, stories about these cases lose track of this essential question." Ruckelshaus believes that Apple et al v. VCG Holding Corp. is likely to be settled in favor of the plaintiffs because the structure of exotic dancers' work is well within the definition of an employee.
VCG hired Sheer and Apple as independent contractors, in Ruckelshaus's estimate, because it was ​"a cost-cutting mechanism." In general, by doing so, the clubs do not have to pay dancers wages or overtime; do not have to offer sick leave, maternity leave or any benefits; and are exempt from payroll tax and workers' compensation.
Exotic dancers have proven misclassification in a number of lawsuits spanning the past decade. Beginning around the year 2000, a ​"wave" of misclassification lawsuits washed into courts around the country, according to Stephen Harris, the lawyer who represented Californian exotic dancers in one of the most notable of these cases, Trauth v. Spearmint Rhino. In a three-year lawsuit that ended in 2012, Harris helped plaintiff Tracey Dawn Trauth and 13 other dancers win a nearly $13 million settlement that also stipulated the nightclubs reclassify their dancers as employees or ​"owners" (that is, shareholders).
At least three more class-action suits of the same kind are currently awaiting an outcome in federal courts in Atlanta and New York City.
However, the industry won't change in response to litigation alone, advocates say. In an Atlantic article written by journalist and former sex worker Melissa Gira Grant, Grant advocates for a variety of organizing tactics among strippers — including unionization, which has succeeded only once in the United States. In San Francisco, dancers at the Lusty Lady signed on with SEIU in 1997 and ran their strip club as a cooperative until the club closed in September 2013.
Nevertheless, Grant does point out that when dancers sue their bosses for labor law violations, they have the ability to make the industry better for workers:
Lawsuits like these are one of the more powerful tools dancers have to recover stolen earnings, and they represent just one possible step towards the kind of collective organizing that could ensure dancers' rights for the long-term.
The Illinois Southern District Court has required that VCG respond to the dancers' complaint by April 7, but the company has already announced that it will challenge the lawsuit. Meanwhile, the plaintiffs will try to get others who have danced at VCG's nightclubs in Illinois to sign on to the class-action lawsuit. If previous cases are a predictor, Apple et al v. VCG Holding Corp. could be in court for a while — but up to 300 dancers stand to gain from its eventual outcome.
Amien Essif
is a regular contributor to Working In These Times and maintains a blog called The Gazine, which focuses on consumerism, gentrification, and technology with a Luddite bent. His work has also appeared on the Guardian and CounterPunch. You can find him using Twitter reluctantly: @AmienChicago