A cou­ple of years ago a trib­al leader showed me an aban­doned lum­ber mill near the vil­lage of Tyonek, Ala. The com­pa­ny promised jobs and, for a cou­ple of decades, there were jobs. But after the resource was con­sumed, the mill closed, the com­pa­ny dis­ap­peared, and the shell of the enter­prise remains today.
This same sto­ry could be told in trib­al com­mu­ni­ties across North Amer­i­ca. Some­times the resource was tim­ber. Oth­er times gas and oil. Or coal.
The lucky com­mu­ni­ties were left with a small tox­ic dump site. More often there was major cleanup work required after (plus a few more jobs). In the worst case sce­nario, a Super­fund site was left behind requir­ing gov­ern­ment super­vi­sion and an even greater restora­tion effort. But all along, and in each case, the accom­pa­ny­ing idea was that jobs would be a part of the deal. There would be con­struc­tion jobs to build the mine, pipeline or pro­cess­ing plant. Then there would be truck dri­ving jobs mov­ing mate­ri­als, a few exec­u­tive jobs (espe­cial­ly in pub­lic and com­mu­ni­ty rela­tions) and, of course, the even­tu­al super­vi­sion of the cleanup (espe­cial­ly if the trib­al gov­ern­ment had its own envi­ron­men­tal pro­tec­tion agency).
That was the deal. But it's one that is no longer true. Now the resource is extract­ed, pipelines are built, and tox­ic waste is left behind — and the promised jobs are lim­it­ed to the ini­tial con­struc­tion jobs.
The renewed effort to build the Key­stone XL pipeline is a clas­sic exam­ple of this shift. When Pres­i­dent Don­ald J. Trump signed the exec­u­tive order to approve the project he promised ​"thou­sands of jobs." That's true enough for the con­struc­tion phase, but only 35 employ­ees would be need­ed to oper­ate the pipeline, accord­ing to the State Depart­ment report.
Key­stone, at least, is prospec­tive jobs. New ones. But the big­ger chal­lenge for the Nava­jo Nation, the Crow Nation and some 30 tribes with coal reserves or pow­er plants is that new deal for resource-based plants and extrac­tion does not cre­ate as many jobs.
The num­bers are stark.
The U.S. Ener­gy and Employ­ment Out­look 2017 shows that elec­tric­i­ty from coal declined 53 per­cent between 2006 and 2016. Over that same peri­od, elec­tric­i­ty from nat­ur­al gas increased by 33 per­cent and from solar by 5,000 percent.
Coal is still a major source of ener­gy. But it's in decline. Coal and nat­ur­al gas account for two-thirds of all elec­tric­i­ty gen­er­a­tion in the Unit­ed States. And that's expect­ed to remain so until at least 2040, when the mar­ket share declines to a lit­tle more than half.
But because the mar­ket's long-term trend is down, tribes that devel­op coal will not share in the rewards of either major prof­its or in a spike in jobs.
The only hope for this shrink­ing indus­try is to export the coal to oth­er coun­tries (some­thing that will be extreme­ly dif­fi­cult because so many oth­er nations have already agreed to the Paris cli­mate tar­gets). As Clark Williams-Der­ry has report­ed for the Sight­line Institute:
"Robust, sus­tain­able Asian coal mar­kets were nev­er a real­is­tic hope for U.S. coal exporters: the trans­porta­tion costs were too high, the com­pe­ti­tion too fierce, and the demand too unsta­ble. So the coal industry's PR flacks may con­tin­ue to spin tales about end­less rich­es in the Asian coal mar­ket, the finan­cials are telling a much more sober­ing sto­ry: that the coal export pipe dream con­tin­ues to fade away, leav­ing a bad hang­over on the coal industry's bal­ance sheets and a lin­ger­ing bad taste in the mouths of coal investors and exec­u­tives alike."
On top of that, Der­ry-Williams points out that China's coal con­sump­tion has fall­en for three con­sec­u­tive years. In the inter­na­tion­al con­text, coal is the most pol­lut­ing of the three types of fos­sil fuels. More than 80 per­cent of the world's known coal reserves need to stay in the ground to meet glob­al warm­ing targets.
There are jobs in the ener­gy field, but, as the Depart­ment of Ener­gy report puts it: ​"Employ­ment in elec­tric pow­er gen­er­a­tion now totals 860,869 … (and) the num­ber of jobs is pro­ject­ed to grow by anoth­er 7 per­cent but the major­i­ty will be in con­struc­tion to build and install new renew­able ener­gy capacity."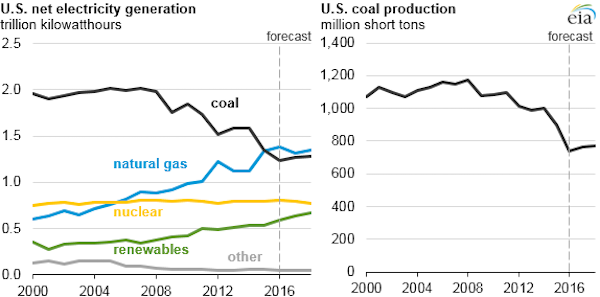 Elec­tric­i­ty gen­er­a­tion in the Unit­ed States over the last 16 years. (Source: U.S. Ener­gy Infor­ma­tion Admin­is­tra­tion)
The green econ­o­my is tak­ing over. (Trump or no Trump.)
The extrac­tive econ­o­my (much like the farm econ­o­my a gen­er­a­tion ago) reached its peak, prob­a­bly back in 2014. Oil and gas employed 514,000 peo­ple. Today it's 388,000. Coal and extrac­tion relat­ed jobs peaked at 90,000 and now that num­ber is about 53,000.
Indi­an Country's devel­op­ment of coal (or not) has been the sto­ry so far in the Trump era.
Last month Inte­ri­or Sec­re­tary Ryan Zinke signed a mem­o­ran­dum lift­ing restric­tions on fed­er­al coal leas­ing. He said the ​"war on coal is over." Then he quot­ed Crow Trib­al Chair­man Dar­rin Old Coy­ote say­ing, ​"there are no jobs like coal jobs."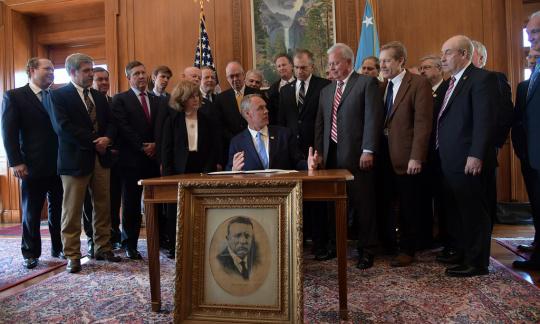 U.S. Inte­ri­or Sec­re­tary Ryan Zinke signs an exec­u­tive order on his first day to expand access to pub­lic lands. (Cap­tion / Pho­to: Yel­low­stone Pub­lic Radio / Dept. of Interior)
A day lat­er the North­ern Cheyenne Tribe filed suit. The tribe said the Inte­ri­or Depart­ment did not con­sult it pri­or to lift­ing the restric­tions. ​"It is alarm­ing and unac­cept­able for the Unit­ed States, which has a solemn oblig­a­tion as the North­ern Cheyenne's trustee, to sign up for many decades of harm­ful coal min­ing near and around our home­land with­out first con­sult­ing with our Nation or eval­u­at­ing the impacts to our Reser­va­tion and our res­i­dents," North­ern Cheyenne Tribe pres­i­dent L. Jace Kills­back said in a news release. There are 426 mil­lion tons of coal locat­ed near the North­ern Cheyenne and on the Crow Nation.
Mean­while in Alas­ka, anoth­er coal project was put to rest in a trib­al com­mu­ni­ty. The vil­lage of Tyonek has been opposed to the Chuit­na Coal Project. (Pre­vi­ous­ly: Moth­er of the Earth returns to Tyonek.) After a decade of plan­ning, PacRim Coal sus­pend­ed the project last month because an investor backed out. The project could be brought back to life. But that's not like­ly, because coal is a los­ing bet for any investor.
Accord­ing to Alas­ka Pub­lic Media that meant a joy­ful cel­e­bra­tion in Tyonek. The pres­i­dent of the vil­lage Native Coun­cil, Arthur Stan­i­fer said, ​"What it means for us is our fish will con­tin­ue to be here for future gen­er­a­tions, also our wildlife, like the bears and the moose and the oth­er ani­mals will be secure and they'll be here. They'll have a safe place to be."
And what of the jobs? That's the hard part. The prospects for extrac­tion-relat­ed jobs are about to be hit by even more dis­rup­tive forces. For exam­ple in the oil fields of North Dako­ta one of the great pay­ing jobs is truck dri­ving — mov­ing mate­r­i­al back and forth. But already in Europe com­pa­nies are exper­i­ment­ing and will soon begin the shift to self-dri­ving vehi­cles. It's only a mat­ter of time before that trend takes over else­where because it fits the mod­el of effi­cient cap­i­tal­ism. Self-dri­ving trucks don't need rest breaks, con­sume less fuel and have few­er acci­dents. That same dis­rup­tion of automa­tion is occur­ring across the employ­ment spec­trum. Jobs that can be done by machines, will be.
So if jobs are no longer part of the equa­tion, does nat­ur­al resource extrac­tion ben­e­fit trib­al communities?
The answer ought to include a plan where the Unit­ed States gov­ern­ment and tribes work togeth­er to replace these jobs. Retrain work­ers and invest in the part of the ener­gy sec­tor that's grow­ing: renew­able fuels. But that's not like­ly to hap­pen in Trump Era.
("The New Deal for Tribes: Resouce Extrac­tion & Tox­ic Waste (Minus the Jobs)" was orig­i­nal­ly pub­lished on the author's web­site—Tra​hantRe​ports​.com—and some images were added by Rur­al Amer­i­ca In These Times. Fol­low Mark on Twit­ter @TrahantReports.)