The Media Is Giving Facebook a Free Pass to Shut Down Activists Over Russia Fears
An anti-fascist coalition says its event page was unfairly targeted in the tech giant's latest crackdown.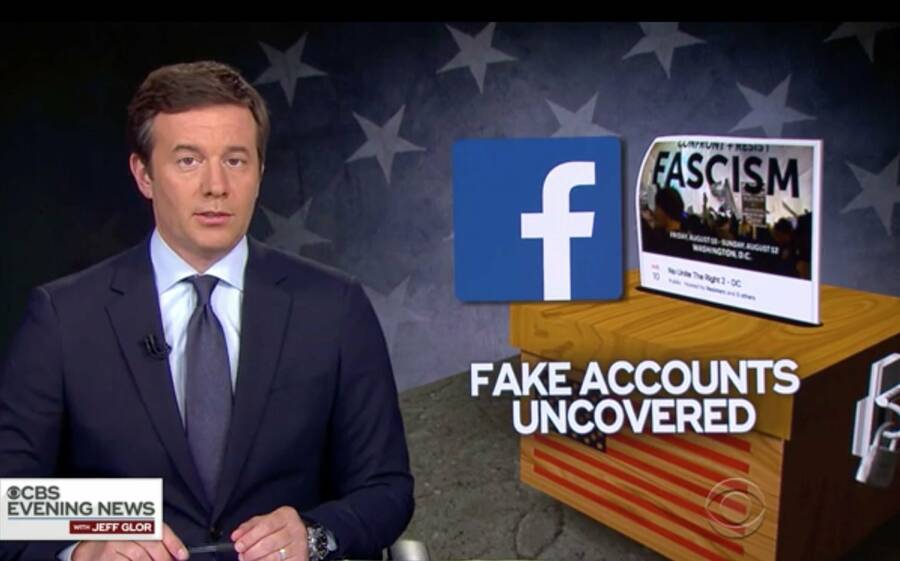 Face­book announced July 31 that, in a bid to stave off Russ­ian influ­ence in U.S. elec­tions, the com­pa­ny had uni­lat­er­al­ly ​"removed 32 Pages and accounts from Face­book and Insta­gram because they were involved in coor­di­nat­ed inau­then­tic behav­ior." Yet at least one U.S.-based activist coali­tion says it was tar­get­ed, rais­ing ques­tions about the intent and exe­cu­tion of this new policy.
This is not the first time left organizations have been targeted—with little media scrutiny—by corporate efforts to weed out "illegitimate" actors.
But instead of inter­ro­gat­ing the lat­est move from the $170-bil­lion-dol­lar com­pa­ny — arguably the largest and most pow­er­ful media orga­ni­za­tion that has ever exist­ed — press out­lets duti­ful­ly ran with Facebook's claims, churn­ing out head­lines warn­ing that U.S. vot­ers are being tar­get­ed and ampli­fy­ing the company's insin­u­a­tion that Rus­sia is ​"prob­a­bly" involved. As a result, Face­book is almost entire­ly able to con­trol the nar­ra­tive about its own self-reg­u­la­tion, as it con­tin­ues to dodge mean­ing­ful exter­nal over­sight and — most trou­bling­ly — pri­vate­ly deter­mine the para­me­ters of accept­able polit­i­cal speech.
A Wash­ing­ton, D.C.-based anti-fas­cist coali­tion says it was col­lat­er­al dam­age of this new initiative.
Low stan­dard for fact checking
"Face­book Iden­ti­fies an Active Polit­i­cal Influ­ence Cam­paign Using Fake Accounts," reads a breath­less New York Times head­line pub­lished July 31. The arti­cle goes on to insin­u­ate, offer­ing no con­crete evi­dence, that Rus­sia is behind the attack:
The com­pa­ny did not defin­i­tive­ly link the cam­paign to Rus­sia. But Face­book offi­cials said some of the tools and tech­niques used by the accounts were sim­i­lar to those used by the Inter­net Research Agency, the Krem­lin-linked group that was at the cen­ter of an indict­ment this year alleg­ing inter­fer­ence in the 2016 pres­i­den­tial election.
The ​"news­pa­per of record" was not alone. The Wash­ing­ton Post sto­ry that ran July 31 regur­gi­tat­ed the company's fram­ing, with the head­line, ​"Face­book says it has uncov­ered a coor­di­nat­ed dis­in­for­ma­tion oper­a­tion ahead of the 2018 midterm elec­tions." And a July 31 Vox arti­cle leaves the read­er all but cer­tain of Russia's involve­ment: ​"Face­book isn't sure if it's Rus­sia, but it looks a lot like what Rus­sia did in 2016."
Moth­er Jones took a sim­i­lar approach, warn­ing on July 31, ​"With just over three months until the vital midterm elec­tions, com­pa­ny offi­cials sus­pect pos­si­ble Russ­ian involve­ment." That arti­cle pro­vid­ed Nathaniel Gle­ich­er, Facebook's head of cyber­se­cu­ri­ty pol­i­cy, an uncrit­i­cal plat­form to sug­gest that the com­pa­ny needs to pre­pare for war. ​"We face deter­mined, well-fund­ed adver­saries who will nev­er give up and are con­stant­ly chang­ing tac­tics," he is quot­ed as say­ing. ​"It's an arms race and we need to con­stant­ly improve too."
Each of these arti­cles names groups alleged­ly under this ill-defined for­eign influ­ence — again, with­out pro­vid­ing evi­dence or specifics. The New York Times writes:
Face­book said it had dis­cov­ered coor­di­nat­ed activ­i­ty around issues like a sequel to last year's dead­ly ​"Unite the Right" white suprema­cist ral­ly in Char­lottesville, Va. Activ­i­ty was also detect­ed around #Abol­ishICE, a left-wing cam­paign on social media that seeks to end the Immi­gra­tion and Cus­toms Enforce­ment agency.
With­out even requir­ing the com­pa­ny to def­i­nite its own terms, includ­ing the oft-par­rot­ted ​"coor­di­nat­ed inau­then­tic behav­ior," the press is cre­at­ing a cloud of sus­pi­cion around the legit­i­mate move­ment to abol­ish ICE, just as it's break­ing into the main­stream and influ­enc­ing the nation­al conversation.
Anti-fas­cist coali­tion targeted
Anti-fas­cist orga­niz­ers in Wash­ing­ton, D.C., say they were caught in the crosshairs. One event tar­get­ed by Facebook's new pol­i­cy was ​"No Unite the Right 2," a protest against the suc­ces­sor to last year's dead­ly white-suprema­cist brawl in Char­lottesville. Face­book acknowl­edged this removal stemmed from its tar­get­ing of the ​"Resisters" Page, which the com­pa­ny claims ​"also cre­at­ed a Face­book Event for a protest on August 10 to 12 and enlist­ed sup­port from real people."
Accord­ing to Facebook:
The Event – ​"No Unite the Right 2 – DC" – was sched­uled to protest an August ​"Unite the Right" event in Wash­ing­ton. Inau­then­tic admins of the ​"Resisters" Page con­nect­ed with admins from five legit­i­mate Pages to co-host the event. These legit­i­mate Pages unwit­ting­ly helped build inter­est in ​"No Unite Right 2 – DC" and post­ed infor­ma­tion about trans­porta­tion, mate­ri­als, and loca­tions so peo­ple could get to the protests.
How­ev­er, the anti-fas­cist coali­tion Shut It Down DC argued in a state­ment it was unfair­ly tar­get­ed by this action:
We have been meet­ing for weeks. We took over the Face­book event cre­at­ed by out­side groups, in a desire to keep it account­able to local orga­niz­ers. At numer­ous points, nation­al groups have orga­nized events in DC, and often demand­ed the resources of local organizers.

The event was cre­at­ed by Resisters, but was used for legit­i­mate protest orga­niz­ing and pro­mo­tion. Specif­i­cal­ly, local orga­niz­ers put our own mes­sag­ing, graph­ics, and videos in it. We did not pro­mote anyone's views except our own.
"It's an absurd moment, where we're try­ing to fig­ure out how to make Face­book a safer envi­ron­ment, the first peo­ple they go after are anti-fas­cist pro­test­ers," says Dylan Petro­hi­los, a for­mer J20 defen­dant and Wash­ing­ton, D.C.-based anti-fas­cist organizer.
Petro­hi­los is par­tic­u­lar­ly con­cerned that the com­pa­ny claims one of its cri­te­ria for deem­ing accounts sus­pi­cious was their use of vir­tu­al pri­vate net­works (VPNs), which are com­mon­ly used by activists as alter­na­tives to pub­lic net­works to enhance online secu­ri­ty and dodge sur­veil­lance. ​"I use a VPN every day on my cell phone and com­put­er, and that's because in our polit­i­cal move­ments, we have mass sur­veil­lance and mass data know­ing every­thing about us," he tells In These Times.
Petro­hi­los adds that Face­book did not con­sult with local activists before remov­ing the accounts.
The anti-fas­cist coali­tion says the shut­down is so dis­turb­ing pre­cise­ly because the specter of for­eign influ­ence was used to under­mine efforts tar­get­ing the home­grown prob­lem of white suprema­cy. The coali­tion states:
White nation­al­ism and suprema­cy is not a Russ­ian ploy, it's a sys­temic prob­lem. Jason Kessler [who orga­nized the ​"Unite the Right 2" ral­ly] is not a Russ­ian bot, he's the foot sol­dier of the Trump agen­da. White suprema­cy did not start with the elec­tion of Trump, and it won't end when Democ­rats are elect­ed to the U.S. Con­gress. It start­ed when Colum­bus arrived in 1492 and robbed, mur­dered, and raped First Nation peo­ples, it con­tin­ued with the chat­tel slave trade, Seg­re­ga­tion and Jim Crow, the Chi­nese Exclu­sion Act, Japan­ese intern­ment camps, and shack­led dead black bod­ies on stolen land.
Like­wise, Petro­hi­los notes that anti-fas­cist orga­niz­ing in Wash­ing­ton, D.C. pre­dates the cur­rent polit­i­cal cli­mate, ​"going back generations."
This is not the first time left orga­ni­za­tions have been tar­get­ed — with lit­tle media scruti­ny — by cor­po­rate efforts to weed out ​"ille­git­i­mate" actors. As part of a 2017 cru­sade against ​"fake news" led by major tech com­pa­nies, Google mod­i­fied its algo­rithms, giv­ing pri­or­i­ty to such cen­trist pub­li­ca­tions as the Wash­ing­ton Post and New York Times while tank­ing the search traf­fic of such sites as Com­mon Dreams and Truthout.
Face­book claims that its deci­sions are secu­ri­ty mea­sures, designed to pre­vent ​"abuse" in the wake of con­cerns over ​"mis­in­for­ma­tion" influ­enc­ing the 2016 U.S. pres­i­den­tial elec­tion. But what­ev­er one thinks about Russ­ian influ­ence in the elec­tion, press out­lets must not sur­ren­der all crit­i­cal fac­ul­ties sim­ply because a cor­po­rate spokesper­son insin­u­ates Rus­sia might be involved.
Sarah Lazare is web edi­tor at In These Times. She comes from a back­ground in inde­pen­dent jour­nal­ism for pub­li­ca­tions includ­ing The Inter­cept, The Nation, and Tom Dis­patch.Julianne Tveten writes about the inter­sec­tion of the tech­nol­o­gy indus­try and socioe­co­nom­ic issues. Her work has appeared in Cur­rent Affairs, The Out­line, Moth­er­board, and Hazlitt, among others.