How Fallout 76 Can Help Us Rebuild West Virginia
In the post-apocalyptic video game, millions of players will imagine an Appalachia reborn from the ashes.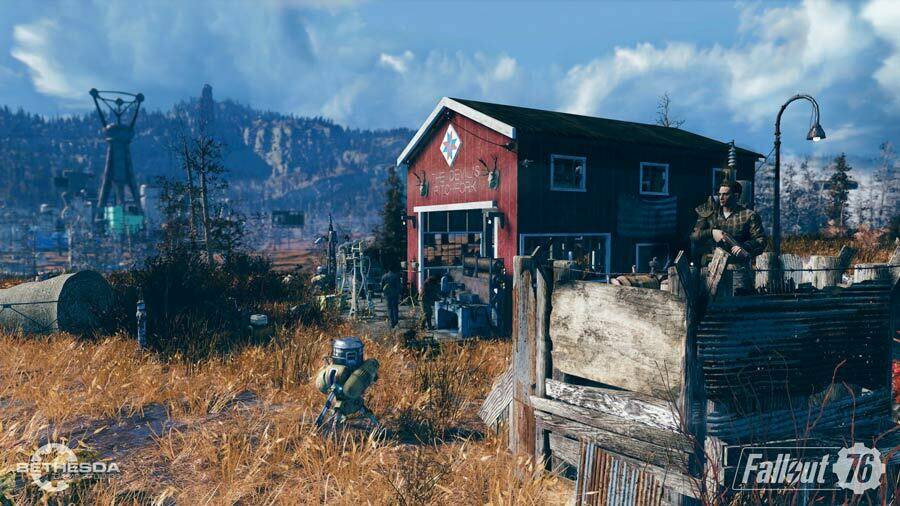 It is easy to bring down a moun­tain if you use brute force. Ten per­cent of West Virginia's moun­tains have met this fate, pul­ver­ized by coal com­pa­nies into par­ti­cles so small that those liv­ing or work­ing in prox­im­i­ty breathe them in. What was once an ancient, liv­ing thing becomes a clog in someone's vas­cu­lar sys­tem, tiny crys­tals of sil­i­ca and oth­er min­er­als invis­i­ble until they trans­form into a dark spot on a chest X‑ray. Moun­tain­top removal can be a death sen­tence for both peo­ple and land. ​"This land is dead­er than dead can be," envi­ron­men­tal activist Lar­ry Gib­son mourned, ​"This is what the end of the world looks like to me."
Through the game, people exiled from the region by economic hardship, rural isolation or environmental destruction will be able to return home.
A dif­fer­ent end of the world is com­ing soon to West Vir­ginia. In June, Bethes­da Game Stu­dios announced that Fall­out 76, the lat­est install­ment of its postapoc­a­lyp­tic video game fran­chise, is set in the moun­tain state. In this ninth game, designed as a pre­quel, you play as a mem­ber of the first gen­er­a­tion of nuclear-war sur­vivors to explore the world out­side radi­a­tion-pro­tect­ed vaults. The game, launch­ing in Novem­ber, will be entire­ly online and fea­ture a vast, untamed world four times larg­er than any pre­vi­ous Fall­out realm. The announce­ment made Fall­out 76 one of the most antic­i­pat­ed games of the year. More than two mil­lion peo­ple viewed the trail­er with­in 24 hours of its release.
Fall­out games are known for their retro sci­ence-fic­tion aes­thet­ic and immer­sive game­play, blend­ing ele­ments of a first­per­son shoot­er with open-world explo­ration. There are many ene­mies to fight in the waste­land, but also many sur­vivors to save. Mis­sions fea­ture tasks of both sort, woven into an over­ar­ch­ing sto­ry­line in which the play­er helps restore civ­i­liza­tion by assist­ing oth­ers. ​"When the fight­ing has stopped and the fall­out has set­tled, you must rebuild," the trail­er teas­es.
It's a fit­ting man­date for a game set in West Vir­ginia. The state is already ground zero for a dis­tinct type of preapoc­a­lyp­tic destruc­tion wrought by the fos­sil fuel, chem­i­cal and phar­ma­ceu­ti­cal indus­tries. ​"Fall­out 76 is a total ripoff of Appalachi­an life," Trevor Ander­son joked on Twit­ter. ​"If my fel­low West Vir­gini­ans want­ed to fight junkies over basic resources in an unfor­giv­ing and dying waste­land, just save your­self the $60 and go out­side." But the most com­pelling thing about Fall­out 76 isn't the grim par­al­lels to the real-life sur­vival hor­ror that is today's Appalachia, but that broad­er mis­sion: to save our­selves and civ­i­liza­tion as we know it, we must rebuild West Virginia.
Con­nect­ing our fates to that of West Vir­ginia, even in a video game, will be a strik­ing rever­sal in our cur­rent polit­i­cal moment. It is right­eous to dis­dain GOP-vot­ing West Vir­ginia for its part in the unfold­ing trau­mas of the Trump admin­is­tra­tion. Pun­dits spend pages brain­storm­ing strate­gies to sev­er West Vir­ginia and oth­er red states from the body politic. ​"Our sep­a­ra­tion … is nec­es­sary," Kevin Bak­er wrote in The New Repub­lic, argu­ing that a ​"bluex­it" is the ​"only way we can counter all of [the red states'] fan­tasies about what this man you have elect­ed is." This is with­out dig­ging into the long­stand­ing region­al stereo­types that make it eas­i­er for mid­dle-class and afflu­ent peo­ple to imag­ine them­selves pro­tect­ed from — and inno­cent of — the eco­nom­ic and resource exploita­tion West Vir­ginia experiences.
West Vir­ginia rep­re­sents dilem­mas we must con­front and a cri­sis of imag­i­na­tion we must over­come to secure a bet­ter future. How do we seize con­trol of our resources from despot­ic indus­tries? Is it pos­si­ble to divorce our pol­i­tics from cor­po­rate influ­ence? How can we tran­si­tion an econ­o­my away from the most bru­tal man­i­fes­ta­tions of cap­i­tal­ism? How can we sur­vive, togeth­er, the ero­sion of our dig­ni­ty, safe­ty and rights? If we can change the fate of West Vir­ginia, we might just change America's in the process.
To be sure, a game will not answer these ques­tions for us. It will not save my world, or yours. But it can bend our minds to dif­fer­ent ways of think­ing. To cre­ate and inter­act with this dif­fer­ent ver­sion of West Vir­ginia is to imag­ine it lib­er­at­ed from its destruc­tors, and that can be potent, par­tic­u­lar­ly for those of us who live in the region. What if, instead of our col­lec­tive fan­tasies of pun­ish­ing Appalachia, we dreamed of its res­ur­rec­tion? British the­o­rist Mark Fish­er, para­phras­ing Fredric Jame­son, wrote, ​"It is eas­i­er to imag­ine an end to the world than the end of cap­i­tal­ism." Maybe the game will inspire us to imag­ine both.
If these inter­pre­ta­tions seem indul­gent and the­o­ret­i­cal, let us con­sid­er the scale of what is to come. If sales pre­dic­tions for Fall­out 76 come true, by this time next year there might be more than 20 mil­lion peo­ple inhab­it­ing Bethesda's vir­tu­al West Vir­ginia, around 18 mil­lion more than cur­rent­ly live in the state, which is expe­ri­enc­ing a depop­u­la­tion cri­sis as young peo­ple migrate in search of sta­ble employ­ment. Bethesda's pre­vi­ous Fall­out title did $750 mil­lion in sales in its open­ing week­end, which could be four times more than what West Vir­ginia will earn in coal sev­er­ance tax­es for all of 2018. Coal sev­er­ance, which coun­ties use to fund a range of munic­i­pal ser­vices from fire depart­ments to health­care facil­i­ties, rep­re­sents around 5 per­cent of the state's rev­enue stream. In oth­er words, West Vir­ginia will soon be far­ing worse eco­nom­i­cal­ly com­pared not only to most oth­er states but also to its pop cul­ture copy brought to the brink of obliv­ion by nuclear war.
It's a dark com­par­i­son, but one that is also excit­ing in a sur­re­al way. A ver­sion of West Vir­ginia will soon receive emo­tion­al and mate­r­i­al invest­ment from a broad pub­lic. There's a light-heart­ed joy that comes from know­ing, in that world, there will be bat­tles we can win. Mon­sters will be eas­i­ly iden­ti­fi­able, instead of the usu­al cor­rupt polit­i­cal lead­ers and lob­by­ists suit­ed up for the state house. It will do our hearts good to see the places we love absent of the peo­ple and forces that do them harm. We cheered, did we not, when cur­rent Repub­li­can Gov. Jim Justice's lux­u­ry, tax­pay­er-sub­si­dized resort, the Green­bri­er, made a brief appear­ance in the game's trail­er and we imag­ined the implied end of his oafish tenure.
Mil­lions of peo­ple will be rebuild­ing some ver­sion of West Vir­ginia, and that feels like a small miracle.
It is espe­cial­ly mov­ing to imag­ine that, through the game, peo­ple exiled from the region by eco­nom­ic hard­ship, rur­al iso­la­tion or envi­ron­men­tal destruc­tion will be able to return home — ephemer­al­ly but on their own terms — to take back what was left and what was lost, to find their own coun­try roads again. There's a con­cen­trat­ed form of home­sick­ness that clin­i­cians and psy­chol­o­gists have not­ed among peo­ple from Cen­tral Appalachia, par­tic­u­lar­ly its min­ing com­mu­ni­ties. Solastal­gia, a cor­rupt­ed form of nos­tal­gia, is the psy­chic pain that occurs when one's home van­ish­es, usu­al­ly through unwel­come envi­ron­men­tal change, be it a nat­ur­al dis­as­ter or moun­tain­top removal. It's a form of men­tal dis­tress among indi­vid­u­als with a strong place con­nec­tion and is char­ac­ter­ized by a pro­found and unend­ing sense of powerlessness.
It is unlike­ly a game could offer relief from such a con­di­tion, but it might pro­vide a new way to process those com­plex feel­ings. What can be said with cer­tain­ty is that many West Vir­gini­ans are eager­ly antic­i­pat­ing the oppor­tu­ni­ty to find out. Area attrac­tions fea­tured in the game, like Huntington's Cam­den Park, are expe­ri­enc­ing an uptick in vis­i­tors. West Vir­ginia tourism web­sites see their traf­fic surg­ing. Jess Moris­sette, a pro­fes­sor of polit­i­cal sci­ence and pop cul­ture at Mar­shall Uni­ver­si­ty, recent­ly told Poly­gon that watch­ing locals absorb news and updates about the game has been the most excit­ing part of the announce­ment and made Moris­sette hope­ful for ​"a dif­fer­ent out­look on West Vir­ginia." Our gen­er­a­tion has nev­er expe­ri­enced pos­i­tive atten­tion on this scale.
Bethesda's Fall­out 76 reveal wasn't the only excit­ing moment for Appalachia at the most recent E3 video game con­fer­ence. The Gam­ing Insti­tute at East­ern Ken­tucky Uni­ver­si­ty wait­ed to hear how it would fare in the expo's col­lege com­pe­ti­tion, a game design con­test. The Insti­tute made the finals for its atmos­pher­ic in-progress game, Mine 18, that explores life in a his­toric coal camp and a qua­si-fic­ti­tious mys­tery sur­round­ing the fates of its res­i­dents and a black lung epi­dem­ic. Although Mine 18 didn't take the top hon­ors, the expe­ri­ence gal­va­nized the young devel­op­ers' enthu­si­asm for mak­ing games in and about Appalachia.
In the con­ven­tion­al wis­dom of Appalachi­an eco­nom­ic boost­ers, tech­nol­o­gy will be our sal­va­tion. Ken­tucky Rep. Hal Rogers ® calls it the promise of a Sil­i­con Holler, a new region­al econ­o­my built ​"not on coal alone, but on broad­band, code and apps." In most forms of this log­ic, the future looks like bland neolib­er­al sub­sti­tu­tion, an adjust­ed gold­en ratio of min­ers to coders tweaked to fit the mar­ket­place and dic­tat­ed by the myth that employ­ment prospects and wages would improve great­ly if more work­ers, par­tic­u­lar­ly those in indus­tri­al trades, sought out 21st-cen­tu­ry skills. But per­haps tech­nol­o­gy can offer some­thing else, some­thing more spec­u­la­tive. This adven­ture begins when we con­front the cat­a­stro­phe we are liv­ing in and imag­ine our­selves as archi­tects of some­thing better.
Eliz­a­beth Cat­te
is a writer and his­to­ri­an based in Virginia's Shenan­doah Val­ley. She is the author of What You Are Get­ting Wrong About Appalachia and the co-edi­tor of
55
Strong: Inside the West Vir­ginia Teach­ers' Strike.