Drawing Equivalencies Between Fascists and Anti-Fascists Is Not Just Wrong—It's Dangerous
We must be very wary of any attempts to excuse or normalize white supremacy.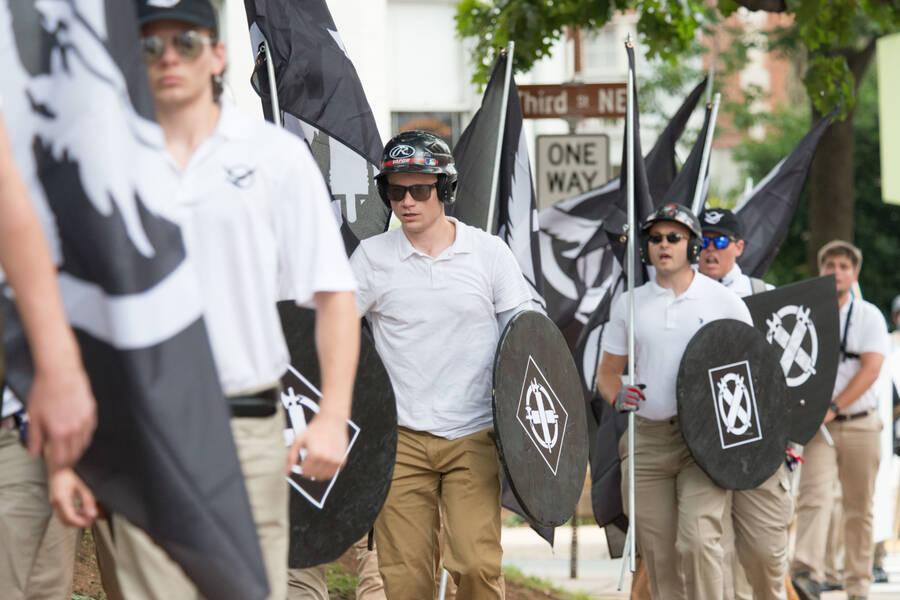 After a fas­cist march in Char­lottesville, Va. left one anti-Nazi pro­test­er dead and 19 oth­ers wound­ed, there has been wide­spread crit­i­cism of Pres­i­dent Don­ald Trump's fail­ure to force­ful­ly denounce white suprema­cists. How­ev­er, this con­dem­na­tion has rarely includ­ed a gen­uine under­stand­ing of the actions of antifas­cist pro­test­ers in Char­lottesville and else­where, cre­at­ing a con­tin­ued jus­ti­fi­ca­tion for the ​"both sides" argu­ment that paints antifas­cists, or antifa, as equiv­a­lent to the white suprema­cists they oppose.
For antifascists, violence is self-defense, because the far-right movements constitute direct threats to their existence and safety, as well as the existence and safety of their communities.
As a researcher who has attend­ed numer­ous polit­i­cal and social events with antifas­cist involve­ment, and inter­viewed many antifas­cists, it is clear to me that politi­cians and pun­dits are draw­ing a false equiv­a­lence between white suprema­cist and antifa actions — and ignor­ing the direct threat posed by suprema­cists that moti­vates antifas­cist respons­es. Antifas­cists often serve as the first line of defense when police and civ­il soci­ety fail to pro­tect mar­gin­al­ized groups from fas­cist threat. Their actions must be under­stood in that context.
The flaw in the ​"both sides" posi­tion is that the vio­lent protest actions of antifa are equiv­a­lent to the vio­lent actions of white suprema­cists. A brief exam­i­na­tion of the two move­ments' approach­es to vio­lence points to the fal­la­cy of com­par­ing the two.
For white nation­al­ists, neo-Nazis, the ​"alt-right" and oth­ers in that camp, vio­lence is an end in itself. The ide­ol­o­gy that they adhere to not only calls for the vio­lent elim­i­na­tion of any group that falls out­side of their nar­row con­cep­tion of nor­mal­cy, but also sees vio­lence as the ulti­mate goal. From clas­si­cal fas­cism to self-styled white nation­al­ist social clubs like the Proud Boys, the use of vio­lence is under­stood to be the means by which one's goals are achieved. When even the most mod­er­ate posi­tion the alt-right or fas­cist move­ment can take is racial sep­a­ra­tion or nation­al­ism through forcible repa­tri­a­tion and strict bor­der con­trol, includ­ing forced depor­ta­tions and racial­ized exclu­sions, that move­ment is inher­ent­ly violent.
But it doesn't stop there. The ​"alt-right" is marked by its strate­gic deploy­ment of sym­bols and Inter­net meme cul­ture toward its polit­i­cal agen­da. This cul­ture is defined by its vio­lent sym­bol­ism, from ven­er­at­ing indi­vid­u­als fight­ing antifa such as Kyle ​"Based Stick­man" Chap­man to the use of ​"heli­copter ride" memes, ref­er­en­tial to the mur­der­ous Pinochet régime to threat­en­ing left­ists and antifas­cists to cel­e­brat­ing the death of Heather Hey­er. This is a move­ment that laughs at the use of vio­lence and encour­ages its par­tic­i­pants to engage in vio­lence as a self-right­eous indul­gence and source of gratification.
We can jux­ta­pose antifa's use of vio­lent tac­tics with the way in which the far-right under­stands vio­lence. Antifas­cists are focused on a sin­gu­lar goal as described by their move­ment name: oppos­ing fas­cism. The antifas­cist strat­e­gy relies on a vari­ety of tac­tics. As Spencer Sun­shine points out in his his­to­ry and pro­file of antifa groups, ​"antifas­cists have great­ly increased their work on intel­li­gence gath­er­ing, dox­ing and pres­sure tactics."
Street con­fronta­tions are only a small part of the activ­i­ty engaged in by antifas­cists. Antifa more often relies on gath­er­ing infor­ma­tion about white suprema­cists and big­ots, then con­fronts them through pub­lic sham­ing. Antifas­cists who were inter­viewed and respond­ed to sur­veys as part of my dis­ser­ta­tion research con­duct­ed in 2007 and 2008 con­sis­tent­ly expressed sup­port for non­vi­o­lent tac­tics, in addi­tion to an esca­la­tion of tac­tics as nec­es­sary to stop suprema­cist events, orga­niz­ing, and recruit­ment efforts. It would be a mis­char­ac­ter­i­za­tion to claim that antifa oppose non­vi­o­lence. Instead, it is more accu­rate to say that antifa often jus­ti­fi­ably view non­vi­o­lence as inef­fec­tive against a move­ment that is vio­lent at its core, and par­tic­i­pants who seem to lack any sem­blance of a con­science. This is the essence of antifas­cist use of violence.
Unlike the var­i­ous suprema­cist move­ments that treat vio­lence as valid polit­i­cal expres­sion, antifa treat vio­lence as a defen­sive tac­tic against an oppos­ing move­ment that lever­ages vio­lence. For antifas­cists, vio­lence is self-defense, because the far-right move­ments con­sti­tute direct threats to their exis­tence and safe­ty, as well as the exis­tence and safe­ty of their communities.
My research found that antifas­cists who were will­ing to engage in vio­lent action were also more like­ly to face direct or indi­rect threats from white suprema­cists as a result of per­son­al iden­ti­ty, polit­i­cal ide­ol­o­gy, or spa­tial prox­im­i­ty. Antifa are often much more diverse than the black-clad, young, pre­sum­ably white male so often assumed by their rep­re­sen­ta­tions. The antifa who I inter­viewed often felt a per­son­al threat from the ide­ol­o­gy of white suprema­cist groups because their sex­u­al ori­en­ta­tion, gen­der iden­ti­ty, race, or reli­gion was a tar­get of suprema­cist vio­lence. These indi­vid­u­als saw their antifas­cism as a means of per­son­al self-defense against a group that was tar­get­ing them for every­day vio­lence and ulti­mate­ly vio­lent elim­i­na­tion. Even the white, het­ero­sex­u­al, cis­gen­der men observed a cer­tain amount of per­son­al threat because they are viewed as ​"race trai­tors" or ​"cucks" as a result of their antifas­cist activism.
The hyper-aware­ness of such tar­get­ing is par­tial­ly a result of polit­i­cal activism on the part of these indi­vid­u­als that is dis­tinct from their antifas­cist work. Antifa activists aren't sole­ly con­cerned with oppos­ing and stop­ping far-right move­ments: They are often involved in move­ments for racial jus­tice, LGBTQ rights and left­ist ide­o­log­i­cal cam­paigns for racial and eco­nom­ic jus­tice through rad­i­cal trans­for­ma­tion of soci­ety inspired by com­mu­nism or anar­chism. These posi­tions are iden­ti­fied by the far-right as polit­i­cal oppo­nents who are to be elim­i­nat­ed by acts of extreme vio­lence. Antifas­cism becomes not only a form of per­son­al defense, but also a defense of the polit­i­cal activ­i­ty that one is involved in. White suprema­cists and oth­er far-right activists threat­en pro­gres­sive book­stores, orga­niz­ing and social spaces, LGBTQ events and spaces, as well as places of wor­ship that have includ­ed African-Amer­i­can church­es, syn­a­gogues, mosques and Sikh temples.
Final­ly, many peo­ple choose antifa's mil­i­tant tac­tics because they find them­selves much more like­ly to have some form of con­tact with white suprema­cists. Many of the antifas­cists in my research came to this form of activism because they were involved in punk and oth­er under­ground music sub­cul­tures that were viewed as recruit­ing grounds by white suprema­cists. Their activism devel­oped out of the threat of vio­lence that racists brought into those sub­cul­tures. Sub­cul­tur­al antifas­cists come to embrace vio­lent tac­tics because white suprema­cists do not leave sub­cul­tur­al spaces when asked nice­ly or con­front­ed non­vi­o­lent­ly. The same holds true when white suprema­cists threat­en polit­i­cal, social and cul­tur­al spaces. Their pur­pose is to intim­i­date, and vio­lent con­fronta­tion by antifa is often the only means of reduc­ing or end­ing that threat.
The posi­tion that antifas­cist use of vio­lent con­fronta­tion­al tac­tics is equiv­a­lent to the vio­lence of the far-right reflects a lack of under­stand­ing of both fas­cist vio­lence and the threat faced by antifa, and by diverse com­mu­ni­ties in gen­er­al. Where­as suprema­cist move­ments treat vio­lence as their ulti­mate goal, antifa approach it as a nec­es­sary tac­tic in self-defense. This posi­tion of self-defense is the prod­uct of the very real threat the white suprema­cists pose to antifas­cists and numer­ous oth­er groups. Antifa come to under­stand that threat because their per­son­al iden­ti­ties, as well as their polit­i­cal activism, are tar­get­ed by fas­cist vio­lence. And they are more like­ly to actu­al­ly face that vio­lence than the aver­age indi­vid­ual. By under­stand­ing the sense of threat observed by antifa, we can gain a greater con­text for their actions.
Stanislav Vysot­sky
is an Assis­tant Pro­fes­sor of Soci­ol­o­gy and Crim­i­nol­o­gy at the Uni­ver­si­ty of Wis­con­sin-White­wa­ter. Dr. Vysotsky's research focus­es on the con­flict between suprema­cist groups in con­tem­po­rary Amer­i­can soci­ety and their mil­i­tant antifas­cist oppo­si­tion through ethno­graph­ic and inter­view research with antifas­cist activists, in order to under­stand the rela­tion­ship between threat, space, sub­cul­ture, and social move­ment activism.