To Upend Corporate Agriculture, Americans Need to Understand Basic Farm Policy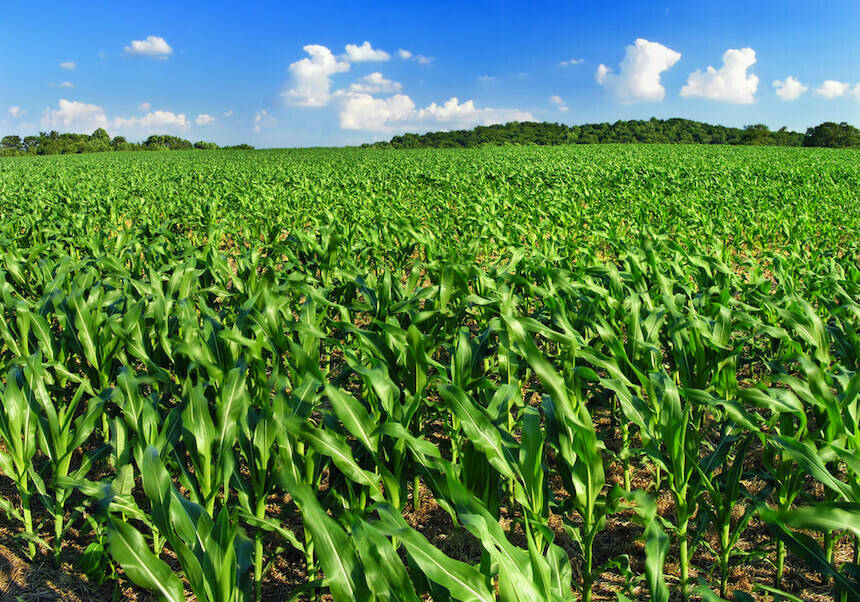 Near­ly all of Trump's elec­toral wins were in rur­al dis­tricts, many of which are made up of farm­ing com­mu­ni­ties. This is where Trump thrived. I have seen it first­hand: I have lived in the city, worked in man­u­fac­tur­ing and I'm now a farmer in a small farm­ing town in Cen­tral Illinois.
For the pro­gres­sive move­ment to make inroads in com­mu­ni­ties like mine, it needs to put for­ward a seri­ous plan for how the U.S. gov­ern­ment can stop sub­si­diz­ing cor­po­rate farms and instead return the land to small fam­i­ly farm­ers who work the land. Farm­ers should not have to farm 20,000 acres of rent­ed land just to make a living.
To move toward a future in which pro­gres­sives are able to put for­ward such a plan, it's cru­cial for every­one in this coun­try — includ­ing city dwellers — to gain a basic lit­er­a­cy about the agri­cul­tur­al shifts that have tak­en place in the Unit­ed States and what it would take to move away from cor­po­rate agri­cul­ture on a mass scale.
Tra­di­tion­al farming
For over 200 years, the farm­ing busi­ness mod­el has­n't changed. We rely on a sim­ple two-crop sys­tem of corn and soy­beans. For a time, this sys­tem worked well for farm­ers. There was an estab­lished mar­ket for the prod­uct; the meth­ods were proven. There have been improve­ments in machin­ery over the years that have increased effi­cien­cy. There have been devel­op­ments in seeds and plant­i­ng tech­niques that have changed over time out of need and to improve yield. The biggest change that has come to farm­ing is the rise of big farms. This, along with the two-crop sys­tem is where the trou­ble comes in for the future of farm­ing and the eco­nom­ics of farming.
I live in an area that some say has the best ground any­where in the world, not just the coun­try. But on this land, there are vir­tu­al­ly zero crops grown for human con­sump­tion, and there­in lies one of our problems.
Most corn and soy­beans go to feed cows and pigs for the world's ever-increas­ing appetite for meat. The Food and Agri­cul­ture Orga­ni­za­tion of the Unit­ed Nations esti­mates that 40 per­cent of the world's crop­land goes to pro­duce live­stock feed and 80 per­cent of the total agri­cul­ture land. In the Unit­ed States, 39.1 per­cent of corn goes to live­stock feed, 98 per­cent of the soy­bean crop is used for live­stock feed. Anoth­er 30.3 per­cent of the corn crop goes toward ethanol pro­duc­tion, while 12.5 per­cent is exported.
The ben­e­fits and con­cerns of ethanol pro­duc­tion from corn is up for much debate. Recent stud­ies show that it takes as much ener­gy to make ethanol as it cre­ates. The use of this much crop­land to cre­ate fuel instead of grow­ing much-need­ed food rais­es many eth­i­cal issues. Most of the remain­ing corn that is not used for live­stock feed or ethanol is used to make corn syrup.
Cows do not nat­u­ral­ly process corn, and it turns out, corn syrup is not great for humans either. Farm ani­mals have been bred over the years to deal with the food we give them, and it has required more and more chem­i­cals to keep them healthy on this diet. Cows, pigs, chick­ens and turkeys would all be bet­ter off if they were allowed to graze nat­u­ral­ly for their food. All this fer­tile land is being wast­ed on feed­ing ani­mals food that they would be bet­ter off with­out, rather than feed­ing humans food that we des­per­ate­ly need.
This does­n't explain the eco­nom­ic prob­lem of farm­ing, but this does show where pro­gres­sive think­ing is need­ed to lead to a grow­ing econ­o­my in rur­al com­mu­ni­ties. There is oppor­tu­ni­ty and there is need.
Prob­lems with big ag
Where the eco­nom­ic prob­lems have risen is where the scales have got­ten larg­er. I work on a large farm. We farm around 20,000 acres of corn and soy­beans. There are about 12 of us who work on the farm, and we earn a medi­um income. For us, it's a good liv­ing com­pared to oth­ers in the field; we are hap­py. Most of our spous­es work out­side the home, but that's what it takes now to raise a family.
That all seems rea­son­able and good until you think about how those 20,000 acres prob­a­bly no more than 30 years ago pro­vid­ed a liv­ing for more than 100 fam­i­lies. That is over 100 jobs lost, fam­i­lies with­out an income just on the farms we work. This real­i­ty is painful­ly evi­dent in the acres we farm: every 100-acre field we go to sur­rounds an old aban­doned farmhouse.
There are lit­tle towns of usu­al­ly no more than 100 peo­ple that we dri­ve through on our way to the next field, with old dilap­i­dat­ed homes. The only busi­ness in town is a grain ele­va­tor. The ele­va­tor will usu­al­ly have one man­ag­er, a sec­re­tary and one or two sea­son­al work­ers. The farm­ing busi­ness mod­el that is over 200 years old has failed these rur­al com­mu­ni­ties. If I were to go to any city man­ag­er and present the fol­low­ing busi­ness plan, it would not go well: ​"We would like to take 20,000 acres of your most valu­able resource and we will employ 10 – 12 peo­ple. We will pay some tax­es, but we will need most of it back in sub­si­dies in order to stay in busi­ness. We will also need you to make your cit­i­zens use our prod­uct, even though it's not good for them."
This busi­ness plan would get you rude­ly kicked out of most towns, yet this is the agri­cul­tur­al busi­ness plan we con­tin­ue to sup­port with gov­ern­ment pol­i­cy and subsidies.
What is the solu­tion to this? There are no easy solu­tions, but there are things we could do. I had my own small farm where I raised free-range chick­ens for eggs. We had, at peak, around 1,000 egg-lay­ers lay­ing around 800 eggs per day. These were hap­py chick­ens for­ag­ing for their own food. We earned more per acre in one year on our lit­tle farm than the big farm I work for now will earn per acre in 30 years. We paid more in tax­es per acre in one year than the large farm will pay in 100 years.
A well-man­aged small organ­ic farm can earn around $40,000 per acre per year. Our lit­tle chick­en farm was close to this. In con­trast, corn and soy­bean farms earn, on aver­age, $200 net prof­it per acre per year after all expens­es are con­sid­ered, accord­ing to a pub­lished report from the Depart­ment of Agri­cul­tur­al and Con­sumer Eco­nom­ics at the Uni­ver­si­ty of Illi­nois. If farm­ers are rent­ing the land, this year, rental rates are pro­ject­ed to be high­er than revenue.
There are many exam­ples of small farms like this that are cre­at­ing fresh, organ­ic, nat­ur­al food that peo­ple want to eat and that is actu­al­ly good for them. We can't expect big farms to change to small farm prac­tices overnight. There is too much invest­ed in the cur­rent busi­ness mod­el. But we can do things to push for change.
Pos­si­ble solutions
For one, we can stop sub­si­diz­ing the cur­rent busi­ness mod­el of cor­po­rate farms — both the two-crop sys­tem and the feed-lot live­stock sys­tem that it sup­ports. The Depart­ment of Agri­cul­ture (USDA) gives out over $25 bil­lion in sub­si­dies to farm­ing busi­ness­es annu­al­ly; of this, over three-quar­ters goes to sub­si­dize the top 10 per­cent of our coun­try's largest farms, accord­ing to the Envi­ron­men­tal Work­ing Group. This needs to change. But there needs to be a proven busi­ness mod­el that farm­ers can adapt. There can be a vari­ety. The legal­ized mar­i­jua­na grow­ing indus­try is an exam­ple of a skilled labor-inten­sive crop that could serve as a mod­el for the grow­ing of oth­er crops. It is already the num­ber one gross­ing crop in Cal­i­for­nia. It is a high-val­ue crop that requires skilled labor to get it ready for mar­ket. There are oth­er options as well; sci­en­tists have found ways to grow med­i­cine in tobac­co plants. Research is being done on diets based on DNA. Live­stock could be grazed on fields plant­ed with spe­cif­ic grass­es and trees to tai­lor a spe­cif­ic need or taste. Rota­tion­al graz­ing can increase the effi­cien­cy of these fields.
These ideas need to be devel­oped in urban areas where there is a mar­ket ready for them, and where there is a crit­i­cal mass of pro­gres­sive thinkers and sci­en­tists to devel­op them. Incu­ba­tors should be cre­at­ed to focus on ben­e­fi­cial farm­ing tech­niques. There are many exam­ples of suc­cess­ful busi­ness­es that cre­ate urban farms. These could be small rooftop farms or indoor hydro­pon­ic farms. There is a need in the mar­ket­place in urban areas for farm-fresh foods. This is where the pro­gres­sive new farm­ing ideas can start and have start­ed. Down­town farmer's mar­kets are very pop­u­lar already. There could be an incu­ba­tor to cre­ate a full-time farmer's mar­ket busi­ness mod­el. Some of the food could be grown direct­ly at the mar­ket. As it became suc­cess­ful, near­by farm­ers could be brought in to sup­ple­ment the sup­ply of fresh food.
Farm­ers can­not be expect­ed to do this on their own. They do not have the mar­gins to take risks; they don't have the time to train work­ers. We need to cre­ate the busi­ness plans for them, test them to make sure they work and cre­ate the mar­ket for the end prod­uct. When they are ready, we would need to set up train­ing facil­i­ties to train the work­ers. Then, when every­thing is ready, we could encour­age farm­ers to adopt these plans. You would have to give them options to start small — say, 100 acres per 1,000 of their acres farmed would need to be con­vert­ed. For live­stock farm­ers, it would be 10 per­cent of their herd con­vert­ed to graz­ing, and going up from there. There would either be an incen­tive to do this or a tax if they don't do it. There would need to be require­ments for adding employ­ees, because the whole point of this is to cre­ate more jobs in rur­al communities.
The third equa­tion that needs to be addressed is the own­er­ship of these farms. While it is true that most farms are fam­i­ly-run, much of the land is not fam­i­ly-owned. There are also few­er and few­er fam­i­lies own­ing these farms. Mid­dle-class farm­ers have decreased to just 6 per­cent of total farms, while big farms have increased over 100 per­cent. Accord­ing a 2014 USDA farm cen­sus study, 40 per­cent of all farm­land is rent­ed or leased from a landlord.
In the Mid­west, where the corn rush pushed land val­ues much high­er, those rental rates are as high as 60 per­cent. Most of these land­lords are not farm­ing this land. The land has been placed in fam­i­ly trusts in order to pass the land to the next gen­er­a­tion. This is not real­ly a bad thing; it is an impor­tant tool for farm­ers to be able to keep their land. Many of the younger gen­er­a­tion have moved away from the farm and are not inter­est­ed in farm­ing but still enjoy the prof­its from the farm. The rental arrange­ment for land­lord-man­aged lands tends to favor con­sis­tent income. There are no arrange­ments for invest­ing in the land itself and no oppor­tu­ni­ties for inno­v­a­tive devel­op­ments. The same USDA farm cen­sus esti­mates that only 10 per­cent of U.S. farm­land will trans­fer own­er­ship in the five years fol­low­ing the study. Only a small per­cent­age of this will be trans­ferred to a non-rel­a­tive. This, along with the high cost of land, will make it dif­fi­cult for small farm­ers to get start­ed in the busi­ness of farming.
Buy­ing the Farm
We need to cre­ate a method to return our land to the small fam­i­ly farm­ers who work the land. Farm­ers should not always have to work on rent­ed land. There should be incen­tives for peo­ple to obtain land to do some of these inno­v­a­tive farm­ing tech­niques. Much like cities that give tax abate­ments to encour­age inno­v­a­tive com­pa­nies to invest in their com­mu­ni­ty, rur­al areas could give tax breaks to small farms that cre­ate jobs and inno­vate. It would be in local and state gov­ern­ments' best inter­est to invest in these small inno­v­a­tive farms that can cre­ate new jobs and high­er incomes, rather than mega-farms that are oper­at­ing on effi­cien­cies that are remov­ing jobs and income.
The plight of the fam­i­ly farm is no small issue. Pro­gres­sives can­not afford to ignore this seg­ment of the coun­try. Our land is the one resource we have that can­not be out­sourced to anoth­er coun­try. We need to take full advan­tage of this resource and we need to do it in a way that resists cor­po­rate exploita­tion and puts mon­ey back in the hands of farm­ers themselves.
"Why Pro­gres­sives Should Care About U.S.cor Agri­cul­tur­al Pol­i­cy" was orig­i­nal­ly pub­lished on Truthout and is repost­ed on Rur­al Amer­i­ca In These Times with per­mis­sion. This arti­cle may not be reprint­ed with­out per­mis­sion.
[If you like what you've read, help us spread the word. ​

"

Like" Rur­al Amer­i­ca In These Times on Face­book. Click on the ​

"

Like Page" but­ton below the bear on the upper right of your screen. Also, fol­low RAITT on Twit­ter @RuralAmericaITT]