Transforming Agriculture Should Be at the Forefront of National Discussion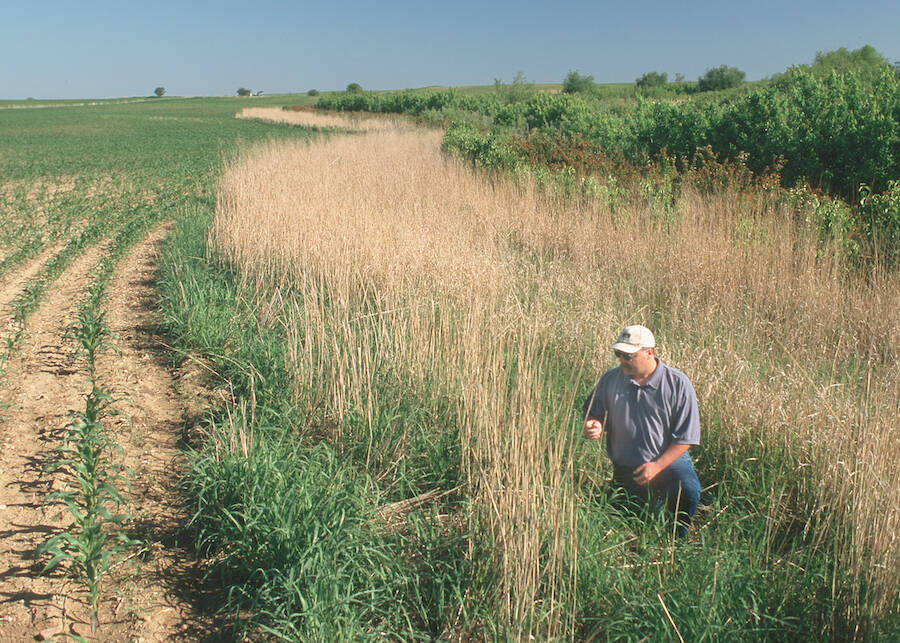 Iowa's first-in-the-nation cau­cus­es bring the state a lot of polit­i­cal atten­tion dur­ing pres­i­den­tial elec­tion cycles. But in my view, even though some can­di­dates have out­lined posi­tions on food and farm­ing, agri­cul­ture rarely gets the atten­tion it deserves.
As a sci­en­tist at Iowa's land-grant uni­ver­si­ty, I believe our state is at the fore­front of redefin­ing what agri­cul­ture could be in the U.S., and address­ing envi­ron­men­tal and eco­nom­ic chal­lenges asso­ci­at­ed with the exten­sive mono­cul­tures that dom­i­nate our cur­rent sys­tem. I think these con­ver­sa­tions should be at the fore­front nation­al­ly. After all, every­one needs to eat, so all Amer­i­cans have a stake in the future of farming.
As Iowa farms, so farms the nation
Iowa is a lead­ing glob­al pro­duc­er of corn, soy, pork, beef, eggs, ethanol, biodiesel, bio­chem­i­cals and agri­cul­tur­al tech­nol­o­gy. Because it is home to just 3.2 mil­lion peo­ple, Iowa farm­ers export the vast major­i­ty of what they pro­duce. Most multi­na­tion­al agri­cul­tur­al busi­ness­es have Iowa offices, and the state also has con­sid­er­able influ­ence on U.S. farm bill legislation.
Iowans are also acute­ly aware of the chal­lenges of mod­ern agri­cul­ture, which affect their lands and liveli­hoods. They include soil degra­da­tion, water con­t­a­m­i­na­tion, flood­ing and loss of car­bon and habi­tat for native species.
Farm­ers under­stand these effects, and many are active­ly work­ing to reduce them, as oper­a­tional, finan­cial and social con­di­tions allow. One exam­ple in which I am involved is the STRIPS project, in which sci­en­tists, farm­ers, land own­ers and oth­ers are part­ner­ing to test the effects of seed­ing nar­row strips with native prairie plants with­in and around corn and soy­bean fields.
Over the last 13 years, we have shown that prairie is a valu­able tool for pro­tect­ing water sup­plies and pro­vid­ing habi­tat for wildlife, includ­ing pol­li­na­tors. Plant­i­ng just 10% of farm fields – often in the least pro­duc­tive zones – with stiff-stemmed native prairie grass­es helps hold water and sed­i­ment in place, reduc­ing ero­sion and nutri­ent loss from fields. The strips also con­tain flow­er­ing plants that sup­port birds and insects, includ­ing pol­li­na­tors and nat­ur­al ene­mies of crop pests.
This approach can turn low-yield­ing acres into an oppor­tu­ni­ty to reduce use of inputs such as fer­til­iz­er and pes­ti­cides. Today there are near­ly 600 acres of prairie strips on about 5,000 acres of crop­land on 66 farms across in six Mid­west­ern states. My col­leagues and I expect these num­bers to grow dra­mat­i­cal­ly now that the U.S. Depart­ment of Agri­cul­ture is sup­port­ing prairie strips as a con­ser­va­tion tool.
Iowa State Uni­ver­si­ty sci­en­tists are work­ing with indus­try to cre­ate sen­sors and com­put­er mod­els that enable farm­ers to man­age their fields for improved out­comes. They also are devel­op­ing sup­ply chain track­ing sys­tems that will allow con­sumers to use a phone app to get infor­ma­tion about the farm that grew or raised a prod­uct before they pur­chase it.
Many groups are involved in these efforts. The Iowa chap­ter of The Nature Con­ser­van­cy is work­ing with agri­cul­tur­al retail­ers on improv­ing fer­til­iz­er man­age­ment. Col­lab­o­ra­tions of farm­ers, crop breed­ers and food sup­pli­ers – facil­i­tat­ed by orga­ni­za­tions like Prac­ti­cal Farm­ers of Iowa – are fuel­ing a renais­sance in the pro­duc­tion of small grains like oats and rye.
Speed­ing up the transition
A decade ago, my col­leagues and I brought nation­al, state and local lead­ers togeth­er for a dia­logue on the future of Iowa agri­cul­ture. While we did not cap­ture all the details, we large­ly antic­i­pat­ed this grad­ual shift toward more eco­nom­i­cal­ly and envi­ron­men­tal­ly sus­tain­able farm­ing methods.
As we see it, macro-scale forces are dri­ving this tran­si­tion. Glob­al com­mod­i­ty mar­kets reward effi­cient pro­duc­tion, requir­ing farm­ers to do more with less. Amer­i­cans are demand­ing stronger action to pro­tect the envi­ron­ment. Fed­er­al farm poli­cies are increas­ing­ly encour­ag­ing con­ser­va­tion and soil health. And new tech­nolo­gies are enabling farm­ers to seed and treat crops more pre­cise­ly and reduce harm­ful impacts such as nutri­ent pol­lu­tion.
I believe a much brighter future is pos­si­ble if gov­ern­ment offi­cials, agri­cul­tur­al busi­ness­es and farm, com­mod­i­ty and envi­ron­men­tal orga­ni­za­tions can unite around a trans­for­ma­tive goal. For exam­ple, the nation­al, state and local lead­ers we gath­ered to dis­cuss the future of Iowa agri­cul­ture pro­posed an ini­tia­tive to dou­ble the full val­ue – mon­e­tary and non-mon­e­tary – of our state's agri­cul­tur­al econ­o­my over 25 years.
With wide­spread sup­port, such an effort could ush­er in a new era of eco­nom­ic and envi­ron­men­tal wealth in Farm Belt states. It would start with invest­ing in regen­er­a­tive sys­tems – farm­ing meth­ods that pro­duce agri­cul­tur­al goods and ser­vices while also improv­ing soil and water resources, unique habi­tats and pas­toral coun­try­sides. And it would require simul­ta­ne­ous invest­ments in rur­al infra­struc­ture, new busi­ness­es and local and region­al markets.
An alter­na­tive future
What would this trans­formed sys­tem look like? By the 2028 Iowa cau­cus­es, dynam­ic pub­lic-pri­vate part­ner­ships of farm­ers, landown­ers and oth­ers could be work­ing to increase crop diver­si­ty and rota­tions, expand con­ser­va­tion prac­tices and devel­op nec­es­sary mar­kets and infra­struc­ture, such as rur­al broad­band.
More farm­ers would be plant­i­ng cov­er crops like win­ter rye to help their fields retain nutri­ents, improve soil health and con­trol weeds. Those who raise corn and soy­beans could part­ner with neigh­bor­ing live­stock pro­duc­ers to grow win­ter crops for graz­ing, leav­ing few­er fields bare.
Sur­veys show that Amer­i­cans are will­ing to pay for ini­tia­tives that pro­vide mul­ti­ple ben­e­fits from farm­lands. Rein­vest­ments in agri­cul­ture, renew­able ener­gy, rur­al devel­op­ment and con­ser­va­tion pro­grams could be fund­ed phil­an­throp­i­cal­ly and through the U.S. farm bill.
By the 2048 cau­cus­es, Iowa and oth­er farm states where farm­ers main­ly raise com­mod­i­ty crops like corn and soy­beans could be pro­duc­ing a wide vari­ety of goods and ser­vices, includ­ing annu­al and peren­ni­al grains, fiber and bio­mass crops, live­stock, wind and solar ener­gy, ethanol, biodiesel, fruits, veg­eta­bles, nuts and hops. Man­ag­ing farm land­scapes for car­bon, nutri­ents, water and wildlife could be as cen­tral to farm­ing as crop man­age­ment is today.
Easy access to rur­al broad­band, plus advances in sen­sors, arti­fi­cial intel­li­gence and robot­ics, would enable high­ly pre­cise nutri­ent man­age­ment, pest and dis­ease con­trol and manure handling.
Small towns could be ringed with agri­hoods – planned com­mu­ni­ties built around work­ing farms and com­mu­ni­ty gar­dens. They would be vibrant and desir­able places to live, offer­ing high-tech jobs and entre­pre­neur­ial oppor­tu­ni­ties, an afford­able cost of liv­ing and out­door recre­ation opportunities.
A nation­al conversation
Agri­cul­ture is always chang­ing. U.S. elect­ed lead­ers hold sub­stan­tial influ­ence over this process through their pub­lic plat­forms and abil­i­ty to make policy.
A decade ago, my col­leagues and I saw a choice for U.S. agri­cul­ture: incre­men­tal improve­ment, or a push for trans­for­ma­tion­al change that would improve com­mu­ni­ties and land­scapes in farm coun­try. The incre­men­tal approach is not mov­ing quick­ly enough, and rur­al com­mu­ni­ties and land­scapes are suf­fer­ing as a result.
Trans­for­ma­tion­al change could look like the future I have described. How do we make it hap­pen? Iowa and oth­er farm states are ready for that conversation
Edi­tor's Note: This arti­cle is repub­lished from The Con­ver­sa­tion under a Cre­ative Com­mons license. Read the orig­i­nal arti­cle.
Lisa Schulte Moore
is Pro­fes­sor of Nat­ur­al Resource Ecol­o­gy and Man­age­ment at Iowa State University.