Farmworkers March Across Florida for Freedom, Fair Wages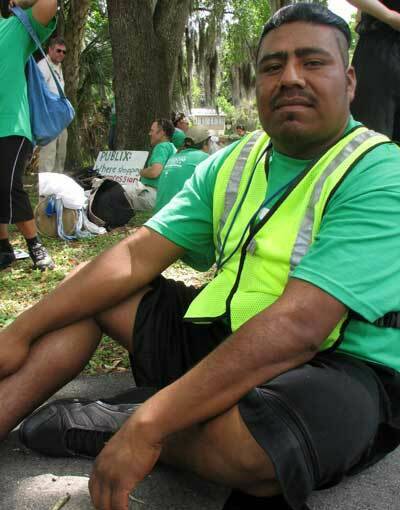 TAMPA, FLA. – Immigrant tomato pickers and their supporters from across the country trekked past a canal plied by manatees, a towering garden statue of Poseidon, a mannequin derrière sporting a gem-encrusted G‑string, mortuaries, storefront churches and eclectic thrift stores on Apri 16, the first day of their three-day ​"Farm Worker Freedom March."
The Coalition of Immokalee Workers (CIW) organized the march to pressure its latest target, Publix Supermarkets, to sign an agreement that it will only buy tomatoes from growers who pay a penny more per pound and improve working conditions.

Over the past decade, the coalition has negotiated such agreements with major corporations including Taco Bell, Burger King, McDonald's, Subway, Whole Foods and, most recently, food service giant Aramark. Its victories have been somewhat stymied by the powerful Florida Tomato Growers Exchange, which had threatened to fine its members tens of thousands of dollars for raising pay.
Last fall, after Whole Foods signed an agreement with CIW, the exchange announced it had rescinded its prohibition on labor agreements and implemented its own ​"social responsibility" program, which the coalition says doesn't go far enough.

The coalition is now asking fast food and grocery companies to buy from growers who don't belong to the exchange, including the East Coast Brokers and Packers, which provides tomatoes to Compass Group, one of the country's largest buyers, under an extra penny-per-pound agreement with the CIW.

As the marchers — wearing green t‑shirts, carrying cardboard tomato bushel baskets and playing pre-Colombian instruments — wound through the streets of diverse, working class Tampa neighborhoods and suburbs, drivers honked in solidarity, bystanders gave thumbs up and some just looked on in bemusement. Many bystanders said they had never heard of the coalition or the fact that many migrant farmworkers labor in near or literal slavery just several hours drive away.

Raising awareness of the plight of migrant farm workers has been a key goal and accomplishment of the CIW, with solidarity chapters springing up on campuses and through interfaith networks around the country. Students and other supporters from Denver, Baltimore and a number of other cities road-tripped or flew to Tampa for the three-day march.

​"This is exploitation going on right in front of people's eyes," said Johns Hopkins political science grad student Akshay Regmi. ​"When you hear these stories you can't deny them." Local University of South Florida student Neveen Nawawy sees the workers' situation as parallel to her Palestinian relatives.

​"My mother was a refugee, I feel compelled to help other families because she was in a similar situation," she said. ​"A lot of Palestinians are forced to build the homes of Israeli settlers because there are no other jobs for them. They are exploited and humiliated. It's a similar thing."

CIW organizer Lucas Benitez, a recipient of the prestigious Robert F. Kennedy Human Rights Award in 2003, said about 3,500 workers are currently receiving the penny-per-pound increase working for the three growers not part of the exchange; but the bulk of the 30,000-some tomato pickers in the region are still not benefiting.

A Publix spokesperson at a store the marchers passed said the corporation supports workers' rights but does not get involved in labor disputes in their supply chain.

​"This is about wages and working conditions, it's not something we can get involved in," said Shannon Patten.
We have more than 35,000 products on our shelves, in a single store. There are countless opportunities for these labor disputes to take place, so we have a policy of not intervening. We have never seen any instances of human rights violations in our supply chain. If someone is paying less than minimum wage or abusing workers, that's against the law and they should be going to the government. These issues need to be addressed by the government and their employers, not the local grocery store.
She said Publix currently only buys from East Coast Brokers and Packers, which does comply with the workers rights agreement, though the store chooses its suppliers based on price and other factors. She said that it does not buy from Pacific Tomato Growers and Six L's, growers linked to a slavery operation prosecuted with the CIW's help where 12 workers lived in a locked 24-foot semi-trailer truck. That case provided the basis for the coalition's Florida Modern Day Slavery Museum, housed in a similar truck which has been touring the state and followed the marchers leading up to the finale on April 18.

Benitez said Publix only recently stopped buying from Pacific and Six L's. He said the coalition won't back off its Publix campaign until an agreement is signed.

​"They have two options, one is that there will keep being more conflict and bad publicity for them, the other is that they do the right thing and come to the table with us," he said. ​"Three growers have seen where the future of the industry is and joined us. One by one they will all have to do it."

Unbeknownst to many, nearly all of the country's winter tomatoes come from southern Florida, potentially giving the workers significant leverage.

Worker Francisco Figaroa, a 27-year-old migrant from Oaxaca, Mexico, who has three kids here, laid down on an asphalt path in Sulphur Springs Park halfway through the march Friday as others crowded onto a bridge to watch a manatee feeding or ate oranges in the shade. He picks tomatoes in the late summer and fall in Immokalee and then does landscape work ("yardas") in Naples during the off-season. He described skin problems from the herbicides used on tomatoes. He doesn't foresee changing jobs, though he would like to go to school.

Substitute teacher Heather Vega, 24, sometimes uses the experience of workers like Figaroa as an example for her students.

​"There are all these examples of injustice in history, but people don't realize that this is still going on just a two and a half hour drive from us," said Vega, who became involved with the CIW while studying international relations at the University of South Florida. ​"This is like a case study — it shows how you fit into the picture. It forced me to do more than just sit back and analyze."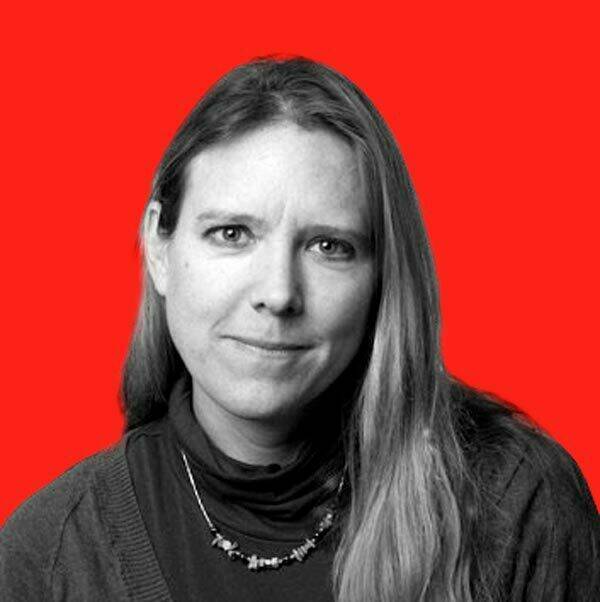 Kari Lydersen
is a Chicago-based reporter, author and journalism instructor, leading the Social Justice
&
amp; Investigative specialization in the graduate program at Northwestern University. She is the author of Mayor
1
%: Rahm Emanuel and the Rise of Chicago's
99
%.