Towards a Broad Left Front Against Fascism
Now is the time to unify against a dangerous force—not smear people taking antifascist action.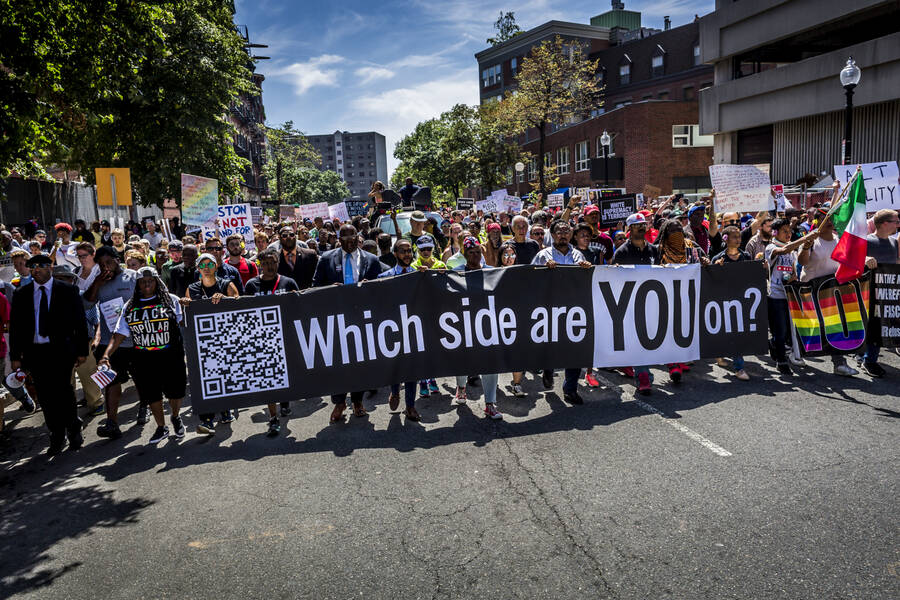 Long before Pres­i­dent Trump cas­ti­gat­ed antifas­cists under the guise of crit­i­ciz­ing ​"alt-left" vio­lence in Char­lottesville, lib­er­als and pro­gres­sives were mak­ing many of the same cri­tiques of antifas­cist tac­tics that have become com­mon­place among the Right.
In order to be effective, social movements must be flexible in the tactics they deploy.
Before the white suprema­cist attacks on August 12, Peter Beinart, writ­ing in the Atlantic, accused antifa of author­i­tar­i­an­ism. He then dou­bled down on these accu­sa­tions in an attempt to sep­a­rate antifa from white suprema­cists by stat­ing that ​"there's some­thing fun­da­men­tal­ly author­i­tar­i­an about its [antifa's] claim that its activists — who no one elect­ed — can decide whose views are too odi­ous to be pub­licly expressed."
Even Noam Chom­sky, arguably the most rec­og­nized and respect­ed rad­i­cal intel­lec­tu­al in the Unit­ed States today, crit­i­cized antifa as ​"a minus­cule fringe of the Left, just as its pre­de­ces­sors were" and ​"a major gift to the Right, includ­ing the mil­i­tant Right."
Attempts to blame fas­cist vio­lence on antifa resis­tance are incor­rect and dan­ger­ous, ulti­mate­ly amount­ing to apol­o­gism for white suprema­cy. When this line of argu­ment comes from indi­vid­u­als and orga­ni­za­tions osten­si­bly on the Left, right-wing ide­o­log­i­cal posi­tions are fur­ther for­ti­fied and our move­ments divid­ed. Instead of feed­ing these divi­sions, now is the time for the Left to uni­fy behind a broad, anti-fas­cist front.
Ques­tion­ing the state's monop­oly on violence
Beinart's cri­tique of antifa rests on an asser­tion that the move­ment chal­lenges the state's monop­oly on pow­er, a claim that antifa are unlike­ly to argue with. At a time when the legit­i­ma­cy of the state's use of vio­lence is under cri­tique from the Left, it rings hol­low to crit­i­cize activists for chal­leng­ing this monop­oly on force.
The use of force by police has been under greater social scruti­ny since the deaths of Michael Brown and Eric Gar­ner at the hands of police offi­cers in 2014. The sheer vol­ume of police killings reflects the imbal­ances of racial and class power.
Sim­i­lar­ly, the judi­cial sys­tem is marred by sen­tenc­ing dis­par­i­ties based on race and class, result­ing in a mas­sive prison sys­tem that dis­pro­por­tion­ate­ly incar­cer­ates peo­ple of col­or and con­trols poor communities.
In such a cli­mate, it is sur­pris­ing to see any­one even nom­i­nal­ly on the Left call for respect for the state's monop­oly on this use of force. As the Left cam­paigns for racial and eco­nom­ic jus­tice in the crim­i­nal legal sys­tem, it must inevitably cri­tique the legit­i­ma­cy of these insti­tu­tions as they are cur­rent­ly constituted.
Suprema­cist ​"speech" pos­es a direct threat
The claim that antifas­cists are author­i­tar­i­an is a com­mon frame on the far Right and is repeat­ed in lib­er­al cri­tiques. The claim takes aim at antifas­cist actions that shut down speak­ing events by promi­nent ​"alt-right" fig­ures and oth­er far-right events, in some cas­es as a result of con­flict between antifa and far-right activists. Beinart states that ​"antifas­cists have grant­ed them­selves the author­i­ty to decide which Amer­i­cans may pub­licly assem­ble and which may not."
How­ev­er, these posi­tions over­look the threats to free­dom posed by the every­day vio­lence of suprema­cists. For my dis­ser­ta­tion research, con­duct­ed in 2007 and 2008, I inter­viewed antifas­cists who explained that their move­ment par­tic­i­pa­tion, in part, stemmed from hav­ing an iden­ti­ty that suprema­cists mark for vio­lence. Under the black masks, antifa con­sists of peo­ple of col­or, LGBTQ indi­vid­u­als, gen­derqueer or gen­der non­con­form­ing peo­ple, Jew­ish peo­ple, Mus­lim peo­ple and oth­er adher­ents of minor­i­ty reli­gions tar­get­ed by suprema­cist big­otry. White antifas­cists are often brand­ed as ​"race trai­tors," and antifas­cists of all racists receive direct threats as a result of their activism. Antifa often find them­selves on the front line of white suprema­cist ani­mos­i­ty because they inter­act in sim­i­lar sub­cul­tur­al spheres and social spaces.
It is cru­cial for the Left to frame suprema­cist speech as what it is: a threat to his­tor­i­cal­ly mar­gin­al­ized peo­ple who are tar­get­ed for elim­i­na­tion. By under­stand­ing the procla­ma­tions of the ​"alt-right" and oth­er neo-fas­cists in this con­text, one begins to see antifa actions as defen­sive. Antifas­cists are not silenc­ing ​"unpop­u­lar" or ​"abhor­rent" speech: They are chal­leng­ing direct threats in effec­tive ways.
You can't defeat white suprema­cy by ignor­ing it
Mean­while, orga­ni­za­tions like the South­ern Pover­ty Law Cen­ter and celebri­ties like Tina Fey are rec­om­mend­ing that suprema­cist events be ignored because these are designed to draw pub­lic attention.
Yet, the ​"alt-right," neo-Nazis and oth­er white suprema­cists do not hold pub­lic protests as a means of con­vinc­ing a sec­tor of the pub­lic to their point of view: They aim to demon­strate their pow­er and orga­nize. It is no coin­ci­dence that such demon­stra­tions have increased since Trump's cam­paign and elec­tion to the pres­i­den­cy. By flaunt­ing their pub­lic pres­ence, white suprema­cists seek to show that they have entered into the polit­i­cal main­stream and are seek­ing to expand their power.
Antifas­cists have con­sis­tent­ly opposed such mobi­liza­tions in order to chal­lenge any asser­tions of suprema­cists' polit­i­cal pow­er and hin­der the move­ment-build­ing that often occurs at such events. If those who oppose the ​"alt-right" stay home or have an event at a dif­fer­ent loca­tion, the suprema­cists will claim a vic­to­ry and draw sup­port­ers to view the move­ment as suc­cess­ful­ly mobi­liz­ing. Ignor­ing suprema­cist events will demon­strate that fas­cists are capa­ble of tak­ing pub­lic space with­out oppo­si­tion, rein­forc­ing the per­cep­tion that their views are accept­able to the society.
Unit­ing against fascism
If the rise of the far Right in the Trump era is to be suc­cess­ful­ly chal­lenged, it must be done in a broad coali­tion of the Left. In order to be effec­tive, social move­ments must be flex­i­ble in the tac­tics they deploy. Tac­ti­cal choic­es are informed by a num­ber of fac­tors includ­ing cul­ture, his­to­ry, past suc­cess, polit­i­cal cli­mate and strat­e­gy. Soci­ol­o­gist Charles Tilly referred to a ​"reper­toire of con­tention," which is a set of tac­tics that a social move­ment draws from when engag­ing in protest. Antifas­cism is no excep­tion to this, and the most mil­i­tant antifa large­ly sub­scribe to a ​"diver­si­ty of tac­tics" approach that incor­po­rates either non­vi­o­lence or vio­lence — or both — depend­ing on which is most effec­tive in oppos­ing the far Right.
Many par­tic­i­pants in the counter-protests against white suprema­cists and fas­cists in Char­lottesville indi­cat­ed that the diver­si­ty of tac­tics uti­lized against the ​"Unite the Right" ral­ly par­tic­i­pants result­ed in suc­cess despite the trag­ic vio­lence of that day. I spoke with an anar­chist antifa counter-pro­test­er who was present in Char­lottesville, who request­ed anonymi­ty for per­son­al safe­ty rea­sons. ​"Anar­chists and antifas­cists deterred any num­ber of acts of vio­lence which would have tak­en place on Sat­ur­day night," the indi­vid­ual observed.
Spon­ta­neous coor­di­na­tion on the ground between mil­i­tant antifa and non­vi­o­lent pro­test­ers allowed both groups to effec­tive­ly chal­lenge white suprema­cists and dis­rupt their planned protest for the day. Many non­vi­o­lent pro­test­ers and Char­lottesville com­mu­ni­ty mem­bers also acknowl­edged that mil­i­tant antifas­cists served to defend them against planned vio­lence insti­gat­ed by the ​"alt-right."
With far-right protests planned in oth­er cities in the future, tac­ti­cal coor­di­na­tion between pro­test­ers who wish to engage in non­vi­o­lent oppo­si­tion and mil­i­tant antifas­cists may ben­e­fit both groups. Non­vi­o­lent pro­test­ers would be able to rely on mil­i­tants for defense when police pro­tec­tion fails or is nonex­is­tent. And mil­i­tants could ben­e­fit from the legit­i­mat­ing voice of non­vi­o­lent activists with ties to offi­cial­ly rec­og­nized com­mu­ni­ty institutions.
The tac­ti­cal uni­ty nec­es­sary to prop­er­ly oppose white suprema­cist orga­niz­ing requires a step toward move­ment uni­ty on the Left. The Right is in a unique posi­tion of ris­ing polit­i­cal and cul­tur­al dom­i­nance, with Repub­li­cans con­trol­ling all three branch­es of the fed­er­al gov­ern­ment, as well as numer­ous state and local gov­ern­ment. Research indi­cates that the 2016 elec­tion was dri­ven by racial resent­ment. White suprema­cists see this as a cli­mate where their ideas are wel­come by the polit­i­cal estab­lish­ment. It is no won­der that they have ral­lied in loca­tions that have a rep­u­ta­tion as lib­er­al out­posts in a large­ly con­ser­v­a­tive Unit­ed States: These are the last hold­outs against the right­ward shift in the nation's politics.
In such a cli­mate, the Left can­not afford to schism. Lib­er­al smears of antifas­cism divide the Left on an issue that should unite it: oppo­si­tion to the pol­i­tics of racial, gen­der, sex­u­al and oth­er forms of dom­i­na­tion. The tac­ti­cal coor­di­na­tion demon­strat­ed in Char­lottesville can build bridges and facil­i­tate dia­logue between var­i­ous sec­tors of the Left. While there are clear ide­o­log­i­cal and tac­ti­cal dif­fer­ences, this is not the polit­i­cal moment to exac­er­bate them.
Stanislav Vysot­sky
is an Assis­tant Pro­fes­sor of Soci­ol­o­gy and Crim­i­nol­o­gy at the Uni­ver­si­ty of Wis­con­sin-White­wa­ter. Dr. Vysotsky's research focus­es on the con­flict between suprema­cist groups in con­tem­po­rary Amer­i­can soci­ety and their mil­i­tant antifas­cist oppo­si­tion through ethno­graph­ic and inter­view research with antifas­cist activists, in order to under­stand the rela­tion­ship between threat, space, sub­cul­ture, and social move­ment activism.