Fascism in the United States Can't Be Defeated Without a Mass Movement
A broad-front approach means drawing from a range of social movements—all those harmed by the reactionary right.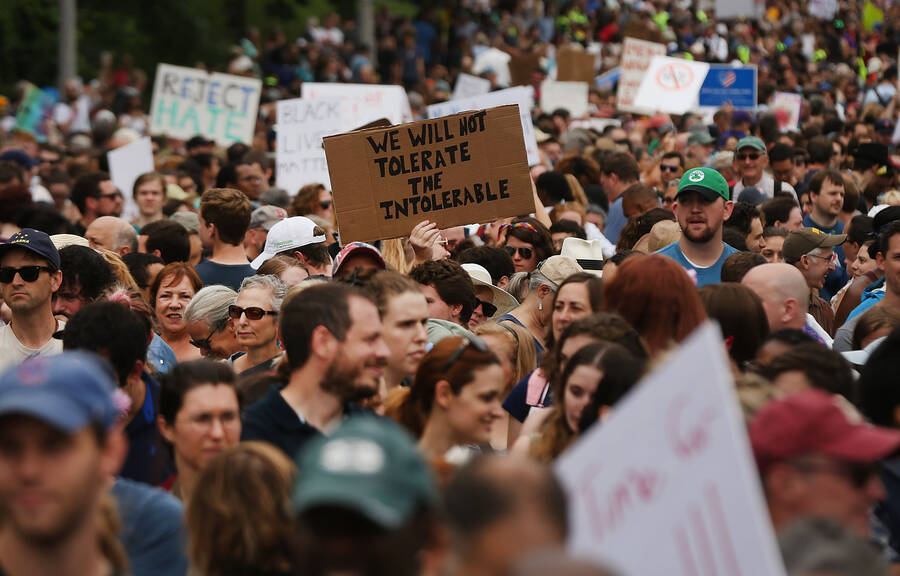 The fol­low­ing is an excerpt from the book Fas­cism Today: What It Is and How to Fight It.
The purpose of antifascism is a complete repudiation of fascism and its removal from the culture.
On the eve of Don­ald Trump's inau­gu­ra­tion, Mike Cer­novich, the ​"MAGA Mind-set" inter­net celebri­ty, and Peter Thiel asso­ciate Jeff Giesea held the much-pub­li­cized Deplora­ball in Wash­ing­ton, D.C. — an event named as a campy throw­back to Hillary Clinton's unfor­tu­nate ​"bas­ket of deplorables" quip about Trump sup­port­ers. The event was con­ceived of as a meet­ing of the ​"trolls," a cel­e­bra­tion of the cul­ture that ​"meme'd [Trump] into the White House." The ball lacked strong ide­ol­o­gy and instead was a cel­e­bra­tion of Twit­ter mes­sage boards, snarky graph­ics, and the abil­i­ty to sway con­ver­sa­tions through a mean-spir­it­ed, tech-savvy per­sis­tence. It was as if some­one had tak­en the cul­ture of the Alt Right and stripped out the hard­line white nation­al­ism, leav­ing only an inter­net cul­ture of ​"anti-PC" web-war­riors who would rather be right than white. Trolling, the abil­i­ty to offend, is their pol­i­tics, and peo­ple like Alt Light lead­ers like Richard Spencer and Nathan Dami­go only side with that behav­ior if it can cre­ate a space for white iden­ti­ty politics.
Cer­novich and Giesa, who had been run­ning the pro-Trump MAGA3X orga­ni­za­tion, had become lead­ers in the Alt Light, the slight­ly more mod­er­ate allies of the Alt Right, with Cer­novich, known for his right-lean­ing online self-help books, bat­tling it out with Richard Spencer over who held the rights to the term ​"Alt Right." While the Alt Right means white nation­al­ism more than any­thing else, the Alt Light took a more ​"Civic Nation­al­ist" approach and would have more in com­mon with the ​"Amer­i­ca First" nativism of Pat Buchanan than open neo-Nazis. The Deplora­ball was sup­posed to be a large Alt Light meet-up and did attract peo­ple like Neo­re­ac­tion-friend­ly tech impre­sario Peter Thiel, but Bre­it­bart antag­o­nist Milo Yiannopou­los and con­spir­a­cy hero Alex Jones were notably absent, and Spencer had been banned out­right in Cernovich's effort to kick out explic­it white nationalists.
Though it attract­ed a cou­ple of hun­dred inside, it was the angry waves of antifas­cist pro­test­ers that com­plete­ly over­shad­owed the event from the out­side. Orga­nized in part by Refuse Fas­cism, which had been orga­niz­ing mass counter-actions in response to the Alt Right and the Trump inau­gu­ra­tion, pro­test­ers dragged trash­cans and news­pa­per dis­pensers into the street to block off the roads and taunt­ed atten­dees. James O'Keefe, the Bre­it­bart-allied sen­sa­tion­al­ist who staged videos to dis­grace ACORN and Planned Par­ent­hood, released videos of the D.C. Anti-Fas­cist Coali­tion who were plan­ning direct actions dur­ing the inau­gu­ra­tion and at the Deplora­ball. While the Alt Right and their coterie were in a peri­od of jubi­lant cel­e­bra­tion, their step for­ward was marked less by suc­cess and more by a wall of opposition.
In The Age of Trump
Two years ear­li­er, no one as obscure as Cer­novich could assem­ble hun­dreds of pro­test­ers, and even Richard Spencer was bare­ly known as recent­ly as 2014. But as the Alt Right entered the pub­lic are­na, more tra­di­tion­al white suprema­cist orga­ni­za­tions got a steroid injec­tion. Trump inflat­ed the racist sub­con­scious of Amer­i­ca, and the urgency of the sit­u­a­tion fer­til­ized the grow­ing resis­tance. As Spencer allud­ed, there is a grow­ing clash between the right and the left, yet those who are build­ing a base against white nation­al­ism are the dom­i­nant fac­tion by far. With antifas­cist orga­ni­za­tions reach­ing num­bers not seen in years, the Alt Right became the cat­a­lyst for left oppo­si­tion. This dialec­tic was a micro­cosm of the polit­i­cal polar­iza­tion in the coun­try as a whole. It was no longer the hard­core ide­o­logues of Antifa orga­ni­za­tions that were con­fronting the fas­cists, but reg­u­lar peo­ple skew­ing to the left, and the con­cept of anti-fas­cism as a polit­i­cal pro­gram went from abstract to con­crete as the threat of fas­cism became tan­gi­ble. While the Alt Right intend­ed to move the con­ver­sa­tion to the right, they moved the left fur­ther left, and their weight pulled the Over­ton win­dow back with them, there­by main­stream­ing antifascism.
What does it mean when a minor­i­ty move­ment, one meant to con­front a mar­gin­al threat, moves from the edges to the main­stream? What hap­pens when white suprema­cists shift from a threat of vig­i­lante vio­lence and rad­i­cal co-opta­tion to nation­al polit­i­cal influ­ence? As the ene­my leaves the gate and the left's num­bers swell, the answer to con­fronting ris­ing fas­cism lies in refram­ing the propo­si­tion of a ​"diver­si­ty of tac­tics" to see the com­plex patch­work that makes up mass move­ments as the coa­les­cence of that diver­si­ty. The con­cept of ​"mass move­ment antifas­cism" implies a strate­gic choice, one that looks at all avail­able options and finds the best pos­si­ble route rather than an ide­o­log­i­cal­ly favored one.
As Trump entered his first week in office he tried to keep his promis­es about Mus­lim immi­gra­tion, work­ing with reac­tionary politi­cians like Rudy Giu­liani to pass an exec­u­tive order halt­ing immi­gra­tion from sev­en pri­mar­i­ly Mus­lim coun­tries. This cre­at­ed pan­de­mo­ni­um in air­ports across the coun­try as refugees were turned away, stu­dents and pro­fes­sion­als were detained with­out access to attor­neys, and LAX and JFK became hold­ing pens for those who sud­den­ly had their visas revoked. This order was met with some of the largest spon­ta­neous protests in recent his­to­ry, with air­ports all over the coun­try over­flow­ing with pro­test­ers. Pub­lic pres­sure, as well as a court order that over­ruled Trump's deci­sion, helped push through inter­na­tion­al trav­el­ers, and showed that Trump's attempts to close the bor­der would not only be opposed, but would also be open­ly defied.
Trump's White House was stacked with all ele­ments of the ​"respectable" far-right. Steve Bannon's ​"Amer­i­can Nation­al­ism" was met by con­tro­ver­sial fig­ure Steven Miller, who had an orga­niz­ing rela­tion­ship with Richard Spencer and anti-immi­grant zealot Peter Brimelow in col­lege and now act­ed as a stal­wart against refugee reset­tle­ment and non-white immi­gra­tion pro­grams across the board. Sebas­t­ian Gor­ka round­ed out the most con­tro­ver­sial slate of appointees in years, even­tu­al­ly being out­ed for his rela­tion­ship to an open­ly fas­cist and anti-Semit­ic Hun­gar­i­an mili­tia, the Hun­gar­i­an Guard, and the ​"chival­rous" Order of Vitéz. After the elec­tion, Vice News pro­duc­er Reid Cher­lin described a 2014 attempt to write a sto­ry about an almost unheard of pub­li­ca­tion called Bre­it­bart and the col­lec­tion of far-right ide­o­logues that pop­u­lat­ed their live­ly town­house par­ty, includ­ing Gor­ka, Ban­non, Jeff Ses­sions, and Milo Yiannopou­los, as well as head of the nation­al­ist U.K. Inde­pen­dence Par­ty Nigel Farage. ​"At the time, if you had said this room was full of the most impor­tant future pol­i­cy thinkers in Amer­i­ca it would have just been so implau­si­ble. Because they were so fringe."
An exec­u­tive order like the trav­el ban may not have inspired such quick and deci­sive action in the pre-Trump era or with­out the specter of advi­sors he was amass­ing, but as the Alt Right grew and America's racism became more explic­it, a cul­ture of resis­tance quick­ly matured. In Trump's Amer­i­ca, there is big­otry and state vio­lence, and there is also a pas­sion­ate move­ment to sup­port the most mar­gin­al­ized, to live up to the phrase ​"Nev­er Again." The mass turn toward antifas­cism comes from a cul­ture ready for resis­tance, a cul­ture ready to bring protest to a scale nec­es­sary when the state is friend­ly to or occu­pied by a fas­cist movement.
A His­to­ry of Resistance
The lessons of the past loom heav­i­ly on the devel­op­ment of a mass antifas­cist move­ment, includ­ing the lin­eage of orga­ni­za­tions, both in the Unit­ed States and inter­na­tion­al­ly, that have been doing this work in var­i­ous capac­i­ties for decades. While antifas­cism has a direct con­ti­nu­ity from before the Sec­ond World War to the present day, mak­ing the streets of Lon­don a caul­dron of con­fronta­tion between the British Union of Fas­cists and 43 Group, Com­bat 18 with Anti-Fas­cist Action. The Unit­ed States also has a unique his­to­ry. There is a ten­den­cy to delin­eate between lib­er­al and mil­i­tant antifas­cism, but we can broad­ly define move­ments by high­light­ing their pur­pose. The pur­pose of antifas­cism is a com­plete repu­di­a­tion of fas­cism and its removal from the cul­ture. The point is not that there is no tac­ti­cal dif­fer­ence, or even that lib­er­al approach­es have often rein­forced the state and under­mined effec­tive chal­lenges to fas­cist growth, but that the bound­aries that are out­lined are fuzzi­er and more eas­i­ly redrawn than we have thought. While direct con­fronta­tion is nev­er off the table, not all orga­niz­ers approach every sit­u­a­tion in that fash­ion. Instead a new antifas­cist ethos may be tak­ing hold, one that sees mul­ti­ple approach­es as valid, as they are all matched by the same moti­vat­ing impulse: fas­cism is to be end­ed, not debated.
What may be dif­fer­ent in this shift to a mass move­ment is the will­ing­ness to put a pub­lic face to antifas­cist orga­niz­ing, to oper­ate in plain sight. Secu­ri­ty has always been para­mount in many areas of antifas­cist orga­niz­ing, which brings ben­e­fits as well as chal­lenges for scal­ing up a movement's size. Achiev­ing mass involve­ment — with par­tic­i­pants of vary­ing com­mit­ment lev­els and skillsets — requires recruit­ment, pub­lic infor­ma­tion, and a cer­tain lev­el of open­ness. How this plays out now will depend on exist­ing orga­ni­za­tions, how they relate to each oth­er, and how pub­lic they can be giv­en the vio­lent revenge often sought by insur­rec­tionary racists. Coali­tion efforts have often pro­vid­ed the answer to this. In coali­tions, var­i­ous groups take up dif­fer­ent com­po­nents of a par­tic­u­lar project or com­mit­tees that can deter­mine exact­ly what degree of pub­lic pro­file are nec­es­sary for the job.
A mass move­ment approach means draw­ing from a range of social move­ments — con­ceiv­ably, all those touched by the reac­tionary right — each with their own polit­i­cal tra­jec­to­ry and his­to­ry of gains and loss­es. The struc­tures of dif­fer­ent resis­tance, from orga­nized labor to the ten­ants' move­ment erupt­ing in America's urban core, pro­vide struc­tur­al lessons for con­fronting the far-right in the halls of pow­er and the creep­ing white nation­al­ism all around. The rev­o­lu­tion­ary white nation­al­ist cur­rent, led by the Alt Right, has begun cre­at­ing strong insti­tu­tions from media out­lets to region­al cadre orga­ni­za­tions bent on see­ing mate­r­i­al gains through wedge issues. This shift cre­ates the oppor­tu­ni­ty to bor­row from the strate­gies that the left has used over a long his­to­ry of struggle.
The cur­rent, more pub­lic nature of the white nation­al­ist move­ment means that for­mal­ized cam­paigns against them can grow, and they can have a lay­er of orga­niz­ers and an out­side ring of sup­port­ers who rely on pub­lic com­mu­ni­ca­tion. This allows for a range of tac­tics includ­ing esca­la­tion cam­paigns, boy­cotts, mass mobi­liza­tions, build­ing occu­pa­tions, and so on. ​"Com­mu­ni­ty orga­niz­ing" is stripped down to its bare essen­tials and reframed to tar­get fas­cist threats. The tac­tics of com­mu­ni­ty union­ism, hail­ing from the ear­ly syn­di­cates of the shop floor and brought into the neigh­bor­hoods through ten­ant resis­tance, pro­vides a range of solu­tions, such as defend­ing both against white suprema­cist vio­lence as well as pro­tect­ing undoc­u­ment­ed peo­ple against the impend­ing ICE raids of Trump's fan­tasies. The mod­el here is less to repli­cate the blue­print of suc­cess­ful antifas­cist move­ments of the past than to use the entire toolk­it of rev­o­lu­tion­ary orga­niz­ing. Dur­ing the civ­il rights move­ment that resist­ed Jim Crow from the 1950s to the ​'70s, the bat­tle against both the insur­rec­tionary advances of the Klan and the embed­ded white suprema­cy of the apartheid state ran par­al­lel, and the suc­cess­es depend­ed on the abil­i­ty to expand involve­ment while adopt­ing tac­tics and strate­gies that worked in each par­tic­u­lar venue.
Any suc­cess­ful social move­ment allows for diver­si­ty in roles, match­ing the dif­fer­ent per­son­al­i­ties, inter­ests, and skills of the actors, cre­at­ing a patch­work that reflects the con­stituents as much as the goals. Move­ments devel­op­ing today that seek to stop the growth of the far-right are mov­ing toward an inclu­sion­ary frame­work that makes mass move­ments work: they have dif­fer­ent tasks for dif­fer­ent peo­ple. How this is struc­tured prag­mat­i­cal­ly can and should depend on the peo­ple involved, how they work best, and what the unique sit­u­a­tion is of a giv­en area. For peo­ple form­ing new groups, a broad-based com­mu­ni­ty strat­e­gy requires exter­nal com­mu­ni­ca­tion, edu­ca­tion­al and com­mu­ni­ty-build­ing events, cam­paign plan­ning, pub­lic actions, research and infor­ma­tion dis­sem­i­na­tion, and all the oth­er com­po­nent parts. Many antifas­cist orga­ni­za­tions pre­vi­ous­ly ran on tight, infor­ma­tion-restrict­ed for­mu­las, yet this could lim­it their abil­i­ty to expand beyond a close-knit cadre of com­mit­ted orga­niz­ers, and would also pre­clude most peo­ple from par­tic­i­pat­ing. What move­ments in this new cli­mate will grap­ple with is how to best make use of every inter­est­ed per­son in rela­tion to the larg­er orga­niz­ing goals, which means that a ful­ly real­ized antifas­cist move­ment will have dif­fer­ent types of cam­paigns, mul­ti­ple approach­es, and a com­plex web of sup­port sys­tems. The chal­lenge will be to make these facets work with one anoth­er rather than cre­at­ing conflicts.
Shane Bur­ley
is a writer and film­mak­er based in Port­land, Ore­gon. He is the author of Fas­cism Today: What It IS and How to End It (AK Press). His work has appeared in Jacobin, Alter­net, Polit­i­cal Research Asso­ciates, Wag­ing Non­vi­o­lence, Labor Notes, ThinkProgress, ROAR Mag­a­zine and Upping the Anti. Fol­low him on Twit­ter: @shane_burley
1
.