Fast Food Strikes Hit a Record 58 Cities, As Campaign's Tactics Are Debated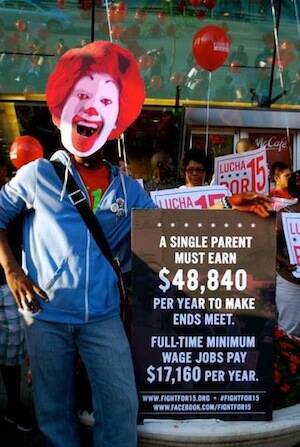 Fast food strikes reached record num­bers yes­ter­day, with orga­niz­ers esti­mat­ing that some 1,000 stores and restau­rants in 58 cities were affect­ed by work­ers walk­ing off the job.
In addi­tion to grow­ing in cities that have seen numer­ous strikes in the past, like New York City, Chica­go and Detroit, the strikes entered into pre­vi­ous­ly unchart­ed ter­ri­to­ry, includ­ing Raleigh, N.C., Wilm­ing­ton, Del., Mis­soula, Mont. and dozens of oth­er cities.
​"I'm strug­gling," said CVS work­er Ter­rance Aran­da, who was pick­et­ing out­side his store in down­town Chica­go Thurs­day morn­ing. ​"I got two kids, go to school AND I work. I'm strug­gling. … I got no food in my crib right now."
For Chica­go strik­ers, many of whom have walked off the job three times this year, con­fronting man­age­ment and inform­ing them of the deci­sion to strike is less nerve-wrack­ing than it once was.
Strik­ers strode up to a man­ag­er at a down­town Wal­greens and, with­out so much as blink­ing, deliv­ered a let­ter explain­ing they were walk­ing off the job; at a Bed, Bath and Beyond in the Loop, work­ers strode around the store encour­ag­ing cowork­ers to strike with them, seem­ing­ly uncon­cerned about what the watch­ing man­ag­er thought.
Strik­ing McDonald's work­ers were joined yes­ter­day morn­ing by U.S. Rep. Jan Schakowsky (D‑Ill.), who marched into a down­town McDonald's accom­pa­nied by strik­ers and the Ham­bur­glar. Lat­er, at a ral­ly with work­ers and sup­port­ers, Schakowsky said, ​"When you win this fight, for $15 and a union, Amer­i­ca will win, too."
A sea change…
Since the first such strike in New York City last year, the expan­sion of low-wage jobs and the accom­pa­ny­ing decline of well-pay­ing union jobs have become a big top­ic in the media and on the street.
Major news­pa­pers and sta­tions are dis­cussing the ero­sion of liv­ing-wage work, while the usu­al sus­pects like Neil Cavu­to of Fox News and the opin­ion pages of the Wall Street Jour­nal trot out business's talk­ing point that work­ers should glad to be employed. (Cavuto's piece includes the line, ​"Did I ever tell you when I was a kid, you were grate­ful for any job you could find?") Like Occu­py Wall Street two years ago, these strikes have spot­light­ed the ram­pant inequal­i­ty so char­ac­ter­is­tic of the 21st cen­tu­ry Amer­i­can econ­o­my. And unions have become cen­tral to that con­ver­sa­tion in a way that has not been seen in years.
The strikes also seem to have legit­i­mat­ed walk­ing off the job as a tac­tic for work­ers, even those with­out a union (a pos­si­bil­i­ty I dis­cussed for Dis­sent ear­li­er this year). On Mon­day, Green Fleet Sys­tem port truck­ers also walked off the job for 24 hours in Los Ange­les in an unfair labor prac­tice strike. Unlike fast food work­ers, these truck­ers are seek­ing union recog­ni­tion in the imme­di­ate future, and they struck in response to alleged union-bust­ing by man­age­ment. But the tac­tic does appear inspired by fast food strik­ers and could be used by oth­er work­ers to take the offense in future union drives.
In addi­tion, some fast food and retail work­ers have won tan­gi­ble gains as a result of their strikes. Andrew Lit­tle has worked in the stock room at a Victoria's Secret on Chicago's Mag­nif­i­cent Mile for two years. After he struck ear­li­er this year, he was imme­di­ate­ly giv­en a $2.26 raise by store management.
Lit­tle is sure the two are con­nect­ed. ​"We won that through strik­ing," he says.
Sim­i­lar­ly, accord­ing to strik­er and Chica­go Whole Foods work­er Trish Kahle, work­ers sev­er­al Whole Foods stores received rais­es after strik­ing, and man­age­ment has backed off on the points-based atten­dance sys­tem long opposed by work­ers. And after work­ers at a Man­hat­tan McDonald's and a Chica­go Dunkin' Donuts spon­ta­neous­ly struck last month, they received air con­di­tion­ing in their stores.
…or a PR campaign?
But as fast food and retail work­ers have con­tin­ued to strike, some aspects of the cam­paign, which is backed by the Ser­vice Employ­ees Inter­na­tion­al Union (SEIU), have been crit­i­cized. Writ­ing for Vice after the last round of fast food strikes a month ago, Jar­rod Shana­han accused the cam­paign of being more of a PR move than a true orga­niz­ing drive:
The prob­lem is, a suc­cess­ful union dri­ve comes from the work­ers them­selves. And there is a gigan­tic dif­fer­ence between a union dri­ve and a pub­lic rela­tions cam­paign, which is what FFF is cor­ralling these brave work­ers into.

In a union dri­ve, the boss­es should­n't find out that it's going on, or who is orga­niz­ing it, until every­one in the shop has their back. That way if there is a move to fire them, every­one strikes. By con­trast, Gre­go­ry Rey­onoso, a spokesman for Fast Food For­ward, was fired from his Brook­lyn Domi­no's for being involved. A nat­ur­al orga­niz­er, Rey­onoso is now so famous that its very unlike­ly he'll be any­where near a kitchen again any time soon. And this is where these union dri­ves need to hap­pen if they are to be suc­cess­ful, not in a press con­fer­ence. It could be argued that it will only be through pub­lic­i­ty that a union cam­paign ever suc­ceeds in fast food, but the SEIU and NYCC is not telling work­ers that they're engag­ing in a PR exercise.
This dis­missal doesn't take into account the real gains work­ers have won as a result of strik­ing. But it may par­tial­ly reflect high­er-ups' atti­tudes. In an inter­view with In These Times con­trib­u­tor Josh Eidel­son for Salon ear­li­er this month, SEIU assis­tant to the pres­i­dent Scott Court­ney said, ​"The sto­ry is lever­age in and of itself," before quick­ly not­ing that work­er action, too, is lever­age. His ini­tial state­ment could be seen as a tac­it admis­sion that the campaign's per­cep­tion of its pow­er lies large­ly in its abil­i­ty to dri­ve a media nar­ra­tive about low-wage work, rather than direct­ly build­ing work­er pow­er on the job.
SEIU Pres­i­dent Mary Kay Hen­ry also told Eidel­son that in con­trast to most union efforts, the goal of the cam­paign is ​"more about, ​'How do we shift things in the entire low-wage econ­o­my?' " It's clear that, as with the SEIU's Fight for a Fair Econ­o­my cam­paign around the time of Occu­py Wall Street, the union sees a shift in the soci­ety-wide nar­ra­tive around low-wage work as a cen­tral cam­paign goal — not, as with most union cam­paigns, orga­niz­ing work­ers and devel­op­ing their capac­i­ty to fight for a strong con­tract over the long-term.
Indeed, based on a report from an anony­mous source who was present at an SEIU meet­ing with allies (and with con­fir­ma­tion from Court­ney and Hen­ry), Eidel­son report­ed that inter­nal dis­cus­sion around the campaign's endgame has focused on two scenarios:
First, esca­lat­ing pres­sure on fast food cor­po­ra­tions — McDonald's, Burg­er King and Wendy's, in par­tic­u­lar — with the goal of reach­ing a joint agree­ment under which the cor­po­ra­tions would cov­er the costs of improved labor stan­dards in their stores. And sec­ond, a leg­isla­tive push for local liv­ing wage laws requir­ing improved com­pen­sa­tion for fast food work­ers. Because most cities lack the legal author­i­ty to man­date high­er wages for jobs that aren't pub­licly sub­si­dized, that push would involve statewide bal­lot mea­sures in 2014 to allow cities to hike pri­vate sec­tor work­ers' wages.
SEIU's past deals with cor­po­ra­tions in indus­tries like health­care, par­tic­u­lar­ly preva­lent under for­mer pres­i­dent Andy Stern, have been crit­i­cized by some in the labor move­ment, such as In These Times con­trib­u­tor Steve Ear­ly and for­mer SEIU staffer Jane McAlevey. In recent books, both crit­ics have accused the union of being too cozy with cor­po­ra­tions and too will­ing to nego­ti­ate deals favor­able to com­pa­nies out of a desire to grow union mem­ber­ship. In 2007, for exam­ple, lead­er­ship of SEIU Local 775NW in Seat­tle nego­ti­at­ed a secret deal with nurs­ing home man­age­ment over orga­niz­ing cer­tain nurs­ing homes while leav­ing oth­ers nonunion. The Seat­tle Times report­ed that the deal includ­ed con­ces­sions to man­age­ment, ​"As part of the 10-year agree­ment, SEIU Local 775 promis­es no strikes and agrees to let the nurs­ing-home oper­a­tors — not the union or work­ers — decide which homes are offered up for orga­niz­ing. The union also agreed not to try orga­niz­ing more than half of a par­tic­u­lar company's nonunion homes."
In the case of fast food work­ers, how­ev­er, such a deal with com­pa­nies might be the most direct way to effect indus­try-wide change. Fast food restau­rants are most­ly owned by fran­chisees, whose ties to the par­ent cor­po­ra­tions could be sev­ered if work­ers take the step of vot­ing in a union — leav­ing com­pa­ny deals or city-lev­el leg­is­la­tion as per­haps work­ers' best hopes.
Low-wage rage
At this point, how­ev­er, as Hen­ry and Court­ney make clear, any talk of deals with fast food com­pa­nies is pure spec­u­la­tion. And Ruth Milk­man, pro­fes­sor of soci­ol­o­gy and direc­tor of the Mur­phy Labor Insti­tute at the City Uni­ver­si­ty of New York, says the strong media-focused ele­ment of the cam­paign should not dis­count the gains work­ers can make — nor the sim­ple but cru­cial fact that low-wage work­ers are stand­ing up.
​"While there is cer­tain­ly a PR ele­ment to this cam­paign, it is more than that," Milk­man says. ​"Union­iza­tion remains a dis­tant goal, but there is the prospect of con­crete improve­ment in the pay and con­di­tions of the fast food work­force. And build­ing momen­tum in the form of grow­ing sup­port from both fast food work­ers them­selves and the wider pub­lic can only help with that effort."
And as any­one who attends these strikes and speaks with a strik­er can attest, the Fight for 15 cam­paign has tapped into a seething anger among low-wage work­ers over their pre­car­i­ous posi­tion in Amer­i­can society.
​"You come down from that office and work on the floor with me," Andrew Lit­tle screamed through a bull­horn point­ed direct­ly into his work­place at Victoria's Secret, direct­ing his state­ment to management.
Ref­er­enc­ing a near­by win­dow dis­play he said he set up read­ing ​"Life is Fab­u­lous," he yelled, ​"Life isn't fab­u­lous for me!"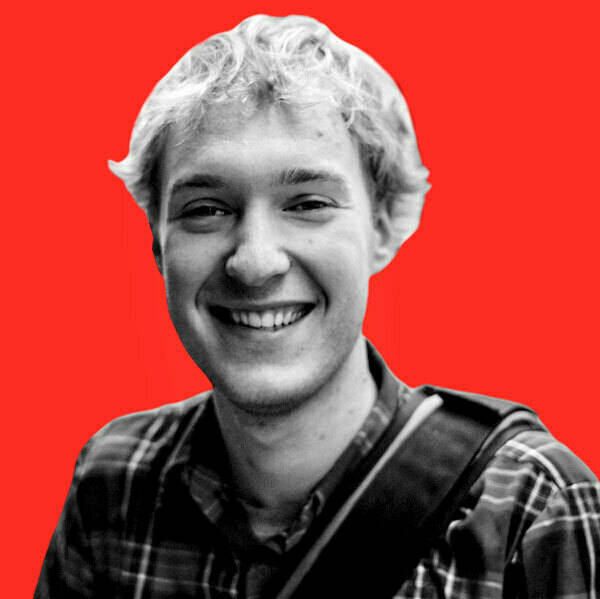 Mic­ah Uet­richt is the deputy edi­tor of Jacobin mag­a­zine and host of its pod­cast The Vast Major­i­ty. He is a con­tribut­ing edi­tor and for­mer asso­ciate edi­tor at In These Times. He is the author of Strike for Amer­i­ca: Chica­go Teach­ers Against Aus­ter­i­ty (Ver­so 2014), coau­thor of Big­ger Than Bernie: How We Go From the Sanders Cam­paign to Demo­c­ra­t­ic Social­ism (Ver­so 2020), and is cur­rent­ly at work on a book on New Left­ists who ​"indus­tri­al­ized." He pre­vi­ous­ly worked as a labor orga­niz­er. Fol­low him on Twit­ter at @micahuetricht.