Do We Need a Federal Jobs Guarantee? A Debate.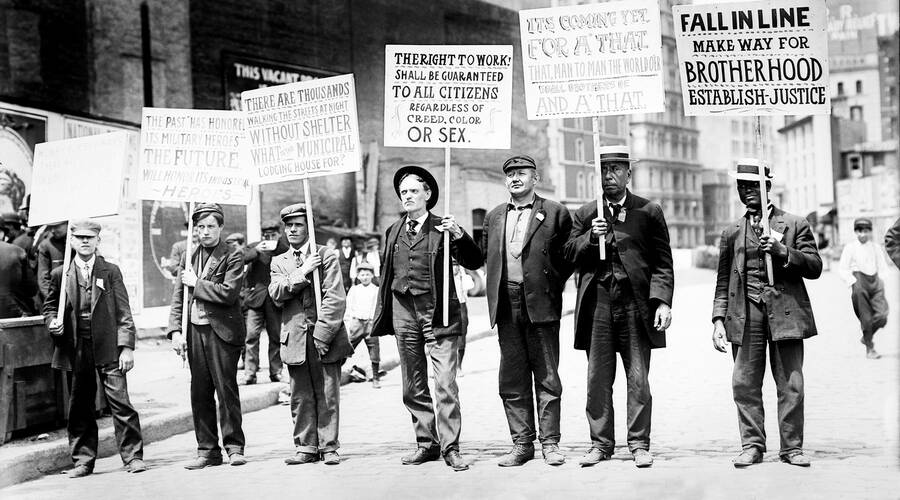 Most work­ers work too much and too hard, only to ben­e­fit the idle rich. Thus, we sup­port reduc­ing both work­ing hours and capital's share of wealth. Yet evi­dence sug­gests exclu­sion from work caus­es prob­lems beyond the absence of income, includ­ing high­er mor­tal­i­ty and sui­cide rates, social iso­la­tion and a per­ma­nent decline in well-being.
To address these evils, we echo Mar­tin Luther King Jr.'s call for ​"a job to all … who want to … and are able to work," and ​"an income for [those] not able to work." Specif­i­cal­ly, we sup­port a fed­er­al­ly fund­ed, local­ly dri­ven job guar­an­tee (JG), which, like pro­grams envi­sioned by Sen. Bernie Sanders (I‑Vt.) and econ­o­mists at the Levy Eco­nom­ics Insti­tute and the Cen­ter on Bud­get and Pol­i­cy Pri­or­i­ties, com­mits the fed­er­al gov­ern­ment to guar­an­tee a liv­ing wage job with good ben­e­fits, includ­ing health­care, to any­one who wants or needs one.
Among oth­er ben­e­fits, a JG cre­ates a space for work focused on dig­ni­ty, self-actu­al­iza­tion and pub­lic pur­pose, divorced from con­cerns of prof­i­teers. There is no short­age of mean­ing­ful labor, from infra­struc­ture repair to care work to artis­tic revi­tal­iza­tion. Com­bat­ing cli­mate change alone requires mas­sive pub­lic mobi­liza­tion to trans­form ener­gy and food pro­duc­tion, restore ecosys­tems, and defend front­line communities.
Although post-work utopi­ans claim robots are ren­der­ing human labor obso­lete, the data pro­vide no such evi­dence. As the Cen­ter for Eco­nom­ic and Pol­i­cy Research notes, pro­duc­tiv­i­ty growth declined between 2006 and 2015, rel­a­tive to the decade before.
With no robot-top­ia in sight, peo­ple must work. A JG recon­fig­ures labor mar­kets in favor of work­ers. As econ­o­mist Michal Kalec­ki argued, end­ing the threat of unem­ploy­ment grows the ​
"
self-assur­ance and class-con­scious­ness of the work­ing class."
Addi­tion­al­ly, as Pauli Mur­ray and oth­er civ­il rights lead­ers argued, true full employ­ment helps ensure fair employ­ment. Work­ers trapped in low-wage sec­tors (dis­pro­por­tion­ate­ly work­ers of col­or) can take JG jobs instead. Work­ers tired of employ­ers pro­mot­ing war, incar­cer­a­tion, extrac­tion and depor­ta­tion can do the same. Mean­while, work­ers remain­ing in the pri­vate sec­tor ben­e­fit from height­ened com­pe­ti­tion among employ­ers to fill openings.
A JG can also address oth­er struc­tur­al inequal­i­ties with­in the labor sys­tem. Cur­rent­ly, women per­form the major­i­ty of care work with­out for­mal remu­ner­a­tion. A JG pro­gram could assist child- and elder-care pro­fes­sion­als, mov­ing famil­ial bur­dens off the backs of women and into the pub­lic sphere, and for­mal­iz­ing and val­oriz­ing exist­ing care work.
We do not think cen­tral bankers, cur­rent­ly tasked with steer­ing the macro­econ­o­my, are inter­est­ed in, nor capa­ble of, tru­ly achiev­ing full employ­ment. Fur­ther­more, we con­sid­er tra­di­tion­al stim­u­lus and labor mar­ket pro­grams slop­py and inad­e­quate. By estab­lish­ing a legal right to work, a JG shifts respon­si­bil­i­ty for unem­ploy­ment from indi­vid­u­als to the government.
The strug­gles for pub­lic edu­ca­tion and hous­ing are illus­tra­tive: Com­mu­ni­ties that sup­port these goals do not sim­ply try to ear­mark funds, build infra­struc­ture and hire staff; they com­mit to meet­ing the needs of any eli­gi­ble individual.
Recog­ni­tion of a legal right to work is nec­es­sary, but, of course, insuf­fi­cient. Suc­cess­ful rights enforce­ment requires admin­is­tra­tive sup­port from courts and agen­cies, fis­cal sup­port from Con­gress, and polit­i­cal sup­port from the public.
Crit­ics con­test, first, that jobs suit­able for the unem­ployed are nec­es­sar­i­ly ​"make-work." But the Sun­rise Move­ment, ​"an army of young peo­ple" sup­port­ing a cli­mate-ori­ent­ed JG, argues that many crit­i­cal, long-term green jobs do not require pri­or train­ing or skills.
Sec­ond, crit­ics claim that cer­tain work, like con­struc­tion, can't employ ​"unskilled" labor. But the Works Progress Admin­is­tra­tion did exact­ly that, and we still use those build­ings today.
Third, crit­ics equate a JG with bloat­ed bureau­cra­cy. But we can eas­i­ly inte­grate JG jobs into exist­ing non­prof­it and gov­ern­ment infrastructure.
Fourth, crit­ics claim a JG is sus­cep­ti­ble to fraud and abuse. But that's true of all pub­lic pro­grams, includ­ing those, like Social Secu­ri­ty, that entail ​"sim­ply" cut­ting checks. This doesn't mean we should give up on them.
Final­ly, crit­ics claim a JG is puni­tive work­fare by anoth­er name. But we sim­ply argue for basic sol­i­dar­i­ty. We expect those who can work to do so — accord­ing to their abil­i­ties, in an equi­table fash­ion, to meet everyone's needs.
Eco­nom­ic jus­tice demands more than cash trans­fers. We must rec­og­nize each oth­er as irre­ducibly social beings, embed­ded in a com­plex glob­al sys­tem as both con­sumers and workers.
A REBUT­TAL
BY MATT BRUENIG
What exact­ly is a job guar­an­tee pro­gram, accord­ing to Raúl and Rohan? We only get the briefest of hints in a sin­gle sen­tence: ​"We sup­port a fed­er­al­ly fund­ed, local­ly dri­ven job guar­an­tee (JG), which, like pro­grams envi­sioned by Sen. Bernie Sanders (I‑Vt.) and econ­o­mists at the Levy Eco­nom­ics Insti­tute and the Cen­ter on Bud­get and Pol­i­cy Pri­or­i­ties, com­mits the fed­er­al gov­ern­ment to guar­an­tee a liv­ing wage job with good ben­e­fits, includ­ing health­care, to any­one who wants or needs one."
In addi­tion to its vague­ness, the sen­tence is at odds with itself. The very nascent Sanders plan mere­ly cre­ates a process that local gov­ern­ments can use to get fed­er­al fund­ing for local projects. This may or may not be a good idea, but, since it relies on local­i­ties' dis­cre­tion, it can't pos­si­bly pro­vide a job for every Amer­i­can ​"who wants or needs" one.
The JG pro­gram that the Levy Insti­tute and oth­er lead­ing aca­d­e­mics have been propos­ing for decades sets the fed­er­al gov­ern­ment up as an employ­er of last resort. The gov­ern­ment would fund tem­po­rary, min­i­mum-wage jobs — described by Hyman Min­sky, the god­fa­ther of JG, as ​"make-work" — for those who are present­ly unem­ploy­able in ordi­nary pub­lic and pri­vate sec­tor work. The advo­cates of this view, includ­ing Ran­dall Wray, Stephanie Kel­ton and Pavli­na Tch­erne­va, have said these char­ac­ter­is­tics are essen­tial if the pro­gram is to avoid cre­at­ing unsus­tain­able infla­tion­ary spirals.
The basic prob­lem with the aca­d­e­mics' pro­pos­al is that the make-work jobs will not pro­vide mean­ing­ful ben­e­fits to soci­ety. A JG pro­gram could not pro­vide child care and elder care because those jobs need to be done on a per­ma­nent basis, not mere­ly when the econ­o­my is in reces­sion and many peo­ple are out of work.
A JG pro­gram could not build infra­struc­ture because con­struc­tion requires high­ly skilled work­ers who make more than the min­i­mum wage. A JG pro­gram could not do cli­mate-change work because build­ing sea walls, installing solar pan­els and just about any­thing else on this front requires skilled work­ers who will not work for min­i­mum wage.
If you think it is bet­ter to have unem­ployed peo­ple pick up trash and rake leaves rather than receive an unem­ploy­ment check while they search for a job, then a JG could make sense. Oth­er­wise, you should oppose it, as I do.
Rohan Grey is a doc­tor­al can­di­date at Cor­nell Law School.Raúl Car­il­lo is an attor­ney fight­ing for eco­nom­ic jus­tice in New York City.Both are direc­tors of the Nation­al Jobs for All Coali­tion and the Mod­ern Mon­ey Network.