Feminism…What's Next?
Sady Doyle and Susan J. Douglas discuss the future with Katha Pollitt, Erin Matson and Jennifer Pozner.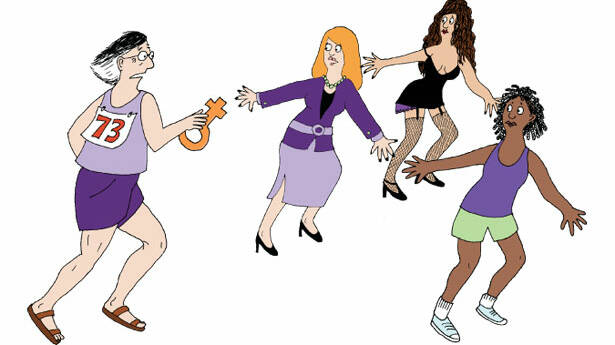 As the right-wing anti-fem­i­nist back­lash esca­lates, and the bat­tle over women's votes in the upcom­ing elec­tion inten­si­fies, it's time to explore the state of fem­i­nism: where it is, where it's going and what it means. And because inter­gen­er­a­tional stereo­types (and dif­fer­ences) have led to mis­un­der­stand­ings between sec­ond- and third-wave fem­i­nists, In These Times orga­nized a dia­logue — too rare these days — between two fem­i­nists three decades apart in age: Susan J. Dou­glas, 62, ITT colum­nist and author of, most recent­ly, Enlight­ened Sex­ism: The Seduc­tive Mes­sage That Feminism's Work is Done, and Sady Doyle, 30, an ITT staff writer and founder of the anti-sex­ist blog Tiger Beat­down. Then we invit­ed mem­bers of the Women, Action & the Media List­serv to respond to the discussion.
"My generation needs to remind younger women that while challenging patriarchy is hard and often dispiriting work, speaking truth to power is, in fact, fun."
In the past year, Repub­li­cans have launched a major assault on women's health and repro­duc­tive rights, demo­nized Planned Par­ent­hood and just recent­ly blocked the Pay­check Fair­ness Act in the Sen­ate; mean­while, right-wing provo­ca­teur Rush Lim­baugh referred to a law stu­dent as a ​"slut" for sup­port­ing access to con­tra­cep­tives. Yet the Repub­li­cans have been slammed for mount­ing a ​"War on Women," Susan G. Komen for the Cure faced a PR dis­as­ter when it pro­posed sev­er­ing its rela­tion­ship with Planned Par­ent­hood, and Limbaugh's remarks ignit­ed out­rage. What does all this say about the state of fem­i­nism today?
SADY: The first thing to note is that we're hear­ing about it — and almost instan­ta­neous­ly, at that. The right-wing play against issues tra­di­tion­al­ly marked as ​"women's" — such as repro­duc­tive health­care access, choice, domes­tic vio­lence and equal pay — has back­fired in a spec­tac­u­lar way. And as plen­ty of peo­ple have not­ed, that's due in large part to the huge groundswell of online fem­i­nist writ­ing and activism. And not even just ​"fem­i­nist," real­ly. Peo­ple are writ­ing about all sorts of lived oppres­sions, and the issues that mat­ter to undo­ing oppres­sion, and plen­ty of them don't iden­ti­fy with ​"fem­i­nist" as a label.
SUSAN: The media have stereo­typed fem­i­nists — espe­cial­ly sec­ond-wavers — as stri­dent, humor­less, man-hat­ing nin­jas who are now irrel­e­vant, espe­cial­ly to younger women. But if you trav­el around the coun­try to col­lege cam­pus­es, women's groups and women's resource cen­ters, you'll see that under the radar — rarely noticed by the media — women are work­ing against domes­tic vio­lence, for women's repro­duc­tive rights, against sex­ism in the media, for mar­riage equi­ty and a host of oth­er issues. And this includes young women. Fem­i­nism may not be out in the streets like it was in the ​'70s and ear­ly ​'90s, but it is hard­ly dead.
There can be, and are, dif­fer­ences and ten­sions between old­er and younger fem­i­nists, com­mon­ly referred to as sec­ond- and third-wave fem­i­nists. What do you think are the most unfair stereo­types about your generations?
SADY: Young fem­i­nists are sup­pos­ed­ly lazy and enti­tled, just like the rest of the mil­lenials. That we're slut­ty, or friv­o­lous, or that we lack the intel­lec­tu­al seri­ous­ness of our fore­bears. I sup­pose the stereo­typ­i­cal younger fem­i­nist is hang­ing out drunk in a bar on Main Street, typ­ing out a blog post on her iPhone about why no one at work takes her seriously.
SUSAN: That the women's move­ment of the ​'70s was pri­mar­i­ly by and for priv­i­leged white women, that we hate men, that all we want to do is scold younger women, that we are all now anti-sex.
But women of col­or, poor women and many les­bians felt that their issues and con­cerns were not addressed, or were even shunned, by the women's move­ment. And you and var­i­ous oth­er fem­i­nists have decried the sex­u­al­iza­tion of women.
SUSAN: Many white women failed to appre­ci­ate how women of col­or were oppressed by racism and sex­ism, and their inter­sec­tions, and that to choose fem­i­nism could mean being pit­ted against their men, who were also held down by racism. The media and the cul­ture were total­ly homo­pho­bic back in the ear­ly ​'70s, and mod­er­ate fem­i­nists like Bet­ty Friedan were ter­ri­fied that charges of les­bian­ism would under­mine their efforts. But also the media in the ​'70s ignored fem­i­nists of col­or except for Shirley Chisholm and Flo Kennedy, so their work and their pres­ence were erased from our nation­al memory.
SADY: The ques­tion of a fem­i­nism that only focus­es on the life of a spe­cif­ic sort of woman did not end with the sec­ond wave. There are still plen­ty of peo­ple who call them­selves fem­i­nists but who are open­ly dis­dain­ful and big­ot­ed toward trans­gen­der peo­ple. There are still plen­ty of white fem­i­nists who don't respect the com­plex­i­ties of race. Peo­ple with dis­abil­i­ties have been high­ly crit­i­cal of main­stream fem­i­nism for not hon­or­ing their expe­ri­ences. Just so I don't sound too self-right­eous, I haven't learned to think about these things because I'm per­fect; I've learned to think about them because I've been slapped back when I screwed up.
What about the anti-sex charge?
SUSAN: Who do you think made the sex­u­al rev­o­lu­tion hap­pen? Many of us had access to birth con­trol by the ear­ly ​'70s, we weren't con­front­ed by the lethal STDs cir­cu­lat­ing today, and mil­lions of us were quite eager to dri­ve a stake in the heart of the dou­ble stan­dard. So anti-sex is the last thing we were — or are. What I and many fem­i­nists of my era are con­cerned about is the cor­po­rate con­struc­tion of a very nar­row def­i­n­i­tion of female sex­u­al­i­ty, the com­mer­cial exploita­tion of young women's desires for sex­u­al agency and equi­ty, the sex­u­al­iza­tion of girls at ever-younger ages, and the media's insis­tence that pre­sent­ing your­self as a sex object is some­how a pow­er move.
How should young women respond to the mes­sage that being desir­able, or ​"hot," is empowering?
SADY: I don't think that's real­ly the mes­sage they're get­ting. There are two things being con­flat­ed here. First, com­pul­so­ry ​"hot­ness," and the idea that a woman must always look sexy in order to be social­ly accept­able — but not too sexy, or she'll be told that no one could ever take her seri­ous­ly or that she's invit­ed harm onto her­self. Sec­ond, the third-wave mes­sage that hon­or­ing your own desire or feel­ing good about your­self phys­i­cal­ly is a good thing. The first mes­sage says that you have to look like some­one else's ver­sion of hot in order to exist; the sec­ond mes­sage says that it's okay for you to want to feel hot, to want to feel desired, and to feel desire. One can be con­flat­ed into the oth­er for the pur­pos­es of mar­ket­ing — ​"empow­er­ment" can always be turned into anoth­er mar­ket­ing mes­sage. Just look at Vir­ginia Slims, after all. But it's impor­tant that we, as fem­i­nists, don't assume they're one and the same.
SUSAN: And the cor­po­rate media relent­less­ly repack­age and sell this mes­sage back to young women as a man­date to always be hot and that the only way to be hot is to wear an Ipex bra and plat­form stilet­tos. The third wave's rad­i­cal stance here has been quite effec­tive­ly co-opted.
What about the Slut­Walk ral­lies, sparked in 2011 as a reac­tion against a Cana­di­an police officer's remark that ​"women should avoid dress­ing like sluts" so as not to be victimized?
SUSAN: While I am in com­plete sym­pa­thy with the state­ment these march­es seek to embody, I don't think they're very pro­duc­tive. They invite the same sort of ogling and objec­ti­fi­ca­tion they seek to call out, and that empha­sizes that women will — and pos­si­bly should — get the most atten­tion when they are scant­i­ly clad.
SADY: Oh, dear! I think this is part of the resent­ment some younger women have toward fem­i­nism: They think it exists pri­mar­i­ly as a mech­a­nism of judg­ment. The naked bosoms and pole-danc­ing were the least of my wor­ries. Far more impor­tant were the ques­tions raised by women of col­or about how the march failed to address their con­cerns or his­to­ry as it relat­ed to sex­u­al assault. The ques­tion of fail­ure and priv­i­lege is not con­fined to the sec­ond wave. Slut­Walk was so big, and so rapid­ly suc­cess­ful, that it seemed at times to stand in for ​"young fem­i­nism" itself. But it also became a lens through which to see the prob­lems that exist with­in young feminism.
SUSAN: Are the Slut­Walk ral­lies effec­tive con­scious­ness-rais­ing events? I'm not con­vinced, in part because of how the media have focused on the women in lin­gerie, and not on the con­cerns of women of col­or or the oth­er indig­ni­ties and vio­lence the walks seek to address.
As far as being one of those old­er fem­i­nists who is over­ly judg­men­tal about what young women wear — I am con­flict­ed. Sex­u­al agency was cru­cial to the rise of sec­ond-wave fem­i­nism. So how can some­one like me chas­tise young women who come into my class, as they do, in plung­ing neck­lines and mini-skirts? I see them hav­ing to devote so much time and ener­gy to sex­u­al dis­play in a way guys sim­ply don't, and I still see them harassed, used, blamed and pun­ished for dress­ing provoca­tive­ly. This high­ly patri­ar­chal and con­formist def­i­n­i­tion of fem­i­nin­i­ty is every­where. So is it so wrong to wish that young women would col­lec­tive­ly raise a giant mid­dle fin­ger to all this? How do we get out of this conundrum?
SADY: I count­ed lots of peo­ple at Slut­Walk sub­vert­ing beau­ty norms. Trans peo­ple were out there; peo­ple whose bod­ies don't fit the main­stream beau­ty stan­dard or def­i­n­i­tions of fem­i­nin­i­ty were out there. Some­times, reclaim­ing your own body as beau­ti­ful — which is some­thing that's denied to many mar­gin­al­ized peo­ple — can include wear­ing those skimpy clothes, as a way of reject­ing shame. Some­times the girl in the skimpy dress is hav­ing the time of her life and feel­ing gen­uine­ly good about her­self. And some­times she's wear­ing that dress because she's afraid that no one will like her if she doesn't. There has to be a dif­fer­ence in the way we speak to — and about — those two girls.
You became fem­i­nists in very dif­fer­ent eras. How has that shaped you and the dif­fer­ences in your outlooks?
SUSAN: One gen­er­a­tional dif­fer­ence is that sec­ond-wavers focused on legal and pol­i­cy changes. There was so much to fight! It's hard for young women today to fath­om a time when job ads were seg­re­gat­ed by gen­der, when there were quo­tas or pro­hi­bi­tions for women enter­ing grad­u­ate and pro­fes­sion­al schools, when a woman doc­tor was con­sid­ered real­ly weird, when we couldn't get cred­it cards or mort­gages in our own names, when rape laws required that women demon­strate resis­tance to the assault in the form of bro­ken bones or bruis­es in order to make a case, when sex­u­al harass­ment was unnamed and per­fect­ly accept­able, when we could be researchers at news­magazines but not reporters, when abor­tion was ille­gal — the list of dis­crim­i­na­tion and oppres­sion goes on. Chal­leng­ing all of this, as well as chal­leng­ing pow­er­ful men in your every­day lives, was the first order of busi­ness. But how naïve we were, and how over­ly opti­mistic the late ​'60s and ear­ly ​'70s made us! We thought we'd expunged the term ​"slut" from the Eng­lish lan­guage. And once Roe v. Wade hap­pened, we also thought we had wrapped that bat­tle up.
SADY: My moth­er was sin­gle for a while, and always had a job; the thought of women not being able to have careers, or of women not being able to bal­ance career and fam­i­ly, hon­est­ly nev­er occurred to me. For peo­ple of my gen­er­a­tion, in their 20s and 30s right now, we grew up with the mes­sage that fem­i­nism had already hap­pened, and that all of its impor­tant goals had already been accom­plished, and that there was no fur­ther use for it. Over­com­ing that per­cep­tion, more than any­thing else — and ask­ing what gains had yet to be made — defined both my own approach to fem­i­nism, and what I believe to be my generation's approach to it.
And what gains have yet to be made? What is most impor­tant for women?
SADY: I have a dif­fer­ent idea of what fem­i­nism needs to fix every time I read the news. But on its most basic lev­el, I believe that feminism's goals are the same as always: End­ing gen­der-based inequal­i­ty and oppres­sion. Whether that means teach­ing girls to reclaim their agency in their per­son­al lives, or agi­tat­ing for struc­tur­al and cul­tur­al changes, I think feminism's basic promise has always been that women's full human­i­ty will be rec­og­nized by the culture.
SUSAN: Full equal rights for every­one in the LGBT com­mu­ni­ty. Pay equi­ty. And moth­er­hood. We have the worst pub­lic poli­cies of any devel­oped coun­try when it comes to sup­port­ing fam­i­lies and chil­dren. When a woman becomes a moth­er she often has to make impos­si­ble choic­es about work and fam­i­ly, some of them quite expen­sive finan­cial­ly and emo­tion­al­ly, in a way that most men are not expect­ed to make. What we need is a tru­ly fem­i­nist bud­get pro­pos­al that address­es these and the issues Sady has raised.
Are you opti­mistic about what fem­i­nism can accomplish?
SADY: I see so much work being done around broad­en­ing the terms, around broad­en­ing the scope of our engage­ment with social prob­lems. Every year I dis­cov­er new ways to see the work that is left to be done. Some­times that means iden­ti­fy­ing new things in myself; some­times that means look­ing to parts of the cul­ture I hadn't seen before, and learn­ing about new the­o­ry. What I love is that I am able to wit­ness so many dia­logues hap­pen­ing, every day.
SUSAN: It depends on what day you ask me. The War on Women has been so deter­mined, and here in Michi­gan our House of Rep­re­sen­ta­tives just passed one of the most restric­tive anti-abor­tion laws in the coun­try despite mas­sive protests. Sex­ism in var­i­ous sec­tors of the media has become more bla­tant and iron­ic — sex­ism with a know­ing wink, that we all know it's stu­pid to be sex­ist, there­fore it's fun­ny to be sex­ist, there­fore it's OK to be sex­ist. But despite every­thing, most women do not want to go back to 1956 — at all. And it may be pre­cise­ly this kind of rad­i­cal over-reach­ing on the Right that will gal­va­nize women. Look at the nation­al reac­tion to female leg­is­la­tors here being cen­sored because one of them used the word ​"vagi­na" dur­ing the abor­tion bill debate. This went viral on Face­book and thou­sands flocked to watch these same leg­is­la­tors, along with Eve Ensler, per­form ​"The Vagi­na Mono­logues" on the steps of the state Capi­tol. We have to remem­ber that we are in it for the long haul. And my gen­er­a­tion needs to remind younger women that while chal­leng­ing patri­archy is hard and often dispir­it­ing work, speak­ing truth to pow­er is, in fact, fun.
Mem­bers of the Women, Action & the Media List­serv respond to the discussion:
KATHA POL­LITT: Sady is awful­ly opti­mistic about the ​"war on women" back­fir­ing. The Repub­li­cans go all-out, and only get a piece of what they demand — but they usu­al­ly get some­thing, and they also move the debate more to their side, so I would say the War on Women is going well. The Pay­check Fair­ness Act is dead, the Vio­lence Against Women Act has to be rec­on­ciled between Sen­ate and House, abor­tion restric­tions are ram­pant, birth con­trol is hard­er for poor women to get in some states. And the Repub­li­can war on ​"gov­ern­ment work­ers" — most­ly teach­ers — has been dev­as­tat­ing for women.
If Rom­ney wins, the War on Women will go bet­ter. I don't think we should con­fuse the way Repub­li­can misog­y­ny mobi­lizes pro­gres­sives and the Dem base with how women in gen­er­al are going to vote in November.
JEN­NIFER POZN­ER: Decry­ing the sex­u­al­iza­tion of women is not remote­ly the same thing as ​"being anti-sex." Sex­u­al­iza­tion is com­mer­cial, soci­etal, polit­i­cal — it tells young girls and women that they will only be val­ued for a very spe­cif­ic and lim­it­ing kind of beau­ty and out­ward sex­u­al­i­ty, and that they must per­form this vir­tu­al­ly all the time.
But as Sady points out, that per­for­mance is about pleas­ing dom­i­nant notions of what is and isn't OK for women and girls. But it also just flat-out ignores women's sex­u­al agency — when they want to say yes and when they want to say no, and to what. Sex­u­al­iza­tion is respon­si­ble for the hor­ri­fy­ing one­sie I saw being sold for infants: ​"I'm too sexy for this one­sie." Sex­u­al­iza­tion is pri­mar­i­ly pro­ject­ed by media and gets inter­nal­ized, to great damage.
It is an end­less frus­tra­tion and joke to me that fem­i­nists (aside from a few schol­ars and writ­ers, who deserved the label) were brand­ed anti-sex. Anti-sex is: anti-fem­i­nists on the Right in think tanks, activist groups, church­es and Con­gress who oppose con­tra­cep­tion, rail against those slut­ty-sluts who dare to tes­ti­fy at Con­gres­sion­al hear­ings, set women's health clin­ics on fire, assas­si­nate abor­tion providers, demo­nize poor moth­ers (usu­al­ly of col­or) for hav­ing too many kids ​"out of wed­lock," harass teenagers about their cloth­ing, rant against big gov­ern­ment but are over­ly con­cerned with what goes in the pri­va­cy of LGBT people's bed­rooms… and the list goes on.
Pro-sex is: fem­i­nists in the 1970s fight­ing for sex­u­al lib­er­a­tion, third wavers who came up in the 1990s in riot grrrl and zine cul­ture who wrote and sang and marched about our rights to own and define our sex­u­al­i­ty how­ev­er we want­ed and with­out pun­ish­ment, and today's mil­lenial fem­i­nists' fight for LGBT rights in gen­er­al and trans people's rights in par­tic­u­lar as inte­gral to feminism.
As for what I want fem­i­nism to accom­plish: I found­ed Women In Media & News in 2001 because I want­ed the emerg­ing media reform move­ments to see women as a core con­stituen­cy for media jus­tice. And I want­ed women's rights groups and fem­i­nists to under­stand that the media is absolute­ly a fem­i­nist issue, from con­tent to pro­duc­tion and dis­tri­b­u­tion to pol­i­cy, includ­ing the many struc­tur­al and insti­tu­tion­al bias­es with­in the media industry.
A small fem­i­nist media move­ment thrives in this coun­try. But most­ly, when fem­i­nists think about prob­lems with media they think about rep­re­sen­ta­tion in con­tent, or per­haps jobs in the indus­try. I don't see women's rights activists pri­or­i­tiz­ing media at a struc­tur­al lev­el. We can­not ever achieve our ulti­mate jus­tice goals with­out access to free, inde­pen­dent, non-sex­ist media.
So, what­ev­er your first issue, make media your sec­ond issue.
KATHA: Repro rights issues are bound to be front and cen­ter, giv­en what we're liv­ing with, but I was struck by how much of the dis­cus­sion was about sex, sex­u­al­i­ty, beau­ty, clothes, self-pre­sen­ta­tion. Why? Eco­nom­ic issues get only the briefest men­tion — in the form of the phrase ​"pay equi­ty" which bare­ly begins to get at the struc­ture of gen­dered inequal­i­ty that is the U.S. econ­o­my. Susan men­tioned moth­er­hood issues, which is so cen­tral, and gets so lit­tle atten­tion here. Domes­tic vio­lence and rape? Women's polit­i­cal rep­re­sen­ta­tion? The per­sis­tence of male dom­i­nance in every sphere of life (includ­ing the Left and unions and the Demo­c­ra­t­ic Par­ty)? Reac­tionary reli­gion and its appeal to women? Bare­ly a men­tion, while what to wear to a Slut­Walk gets full discussion!
SUSAN: Katha, ITT asked us to con­front gen­er­a­tional dif­fer­ences, and Sady and I agree about the cen­tral­i­ty of all the struc­tur­al issues you cite. We dis­cov­ered that our dif­fer­ent atti­tudes about sex­u­al dis­play were not sim­ply about clothes or sex, but about whether female self-pre­sen­ta­tion can rein­force, or chal­lenge, patri­ar­chal atti­tudes and prac­tices that under­gird the eco­nom­ic, social and polit­i­cal inequities still hold­ing women down.
ERIN MAT­SON: I'm so glad Katha brought her per­cep­tion on how fem­i­nism seems to be turn­ing into ​"Sex­i­ness, Good or Bad?" ver­sus a dis­cus­sion on ​"the deep issues," which for me echoes Susan's com­ments on sec­ond-wavers focus­ing on legal or pol­i­cy changes. These issues are at the core of gen­er­a­tional dif­fer­ences between feminists.
The sys­tem­at­ic den­i­gra­tion and deval­u­a­tion of women is expressed dif­fer­ent­ly today. Where­as at one point laws and overt dis­crim­i­na­tion fenced in women as a class, today more sub­tle laws and prac­tices oper­ate to keep women and girls in a sec­ond-class sta­tus. When this sta­tus is point­ed out, it is rarely defend­ed on the grounds that ​"women are less" and more often by blam­ing indi­vid­ual women for per­son­al defects that are hold­ing them back from an alleged equal­i­ty that already exists.
How could it be that as a class women are paid less because indi­vid­ual women are ​"mak­ing bad choic­es," ​"don't know how to nego­ti­ate," ​"don't speak up loud­ly enough," etc.? How could it be we have a rape epi­dem­ic because indi­vid­ual women ​"wear the wrong thing," ​"go on a sketchy date," ​"don't watch their sur­round­ings"? How could it be that basic health care near­ly all women use is not cov­ered because indi­vid­ual women ​"are sluts" or ​"could choose to put aspirin between the knees?" It can't be.
The idea that women's indi­vid­ual defects are respon­si­ble for sys­temic inequal­i­ty is false. Mak­ing that point over and over and over will remain one of the cen­tral argu­ments of younger feminism.
The one out­lier, of course, is repro­duc­tive jus­tice, where women are under extreme attack. The way the rad­i­cal Right and even main­stream media deals with this is to shut women out of the dis­cus­sions entirely.
KATHA: With all due respect, I don't agree with you. Fem­i­nists removed most explic­it legal bar­ri­ers to equal­i­ty in the ​'70s. There are very few laws that on their face deny women a right that men have. But, soci­ety is still orga­nized to pro­mote women's inequal­i­ty, includ­ing the legal and polit­i­cal orga­ni­za­tion of soci­ety. It's just at the next lev­el down. (Social Secu­ri­ty and the income tax are two exam­ples of mas­sive gov­ern­ment struc­tures that dis­crim­i­nate against women and in var­i­ous ways keep women out of the work force.) Lack of child­care is a huge gov­ern­ment fail that affects most­ly women. The ease with which child sup­port can be evad­ed is anoth­er. How many women stay in their mar­riage for finan­cial rea­sons? You are not equal in your mar­riage if you can't leave and your hus­band can.
It's true that women are told in many ways that their oppres­sion is an indi­vid­ual prob­lem. Who would dis­pute that? Susan wrote a whole book about how the media por­trays all prob­lems as solved. (Enlight­ened Sex­ism, it's very good.) But what fem­i­nists don't spend enough time on is tak­ing this insight out of the psy­cho­log­i­cal, the beau­ty indus­try and the media, to actu­al­ly look at the mate­r­i­al struc­ture of our real­i­ty. If women had good child­care, a lot would change.
When women make a deci­sion that dis­em­pow­ers them it may look as if they have been manip­u­lat­ed by sex­ist ide­ol­o­gy, and some­times that is indeed the case. But a lot of the time they are mak­ing a ratio­nal deci­sion that has been shaped by actu­al con­di­tions that dis­crim­i­nate against them. When a moth­er quits her job because it ​"doesn't pay" to work, the rea­son it ​"doesn't pay" is con­struct­ed by gov­ern­ment poli­cies — lack of afford­able child­care, pay dis­crim­i­na­tion, chan­nel­ing of women into low­er-paid and low­er-sta­tus occu­pa­tions, etc. Just as it is not enough to tell women to solve their prob­lems indi­vid­u­al­ly by learn­ing to nego­ti­ate pay rais­es or what­ev­er, it is not enough to urge them to solve their prob­lems by resist­ing this message.
Affir­ma­tive action is basi­cal­ly dead. That's a cru­cial fem­i­nist issue. Wel­fare reform is anoth­er huge fem­i­nist issue that has no trac­tion in the movement.
ERIN: Resist­ing the mes­sage that any gen­dered dis­ad­van­tages a woman is expe­ri­enc­ing is all her fault is an impor­tant step and piece of the puz­zle. Look at the recent shifts in pol­i­cy toward gay rights, with cul­ture and young peo­ple lead­ing the charge. What word springs to mind? ​"Pride."
We can't move too quick­ly over the impor­tant cul­tur­al (and deeply polit­i­cal) fem­i­nist work that younger women are lead­ing, large­ly online. All this work is rapid­ly build­ing into a plat­form that has the pow­er to force big pol­i­cy changes, and that's excit­ing.

Erin Mat­son is the Action Vice Pres­i­dent of the Nation­al Orga­ni­za­tion for Women.
Katha Pol­litt writes the ​"Sub­ject to Debate" col­umn in The Nation and is the author, most recent­ly, of The Mind-Body Prob­lem, a col­lec­tion of poems.
Jen­nifer Pozn­er is the founder of Women in Media & News.