Fight for $15 Just Scored a Big Win in Maryland. We Have Unions to Thank.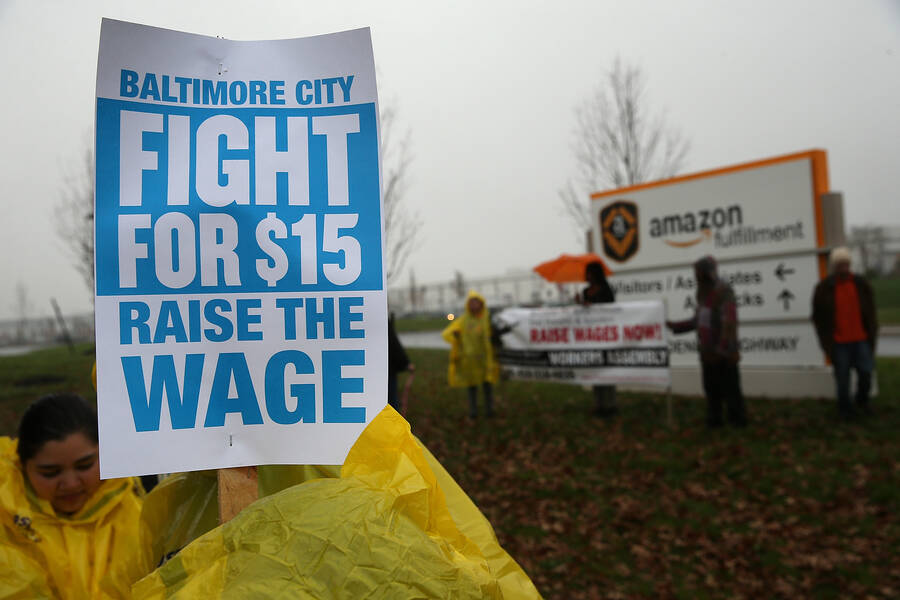 A law estab­lish­ing a $15-an-hour min­i­mum wage in Maryland's Mont­gomery Coun­ty was signed into law Mon­day, rep­re­sent­ing a come­back win after a sim­i­lar mea­sure was defeat­ed by pro-busi­ness Democ­rats just ten months ago.
It's a mean­ing­ful vic­to­ry for the Fight for $15, the union-inspired cam­paign to raise wages nation­al­ly. Mont­gomery is the most pop­u­lous coun­ty in the state, with a larg­er pop­u­la­tion than the near­by cities of Wash­ing­ton, D.C., or Bal­ti­more. It's also a bell­wether for Mary­land pol­i­tics, where orga­niz­ing has begun already ahead of the 2018 statewide elec­tions, includ­ing orga­niz­ing aimed at improv­ing Maryland's wage laws.
"The dif­fer­ence that $15 an hour will make for so many work­ing fam­i­lies can­not be under­es­ti­mat­ed. And the entire coun­ty will ben­e­fit as more work­ers will be able to move off pub­licly fund­ed pro­grams and spend more on local busi­ness­es," Jaime Con­tr­eras, vice pres­i­dent of Ser­vice Employ­ees Inter­na­tion­al Union (SEIU) Local 32BJ, told In These Times over email.
Con­tr­eras and SEIU have been promi­nent in the labor coali­tion that has been sup­port­ing a high­er min­i­mum wage, along with the Unit­ed Food & Com­mer­cial Work­ers (UFCW) union, the Labor­ers' Inter­na­tion­al Union of North Amer­i­ca and oth­ers. ​"We are real­ly proud of what we have accom­plished. As with any com­pro­mise, we are not total­ly pleased, but this is a real step for­ward," Jonathan Williams, spokesper­son for UFCW Local 400, told In These Times.
"The $15 min­i­mum wage win in Mont­gomery Coun­ty comes on the heels of last week's 11 vic­to­ries of Fight for $15 sup­port­ers Ralph Northam in Vir­ginia and Phil Mur­phy in New Jer­sey. It shows the con­tin­ued pow­er of this move­ment and builds momen­tum for state-wide action next year in Mary­land and oth­er states," Chris­tine Owens, exec­u­tive direc­tor of the work­ers' advo­ca­cy group Nation­al Employ­ment Law Project, told In These Times over email.
Sat­is­fac­tion with the vic­to­ry notwith­stand­ing, some work­er advo­cates grum­bled that the polit­i­cal com­pro­mis­es nec­es­sary to solid­i­fy sup­port came at a high price for some work­ers. The com­pro­mis­es had been ham­mered out over the last sev­er­al months in response the Mont­gomery Coun­ty Exec­u­tive Ike Leggett's veto of sim­i­lar leg­is­la­tion approved by the Coun­ty Coun­cil in January.
One of these com­pro­mis­es was an exemp­tion from the law for work­ers under age 20, a con­ces­sion to Leggett's con­cern that the increase would hurt job oppor­tu­ni­ties for minor­i­ty youth. Anoth­er com­pro­mise extend­ed the phase-in sched­ule of high­er wages so that the $15 min­i­mum does not take effect for small employ­ers until 2023 (50 work­ers or few­er) or 2024 (10 work­ers or few­er). For large employ­ers, the new min­i­mum will be phased in through 2021.
Owens said Mont­gomery ​"res­i­dents should be con­cerned that coun­ty lead­ers exclud­ed from the full $15 wage younger work­ers — many of whom are from low-income fam­i­lies or are strug­gling to work their way through two or four-year col­leges — and tipped work­ers. We urge the coun­ty coun­cil to revis­it and remove these harm­ful carve-outs."
Williams added that the UFCW is among those advo­cat­ing for a state-wide $15 min­i­mum wage bill that could address the prob­lems in some of the carve-outs. Polit­i­cal efforts are ini­tial­ly focus­ing on select­ing a Demo­c­ra­t­ic Par­ty can­di­date for gov­er­nor who will be a reli­able sup­port­er of $15. Cur­rent­ly, there are numer­ous can­di­dates in the race, and Democ­rats are debat­ing who would be the strongest can­di­date against incum­bent Repub­li­can Lar­ry Hogan, Williams says.
Hogan is not a sup­port­er of a high­er min­i­mum wage and pro­voked the anger of many work­ers' rights advo­cates in Mary­land ear­li­er this year when he vetoed a bill to pro­vide guar­an­teed sick leave to work­ers in the state.
UFCW has not endorsed any can­di­date yet, but SEIU issued an ear­ly endorse­ment of Ben­jamin Jeal­ous, the for­mer head of the NAACP who is run­ning for gov­er­nor on a Bernie Sanders-inspired pro­gres­sive plat­form, includ­ing the $15 min­i­mum wage.
Aside from pos­i­tive signs in local polit­i­cal races, Fight for $15 recent­ly got a boost from one of the largest pri­vate-sec­tor retail­ers in the coun­try, Tar­get stores. Fol­low­ing work­er orga­niz­ing, Tar­get offi­cials announced in Sep­tem­ber it would raise the min­i­mum wage for Tar­get employ­ees to $11 an hour this year, with the goal of reach­ing $15 by the end of 2020. Tar­get cur­rent­ly employs more than 300,000 work­ers nationwide.
Bruce Vail
is a Bal­ti­more-based free­lance writer with decades of expe­ri­ence cov­er­ing labor and busi­ness sto­ries for news­pa­pers, mag­a­zines and new media. He was a reporter for Bloomberg BNA's Dai­ly Labor Report, cov­er­ing col­lec­tive bar­gain­ing issues in a wide range of indus­tries, and a mar­itime indus­try reporter and edi­tor for the Jour­nal of Com­merce, serv­ing both in the newspaper's New York City head­quar­ters and in the Wash­ing­ton, D.C. bureau.