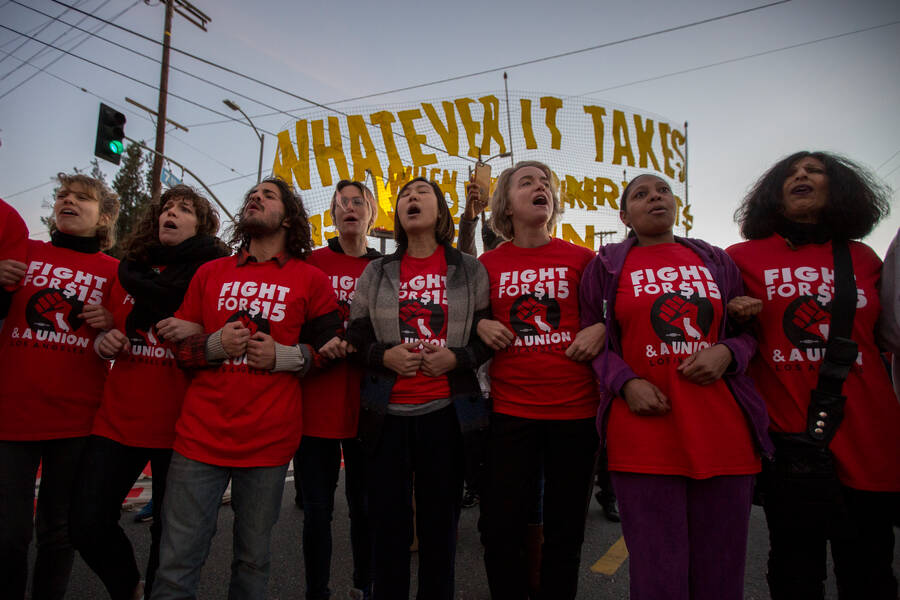 Shan­non John­son grew up with a birth defect in her throat that required mul­ti­ple surg­eries. Stuck in the hos­pi­tal, she found solace in Dis­ney movies. ​"I could get so immersed in the char­ac­ters," she said, recall­ing how she drew them on the walls of her bed­room. ​"It looked like a princess' castle."
John­son, 40, now works in food ser­vice at Dis­ney­land Resort, a set of hotels next to the theme park, in Ana­heim, Cal­i­for­nia. She said her hourly wage is $11, the state min­i­mum. When she leads a shift, it's $12, she said. Her hours vary sig­nif­i­cant­ly from one week to the next, as does her pay­check. She eats one meal per day, often con­sist­ing of a can of tuna and cel­ery sticks.
She and her approx­i­mate­ly 30,000 cowork­ers are ask­ing for a raise, but not from Dis­ney­land Resort. They're count­ing on the res­i­dents of Ana­heim. After con­tract nego­ti­a­tions with Dis­ney­land Resort stalled, a coali­tion of unions sub­mit­ted a city bal­lot mea­sure this month that would require the resort and oth­er large employ­ers to pay an $18 min­i­mum wage.
The cam­paign exem­pli­fies an increas­ing­ly com­mon mod­el of labor advo­ca­cy: Rather than bar­gain direct­ly with their employ­ers, work­ers are push­ing state and city gov­ern­ments to grant them ben­e­fits found in tra­di­tion­al union con­tracts, like wage increas­es and even dues pay­ment. The teach­ers' move­ments in West Vir­ginia and Okla­homa are the lat­est exam­ples of the strat­e­gy, which came to promi­nence nation­wide with the Fight for $15. If the Supreme Court decides in favor of Janus, wors­en­ing a decades-long decline in union mem­ber­ship by ren­der­ing all pub­lic sec­tor unions right-to-work, this strat­e­gy will become more pop­u­lar, labor schol­ars and union offi­cials say.
The strat­e­gy has deliv­ered cel­e­bra­to­ry head­lines and wide­spread work­er gains for an ail­ing labor move­ment. But it remains an open and vital ques­tion whether the shift can mean­ing­ful­ly com­bat labor's decline, as observers wor­ry the mod­el depends too much on elect­ed offi­cials and fails to restore or replace union power.
"Peo­ple are now using the leg­isla­tive process and the polit­i­cal process to get things that would nor­mal­ly have hap­pened at the bar­gain­ing table," Ran­di Wein­garten, the pres­i­dent of the Amer­i­can Fed­er­a­tion of Teach­ers (AFT), told In These Times.
Fight for $15, launched in 2012 with back­ing from the 2‑mil­lion-mem­ber Ser­vice Employ­ees Inter­na­tion­al Union, began with two demands on behalf of fast food work­ers: $15 per hour base pay and a union. The wage demand quick­ly rose to the fore. Deploy­ing high-pro­file sin­gle-day strikes, the cam­paign won min­i­mum-wage hikes in cities and states across the coun­try, includ­ing Cal­i­for­nia and New York laws that will grad­u­al­ly raise each state's hourly wage floor to $15.
Cam­paign­ers real­ized employ­ers can under­mine a wage increase with an hours cut. Their solu­tion: local laws that require restau­rants to offer addi­tion­al hours to cur­rent work­ers before hir­ing new ones. A first-of-its-kind law passed in New York City last year, mean­while, per­mits fast food work­ers to con­tribute a por­tion of each pay­check to a sec­tor-spe­cif­ic advo­ca­cy group, mim­ic­k­ing union dues. The over­all strat­e­gy assem­bles the com­po­nents of a union con­tract with two parts miss­ing: the union and the contract.
In West Vir­ginia, strik­ing teach­ers recent­ly won a freeze on health insur­ance pre­mi­ums for pub­lic employ­ees and leg­is­la­tion that raised their pay by 5 per­cent. Lack­ing col­lec­tive bar­gain­ing rights, the teach­ers found them­selves in a sim­i­lar posi­tion as nonunion fast food work­ers. Mil­i­tant tac­tics bol­stered pub­lic sup­port, as they had for Fight for $15. ​"The strike made peo­ple aware of how bad things were," said Jay O'Neal, a mid­dle school teacher in Charleston, West Vir­ginia. ​"When peo­ple found out, they were sympathetic."
The Okla­homa Edu­ca­tion Asso­ci­a­tion, the top teach­ers' union in the state, announced a statewide school clo­sure set to begin on April 2, unless the Leg­is­la­ture pass­es a bill that rais­es pay and increas­es school fund­ing. In Ana­heim, work­ers at Dis­ney­land Resort are gath­er­ing the 20,000 sig­na­tures nec­es­sary to put their wage hike on the ballot.
"The Fight for $15 broke the ice," said Austin Lynch, an orga­niz­ing direc­tor at UNITE HERE who has led the Ana­heim bal­lot strat­e­gy. ​"Work­ers are being pushed to the edge. They're going to stand up and find a way to do some­thing about it."
Lynch acknowl­edged the approach is ​"not where the union would like to be." He said col­lec­tive bar­gain­ing can serve a spe­cif­ic work­place bet­ter than a one-size-fits-all wage law. Wein­garten, the AFT pres­i­dent, applaud­ed leg­isla­tive vic­to­ries but spoke wist­ful­ly of trade union­ism. ​"When we had more eco­nom­ic pow­er at the bar­gain­ing table, peo­ple had more access to the mid­dle class," she said.
Nel­son Licht­en­stein, a pro­fes­sor of labor his­to­ry at Uni­ver­si­ty of Cal­i­for­nia, San­ta Bar­bara, said leg­isla­tive gains can­not replace union con­tracts. ​"How do you insti­tu­tion­al­ize the gains?" he won­dered. ​"Con­ser­v­a­tives have always been smart enough to say, ​'We'll give in now, but in two years there won't be an orga­ni­za­tion and it'll be dead.'"
Leg­is­la­tion may fix that prob­lem, too. Fast Food Jus­tice, an advo­ca­cy group in New York City, has signed up well over 1,000 work­ers to con­tribute a por­tion of each pay­check to the orga­ni­za­tion. The city ordi­nance enabling the pay­ments faces a legal chal­lenge from the Nation­al Restau­rant Asso­ci­a­tion. If the law holds up, copy­cat groups in oth­er cities and sec­tors may follow.
But the spread of labor-friend­ly laws depends on sym­pa­thet­ic city and state elect­ed offi­cials. As of last July, 25 states had passed laws for­bid­ding cities from impos­ing wage hikes. Twen­ty-one states have yet to raise their wage floor above the fed­er­al min­i­mum of $7.25. ​"There's a lim­i­ta­tion on the city strat­e­gy, and pass­ing things at the state lev­el adds anoth­er wrench to the plan," said Stephanie Luce, a pro­fes­sor of labor stud­ies at the City Uni­ver­si­ty of New York Grad­u­ate Center.
But Luce caught her­self. ​"I don't think any­one thought we would see this lev­el of sup­port for strik­ing teach­ers in West Vir­ginia," she said. ​"We may be look­ing back at this moment in 30 years and say­ing this is when things changed. Whether for bet­ter or worse, remains to be seen."
Max Zahn
is a free­lance reporter in Brook­lyn, New York.