A Tale of Two Teamsters: Building a Community-Minded Union in Mid-Century St. Louis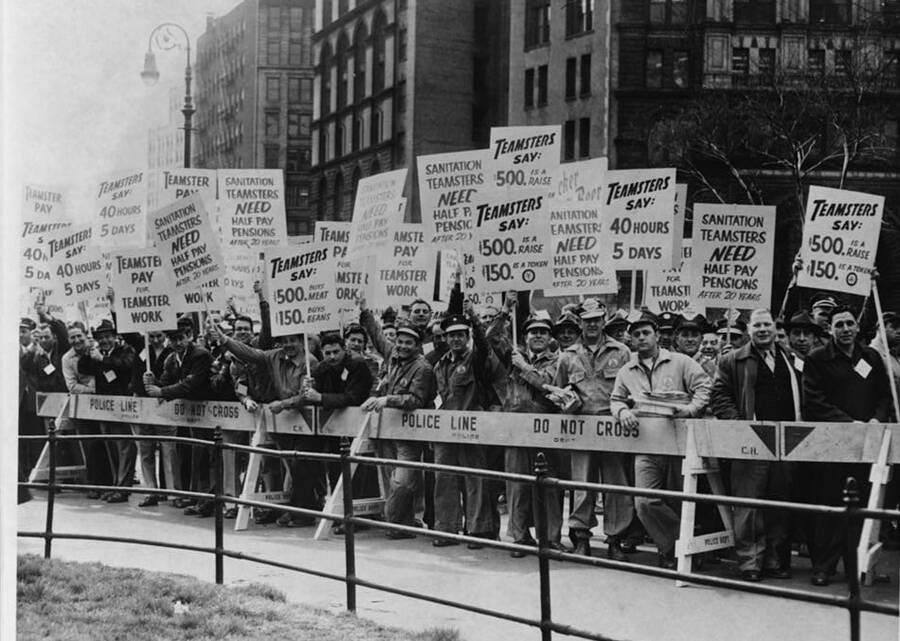 Long before the birth of Team­sters for a Demo­c­ra­t­ic Union in the mid-1970s, the Inter­na­tion­al Broth­er­hood of Team­sters (IBT) was hos­tile ter­rain for cre­at­ing mod­el local unions. In the 1930s, ware­house work­ers and dri­vers in Min­neapo­lis revi­tal­ized Team­sters Local 574, under the lead­er­ship of Far­rell Dobbs and oth­er labor rad­i­cals. They orga­nized wide­spread com­mu­ni­ty sup­port for a city­wide gen­er­al strike — now much cel­e­brat­ed by labor his­to­ri­ans. After its suc­cess, Dobbs and oth­er Team­ster mil­i­tants helped orga­nize over-the-road truck­ing through­out the mid-west.
What was Local 574's reward from the IBT? It wasn't a lot of favor­able pub­lic­i­ty in the Team­ster mag­a­zine. Instead, Gen­er­al Pres­i­dent Dan Tobin expelled the Min­neapo­lis strik­ers from the union in 1935. A year lat­er, the mem­ber­ship of 574 was read­mit­ted but under a new local char­ter. When the pol­i­tics of Local 544 (its suc­ces­sor) con­tin­ued to offend Team­ster head­quar­ters, the local was put under trustee­ship and its elect­ed offi­cers oust­ed in 1941. Among the Team­ster goon squad mem­bers dis­patched to Min­neapo­lis for that dirty work was Jim­my Hof­fa, father of the cur­rent IBT pres­i­dent and an admir­er of Dobbs' orga­niz­ing meth­ods (if not his Trot­sky­ist views).
Labor edu­ca­tor Bob Bussel's new book, Fight­ing For Total Per­son Union­ism: Harold Gib­bons, Ernest Cal­loway, and Work­ing Class Cit­i­zen­ship (Uni­ver­si­ty of Illi­nois Press, 2016) describes a less­er-known effort to remake anoth­er Mid­west­ern IBT local – with­out draw­ing the same kind of fire from Tobin's suc­ces­sors, includ­ing Hof­fa himself.
The pos­i­tive, but less threat­en­ing, changes made in St. Louis Local 688 occurred under the lead­er­ship of Harold Gib­bons. Gib­bons devel­oped a long and mutu­al­ly ben­e­fi­cial rela­tion­ship with Hof­fa, dur­ing the latter's rise to pow­er in the 1950s and ​'60s. His clos­est local col­lab­o­ra­tor was Ernest Cal­loway, a lead­ing African-Amer­i­can trade union­ist, labor edi­tor, and civ­il rights activist, who met Gib­bons when they were both Depres­sion-era orga­niz­ers in Chicago.
Like Har­vard-edu­cat­ed Pow­ers Hap­good, the indus­tri­al union activist pro­filed in Bussel's pre­vi­ous biog­ra­phy, Gib­bons and Cal­loway were sym­pa­thet­ic to demo­c­ra­t­ic social­ism. (For more on Bussel's ear­li­er book, see my review for The Nation.) Nei­ther had pos­i­tive expe­ri­ences with the Com­mu­nist Par­ty or the Con­gress of Indus­tri­al Orga­ni­za­tions (CIO) affil­i­ates most influ­enced by CP mem­bers. They came from coal min­ing fam­i­lies in Penn­syl­va­nia and Ken­tucky respec­tive­ly; Cal­loway actu­al­ly worked in the mines and once described him­self as a ​"black hillbilly."
Their shared union vision was shaped, in part, by youth­ful ​"expo­sure to the UMWA, which had an admirable if imper­fect record of attempt­ing to orga­nize across racial and eth­nic lines." Their per­son­al devel­op­ment as work­ing class lead­ers owed much to labor edu­ca­tion — in Gib­bons' case, a sum­mer school stint at the Uni­ver­si­ty of Wisconsin's School for Work­ers and in Calloway's case, attend­ing Brook­wood Labor Col­lege and, lat­er, Ruskin Col­lege in Oxford.
From CIO to IBT
Gib­bons aid­ed orga­niz­ing or strikes among adult edu­ca­tors employed by the Works Progress Admin­is­tra­tion, Chica­go taxi dri­vers, and, lat­er, tex­tile work­ers through­out Illi­nois and Indi­ana. Cal­loway became a mem­ber of Gib­bons' AFT-affil­i­at­ed teach­ers union and then plunged into CIO orga­niz­ing of African-Amer­i­can ​"red caps" who assist­ed rail­way pas­sen­gers with their bag­gage. In 1940, he brave­ly risked impris­on­ment as ​"one of the first African-Amer­i­cans to seek con­sci­en­tious objec­tor sta­tus sole­ly on the basis of racial dis­crim­i­na­tion" — a stance not pop­u­lar with red cap union offi­cials, par­tic­u­lar­ly after the Japan­ese attacked Pearl Harbor.
Dur­ing the war, Gib­bons moved to St. Louis. There, he took over a ware­house work­ers local affil­i­at­ed with the CIO, engi­neered its rebrand­ing as an inde­pen­dent union and, then in 1949, ​"stirred dis­be­lief and anger in both local and nation­al labor cir­cles" by merg­ing with the IBT. Cal­loway was among those he recruit­ed to help imple­ment ​"his vision of social­ly engaged union­ism," amid the larg­er ​"unabashed prag­ma­tism" of the Teamsters.
In the hey­day of Local 688 dur­ing the 1950s, ​"total per­son union­ism" is not a term that either Gib­bons or Cal­loway would have employed. But their con­cep­tion of how a good local should func­tion — with mem­bers strong­ly con­nect­ed to the union and the union play­ing an influ­en­tial role in the com­mu­ni­ty — remains quite rel­e­vant today. One of orga­nized labor's under-uti­lized resources is rank-and-file con­nec­tions to com­mu­ni­ty insti­tu­tions, whether church­es, neigh­bor­hood asso­ci­a­tions, eth­nic and fra­ter­nal orga­ni­za­tions, polit­i­cal clubs, or oth­er civic groups.
Gib­bons and Cal­loway built their local into a social and polit­i­cal force in St. Louis by encour­ag­ing what Bus­sel calls ​"work­ing class cit­i­zen­ship" – rank-and-file activism in the com­mu­ni­ty and local pol­i­tics, as well as on the job. Local 688 for­mal­ized this approach with an actu­al ​"com­mu­ni­ty stew­ards" pro­gram, train­ing hun­dreds of mem­bers and then deploy­ing them in elec­toral cam­paigns and local polit­i­cal strug­gles for racial jus­tice, bet­ter pub­lic ser­vices, and a healthy urban envi­ron­ment. Bus­sel lauds these efforts to turn an ​"occu­pa­tion­al­ly and racial­ly diverse union of 10,000 mem­bers" into ​"a mod­el of labor pro­gres­sivism that gained nation­al and even inter­na­tion­al attention."
In a 1946 speech — that could serve as a rebuke to cer­tain ​"orga­niz­ing unions" and work­ers cen­ters today — Gib­bons ​"artic­u­lat­ed the pro­found psy­cho­log­i­cal dimen­sion that lay at the core of his phi­los­o­phy of union­ism." In his view, union build­ing was not the job of ​"col­lege pro­fes­sors, smart lawyers, or high salaried exec­u­tives." But rather, it was a task for ​"the men and women of the shops," where ​"far too many of us fail to real­ize our pow­ers, our abil­i­ties, our potentialities."
Left cov­er for Hoffa?
Local 688 was, in short, not the kind of mobbed-up, big city Team­ster local more typ­i­cal of Jim­my Hoffa's emerg­ing pow­er base in the 1950s. But, as Bus­sel notes, ​"an ally of Gib­bons' cal­iber and rep­u­ta­tion" was use­ful to Hoffa's plan to suc­ceed Dave Beck as Team­sters pres­i­dent dur­ing a peri­od when Team­ster rack­e­teer­ing and cor­rup­tion taint­ed all of orga­nized labor and led to the IBT's 1957 expul­sion from the AFL-CIO.
Accord­ing to Bus­sel, Gib­bons hitched his wag­on to Hof­fa in the hopes that the latter's ​"mas­tery of pow­er rela­tions might be har­nessed in the sup­port of a more ambi­tious social agen­da." In the ear­ly 1960s, Gib­bons even left St. Louis to serve as Hoffa's exec­u­tive assis­tant at Team­ster head­quar­ters. In that capac­i­ty, he per­suad­ed his boss to make a $25,000 dona­tion to Dr. Mar­tin Luther King's South­ern Chris­t­ian Lead­er­ship Con­fer­ence. But then ​"Hof­fa reject­ed Gib­bons' sug­ges­tion that he speak at King's 1963 March on Wash­ing­ton and also refused to seek strong anti-dis­crim­i­na­tion lan­guage in truck­ing contracts."
Bus­sel reports that Gib­bons ​"expe­ri­enced con­tin­u­al frus­tra­tion in his efforts to enlarge Hoffa's per­spec­tive on racial jus­tice" and ​"remained an iso­lat­ed voice on the issue that he regard­ed as essen­tial to restor­ing the trade union movement's moral legit­i­ma­cy." Hof­fa, for his part, kept his side­kick from St. Louis on ​"a short leash." Hoff was ​"fierce­ly ascetic in his per­son­al life" and, thus, dis­ap­proved of Gibbon's ​"wom­an­iz­ing" and ​"hang­ing out in nightspots and hob­nob­bing with Hol­ly­wood celebri­ties," a bon vivant lifestyle sup­port­ed by his IBT expense account. (As long­time Chica­go labor activist Sid Lens once not­ed, Harold was ​"a man of many contradictions.")
After Hof­fa was jailed in 1967 for jury tam­per­ing, attempt­ed bribery, and fraud, he left Frank Fitzsim­mons in charge of the IBT. Gib­bons did not fare well under Fitz, as he was known. To Gib­bons' cred­it, he was an out­spo­ken oppo­nent of the Viet­nam War and played a key role in Labor for Peace, host­ing its found­ing con­fer­ence in St. Louis. He even joined a trade union del­e­ga­tion to Hanoi dur­ing the war, met with top North Viet­namese offi­cials, and con­duct­ed Wash­ing­ton brief­in­gs on his trip when he returned.
Ene­my of Tricky Dick and Fitz
Such activ­i­ties land­ed him on the famous ​"ene­mies list" main­tained by Repub­li­can Pres­i­dent Richard Nixon. Clos­er to home, Gib­bons bucked Fitzsim­mons by cast­ing the only Team­ster exec­u­tive board vote against endors­ing Nixon for re-elec­tion over Demo­c­rat George McGov­ern in 1972. Fitzsim­mons remained Nixon's lead­ing labor ally until the latter's forced res­ig­na­tion, in dis­grace, dur­ing the Water­gate scan­dal two years later.
In the mean­time, Fitzsim­mons retal­i­at­ed against Gib­bons by replac­ing him as Team­sters Cen­tral Con­fer­ence chair­man and ware­house divi­sion direc­tor. A few months after­wards, Gib­bons was even forced to resign from his elect­ed posi­tions at Team­sters Joint Coun­cil 13 and Local 688. In Bussel's descrip­tion, that purge sig­naled the end of a ​"twen­ty year quest for total per­son union­ism that Gib­bons and Cal­loway had pur­sued in St. Louis." Gib­bons retreat­ed to a life of retire­ment lux­u­ry in Palm Springs, CA. ​"clos­er to the celebri­ty cul­ture that had long cap­ti­vat­ed him." Short­ly before he died in 1982, the one-time syn­di­cal­ist fire­brand was reduced to beg­ging the Rea­gan Admin­is­tra­tion (unsuc­cess­ful­ly) for a job as direc­tor of the Fed­er­al Medi­a­tion and Con­cil­i­a­tion Service.
Unlike Gib­bons, Cal­loway remained polit­i­cal­ly engaged at the grass­roots lev­el in St. Louis. When their joint vision of an activist, com­mu­ni­ty-mind­ed union was no longer achiev­able in Local 688, Cal­loway became a neigh­bor­hood orga­ni­za­tion leader. He was also a local­ly influ­en­tial writer and teacher of urban stud­ies, civ­il rights leader, and men­tor to com­mu­ni­ty activists. When he died in 1989, The St. Louis Post Dis­patch hailed him as a man who ​"labored for the under­dog," declar­ing that ​"St. Louis is a bet­ter place for his efforts." Calloway's union career may have been over­shad­owed, in his life­time, by that of his high-fly­ing Team­ster co-work­er. But, now thanks to Bussel's dual biog­ra­phy treat­ment, this ​"rugged fight­er for social jus­tice" will get the broad­er recog­ni­tion he deserves.
Fight­ing for Total Per­son Union­ism should not be rel­e­gat­ed to the labor his­to­ry book­shelf; too much of its con­tent will seem eeri­ly famil­iar to any­one active in U.S. unions over the last 35 years. The man­age­ment resis­tance and labor move­ment dys­func­tion that Gib­bons and Cal­loway strug­gled to over­come, while build­ing work­er orga­ni­za­tions of a bet­ter sort, have def­i­nite­ly not dis­ap­peared. And with­in the union offi­cial­dom, there is still no short­age of the same per­son­al and polit­i­cal con­tra­dic­tions that Harold Gib­bons dis­played, dur­ing his rise and fall as a sin­gu­lar Teamster.
Steve Ear­ly worked for 27 years as an orga­niz­er and inter­na­tion­al rep­re­sen­ta­tive for the Com­mu­ni­ca­tions Work­ers of Amer­i­ca. He is the author of sev­er­al books, includ­ing Refin­ery Town: Big Oil, Big Mon­ey, and the Remak­ing of an Amer­i­can City (Bea­con Press).