Fired Hyatt Workers Win Their Jobs Back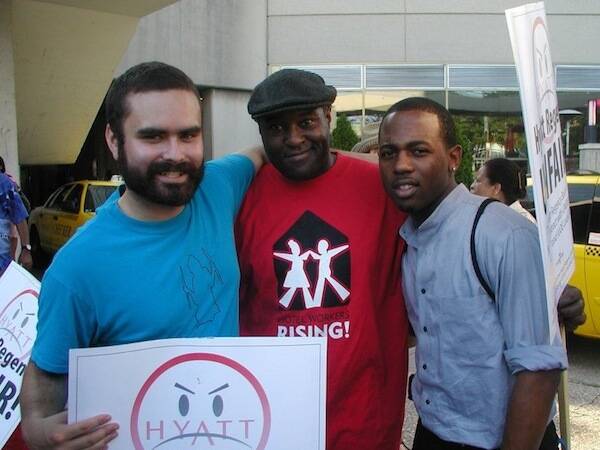 BAL­TI­MORE—Three hotel work­ers fired last year for pro-union activism at the Hyatt Regency Bal­ti­more are back on the job this week as part of a Jan­u­ary 26 deal to set­tle unfair labor prac­tice charges brought by UNITE HERE.
Mike Jones, the last of the fired employ­ees to resume his old job, report­ed for work this week. He's eager to restart his union orga­niz­ing activ­i­ties, he tells Work­ing In These Times. (The sto­ry of Jones' fir­ing and his efforts to win his job back were the sub­ject of a Work­ing In These Times sto­ry in Novem­ber of last year.)
The orga­niz­ing cam­paign in Bal­ti­more is part of the larg­er inter­na­tion­al Hyatt Hurts cam­paign launched by UNITE HERE in mid-2012. Since Jones' fir­ing, a for­mal hear­ing at the region­al Nation­al Labor Rela­tions Board was begun, and then aban­doned when Hyatt and UNITE HERE Local 7 reached an out-of-court set­tle­ment of the charges. As part of the set­tle­ment, Jones and three oth­er fired Hyatt work­ers were offered their old jobs back (one declined the offer), and hotel man­agers agreed not to dis­crim­i­nate against or pun­ish union sup­port­ers in any way.
​"So, it's back to storm­ing the cas­tle," Jones says, mak­ing an explic­it anal­o­gy between Hyatt hotel own­ers and the feu­dal lords of yore. For Jones, storm­ing the cas­tle means estab­lish­ing a union, and return­ing some of the wealth pro­duced by the hotel to the work­ers and the broad­er Bal­ti­more community.
​"When the Hyatt work­ers win—and they will win—it will be a big step for­ward in this town," says Rox­ie Her­bekian, pres­i­dent of UNITE HERE Local 7, the local seek­ing to orga­nize the Bal­ti­more Hyatt work­ers. The strug­gle at Hyatt is part of a broad­er move­ment going on across the city, Her­bekian says, as ser­vice work­ers of all kinds strug­gle to raise liv­ing stan­dards in a stag­nant region­al econ­o­my. She cites oth­er Local 7 orga­niz­ing cam­paigns—in the region's grow­ing gam­bling indus­try and in air­port devel­op­ment—as exam­ples of how low-income ser­vice work­ers are fight­ing back against cor­po­rate mis­rule and gov­ern­men­tal indifference.
What ties these dif­fer­ent ser­vice sec­tors togeth­er, she explains, is that they all receive offi­cial priv­i­leges or finan­cial favors from the city. The Hyatt hotel, for exam­ple, is in Baltimore's famed Inner Har­bor and is tech­ni­cal­ly only leased to Hyatt by its own­er—the city gov­ern­ment. The hotel was orig­i­nal­ly devel­oped by the city some 30 years ago as a pub­licly financed effort to revi­tal­ize decay­ing sec­tions of the down­town busi­ness dis­trict. Hyatt work­ers now find them­selves in a posi­tion sim­i­lar to poor ten­ant farm­ers, Jones says, but with their own city gov­ern­ment as the landlord.
Like­wise, the bloom­ing gam­bling indus­try is whol­ly depen­dent on gov­ern­ment licens­ing, and the grow­ing BWI Thur­good Mar­shall Air­port could not exist with­out state and fed­er­al financ­ing, even as many of the ser­vice work­ers at the air­port earn only pover­ty-lev­el wages, Her­bekian says.
Local 7 plans to spot­light the city's own­er­ship of Hyatt in its union­iza­tion cam­paign this year. A num­ber of low-pro­file meet­ings have been held in recent months with elect­ed offi­cials to gath­er sup­port for the union, Jones says. A pub­lic test of strength for the union is cur­rent­ly sched­uled for March 6, when the City Coun­cil expects to debate a res­o­lu­tion in sup­port of the Hyatt workers.
It is a mea­sure of the eco­nom­ic and polit­i­cal mus­cle of Hyatt that the results of the March 6 debate are not a fore­gone con­clu­sion, Jones believes. Local offi­cials seem timid in the face of large cor­po­ra­tions like Hyatt, he observes, and the union faces a major chal­lenge in solid­i­fy­ing polit­i­cal sup­port for low-income work­ers against the pow­er of Hyatt.
In the mean­time, Jones says, he is pleased to be back at work. The set­tle­ment agree­ment with Hyatt for­bids any retal­i­a­tion for orga­niz­ing, he says, so he is con­fi­dent that as he resumes his reg­u­lar job as a hotel stew­ard, he can con­tin­ue to agi­tate in favor of the union. Like many of the oth­er local cam­paigns under the Hyatt Hurts umbrel­la, Local 7 is seek­ing a card check agree­ment with Hyatt that will allow the hotel to become union­ized with­out an NLRB-super­vised elec­tion, accord­ing to Jones. Hyatt has been adamant­ly opposed to card check, but the union expects that grow­ing pub­lic sup­port and polit­i­cal pres­sure will change the company's mind, he says.
Bruce Vail
is a Bal­ti­more-based free­lance writer with decades of expe­ri­ence cov­er­ing labor and busi­ness sto­ries for news­pa­pers, mag­a­zines and new media. He was a reporter for Bloomberg BNA's Dai­ly Labor Report, cov­er­ing col­lec­tive bar­gain­ing issues in a wide range of indus­tries, and a mar­itime indus­try reporter and edi­tor for the Jour­nal of Com­merce, serv­ing both in the newspaper's New York City head­quar­ters and in the Wash­ing­ton, D.C. bureau.