First Came Katrina, Then Came HUD
Activists battle to save New Orleans public housing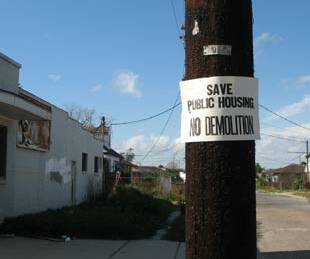 The tem­per­a­ture in New Orleans was unchar­ac­ter­is­ti­cal­ly cold in mid-Decem­ber, dip­ping into the 30s. As thou­sands of home­less peo­ple liv­ing in encamp­ments hud­dled in blan­kets, hous­ing activists from around the coun­try con­verged on the city to protest the demo­li­tion of more than 4,500 units of pub­lic hous­ing, once at the epi­cen­ter of New Orleans' low-income African-Amer­i­can community.
In late Novem­ber, the Hous­ing Author­i­ty of New Orleans (HANO) had approved $30 mil­lion in con­tracts to demol­ish the B.W. Coop­er, C.J. Peete, Lafitte and St. Bernard projects. Pub­lic hous­ing res­i­dents, lawyers, reli­gious lead­ers and activists who attempt­ed to stop the demo­li­tions met police head on. But their efforts suc­ceed­ed in delay­ing some demo­li­tion and gain­ing sig­nif­i­cant nation­al support.
On Dec. 20, how­ev­er, police fought activists from the Coali­tion to Pro­tect Pub­lic Hous­ing with pep­per spray and Tasers on the steps of New Orleans City Hall.
The Depart­ment of Hous­ing and Urban Devel­op­ment (HUD) plans to demol­ish the major­i­ty of New Orleans' his­toric pub­lic hous­ing and replace it with so-called mixed-income neigh­bor­hoods. The post-Hur­ri­cane Kat­ri­na envi­ron­ment of gov­ern­ment inat­ten­tion and slash­ing of pub­lic ser­vices cre­at­ed an open­ing for HUD (which has con­trolled HANO since 2002) to exe­cute a plan it claims was in the works pri­or to the storm.
Since Kat­ri­na, the home­less pop­u­la­tion of New Orleans has dou­bled to more than 12,000 peo­ple. Despite what the New York Times on Dec. 2 called an ​"acute rental short­age," HUD plans to spend $762 mil­lion to demol­ish pub­lic hous­ing and replace it with only 744 new units of afford­able hous­ing. HUD will spend an aver­age of $400,000 for each new mixed-income unit, while state­ments by HANO'S own insur­ance com­pa­ny have shown that many of the mul­ti­ple-unit build­ings to be demol­ished could be repaired for less than $10,000 per building.
A human need
"Get these peo­ple off the street. It's cold out­side!" said Sharon Jaspers, 58, a hous­ing activist and for­mer life­long res­i­dent of the St. Bernard Projects in the 7th Ward. Jaspers, who spoke on the steps of City Hall on Dec. 18, was refer­ring to the dozens of home­less activists and mem­bers of Home­less Pride camped out across the street in Dun­can Plaza since July 4, 2007 to protest the lack of afford­able hous­ing. By mid-Decem­ber, local char­i­ties were help­ing the hun­dreds of home­less secure hous­ing after the city announced its inten­tion to fence off the square and kick out residents.
Jaspers her­self was among the tens of thou­sands dis­placed from St. Bernard in Sep­tem­ber 2005. She now rents an apart­ment on Dumaine Street near down­town. Like many oth­er New Orlea­ni­ans, Jaspers says she is over­whelmed by high util­i­ty bills and ter­ri­ble build­ing maintenance.
In Octo­ber 2006 a (New Orleans) Times-Picayune sur­vey con­clud­ed that rents in Orleans Parish had gone up an aver­age of 70 per­cent since the storm, and in some neigh­bor­hoods rents con­tin­ue to rise.
"Our peo­ple work and they pay tax­es," says Jaspers. ​"Hous­ing is a human need and it's a human right. We have a right to be a part of this process." Jaspers says HUD wants to rid the city of poor peo­ple rather than involve them in the rebuild­ing process. ​"They want­ed to make this a city for the rich," she says. ​"They're not think­ing about poor, work­ing-class peo­ple. All they had to do is revi­tal­ize some units, let the dis­placed fam­i­lies come home, and then start talk­ing about redevelopment."
The St. Bernard hous­ing projects have stood emp­ty since the forced evac­u­a­tion dur­ing Hur­ri­cane Kat­ri­na in 2005. Although the stur­dy brick apart­ments suf­fered only minor water dam­age and could have been reha­bil­i­tat­ed, HUD and the city of New Orleans fenced off the row hous­es and kicked out for­mer res­i­dents who attempt­ed to squat in their own homes. Res­i­dents began imme­di­ate­ly protest­ing their displacement.
On June 14, 2006, HUD and HANO announced demo­li­tion plans. And on June 26, a group of African-Amer­i­can pub­lic hous­ing res­i­dents filed a class-action law­suit, cit­ing the agen­cies' oblig­a­tion to ​"pro­vide nondis­crim­i­na­to­ry access to safe, afford­able hous­ing" and to keep con­trac­tu­al com­mit­ments to res­i­dents with leases.
The res­i­dents point­ed to HUD Sec­re­tary Alphon­so Jackson's state­ment in Sep­tem­ber 2005 that New Orleans ​"is not going to be as black as it was for a long time, if ever again." In April 2006, Jack­son pub­licly stat­ed that "[o]nly the best [pub­lic hous­ing] res­i­dents should return. Those who paid rent on time, those who held a job and those who worked." (The FBI is now inves­ti­gat­ing Jack­son for alleged inside deal­ings with HUD con­tracts in New Orleans.)
The right of return
Pub­lic hous­ing in New Orleans was near­ly 100 per­cent black at the time of the storm in 2005.
"They want to rid this city of black folks," said Mal­colm Suber, a long-time local activist and one of the founders of the People's Hur­ri­cane Relief Fund. ​"We have liv­able spaces across the street from here and peo­ple can't live in them."
Suber spoke at a Dec. 15 demon­stra­tion out­side St. Bernard, where about 100 peo­ple cel­e­brat­ed with food, music, danc­ing and speech­es fol­low­ing a Dec. 14 state court order that forced City Coun­cil to take an active stance on the demo­li­tions before HUD could pro­ceed with its plans.
Kali Akuno, 35, the nation­al orga­niz­er for the Mal­colm X Grass­roots Move­ment and one of the coor­di­na­tors of the Coali­tion to Stop the Demo­li­tions, said he believes the pri­va­ti­za­tion of the city is a result of nation­al right-wing efforts to pri­va­tize social services.
"HUD is destroy­ing the mate­r­i­al basis for the right of return," says Akuno, who sees St. Bernard as the epi­cen­ter of New Orleans' hous­ing struggle.
Akuno says St. Bernard could house some of the tens of thou­sands of peo­ple receiv­ing evic­tion notices from FEMA trail­ers, or used as tran­si­tion­al hous­ing for the grow­ing home­less population.
Short­ly after Akuno and oth­ers spoke at the Dec. 15 demon­stra­tion, police had a skir­mish with pro­test­ers, arrest­ing activist Cheri Honkala for alleged­ly ​"imper­son­at­ing an offi­cer." Honkala says she stepped out into the street to try to pre­vent a pass­ing car from strik­ing pro­test­ers. When Chica­go-based activist Willie J.R. Flem­ing chal­lenged Honkala's arrest, he says police cuffed him and threw him against a car. One cam­era­man, Richard Row­ley of New York-based Big Noise Films, filmed Fleming's arrest.
Flem­ing, who is a direc­tor at the Chica­go Coali­tion to Pro­tect Pub­lic Hous­ing, trav­eled with eight res­i­dent orga­niz­ers from Cabri­ni Green hous­ing projects in Chica­go, where res­i­dents have been fight­ing demo­li­tions since the late ​'90s.
Locked out
On Dec. 10, the Hous­ing Con­ser­va­tion Dis­trict Review Com­mit­tee in New Orleans denied a per­mit to demol­ish Lafitte, an old­er devel­op­ment known for its stur­dy town­house-style con­struc­tion. HUD imme­di­ate­ly threat­ened to cut off fund­ing and hous­ing vouch­ers for for­mer Lafitte res­i­dents if Lafitte is not demolished.
As protests con­tin­ued on the ground, Sens. Barack Oba­ma (D‑Ill.) and Har­ry Reid (D‑Nev.), as well as House Speak­er Nan­cy Pelosi (D‑Calif.), pub­licly request­ed a mora­to­ri­um on the demo­li­tions until more research is done into one-for-one replace­ment and the imme­di­ate needs of dis­placed res­i­dents. The Gulf Coast Recov­ery Act of 2007 would require a plan for replace­ment before demo­li­tions begin. But as of Decem­ber, the bill was held up in com­mit­tee and lacked the key sup­port of Louisiana's Repub­li­can Sen. David Vitter.
Despite the oppo­si­tion, on Dec. 20, New Orleans' City Coun­cil vot­ed unan­i­mous­ly to approve the demo­li­tions with­out for­mal­ly meet­ing with res­i­dents. Before the vote, city offi­cials locked out near­ly 100 peo­ple who showed up to give input, claim­ing the coun­cil cham­bers were full.
When peo­ple inside demand­ed that more folks be let in, police report­ed­ly tasered at least five lead­ers and dragged them out. Pro­test­ers who approached the gates after wit­ness­ing this were also report­ed­ly tasered and pep­per-sprayed. Fif­teen peo­ple were arrest­ed and one woman was rushed to the hos­pi­tal when she began hav­ing seizures due to tasers.
That morn­ing, New Orleans May­or Ray Nagin sent a let­ter to City Coun­cil say­ing he had reached ver­bal agree­ments with HUD Sec­re­tary Jack­son over reha­bil­i­tat­ing a min­i­mum num­ber of units at Lafitte and St. Bernard, assur­ing that rede­vel­op­ment begins direct­ly after the demo­li­tions, and expand­ing HANO's one-per­son board of direc­tors to three peo­ple, includ­ing the may­or and a pub­lic hous­ing res­i­dent, as a means for ​"local input and oversight."
If Nagin's words have weight, they could at least lead to a pause in the action while HUD, HANO and the City Coun­cil try to wait out the nation­al attention.
"This image is not what they want to por­tray," says Akuno, refer­ring to the protests and the home­less encamp­ments. ​"It's not good for business."
Jaspers spoke with In These Times on the phone the day after Christ­mas as she wait­ed for her daugh­ter to fly in from Hous­ton. Her four chil­dren, all from New Orleans, are now scat­tered around the coun­try. She says Christ­mas has changed for her and her fam­i­ly since the storm.
Despite the phys­i­cal, emo­tion­al and spir­i­tu­al trau­ma, Jaspers says she will return to New Orleans along with many oth­er long­time res­i­dents and their allies.
"It can make you bit­ter," says Jaspers, ​"and I'm tired of watch­ing my peo­ple suf­fer. But I refuse to lay down."