Lessons From the First Palestinian Intifada
Recent Gaza demonstrations fall into a long tradition of mass unarmed protest.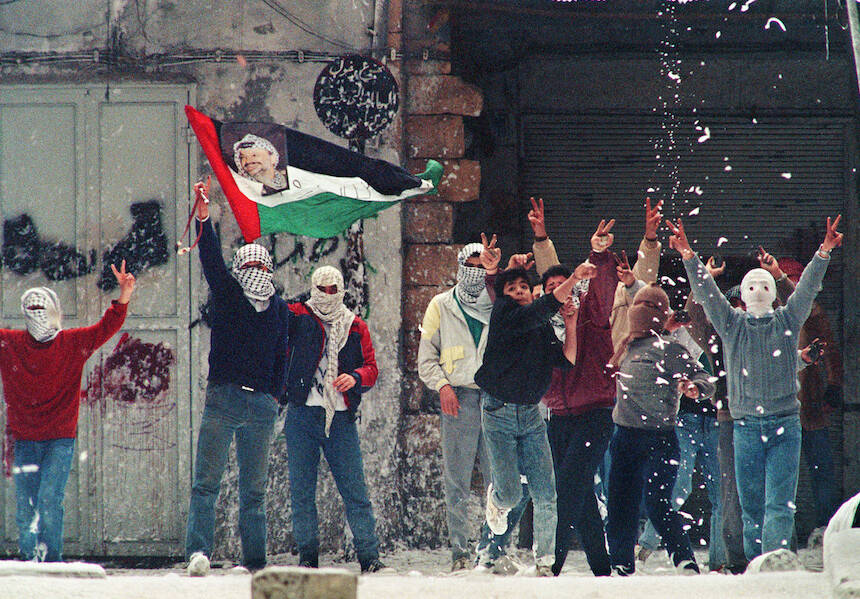 On Dec. 9, 1987, four Pales­tin­ian work­ers were killed in a col­li­sion with an Israeli Defense Forces (IDF) truck. With­in days, protests spread through­out Gaza and the West Bank demand­ing jus­tice for the vic­tims. The demon­stra­tions snow­balled into one of the most pow­er­ful pop­u­lar upris­ings in his­to­ry, demand­ing an imme­di­ate end to the mil­i­tary occu­pa­tion of Palestine.
Women's committees developed cottage industry cooperatives and literacy programs so women could learn productive skills and establish some degree of economic independence from their fathers and husbands.
Thir­ty years lat­er, the First Intifa­da — an Ara­bic word mean­ing ​"shak­ing off" — con­tin­ues to hold a pow­er­ful place in the conflict's his­to­ry. The enor­mous demon­stra­tions and gen­er­al strikes drew media atten­tion from around the world, and the Intifa­da is fre­quent­ly cred­it­ed with forc­ing the Israeli gov­ern­ment to nego­ti­ate with the Pales­tin­ian Lib­er­a­tion Orga­ni­za­tion, ini­ti­at­ing the peace process.
There was also a Sec­ond Intifa­da, from 2000 to 2005, which was marked­ly dif­fer­ent from the First, being char­ac­ter­ized by armed strug­gle by a small seg­ment of the Pales­tin­ian pop­u­la­tion. Today's Great March of Return, a new wave of pop­u­lar demon­stra­tion in Gaza over the past month, rep­re­sents a dra­mat­ic resur­gence of the First Intifada's unarmed mass protest tradition.
But there was much more to the First Intifa­da than mass protests. A less vis­i­ble con­stel­la­tion of com­mu­ni­ty orga­ni­za­tions and net­works made the upris­ing pos­si­ble and, through a com­bi­na­tion of grass­roots democ­ra­cy and what we would now call the ​"sol­i­dar­i­ty econ­o­my," sus­tained the move­ment over years. This strong orga­ni­za­tion­al bedrock stands out among pop­u­lar move­ments, and is worth revis­it­ing at a time where rad­i­cal orga­niz­ers from Barcelona to Kur­dis­tan to Jack­son, Miss., are tak­ing up a sim­i­lar strategy.
Behind the Intifada
In the years lead­ing up to the Intifa­da, the Israeli occu­pa­tion was among the most total­i­tar­i­an polit­i­cal orders on the plan­et. All polit­i­cal activ­i­ty was banned, as were any pub­lic dis­plays of nation­al­ism, such as Pales­tin­ian flags. State con­trol over all areas of life was main­tained through check­points, secret police, kan­ga­roo courts, tor­ture and sur­veil­lance. The incar­cer­a­tion rate for Pales­tini­ans far exceed­ed even the con­tem­po­rary Unit­ed States or the Sovi­et gulag sys­tem. (Much of this remains true today.)
But despite this repres­sion, the 1970s and ​'80s saw an explo­sion of Pales­tin­ian com­mu­ni­ty orga­niz­ing ini­tia­tives. The stu­dent move­ment, the labor move­ment and the women's move­ment built net­works of com­mu­ni­ty coun­cils all across the occu­pied ter­ri­to­ries. Mutu­al aid net­works linked mid­dle-class stu­dents with hard­er hit com­mu­ni­ties, assist­ing with every­thing from med­ical care to repair­ing build­ings in refugee camps. Unions oper­at­ing like under­cov­er work­er cen­ters orga­nized work­ers by neigh­bor­hood or town rather than in the workplace.
Most impor­tant were the fem­i­nist orga­niz­ers who set up women's com­mit­tees, at first in the cities but even­tu­al­ly in refugee camps and across the poor­er coun­try­side as well. These enabled women to meet one another's basic needs and build pow­er toward greater sex­u­al equal­i­ty. They devel­oped cot­tage indus­try coop­er­a­tives (man­aged accord­ing to ​"one work­er, one vote") and lit­er­a­cy pro­grams so women could learn pro­duc­tive skills and estab­lish some degree of eco­nom­ic inde­pen­dence from their fathers and hus­bands. They orga­nized female work­ers to win bet­ter wages and work­ing con­di­tions. Cru­cial­ly, these com­mit­tees man­aged coop­er­a­tive child­care ser­vices so that poor­er women with young chil­dren could par­tic­i­pate in the polit­i­cal and self-devel­op­men­tal work of the women's movement.
Most of the women's com­mit­tees were explic­it­ly social­ist and struc­tured along rad­i­cal­ly demo­c­ra­t­ic and par­tic­i­pa­to­ry lines. Each local com­mit­tee would elect del­e­gates to a coor­di­nat­ing com­mit­tee cov­er­ing a larg­er area to deter­mine region­al strat­e­gy and man­age larg­er projects. These coor­di­nat­ing com­mit­tees in turn sent del­e­gates to a nation­al con­fed­er­a­tion of orga­nized women.
The col­lab­o­ra­tions of these dif­fer­ent com­mu­ni­ty insti­tu­tions — women's com­mit­tees, local unions and oth­ers — for mutu­al aid projects, labor orga­niz­ing and polit­i­cal work cre­at­ed the broad per­cep­tion that each were dif­fer­ent aspects of a sin­gle pop­u­lar move­ment. Their many projects made mil­i­tary occu­pa­tion more liv­able, sus­tain­ing Pales­tin­ian fam­i­lies in the face of ongo­ing col­o­niza­tion; they allowed indi­vid­ual women to stretch the bound­aries of patri­ar­chal con­trol and become more active par­tic­i­pants in the nation­al move­ment; and they laid the ear­ly foun­da­tions of the ​"home econ­o­my," which fos­tered Pales­tin­ian self-suf­fi­cien­cy that would sus­tain boy­cotts and strikes dur­ing the Intifa­da. Tak­en togeth­er, this con­flu­ence of move­ments and the com­mu­ni­ty insti­tu­tions they built would become the back­bone of the rev­o­lu­tion­ary upheaval that broke out at the end of 1987.
The Upris­ing
The ini­tial protests of that Decem­ber received vio­lent response from the Israeli gov­ern­ment. Many pro­test­ers were mas­sa­cred with live rounds. Over the first year of the upris­ing, 311 Pales­tini­ans were killed by Israeli sol­diers, 53 of them minors. When footage of these killings pro­voked inter­na­tion­al out­rage, the IDF moved away from live rounds but con­tin­ued to use rub­ber bul­lets and clubs, delib­er­ate­ly break­ing the bones of unarmed demonstrators.
By Jan­u­ary 1988, com­mu­ni­ties through­out Pales­tine had orga­nized into what they called ​"pop­u­lar com­mit­tees" (also known as neigh­bor­hood or vil­lage coun­cils). Pop­u­lar com­mit­tees emerged when the var­i­ous threads of women's com­mit­tees, local unions, mutu­al aid net­works, stu­dent asso­ci­a­tions and polit­i­cal par­ty chap­ters uni­fied to cre­ate rad­i­cal­ly demo­c­ra­t­ic man­age­ment of the local community.
They car­ried out or del­e­gat­ed to sub­com­mit­tees tasks for every com­mu­ni­ty func­tion imag­in­able: garbage col­lec­tion, deter­min­ing local strike dates, col­lect­ing dona­tions through an ​"alter­na­tive tax­a­tion sys­tem," dis­trib­ut­ing aid (food, fuel and med­ical care), repair­ing dam­aged build­ings, orga­niz­ing bar­ri­cade-build­ing, run­ning class­es out of liv­ing rooms when the schools were shut down, and more. When cer­tain areas were placed under cur­few, near­by pop­u­lar com­mit­tees would col­lect sup­plies to be smug­gled in. Vol­un­teer med­ical teams went door to door to care for those injured by sol­diers and to com­pile essen­tial blood type infor­ma­tion for their own donor registries.
Like the women's com­mit­tees, the pop­u­lar com­mit­tees were net­worked through a con­fed­er­al struc­ture. Each com­mit­tee elect­ed a del­e­gate to spokescoun­cils to coor­di­nate their tac­tics and share resources, infor­ma­tion and ideas; spokescoun­cils elect­ed del­e­gates up sev­er­al more lev­els to a nation­wide body, the Uni­fied Nation­al Lead­er­ship of the Upris­ing (UNLU).
The UNLU was a secre­tive coun­cil that draft­ed and pub­lished offi­cial leaflets out­lin­ing details about march­es, strike dates and resis­tance tac­tics. In the days before social media, this struc­ture allowed good ideas to dis­sem­i­nate quick­ly, even under fierce cen­sor­ship. The idea of a tax strike, a tac­tic deployed to great effect by the peo­ple of Beit Sahour lat­er in the Intifa­da, was first pro­posed by the pop­u­lar com­mit­tee of a small vil­lage near Nablus and end­ed up in a leaflet that was print­ed and dis­trib­uted through­out the whole of Gaza and the West Bank. The UNLU was also essen­tial for pro­vid­ing local actions with a nation­al strate­gic coher­ence: Gen­er­al strikes across all of Pales­tine, for instance, were far more pow­er­ful than iso­lat­ed local ones.
At a more fun­da­men­tal lev­el, the pow­er of the Intifa­da stemmed from its fusion of oppo­si­tion­al and recon­struc­tive pol­i­tics. Strikes, bar­ri­cades, boy­cotts and civ­il dis­obe­di­ence all served to make the occu­pied ter­ri­to­ries ungovern­able. But that oppo­si­tion was sus­tained only through devel­op­ing a new eco­nom­ic and polit­i­cal base for Pales­tin­ian society.
For instance, Israeli col­o­niza­tion had been designed to ren­der Pales­tini­ans depen­dent on wages and goods from inside Israel. So if Pales­tini­ans want­ed to sup­port them­selves while starv­ing the Israeli econ­o­my of their labor, they need­ed to devel­op the ​"home econ­o­my." Com­mu­ni­ty-run ​"intifa­da gar­dens" and sys­tems of mutu­al aid filled this gap. The pop­u­lar com­mit­tee of Beit Sahour kept an entire com­mu­ni­ty-owned dairy oper­a­tion hid­den from the IDF for four years dur­ing ​"Oper­a­tion Hunt Cow," where heli­copters and sol­diers on foot searched the vil­lage for cows that had been declared a ​"threat to Israeli nation­al secu­ri­ty." These efforts to ensure that every­one was still fed amid eco­nom­ic tur­moil allowed all of Pales­tin­ian soci­ety to par­tic­i­pate in the strug­gle, mak­ing the Intifa­da more powerful.
Absent a state of their own, Pales­tini­ans orga­nized a whole polit­i­cal appa­ra­tus with­in the occu­pa­tion. These new autonomous polit­i­cal struc­tures were con­scious­ly intend­ed not only to admin­is­ter the upris­ing, but to form the insti­tu­tion­al basis of the lib­er­at­ed Pales­tin­ian soci­ety that so many saw as right around the corner.
Unfor­tu­nate­ly, this lib­er­at­ed, demo­c­ra­t­ic Pales­tine did not come to be. Repres­sion by Israeli author­i­ties was extreme. Many thou­sands of Pales­tini­ans were beat­en, impris­oned, tor­tured, ille­gal­ly deport­ed or killed. Israeli intel­li­gence threat­ened Pales­tini­ans into becom­ing infor­mants, infil­trat­ing the move­ment at mul­ti­ple lev­els. This drove extreme para­noia, result­ing in sev­er­al years of self-destruc­tive extra­ju­di­cial killings of sus­pect­ed col­lab­o­ra­tors. The Intifa­da began to lose its orga­ni­za­tion­al strength and slow­ly fiz­zled out.
Even so, it suc­ceed­ed in forc­ing Israel to the table to nego­ti­ate terms for Pales­tin­ian inde­pen­dence, ini­ti­at­ing the peace process. This was a dra­mat­ic rever­sal from pre­vi­ous Israeli pol­i­cy, which reject­ed out­right even the pos­si­bil­i­ty of an end to the occu­pa­tion. While those nego­ti­a­tions have not led to a Pales­tin­ian state, the First Intifa­da still trans­formed the inter­na­tion­al con­sen­sus about the Pales­tin­ian sit­u­a­tion and brought the coun­try clos­er to lib­er­a­tion than any­one could have rea­son­ably expect­ed just a few years pri­or. In many places, pop­u­lar com­mit­tees still exist, although hav­ing been shunt­ed aside by the Pales­tin­ian Author­i­ty, their role in soci­ety has diminished.
Today, the Pales­tini­ans' approach to polit­i­cal strug­gle — orga­niz­ing oppo­si­tion­al com­mu­ni­ty insti­tu­tions from below to meet human needs, fight back and build a new soci­ety in the shell of old — has crept back into move­ment strat­e­gy in places all around the world. Kur­dish com­mu­ni­ties, both in Turkey as well as north­ern Syr­ia, have orga­nized con­fed­er­a­tions of coun­cils to build rad­i­cal democ­ra­cy beyond the nation-state. In El Alto, Bolivia, indige­nous peo­ple have orga­nized hun­dreds of neigh­bor­hood assem­blies that gov­ern the com­mu­ni­ty and mobi­lize pop­u­lar resis­tance against water pri­va­ti­za­tion and nat­ur­al gas exploita­tion. In Jack­son, Miss., Coop­er­a­tion Jack­son is devel­op­ing a coop­er­a­tive econ­o­my along­side people's assem­blies intend­ed to con­sti­tute a pow­er base out­side the munic­i­pal gov­ern­ment. Rev­o­lu­tion­ary orga­niz­ers are increas­ing­ly com­ing to rec­og­nize the poten­tial in build­ing such a ​"dual pow­er," as the strat­e­gy is known. Thir­ty years after the Intifa­da, we ought to look back at their strug­gle, and reflect on what it still has to teach us: first and fore­most, the sim­ple pow­er of a neigh­bor­hood council.
Mason Her­son-Hord
is a tran­sit jus­tice orga­niz­er in Detroit, Mich. with the bus rid­ers union Motor City Free­dom Rid­ers. Pre­vi­ous­ly, he has con­duct­ed ethno­graph­ic field­work on com­mu­ni­ty strug­gle against mil­i­tary occu­pa­tion in the occu­pied West Bank and the occu­pied West­ern Sahara. He sits on the steer­ing com­mit­tee of Sym­bio­sis and is a mem­ber of the Sym­bio­sis Research Collective.