To Address the Climate Crisis, We Must Completely Rethink How We Produce and Consume Food
Market-driven solutions won't cut it.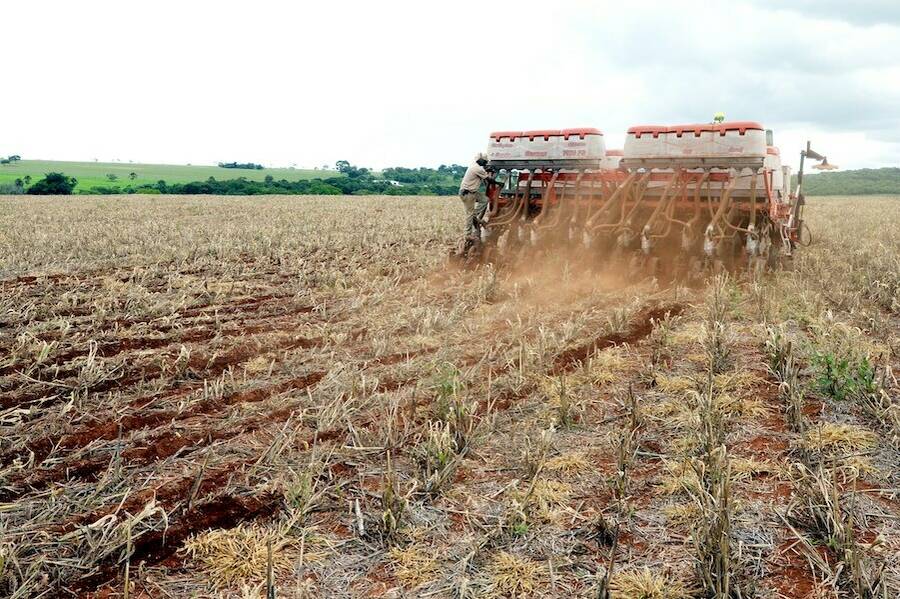 The clock on cli­mate upheaval is tick­ing fast with lit­tle time to lose, as the Inter­gov­ern­men­tal Pan­el on Cli­mate Change (IPCC) made fright­en­ing­ly clear last week. ​"Lim­it­ing glob­al warm­ing to 1.5ºC would require rapid, far-reach­ing and unprece­dent­ed changes in all aspects of soci­ety," the Octo­ber 8 report warned. Yet just one month ear­li­er, the Glob­al Cli­mate Action Sum­mit (GCAS) brushed over what may be the most crit­i­cal ​"aspect of soci­ety," mak­ing only mar­gin­al men­tion of the crisis's top cause.
Food and agriculture represents the single-biggest producer of greenhouse gas emissions, so why isn't agricultural climate action gaining more attention?
Tucked away in a pas­try-laden con­fer­ence room in a down­town San Fran­cis­co office build­ing, a ​"high-lev­el round­table" of inter­na­tion­al lead­ers dis­cussed some­thing piv­otal to the fate of the plan­et yet side­lined by the sum­mit: food and agriculture.
Led by New Zealand's ambas­sador to the Unit­ed States, Tim Gros­er, and top rep­re­sen­ta­tives from the UN Food and Agri­cul­ture Orga­ni­za­tion (FAO), the World Resources Insti­tute and oth­ers, the round­table posed the chal­lenge, ​"How can we make agri­cul­tur­al cli­mate action more attractive?"
Food and agri­cul­ture rep­re­sents the sin­gle-biggest pro­duc­er of green­house gas emis­sions — at between 19 and 29 per­cent includ­ing asso­ci­at­ed defor­esta­tion, more than any oth­er sec­tor in the glob­al econ­o­my. Yet, ​"agri­cul­ture is always the last at the par­ty," not­ed Gros­er, for­mer chair of the World Trade Orga­ni­za­tion agri­cul­ture nego­ti­a­tions process, dur­ing the round­table. Oth­er GCAS pan­els explored issues of defor­esta­tion, land use and food pro­duc­tion sys­tems — but these piv­otal issues were large­ly absent from the summit's main stage events, and were bare­ly men­tioned in the protests and teach-ins sur­round­ing the summit.
The round­table, host­ed by the Cli­mate and Clean Air Coali­tion, fea­tured a dis­so­nant blend of urgency and lack of clar­i­ty: There was no con­sen­sus around how to rapid­ly reduce food's green­house gas emis­sions, which stem chiefly from indus­tri­al agriculture's removal of forests and oth­er car­bon sinks, along­side bal­loon­ing meat and dairy pro­duc­tion. Live­stock pro­duc­tion alone spews 14.5 per­cent of all the world's green­house gas emissions.
A fail­ing food system
"The way we pro­duce food is fail­ing us," said Zitouni Ould Dada, deputy direc­tor of the UN FAO's cli­mate and envi­ron­ment divi­sion, in an inter­view after the event. ​"The whole sys­tem of land use has to change. We need to pro­duce food with the land we have."
The round­table raised a host of food and cli­mate crises and challenges:
In a sur­vey of 174 coun­tries by the World Resources Insti­tute, just nine had tar­gets for reduc­ing methane emis­sions from their food production.

Despite heaps of evi­dence show­ing indus­tri­al live­stock is a top cli­mate threat, glob­al meat and dairy pro­duc­tion and con­sump­tion con­tin­ue to soar.

Mas­sive food waste is a major hunger and cli­mate prob­lem: accord­ing to the UN FAO, a full one-third of all food is wast­ed or lost, and ​"if food wastage were a coun­try, it would be the third largest emit­ting coun­try in the world."
As the FAO's Dada explained, ​"We are try­ing to get pro­duc­tion to shift toward effi­cien­cy because we know there is so much food wastage, from the time you sow the food to the time you have it on your plate," includ­ing long-dis­tance trans­porta­tion, stor­age and pro­cess­ing. ​"Instead of pro­duc­ing more, we can pro­duce more efficiently."
The round­table clar­i­fied a key dilem­ma: with nations depen­dent on trade, exports and eco­nom­ic devel­op­ment to main­tain eco­nom­ic growth — and that growth invari­ably spurring greater meat con­sump­tion — how can coun­tries fill their eco­nom­ic cof­fers while slash­ing food-relat­ed emissions?
As the world's top exporter of goat and sheep meat, and a major beef pro­duc­er, New Zealand illus­trates this ten­sion between trade and emis­sions reduc­tion. The far-flung island nation faces a ​"very acute prob­lem when it comes to our emis­sions pro­gram," Gros­er acknowledged.
But, with glob­al meat con­sump­tion ris­ing and livestock's cli­mate hoof-print clear, how would top beef exporters reduce their cli­mate harm while main­tain­ing income for those nations and their farm­ers? When this reporter posed the ques­tion to the round­table, Gros­er dodged the core chal­lenge of pro­duc­tion and con­sump­tion. ​"Pro­duc­tion is not the prob­lem," he respond­ed. ​"The prob­lem is the how, the sus­tain­abil­i­ty of production."
While debate per­sists between bet­ter meat and no meat, more sus­tain­able ranch­ing has been on the rise, includ­ing grass-fed, small­er-scale and rota­tion­al graz­ing sys­tems. Sci­en­tists and activists con­tin­ue to debate the emis­sions reduc­tions and car­bon stor­age poten­tial of these alter­na­tives, but there is lit­tle ques­tion that pro­duc­ing and con­sum­ing less live­stock would reduce food's cli­mate impact.
Unfor­tu­nate­ly, the big pic­ture of meat and dairy is grim. Glob­al per capi­ta meat con­sump­tion con­tin­ues to rise (with the Unit­ed States and oth­er indus­tri­al ​"devel­oped" nations lead­ing the way) — and with it comes cli­mate-wreck­ing defor­esta­tion, along with methane and nitrous oxide emissions.
When asked about using nation­al pol­i­cy such as sub­si­dies or oth­er incen­tives to pro­pel more sus­tain­able food pro­duc­tion, the round­table offered mea­ger response. Gros­er said there are efforts in that direc­tion, but he stressed the con­tra­dic­tion of gov­ern­ments try­ing to price car­bon in the mar­ket­place while also sub­si­diz­ing car­bon production.
For Gros­er, the dilem­ma exem­pli­fies ​"the enor­mous sen­si­tiv­i­ty of agri­cul­ture" in cli­mate reduc­tion, par­tic­u­lar­ly for nations that rely on agri­cul­ture and exports to sur­vive. Accord­ing to the EPA, agri­cul­ture com­pris­es 9 per­cent of U.S. green­house gas (GHG) emis­sions — though giv­en farming's rel­a­tive­ly small chunk of the U..S econ­o­my, ​"it is a dis­pro­por­tion­ate­ly GHG-inten­sive activ­i­ty," the USDA Eco­nom­ic Research Ser­vice has not­ed. New Zealand, mean­while, gen­er­ates half of its emis­sions from agri­cul­ture, Ire­land 30 per­cent, France 20 per­cent, and Uruguay around 80 per­cent, accord­ing to Gros­er. ​"There's no incen­tive struc­ture for any­one to wor­ry about agri­cul­ture oth­er than France, Ire­land and New Zealand."
Like the sum­mit itself, the round­table focused far more on mar­ket-dri­ven approach­es than on how gov­ern­ments can reg­u­late or fun­da­men­tal­ly change the mar­ket sys­tems that require relent­less growth and prof­its. Gail Work, CEO of One Earth Ven­tures, tout­ed lab research sug­gest­ing ​"we can increase the size of cows and the vol­ume of milk while reduc­ing pol­lu­tion." Man­ish Bap­na, exec­u­tive vice pres­i­dent of the World Resources Insti­tute, empha­sized using ​"mar­ket forces" to sway cor­po­rate sup­ply chains to address defor­esta­tion — but, he added, ​"what we've seen is not near­ly enough progress." Any notion of the pub­lic sec­tor spurring or sup­port­ing more rapid change was miss­ing from the round­table conversation.
As the lat­est IPCC report spells out, aggres­sive­ly tack­ling the cli­mate cri­sis would have ​"clear ben­e­fits to peo­ple and nat­ur­al ecosys­tems," and ​"could go hand in hand with ensur­ing a more sus­tain­able and equi­table soci­ety." While giv­en short shrift by the cli­mate sum­mit and the move­ment protests sur­round­ing it, crit­i­cal efforts are afoot to shrink food's out­sized role in cli­mate change. From insti­tu­tions such as schools and hos­pi­tals reduc­ing their meat con­sump­tion, to glob­al farmer move­ments push­ing agroe­col­o­gy farm­ing sys­tems that boost resilien­cy while reduc­ing emis­sions, there are signs of hope.
The chief ques­tion is whether this progress can be rad­i­cal­ly and rapid­ly expand­ed. For that to hap­pen, the issue must be more hearti­ly embraced by high-pro­file cli­mate sum­mits, world gov­ern­ments and the cli­mate move­ment, as a cen­tral com­po­nent of both the cri­sis and its solutions.
Christo­pher D. Cook
is an award-win­ning jour­nal­ist and author of
Diet for a Dead Plan­et: Big Busi­ness and the Com­ing Food Cri­sis
. His writ­ing has appeared in
Harper's
,
The Atlantic
,
The Nation
, the
Los Ange­les Times
and else­where. You can reach him at
http://​www​.christo​pherd​cook​.com/
.