When Don­ald Trump was elect­ed pres­i­dent, Amer­i­can con­sumer pro­tec­tion groups, food safe­ty advo­cates and com­men­ta­tors were ​"on high alert." Two months pri­or, his cam­paign had post­ed — and lat­er delet­ed — an online fact sheet that high­light­ed a num­ber of ​"reg­u­la­tions to be elim­i­nat­ed" under his pro­posed eco­nom­ic plan.
The doc­u­ment read in part:
The FDA Food Police, which [sic] dic­tate how the fed­er­al gov­ern­ment expects farm­ers to pro­duce fruits and veg­eta­bles and even dic­tates the nutri­tion­al con­tent of dog food. The rules gov­ern the soil farm­ers use, farm and food pro­duc­tion hygiene, food pack­ag­ing, food tem­per­a­tures and even what ani­mals may roam which fields and when. It also great­ly increased inspec­tions of food ​'facil­i­ties,' and levies new tax­es to pay for this inspec­tion overkill.
Now, with Trump's first year in office char­ac­ter­ized by tumult and scan­dal (includ­ing the FBI's ongo­ing Rus­sia probe, his response to white suprema­cist vio­lence in Char­lottesville and his con­tin­u­ous goad­ing of North Korea's Kim Jong Un, etc.) it is under­stand­able that con­cerns about America's food sup­ply have been side­lined. To para­phrase food writer Mark Bittman, how rel­e­vant are food issues when the need to defend basic democ­ra­cy is far greater?
As it turns out, very — the two have been inex­tri­ca­bly linked since the emer­gence of the mod­ern food indus­try at the turn of the 20th cen­tu­ry. Then, as now, lax reg­u­la­to­ry leg­is­la­tion com­bined with ram­pant con­sumer fear has allowed cor­po­rate inter­ests to redi­rect con­ver­sa­tions about food safe­ty and posi­tion them­selves as the best solu­tion to the problem.
In the months after Novem­ber 2016, Bittman recon­sid­ered his posi­tion, telling New York mag­a­zine in June that ​"good food can define a democ­ra­cy." He's right — food issues pro­found­ly affect every­one across class, gen­der, racial, and polit­i­cal lines — and it is time to give them the atten­tion they deserve. In an era when the Envi­ron­men­tal Pro­tec­tion Agency (EPA) and the Food and Drug Admin­is­tra­tion (FDA) are increas­ing­ly com­pro­mised, and work­ers in the Amer­i­can food indus­try are often poor­ly paid and under-pro­tect­ed, advo­cates and com­men­ta­tors must con­scious­ly work to dis­man­tle the elit­ism that so often sur­rounds cul­tur­al dis­cus­sions about food in the Unit­ed States.
In short, it is no longer enough to Insta­gram the lat­est trendy food items or extoll the sup­posed virtues of ​"clean eat­ing." In Bittman's words, ​"to be a food­ie now is to know that we must pro­tect the rights of farm work­ers, retail work­ers, restau­rant work­ers, immi­grants, any­one who is harassed at work and/​or at home (most­ly women), and labor­ers who make min­i­mum wage or less, often with­out ben­e­fits." More­over, it is imper­a­tive ​"to address [diet, envi­ron­men­tal, and farm­ing issues] in the con­text of mak­ing sure all peo­ple can afford good food, as well as in the con­texts of pub­lic health, gen­er­al well-being, and the means to care for the earth."
These are not unfound­ed con­cerns. The rise of neolib­er­al­ism in the Unit­ed States has led to the con­tin­ued dereg­u­la­tion of the food indus­try and allowed cozy rela­tion­ships between pol­i­cy­mak­ers and Big Ag and Big Food lob­by­ists to flour­ish. The Bush-era and ear­ly Oba­ma years were, in the words of Vice reporter Tom Perkins, par­tic­u­lar­ly ​"dark days for food safe­ty," with alarm­ing­ly reg­u­lar prod­uct recalls and out­breaks of often-dead­ly food­borne ill­ness­es. Con­sid­er, the 2009 sal­mo­nel­la out­break in a Geor­gia peanut but­ter fac­to­ry that sick­ened 22,500 peo­ple and killed nine, and the 2006 out­break of E. coli, linked to taint­ed spinach grown in fields near a large cat­tle ranch in California.
Although the Oba­ma admin­is­tra­tion updat­ed America's food safe­ty laws for the first time since the Fed­er­al Food, Drug and Cos­met­ic Act of 1938, the bipar­ti­san Food Safe­ty Mod­ern­iza­tion Act (FSMA), when it passed in 2011, was just a mod­icum of progress. The FSMA allowed the FDA to increase inspec­tions and over­see farm­ing prac­tices. It also allowed them to expand their pow­er to recall taint­ed foods and demand account­abil­i­ty from food com­pa­nies in mat­ters such as accu­rate label­ing. How­ev­er, in spite of these seem­ing­ly tougher mea­sures, Pres­i­dent Oba­ma and Con­gress failed to pro­vide the FDA with the nec­es­sary fund­ing to ade­quate­ly enforce its regulations.
Giv­en this con­text, it is no won­der that for the last decade or so, major Amer­i­can food man­u­fac­tur­ers have con­sis­tent­ly used adver­tis­ing and mar­ket­ing cam­paigns to try and sub­vert the scruti­ny they've come under. Buzz­words like ​"authen­tic," ​"nat­ur­al," ​"small batch," and ​"arti­sanal" abound in prod­uct adver­tise­ments (for every­thing from fast-food break­fast sand­wich­es to tor­tilla chips) to empha­size their appar­ent whole­some­ness at a time when such qual­i­ties are in short sup­ply.
Some his­to­ri­ans and com­men­ta­tors have traced these issues to the 1980s with the rise of Rea­gan-era ​"E. coli con­ser­vatism," in which ​"gov­ern­ment shrinks and shrinks until peo­ple get sick," how­ev­er they have much deep­er roots. Con­cerns that sur­round the food we eat — a con­cern reflect­ed in adver­tis­ing cam­paigns — are the lat­est episode in a bat­tle that has been ongo­ing since the late 19th century.
The food indus­try's rise and tactics
With the advent of brand­ed, mass-pro­duced food items at the turn of the 20th cen­tu­ry, Amer­i­can con­sumers became wary about pur­chas­ing food pro­duced under con­di­tions they could not see first-hand. At the same time, the adver­tis­ing indus­try as we know it today was born, and it worked tire­less­ly to cre­ate a demand for these new prod­ucts. It also helped min­i­mize fears about them.
As Upton Sinclair's 1906 nov­el The Jun­gle por­trays, con­sumers had valid rea­sons to wor­ry about the con­tent and qual­i­ty of the food they ate and the con­di­tions under which it was pro­duced. In response, a grass­roots con­sumer move­ment — dri­ven by orga­ni­za­tions led by mid­dle class women, reli­gious orga­ni­za­tions, pub­lic health offi­cials, physi­cians, jour­nal­ists and politi­cians — lob­bied for the pas­sage of fed­er­al reg­u­la­to­ry leg­is­la­tion, and their quest was ulti­mate­ly suc­cess­ful when the Pure Food and Drug Act was passed in 1906.
A short recap of the Pro­gres­sive Era and the cul­tur­al response to Upton Sin­clair's

1906

nov­el,
The Jun­gle
.
(Video:
Vision Chasers
/ YouTube)
A clos­er look at how the fight for pure food was co-opt­ed by big busi­ness reveals a more com­plex sto­ry than the pop­u­lar per­cep­tion that assumes the Pure Food and Drug Act was a land­mark vic­to­ry for con­sumer pro­tec­tion in the Unit­ed States and a tri­umph of the Pro­gres­sive Era. In a sim­i­lar man­ner to today, food man­u­fac­tur­ers at the turn of the 20th cen­tu­ry were keen­ly aware of what their crit­ics were say­ing, and they used adver­tis­ing and mar­ket­ing to desta­bi­lize these critiques.
Echo­ing the dic­tates of cred­i­ble activists and food gurus like Nation­al Con­sumers' League co-founder Alice Lakey and Boston Cook­ing School teacher and cook­book writer Maria Par­loa, com­pa­nies like Heinz pro­mul­gat­ed the idea that Amer­i­can con­sumers had respon­si­bil­i­ties at an indi­vid­ual lev­el to become informed shop­pers and learn about how their food was produced.
One Heinz adver­tise­ment point­ed­ly asked con­sumers, ​"What Is In The Food You Eat?" With text focused on the per­ceived dan­gers of ben­zoate of soda (a preser­v­a­tive not pro­hib­it­ed under fed­er­al law but con­sid­ered by some to be dan­ger­ous to human health), this adver­tise­ment notes that this sub­stance was used in part ​"to make food accept­able to the eye, which, if you knew how and of what it was made, you would not eat under any cir­cum­stances." It also links their prod­ucts to home­made goods ​"cooked exact­ing with care," and in bold let­ters, implores con­sumers to ​"Look at the Label" before mak­ing any purchases.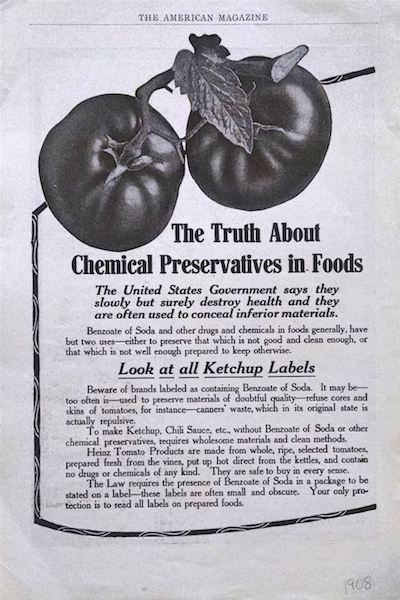 A Heinz adver­tise­ment from 1908. (Image: Pitts­burgh Post-Gazette)
This ad, part of a cam­paign devised by Philadel­phia-based adver­tis­ing agency N.W. Ayer & Son in the ear­ly 20th cen­tu­ry, is an exam­ple of what Cana­di­an aca­d­e­m­ic and jour­nal­ist Andrew Pot­ter describes as ​"con­spic­u­ous authen­tic­i­ty." If, as he writes in Maclean's, ​"authen­tic social rela­tions are built around small, organ­ic com­mu­ni­ties that are non­hier­ar­chal, non­com­mer­cial, and non­ex­ploita­tive," adver­tise­ments like these can be read as a cal­cu­lat­ed attempt to craft a dis­course around food prod­ucts based on notions of ​'good­ness' and ​'hon­esty.' "
The Amer­i­can food indus­try also turned its eye inward as a way of reas­sur­ing con­sumers, espe­cial­ly amidst the con­fu­sion that fol­lowed the pas­sage of the Pure Food and Drug Act when it seemed unclear how and to what degree this new leg­is­la­tion would be enforced. Philadel­phia news­pa­per the North Amer­i­can report­ed in 1910 that ​"health and food depart­ments of many states have utter­ly cast aside the fed­er­al laws as vir­tu­al­ly worth­less" in favor of enforc­ing ​"their far bet­ter state laws."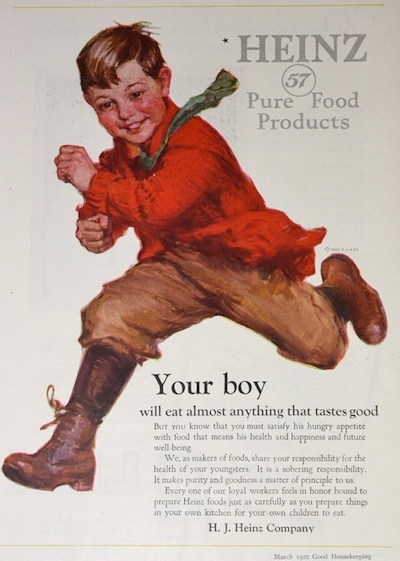 Anoth­er whole­some Heinz ad. (Image: Pin­trest)
In a way that uncan­ni­ly mir­rors our present moment, the paper also not­ed that more press­ing polit­i­cal con­cerns like the Payne-Aldrich Tar­iff Act and the con­ser­va­tion of water pow­er, tim­ber and coal had large­ly pushed food issues out of the Amer­i­can public's mind. As a result, food man­u­fac­tur­ers began to posi­tion them­selves as the only hope for win­ning the flag­ging fight for pure food, and they were met with sur­pris­ing­ly lit­tle crit­i­cism or opposition.
A 1910 issue of the Nation­al Food Mag­a­zine reprint­ed an edi­to­r­i­al from the North Amer­i­can declar­ing that the ​"biggest and best known man­u­fac­tur­ers are now among the lead­ers of the pure food war." In the same year at the con­ven­tion of the Nation­al Can­ners' Asso­ci­a­tion in New Jer­sey, one mem­ber put forth a propo­si­tion to levy a $1,000 fine for every can­ning com­pa­ny that trans­gressed the rules for ensur­ing puri­ty — rules, it is impor­tant to note, that seemed to come from the asso­ci­a­tion itself rather than from fed­er­al law.
As the North Amer­i­can report­ed, amidst cheers of approval from atten­dees, C.C. Win­ning­ham of Chica­go ​"advo­cat­ed a spe­cial pure food label guar­an­teed by the asso­ci­a­tion, which is to be col­lec­tor of the heavy fine in case of vio­la­tion of its rules." Sim­i­lar­ly, a group of approx­i­mate­ly 20 large food com­pa­nies — includ­ing Heinz, the Shred­ded Wheat Com­pa­ny and the Fran­co-Amer­i­can Food Com­pa­ny— formed the Amer­i­can Asso­ci­a­tion for the Pro­mo­tion of Puri­ty in Food Prod­ucts in order to ele­vate ​"the stan­dards of the food pro­duc­ing inter­ests of this country."
This orga­ni­za­tion — and its boost­ers in the press — would have had con­sumers believe that its mem­bers were part of a ​"cer­tain class of man­u­fac­tur­ers whose nat­ur­al sense of hon­or" for­bade them from break­ing fed­er­al or state pure food laws. As the Nation­al Food Mag­a­zine explained, the asso­ci­a­tion fought ​"ardent­ly with the pub­lic" for the pas­sage of the 1906 Act, and ​"fought with all their strength" to save it in the years that fol­lowed. Because of this, the pub­li­ca­tion argued, every con­sumer in the Unit­ed States owed ​"a last­ing debt of grat­i­tude" to these man­u­fac­tur­ers, some of whom used adver­tis­ing as a way to boast of their mem­ber­ship in the association.
Mov­ing backwards
By appoint­ing itself as a key cham­pi­on of fed­er­al pure food leg­is­la­tion when the cause was fal­ter­ing — with both tac­it and explic­it approval from the press — big busi­ness was able to appro­pri­ate the cul­tur­al dis­cus­sions sur­round­ing food in the Unit­ed States at the turn of the 20th cen­tu­ry in a way that boost­ed their bot­tom lines rather than con­sumer pro­tec­tion. In doing so, it also laid the ground­work for our cur­rent moment. These tac­tics pio­neered by cor­po­rate inter­ests show no sign of abat­ing, which makes this moment in U.S. his­to­ry par­tic­u­lar­ly sig­nif­i­cant when con­sid­er­ing the fears and uncer­tain­ties that con­tin­ue to sur­round the pro­duc­tion and con­sump­tion of food in the Unit­ed States.
With the Trump admin­is­tra­tion seem­ing­ly ​"ready to drag the nation back" to the years before the FSMA, it is more impor­tant than ever to be crit­i­cal of the empha­sis food com­pa­nies have long placed on indi­vid­ual con­sumer respon­si­bil­i­ty and ques­tion­able self-reg­u­la­tion strate­gies com­mu­ni­cat­ed via mar­ket­ing and advertising.
(Image: azquotes​.com)