Trump on America's Hungry: Let Them Eat "Harvest Boxes"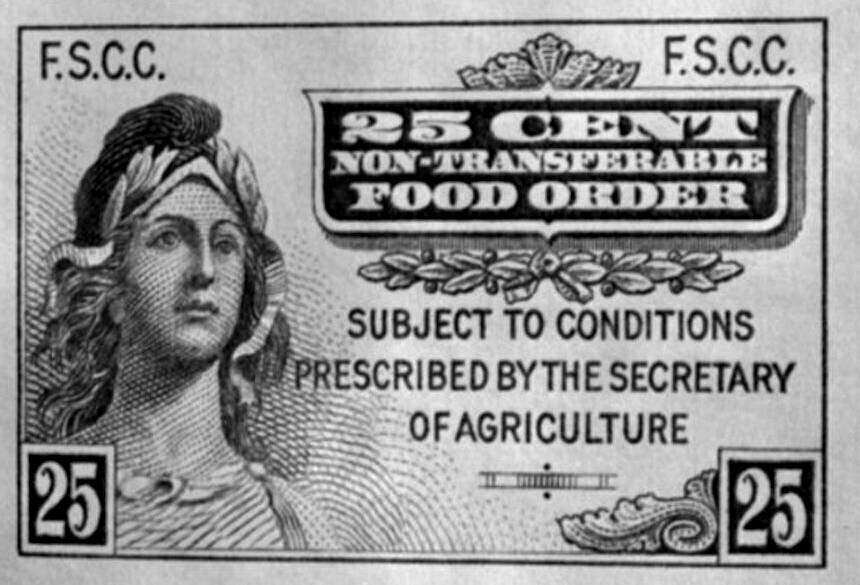 The Trump admin­is­tra­tion would like to slash what the gov­ern­ment spends on food for low-income Americans.
Its lat­est bud­get pro­pos­al calls for reduc­ing Sup­ple­men­tal Nutri­tion Assis­tance Pro­gram (SNAP) out­lays by $200 bil­lion over the next decade and replac­ing about half of the aid deliv­ered through this main­stay of the Amer­i­can safe­ty net with what it's call­ing ​"har­vest box­es" of non­per­ish­able items like pas­ta, canned meat and peanut but­ter. Agri­cul­ture Sec­re­tary Son­ny Per­due says this new approach would cut costs and give states, which admin­is­ter the SNAP pro­gram, ​"flex­i­bil­i­ty."
While research­ing the his­to­ry of SNAP and oth­er gov­ern­ment efforts to help Amer­i­cans who face eco­nom­ic hard­ship get enough to eat, I have been struck by how, while the lead­ers who pio­neered the pro­gram and its pre­cur­sors were Democ­rats, it has long ben­e­fit­ed from bipar­ti­san sup­port. Even as oth­er wel­fare spend­ing was cut, the kind of assis­tance that used to be called food stamps has persisted.
SNAP's back­sto­ry
As part of his New Deal, Pres­i­dent Franklin D. Roo­sevelt broke with a gov­ern­men­tal tra­di­tion of leav­ing the job of fight­ing hunger entire­ly to charities.
Ini­tial­ly, his admin­is­tra­tion sought to alle­vi­ate the spik­ing pover­ty rate brought about by the Great Depres­sion by direct­ly dis­trib­ut­ing sur­plus pork, dairy prod­ucts, flour and oth­er sur­plus food to peo­ple who had trou­ble get­ting food on the table.
FDR's admin­is­tra­tion then adopt­ed a new mod­el in 1939 that used food stamps for the first time in a short-lived pro­gram. Low-income peo­ple could buy stamps and redeem them for gro­ceries worth 50 per­cent more than what they spent — as long as they spent the bonus ones on items des­ig­nat­ed as ​"sur­plus," such as eggs, but­ter and beans.
Ben­e­fi­cia­ries could, for exam­ple, pay $10 for $15 worth of stamps. They would be free to spend the orange-col­ored stamps they'd get with the $10 from their own pock­ets on any gro­ceries they want­ed. The $5 in free blue-col­ored stamps that came as a bonus, how­ev­er, could buy only sur­plus food.
The pro­gram end­ed four years lat­er amid the eco­nom­ic and employ­ment boom World War II brought about. But some law­mak­ers con­tin­ued to sup­port the con­cept of estab­lish­ing a per­ma­nent version.
Pres­i­dent John F. Kennedy, who had expressed shock upon wit­ness­ing dire pover­ty in West Vir­ginia when he ran for office, imme­di­ate­ly made food stamps wide­ly avail­able again through an exec­u­tive order that expand­ed a small-scale USDA pro­gram already in place. Like its FDR-era pre­cur­sor, the mea­sure required ben­e­fi­cia­ries to spend some of their own mon­ey before they could get this assistance.
Lyn­don B. John­son, Kennedy's suc­ces­sor, signed the Food Stamp Act of 1964, cod­i­fy­ing the pro­gram, which took anoth­er decade to spread nationwide.
Repub­li­cans also cham­pi­oned food stamps. Pres­i­dent Richard Nixon expand­ed the program's reach dur­ing his admin­is­tra­tion. Sen­a­tor Bob Dole, a Kansas Repub­li­can, led the charge with Sen. George McGov­ern, a South Dako­ta Demo­c­rat. Work­ing togeth­er, they got the Food and Agri­cul­ture Act of 1977 passed.
Fol­low­ing that law's enact­ment, ben­e­fi­cia­ries no longer had to buy the food stamps. The mea­sure also made food stamp fraud much hard­er to pull off and there­fore rare by intro­duc­ing fed­er­al fund­ing for states to crack down on abus­es and intro­duc­ing incen­tives for low error rates.
Food stamps then sur­vived the wel­fare over­haul of 1996, which sharply restrict­ed eli­gi­bil­i­ty for oth­er kinds of gov­ern­ment assis­tance for the poor. Yet law­mak­ers left the food stamp pro­gram intact, mak­ing it the only remain­ing option avail­able for mil­lions of low-income Americans.
In 2002, Pres­i­dent George W. Bush expand­ed access to this nutri­tion­al sup­port pro­gram for immi­grants with legal sta­tus in a con­crete exam­ple of what he meant when he embraced ​"com­pas­sion­ate con­ser­vatism."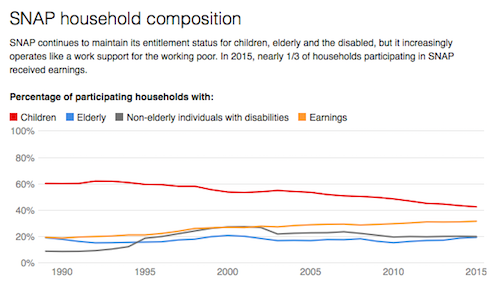 (Source: The Con­ver­sa­tion /
USDA
)
Six years lat­er, the gov­ern­ment rebrand­ed the pro­gram as the Sup­ple­men­tal Nutri­tion Assis­tance Pro­gram. By that point, the stamps them­selves had been grad­u­al­ly replaced across the coun­try with a more mod­ern mech­a­nism. Amer­i­cans eli­gi­ble for these ben­e­fits were instead get­ting their gro­ceries sub­si­dized elec­tron­i­cal­ly at check­out coun­ters by using plas­tic cards known as EBTs—as man­dat­ed when the gov­ern­ment under­took wel­fare reform. Among oth­er things, the cards made it hard­er to com­mit fraud because no one could sell the stamps instead of using them to buy their own groceries.
For the most part, the fed­er­al gov­ern­ment has avoid­ed get­ting involved with the direct dis­tri­b­u­tion of food. Excep­tions include its deci­sion to give ​"gov­ern­ment cheese" to the poor dur­ing the reces­sion of the ear­ly 1980s and a long­stand­ing prac­tice of dis­trib­ut­ing food — espe­cial­ly non­per­ish­able items—on Indi­an reser­va­tions.
The bid to fight hunger with stock­piled processed cheese dur­ing the Rea­gan admin­is­tra­tion proved rel­a­tive­ly brief and hard to pull off for logis­ti­cal rea­sons. But ​"gov­ern­ment cheese" has lived on through punch­lines in movies, TV shows and music.
In a
​
"
Sat­ur­day Night Live
"
sketch,
Chris Far­ley warns two char­ac­ters that they could wind up
​
"
eat­ing a steady diet of gov­ern­ment cheese.
"
(Video: Sat­ur­day Night Live / YouTube)
Car­ry­ing on
More than 40 mil­lion Amer­i­cans now get food assis­tance through SNAP, a fed­er­al pro­gram admin­is­tered by the states. Large shares of the house­holds get­ting these ben­e­fits include chil­dren or mem­bers who earn mon­ey but not enough to make ends meet. And the pro­gram has a proven track record of reduc­ing pover­ty and hunger.
The total tab, which ris­es when the econ­o­my fal­ters and declines dur­ing boom times, was about $68 bil­lion in 2017.
I believe that Trump's har­vest-box con­cept would be a logis­ti­cal night­mare to car­ry out. In the rather unlike­ly event that the cuts he seeks do hap­pen, it would become hard­er for low-income peo­ple to get healthy food.
That, in turn, would increase the already large bur­den on food banks and oth­er non­prof­its help­ing the many Amer­i­cans who slip through the safe­ty net in good times and bad to avoid hunger.
A USDA video, which includes some graph­ic images, recounts the his­to­ry of food stamps. Nar­rat­ed by Jeff Bridges. (Video: Cen­ter on Bud­get and Pol­i­cy Pri­or­i­ties / YouTube)
("From FDR's food stamps to Trump's har­vest box­es: The his­to­ry of help­ing the poor get enough to eat" was first pub­lished on The Con­ver­sa­tion and is repost­ed on Rur­al Amer­i­ca In These Times under a Cre­ative Com­mons license. Dis­clo­sure state­ment: The author does not work for, con­sult, own shares in or receive fund­ing from any com­pa­ny or orga­ni­za­tion that would ben­e­fit from this arti­cle, and has dis­closed no rel­e­vant affil­i­a­tions beyond their aca­d­e­m­ic appoint­ment.)
Matthew Grit­ter
is Assis­tant Pro­fes­sor of Polit­i­cal Sci­ence at Ange­lo State Uni­ver­si­ty in Texas. He is the author of sev­er­al books and arti­cles regard­ing civ­il rights, social pol­i­cy and pol­i­cy history.