Food Workers Take On Fowl Play at Tyson—And Win Better Conditions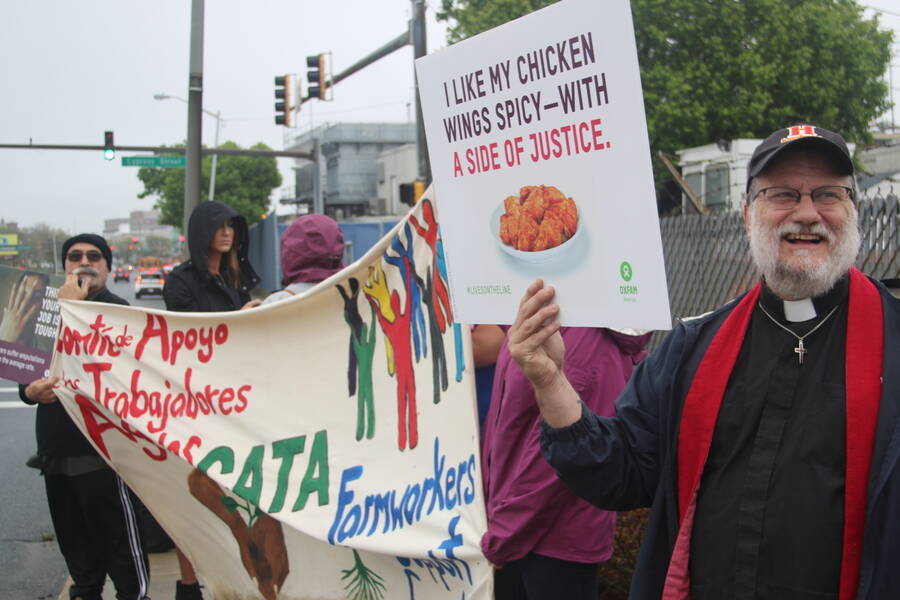 A con­sumer pres­sure cam­paign against labor abus­es in the chick­en-pro­cess­ing indus­try has pro­duced some ini­tial results, with a detailed pledge this week from Tyson Foods to build a bet­ter work­place for its 95,000 employees.
The cam­paign, led by the famed hunger-fight­ing group Oxfam Amer­i­ca, is chal­leng­ing Tyson and three oth­er large chick­en pro­duc­ers to improve on their col­lec­tive record of chron­ic work­er safe­ty prob­lems, pover­ty-lev­el wages and anti-union atti­tudes. It was launched in late 2015 with the help of a coali­tion of like-mind­ed groups, includ­ing the Unit­ed Food and Com­mer­cial Work­ers (UFCW) union. Tyson's pledge is the campaign's first vis­i­ble success.
An announce­ment from Tyson exec­u­tive Noël White care­ful­ly avoid­ed the lan­guage of labor rights and empha­sized, instead, ​"invest­ing in sus­tain­abil­i­ty … to cre­ate a ben­e­fi­cial cycle of con­tribut­ing to the future." Nev­er­the­less, the pledge promis­es some real improve­ments in the lives of work­ers on the shop floor, including:
Improv­ing work­place health and safe­ty with a com­mit­ment to achiev­ing a

15

per­cent year-over-year reduc­tion in work­er injuries and illnesses;
Com­mit­ting to a goal of zero turnover, striv­ing for a

10

per­cent year-over-year improve­ment com­pa­ny-wide in work­er retention;
Hir­ing

25

or more poul­try plant safe­ty train­ers, adding to about

300

train­ers and train­ing coor­di­na­tors the com­pa­ny has hired since

2015

;
Broad­en­ing a pilot com­pen­sa­tion pro­gram at two poul­try plants aimed at increas­ing base wages and short­en­ing the time it takes new work­ers to move to high­er wage rates;
Mak­ing pub­lic the results of third-par­ty social com­pli­ance audits of Tyson plants;
Improv­ing and expand­ing oth­er exist­ing com­pa­ny-wide pro­grams for work­er health and well-being.
"Tyson Foods' com­mit­ment to work­er safe­ty and work­er rights should not just be applaud­ed — it should serve as a mod­el for the rest of the indus­try," said Marc Per­rone, pres­i­dent of UFCW. ​"Through our ongo­ing part­ner­ship with Tyson Foods, we have already made valu­able progress. We look for­ward to these new and expand­ed initiatives."
Oxfam cam­paign chief Minor Sin­clair echoed Perrone's call that oth­er chick­en pro­duc­ers adopt Tyson's approach. The three oth­er com­pa­nies tar­get­ed by Oxfam — Pilgrim's Pride, Per­due and Sander­son Farms — have thus far refused to engage with the Oxfam-led coali­tion, Sin­clair tells In These Times. The three are now ​"lag­ging behind" in their treat­ment of work­ers and their sen­si­tiv­i­ty to the con­cerns of con­sumers, he says.
Sin­clair cred­it­ed oth­er orga­ni­za­tions in the ​"Big Chick­en" coali­tion for the ini­tial break­through with Tyson. In addi­tion to UFCW, oth­er promi­nent mem­bers include the Nation­al Asso­ci­a­tion for the Advance­ment of Col­ored Peo­ple (NAACP), the South­ern Pover­ty Law Cen­ter and the North­west Arkansas Work­ers' Jus­tice Cen­ter. Even the U.S. Depart­ment of Labor has sup­port­ed the safe­ty goals of the coali­tion, he says.
Tyson itself has only recent­ly had a change of heart about the Oxfam cam­paign, Sin­clair con­tin­ues. For the first year or so, Tyson typ­i­cal­ly ignored Oxfam and its allies. ​"For many months we felt stonewalled." But a change came in late 2016, he says, at about the same time Tyson named Tom Hayes as the new chief executive.
"I can't real­ly say the exact rea­son that Tyson changed its atti­tude, but I don't think it is a coin­ci­dence," Sin­clair said about the change in leadership.
UFCW is the largest union at Tyson, rep­re­sent­ing about 24,000 of its hourly work­ers, says com­pa­ny spokesman Gary Mick­el­son. There is some union­iza­tion at 30 of the company's 100 U.S. food-prod­uct plants, he says, with a hand­ful of oth­er unions rep­re­sent­ing an addi­tion­al 5,000 employees.
One of the oth­er union is the UFCW-affil­i­at­ed Retail, Whole­sale and Depart­ment Store Union (RWD­SU). Randy Hadley, a RWD­SU orga­niz­er, tells In These Times he hopes to see results from Tyson's pledges soon. A cav­a­lier approach to work­er safe­ty has char­ac­ter­ized the meat indus­try for decades, he says, and improve­ments are long overdue.
"I hope this isn't just a bunch of PR non­sense," he says.
RWD­SU, which rep­re­sents Tyson work­ers in one of the Alaba­ma chick­en plants, has seen an increased empha­sis on safe­ty recent­ly, accord­ing to Hadley.
"We have seen an increase in the num­ber of safe­ty meet­ings and safe­ty train­ing ses­sions," he says, ​"so I'll give them cred­it for that."
Lan­guage bar­ri­ers are the biggest obsta­cle to effec­tive safe­ty train­ing, Hadley adds, because Tyson recruits a lot of new immi­grants, includ­ing polit­i­cal refugees from the Mid­dle East and oth­er hot spots, to work in the chick­en plants.
"We have anoth­er plant that we rep­re­sent in Ten­nessee. When we print out our union lit­er­a­ture, we do it in 17 dif­fer­ent lan­guages. And some of these folks can bare­ly read, even in their own home lan­guage," Hadley says.
As part of the new com­mit­ments announced this week by Tyson, the com­pa­ny pledged to expand its in-house pro­gram called ​"Upward Acad­e­my," which offers cours­es in Eng­lish as a Sec­ond Lan­guage (ESL) and oth­er ser­vices aimed specif­i­cal­ly at new immigrants.
This week's announce­ment fol­lows the company's 2015 move to raise wages at most of its plants. At that time, Tyson said it would estab­lish a new min­i­mum of at least $10 an hour, up from $8 to $9 an hour. Top labor rates for cer­tain skilled main­te­nance jobs were to be raised to as high as $26 an hour at the same time.
Bruce Vail
is a Bal­ti­more-based free­lance writer with decades of expe­ri­ence cov­er­ing labor and busi­ness sto­ries for news­pa­pers, mag­a­zines and new media. He was a reporter for Bloomberg BNA's Dai­ly Labor Report, cov­er­ing col­lec­tive bar­gain­ing issues in a wide range of indus­tries, and a mar­itime indus­try reporter and edi­tor for the Jour­nal of Com­merce, serv­ing both in the newspaper's New York City head­quar­ters and in the Wash­ing­ton, D.C. bureau.