For Labor, an Open Shop Doesn't Have to Mean Closed Doors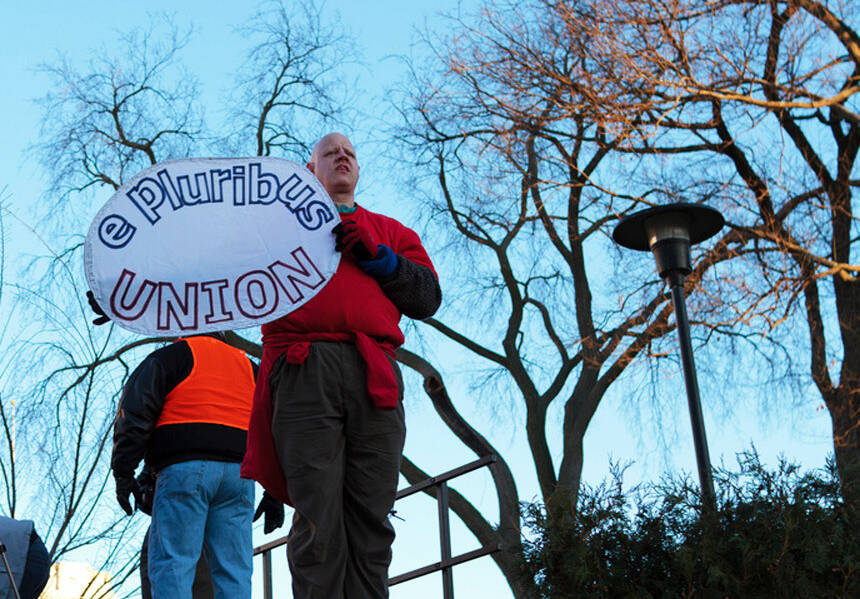 For many years, Amer­i­can unions have been try­ing to ​"orga­nize the unor­ga­nized" to off­set and, where pos­si­ble, reverse their steady loss of dues-pay­ing mem­ber­ship. In union cir­cles, a dis­tinc­tion was often made between such ​"exter­nal orga­niz­ing" — recruit­ing work­ers who cur­rent­ly lack col­lec­tive bar­gain­ing rights — and ​"inter­nal orga­niz­ing," which involves engag­ing more mem­bers in con­tract fights and oth­er forms of col­lec­tive activ­i­ty aimed at strength­en­ing exist­ing bar­gain­ing units.
Thanks to the grow­ing suc­cess of cor­po­rate-backed ​"right-to-work" ini­tia­tives, how­ev­er, these two forms of union func­tion­ing have become fused togeth­er. Vir­tu­al­ly all labor orga­ni­za­tions face the expand­ed chal­lenge of recruit­ing and main­tain­ing mem­bers in already union­ized work­places, where the deci­sion to pro­vide finan­cial sup­port for the union has, for bet­ter or worse, become vol­un­tary. (Some left-wing crit­ics of ​"con­tract union­ism" have long argued that auto­mat­ic deduc­tion of dues by employ­ers for their union bar­gain­ing part­ners, make the lat­ter over­ly depen­dent on man­age­ment and less respon­sive to rank-and-file workers.)
Through­out the coun­try, labor foes have suc­ceed­ed in lim­it­ing the abil­i­ty of unions to col­lect dues — or the equiv­a­lent in ​"agency fees" — from the 16 mil­lion work­ers they are legal­ly cer­ti­fied to rep­re­sent. In the pri­vate sec­tor, 24 states now have an ​"open shop," which means that union mem­ber­ship or fee-pay­ing by non-mem­bers can­not be required in con­tracts with employ­ers, includ­ing, most recent­ly, those oper­at­ing in Michi­gan and Indiana.
In the pub­lic sec­tor, the par­al­lel legal and polit­i­cal assaults on ​"union secu­ri­ty" agree­ments and auto­mat­ic deduc­tion of dues or fees from gov­ern­ment employ­ee pay­checks has unfold­ed in those two states, neigh­bor­ing Wis­con­sin, and every state with recent­ly cre­at­ed bar­gain­ing units for home-based direct care providers.
With adverse ram­i­fi­ca­tions for 700,000 sim­i­lar­ly sit­u­at­ed union-rep­re­sent­ed work­ers in oth­er states, the Supreme Court ruled in June's Har­ris v. Quinn that pub­licly fund­ed home health care aides in Illi­nois were only ​"qua­si-pub­lic employ­ees." Accord­ing to the deci­sion, such work­ers are no longer sub­ject to the local pub­lic-sec­tor labor law that non-mem­bers pay their ​"fair share" of the cost of union rep­re­sen­ta­tion and ser­vices, which unions must pro­vide to every­one in their bar­gain­ing units.
Mem­ber­ship exodus
When Ser­vice Employ­ees orga­niz­er Rand Wil­son and I wrote about this emerg­ing trend two years ago in an essay for Month­ly Review Press enti­tled ​"Union Sur­vival Strate­gies in Open Shop Amer­i­ca," we not­ed that there were already more than 1.5 mil­lion Amer­i­cans cov­ered by union con­tracts who had declined to become mem­bers. Based on devel­op­ments then under way in the Mid­west, we pre­dict­ed that the guar­an­teed income stream that many U.S. labor orga­ni­za­tions had long enjoyed — and used to pay for their large com­ple­ment of lawyers, lob­by­ists, full-time nego­tia­tors, and field staff — would soon be interrupted.
For exam­ple, in Wis­con­sin, where pub­lic employ­ees had just been bat­tered by con­tract con­ces­sions before being stripped of mean­ing­ful col­lec­tive bar­gain­ing rights, most of their unions had not func­tioned as vol­un­tary mem­ber­ship orga­ni­za­tions for three decades or more. We expressed the con­cern that a new, more intim­i­dat­ing work­place envi­ron­ment might com­bine with rank-and-file resent­ment over wage and ben­e­fit give­backs to send dues receipts plum­met­ing — if unions did not move quick­ly to strength­en their shop-floor presence.
In Indi­ana, a sim­i­lar Repub­li­can revo­ca­tion of ​"dues check off" and more lim­it­ed bar­gain­ing rights caused state­work­er union mem­ber­ship to drop from 16,400 to few­er than 1,500 from 2005 to 2011. Two years lat­er, after Michi­gan leg­is­la­tors exclud­ed home care work­ers from their state's def­i­n­i­tion of pub­lic employ­ees and stripped them of bar­gain­ing rights grant­ed by a pre­vi­ous Demo­c­ra­t­ic gov­er­nor, mem­ber­ship in the Ser­vice Employ­ees Inter­na­tion­al Union (SEIU) declined by 80 per­cent — from 55,000 mem­bers to few­er than 11,000 in a sin­gle year.
Painful transition
As The New York Times report­ed last Feb­ru­ary, the forced tran­si­tion to a new mod­el of func­tion­ing has been no less painful in Wis­con­sin. Since the Repub­li­can-backed Act 10 ​"severe­ly restrict­ed the pow­er of pub­lic employ­ee unions to bar­gain col­lec­tive­ly," the state work­er mem­ber­ship of the Amer­i­can Fed­er­a­tion of State Coun­ty and Munic­i­pal Employ­ees (AFSCME) ​"has fall­en by 60 per­cent; its annu­al bud­get has plunged to $2 mil­lion from $6 million."
Found­ed in 1932 as a pio­neer­ing AFSCME affil­i­ate, Madi­son-based Local 1 went from 1,000 to 122 mem­bers. To keep the union alive, ​"99 per­cent of what the staff does is orga­nize," explained AFSCME coun­cil direc­tor Mar­ty Bell. ​"With­out the abil­i­ty to bar­gain, Bell's union most­ly rep­re­sents mem­bers and engages in col­lec­tive action," accord­ing to The Times. Local affil­i­ates of the Amer­i­can Fed­er­a­tion of Teach­ers (AFT) have been sim­i­lar­ly dec­i­mat­ed — in part because of offi­cial resis­tance to low­er­ing dues — while their coun­ter­parts in the Nation­al Edu­ca­tion Asso­ci­a­tion (NEA) have done bet­ter main­tain­ing Wis­con­sin membership.
Now comes Michi­gan, where the most recent­ly enact­ed state ​"right-to-work" law is going into effect for 112,000 pub­lic school teach­ers, who rep­re­sent one out of every six union mem­bers in the state. Dur­ing all of August, they've had a chance to ​"opt out" of pay­ing for their union rep­re­sen­ta­tion. In a pre­vi­ous ​"opt out" peri­od last year, only 1,500 did, amount­ing to about 1 per­cent. But this sum­mer, teach­ers have been bom­bard­ed with anti-union mail­ers and news­pa­per ads — the lat­ter pur­chased by Amer­i­cans for Pros­per­i­ty, a Koch Broth­ers cre­ation. These have urged them to with­hold annu­al pay­ments of up to $822 to the Michi­gan Edu­ca­tion Asso­ci­a­tion and its par­ent orga­ni­za­tion, the NEA.
Oth­er major unions in Michi­gan, includ­ing the Unit­ed Auto Work­ers (UAW), have mul­ti-year con­tracts that are in effect until 2015 or lat­er. When those expire, more pri­vate sec­tor union mem­bers will have the same choice as teach­ers this sum­mer. As the Asso­ci­at­ed Press report­ed August 25, ​"a sig­nif­i­cant num­ber of drop outs would deliv­er a finan­cial blow to labor in a state where it has his­tor­i­cal­ly been dom­i­nant" — or, at least, far more influ­en­tial in the past than today.
When a cash-strapped UAW hiked its dues ear­li­er this year, oppo­nents of that mea­sure warned that high­er dues might encour­age more of the union's 50,000 Michi­gan-based autowork­ers to drop out next year. Of par­tic­u­lar con­cern is the sim­mer­ing resent­ment of more recent­ly hired UAW dues-pay­ers, who are demand­ing changes in the Big Three's two-tier wage struc­ture that cur­rent­ly leaves them far below the hourly pay of high­er senior­i­ty work­ers. If that issue is not sat­is­fac­to­ri­ly resolved in the next round of auto indus­try bar­gain­ing, the Koch-backed Amer­i­cans for Pros­per­i­ty may even gain trac­tion in a few auto plants.
Pre­emp­tive orga­niz­ing needed
In antic­i­pa­tion of an unfa­vor­able rul­ing in Har­ris v. Quinn, some SEIU and AFSCME locals, with large num­bers of home-based work­ers pay­ing agency fees rather than dues, stepped up their efforts to con­vert them into actu­al mem­bers, who would stick with the union when and if ​"free­load­ing" became pos­si­ble. Though these efforts have paid off in some places, they still have a long way to go in SEIU affil­i­ates like Unit­ed Long Term Care Work­ers in Cal­i­for­nia. (In the past, SEIU-ULTCW has pub­licly claimed to have 170,000 ​"mem­bers" at the same time its U.S. Depart­ment of Labor fil­ings showed that 80,000 or more were, in fact, ​"agency fee payers.")
New­er addi­tions to the nation's union­ized home­care work­force — like the statewide unit of 27,000 per­son­al care atten­dants in Min­neso­ta who won union recog­ni­tion August 26 — will need con­tin­u­ous inter­nal orga­niz­ing to boost their mem­ber­ship lev­els here­after. In that new­ly recruit­ed group, only one-fifth of the work­ers eli­gi­ble to vote actu­al­ly cast a bal­lot for or against SEIU, which won by a mar­gin of 60 to 40 per­cent. In an open-shop envi­ron­ment, under a less friend­ly gov­er­nor, the oth­er 21,000 could eas­i­ly go the way of SEIU's now-lost dues-pay­ing major­i­ty in Michi­gan home care.
For­mer SEIU orga­niz­er Jane McAlevey has argued, based on her past union expe­ri­ence in open-shop Neva­da, that ​"even in the face of cam­paigns by employ­ers to get work­ers to drop their mem­ber­ship, work­ers will con­tin­ue to be mem­bers and con­tribute from their pay­check when they expe­ri­ence their union as their union."
Iron­i­cal­ly, some of the best exam­ples of what McAlevey calls the ​"high par­tic­i­pa­tion mod­el" of union build­ing can be found in south­ern ​"right-to-work" states. As Wil­son and I report­ed in our ​"open shop" orga­niz­ing chap­ter in Wis­con­sin Upris­ing: Labor Fights Back (Month­ly Review Press, 2010), ​"non-major­i­ty" unions have been con­struct­ed by pub­lic-sec­tor mem­bers of the Com­mu­ni­ca­tions Work­ers of Amer­i­ca in Ten­nessee, Texas, and Mis­sis­sip­pi and the Unit­ed Elec­tri­cal Work­ers in North Car­oli­na — all in the absence of for­mal col­lec­tive bar­gain­ing and any manda­to­ry pay­ment of dues or fees.
These mem­ber-dri­ven labor orga­ni­za­tions have devised more rea­son­able dues struc­tures, ways of col­lect­ing dues vol­un­tar­i­ly, and, most impor­tant of all, a work­place and com­mu­ni­ty pres­ence not defined by employ­er recog­ni­tion or statute. Their sur­vival and effec­tive­ness depends on work­er activ­i­ty — the kind of mem­ber mobi­liza­tion around job-relat­ed and legislative/​political issues that labor needs, in many oth­er states, to remain ​"orga­nized" with­out the legal props of the past.
This post orig­i­nal­ly appeared on Clas­sism Exposed. AFSCME, UAW and CWA are web­site spon­sors of In These Times. Spon­sors play no role in edi­to­r­i­al content.
Steve Ear­ly worked for 27 years as an orga­niz­er and inter­na­tion­al rep­re­sen­ta­tive for the Com­mu­ni­ca­tions Work­ers of Amer­i­ca. He is the author of sev­er­al books, includ­ing Refin­ery Town: Big Oil, Big Mon­ey, and the Remak­ing of an Amer­i­can City (Bea­con Press).