Yes, 87,500 Macy's Workers Won't Get Thanksgiving Holiday, But That's Not Their Biggest Concern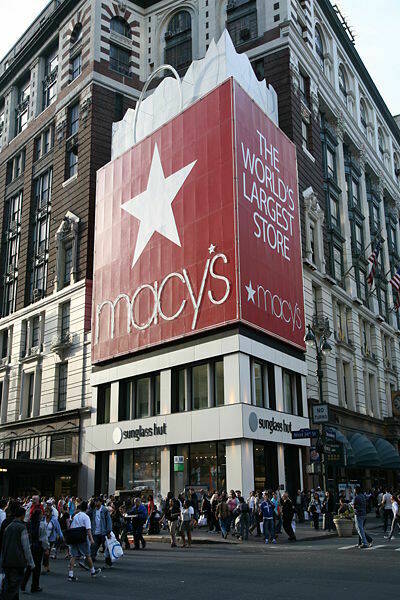 Depart­ment store chain Macy's, known for its lav­ish Thanks­giv­ing Day parade, is tak­ing heat for can­cel­ing the hol­i­day for many of its 175,000 employ­ees. On Oct. 13, the Chica­go Sun-Times report­ed the news that Macy plans to break with its 155-year prac­tice of clos­ing its stores on Thanks­giv­ing Day.
Macy's spokesper­son Hol­ly Thomas con­firmed to Work­ing In These Times that about 750 of the company's 850 stores nation­wide will be opened at 8 pm, requir­ing some 87,500 work­ers to give up a part of their tra­di­tion­al fam­i­ly hol­i­day. But she stressed that no employ­ees would be required to report to work against their will and that a suf­fi­cient num­ber of vol­un­teers had already been recruit­ed. Fur­ther, those work­ers will all receive time-and-a-half hol­i­day pay for their full shifts, Thomas says.
And sur­pris­ing­ly, the largest union local rep­re­sent­ing Macy's work­ers had a sim­i­lar take. Gail Rogers, Sec­re­tary-Trea­sur­er of Retail, Whole­sale and Depart­ment Store Union Local 1‑S, which has over 3,500 mem­bers in New York City and near­by Westch­ester Coun­ty, says she sees no rea­son to crit­i­cize Macy's as long as the com­pa­ny hon­ors its union con­tracts. ​"We received notice a cou­ple of months ago, and Macy's will be hon­or­ing our con­tract. Nobody is going to be forced to work if they pre­fer to cel­e­brate the hol­i­day, and the vol­un­teers will all be get­ting time-and-a-half. Plen­ty of our mem­bers are will­ing… so there aren't a lot of com­plaints," she says.
So is this a tem­pest in a teapot? Rogers says that there is still one con­cern: While union work­ers are pro­tect­ed, non-union work­ers have no one to ensure Macy's keeps its word.
​"My con­cern would be for the non-union work­ers" at Macy's and its sub­sidiary Bloom­ing­dales, Rogers says. ​"With­out a good union con­tract, it's easy to see how the vol­un­tary nature of the work, and the pre­mi­um pay, might fall by the way­side as time goes by."
Only about 10 per­cent of Macy's work­ers are union­ized, accord­ing to the company's most recent Secu­ri­ties & Exchange Com­mis­sion dis­clo­sure state­ment, with pock­ets of union strength in New York, San Fran­cis­co, Seat­tle, Boston, and the greater Wash­ing­ton, D.C. met­ro­pol­i­tan area. Aside from RWD­SU, work­ers are union­ized through the Unit­ed Food & Com­mer­cial Work­ers Union (UFCW), Team­sters, Ser­vice Employ­ees Inter­na­tion­al Union (SEIU) and Unite Here.
Both RWD­SU and UFCW have orga­niz­ing efforts under­way to increase union mem­ber­ship at Macy's stores, but the com­pa­ny is offer­ing stiff resistance.
For exam­ple, Seat­tle-based UFCW Local 21 is cur­rent­ly try­ing to orga­nize a Macy's store in Sil­ver­a­do, Wash., in hopes of adding to the four stores it already rep­re­sents in the area. A June 28 report in the Kit­sap Sun indi­cat­ed the union had filed unfair labor prac­tice charges against the store in the bit­ter dis­pute. UFCW Local 21 Com­mu­ni­ca­tions Direc­tor Tom Geiger did not respond to sev­er­al requests for com­ment from Work­ing In These Times.
A sim­i­lar sit­u­a­tion in the San Fran­cis­co Bay area cul­mi­nat­ed in July 2011 with a union elec­tion vic­to­ry by UFCW Local 5 at a Macy's store in Pleasan­ton, Calif. In a press state­ment at the time, Local 5 spokesper­son Mike Hen­neber­ry said the union had over­come ​"aggres­sive employ­er resis­tance" to win the Nation­al Labor Rela­tions Board-super­vised elec­tion. The vic­to­ry increased the num­ber of Macy's stores under Local 5 con­tract from two to three. Like Geiger, Hen­neber­rry did not respond to requests for com­ment this week from Work­ing In These Times.
Yet anoth­er orga­niz­ing effort by Ded­ham, Mass.-based UFCW Local 1445 is even receiv­ing spe­cial atten­tion by fed­er­al reg­u­la­tors. Local 1445 is cur­rent­ly seek­ing a union elec­tion among a small group of cos­met­ics and per­fume sales­per­sons at the Macy's store in Saugus, Mass., but the com­pa­ny is fight­ing the elec­tion as an improp­er inter­pre­ta­tion of fed­er­al labor law. The case is now before the NLRB, but the U.S. Cham­ber of Com­merce has dubbed the cos­met­ics and per­fume sales staff an improp­er ​"micro-union" and is encour­ag­ing fed­er­al law­mak­ers to sup­port a new labor law to restrict such orga­niz­ing efforts. Local 1445 Pres­i­dent Rick Charette did not respond to a request for comment.
RWDSU's Rogers tells Work­ing In These Times that efforts to expand the juris­dic­tion of Local 1‑S have been met with sim­i­lar deter­mined resis­tance over the years. The orga­niz­ing efforts con­tributed to an espe­cial­ly dif­fi­cult con­tract nego­ti­a­tion in 2011. That was the same year that Local 1‑S has a suc­cess­ful cam­paign to orga­nize new Macy's work­ers in the Elmhurst neigh­bor­hood in city's bor­ough of Queens.
For the unions then, the end of the Thanks­giv­ing hol­i­day at Macy's is not so much an occa­son for out­rage as the lat­est step in a long nation­al trend that rein­forces the need for union rep­re­sen­ta­tion. As Macy's not­ed in its own defense, Thanks­giv­ing open­ings are increas­ing­ly com­mon among large retail­ers anx­ious to begin the Christ­mas shop­ping sea­son. Wal-Mart, for exam­ple opened its doors at 10pm on Thanks­giv­ing in 2011, and pushed the time back to 8pm in 2012. Employ­ers ask­ing for more from work­ers is a tale as old as busi­ness; and his­tor­i­cal­ly, it's been the job of unions to make sure work­ers' rights aren't trampled.
One non-union Macy's employ­ee, Lor­raine Riley-James of Chica­go, is peev­ed by the Thanks­giv­ing open­ings. ​"It's just unfair. It's self­ish. I hate it," she says. An activist in the Chica­go-area Fight for 15 cam­paign for high­er wages in the retail and fast food indus­tries, Riley-James regards the Macy's deci­sion as a uni­lat­er­al move to take away one of the few paid hol­i­days enjoyed by retail work­ers. ​"They real­ly took it away from us last year when they start­ed the mid­night open­ings [on Black Fri­day]. … You have to come in ear­li­er to get ready, [so it] ruins the holiday."
Riley-Jones says she plans to con­tIn­ue her activism for high­er wages and bet­ter ben­e­fits for work­ers at Macy's and else­where.
Bruce Vail
is a Bal­ti­more-based free­lance writer with decades of expe­ri­ence cov­er­ing labor and busi­ness sto­ries for news­pa­pers, mag­a­zines and new media. He was a reporter for Bloomberg BNA's Dai­ly Labor Report, cov­er­ing col­lec­tive bar­gain­ing issues in a wide range of indus­tries, and a mar­itime indus­try reporter and edi­tor for the Jour­nal of Com­merce, serv­ing both in the newspaper's New York City head­quar­ters and in the Wash­ing­ton, D.C. bureau.