For Women Restaurant Workers, Sexual Harassment Starts with the Day You're Hired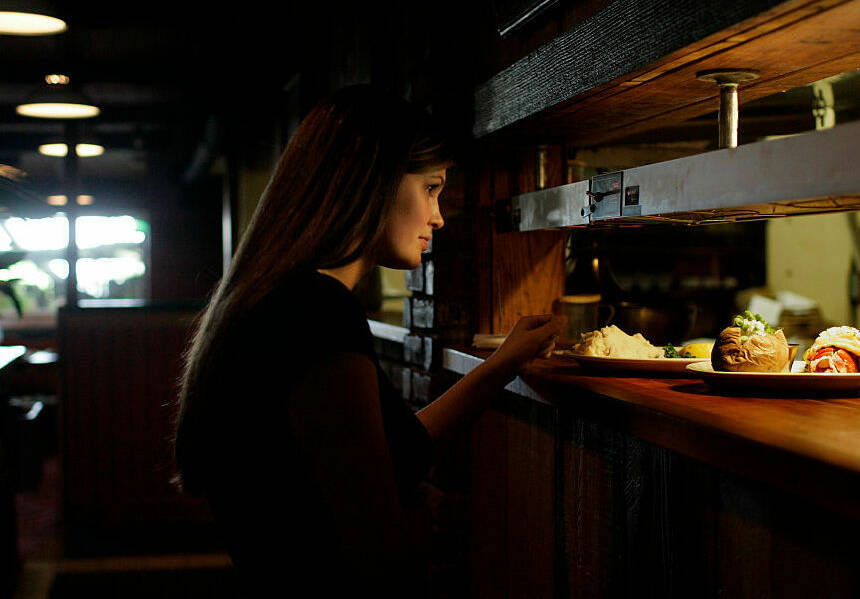 Any­one who has ever scanned Craigslist for a restau­rant job knows the boil­er­plate ​"will train the right per­son," code for, among oth­er things, ​"Be young and have a nice ass." I have two (attrac­tive, blonde) female col­leagues who got their first serv­ing jobs at 19 on the sup­posed basis of their scores on the restau­rant giant Darden's infa­mous per­son­al­i­ty test. The first guy who ever hired me to wait tables said he liked my writ­ing in my per­son­al statement.
No one is innate­ly or instant­ly good at wait­ing tables. Train­ing some­one who has nev­er worked in a restau­rant involves sev­er­al long weeks of phys­i­cal­ly and men­tal­ly exhaust­ing ser­i­al humil­i­a­tion dur­ing which time she is like­ly, per­verse­ly, to be the restaurant's most expen­sive front-of house employ­ee, since until she is eli­gi­ble to earn tips she has to be paid the ghast­ly sum that is the full min­i­mum wage. The ​"right per­son" is like­ly to be the tar­get, until a new right per­son sup­plants her, of so much hos­til­i­ty and deri­sion from the chefs and the cooks and the food run­ners and the bar­tenders and the man­agers who didn't hire her, and the oth­er wait­ers and wait­ress­es forced to train her, that the sex­u­al harass­ment that results inevitably from being hired for her looks/​intangibles/​etc. is like­ly to seem, at first any­way, like the least of her prob­lems. At first.
The dress code at my first restau­rant job con­sist­ed, for women, of a black miniskirt, bal­let flats and neu­tral make­up dur­ing the week and black minidress, slouchy boots, red lip­stick and ​"state­ment jew­el­ry" on the week­ends. For dudes, it was a black shirt and jeans at all times. None of the dudes had been hired on the basis of their poten­tial to prove them­selves ​"the right per­son"; they'd all been servers at big strip mall chains and, before that, food run­ners and bussers and bar­backs. They had col­lec­tive decades of advanced tray car­ry­ing expe­ri­ence on us: The youngest female serv­er had just turned 19, the youngest male was 27, and that was a fair­ly stan­dard state of affairs at restau­rants will­ing to admin­is­ter Reme­di­al Restau­rant 101 to ​"the right per­son." It would be hard to design a con­text more con­ducive to being sex­u­al­ly harassed by co-work­ers, and indeed, like 80 per­cent of women restau­rant work­ers in a 2014 Restau­rant Oppor­tu­ni­ties Cen­ter Unit­ed (ROC Unit­ed) sur­vey, we all were.
We expe­ri­enced sex­u­al harass­ment from cus­tomers, too (as did near­ly 80 per­cent in the ROC Unit­ed sur­vey) — the entire point of mak­ing female servers dress a cer­tain way is to entice cus­tomers, not man­agers or cowork­ers. But as in any field, it's the harass­ment from boss­es and supe­ri­ors — the guys who decide whether you'll be wait­ing on three tables or ten tonight, who can choose to help you or chas­tise you if the hosts stick you with five two tops all at once and you get behind, the guys you see every fuck­ing day — that real­ly gets to you. Even the hand­si­est dirty old man cus­tomer has to com­pete with a dozen oth­er din­ner guests for your atten­tion, and if he's real­ly that creepy the hosts won't let him sit in your sec­tion — or depend­ing on his spend­ing habits/​status/​infractions, any wom­an's sec­tion — again. (Also, there's always the chance creepy old man leaves a 40 per­cent tip, in which case, and depend­ing on the infrac­tion, he is rough­ly 90 per­cent forgiven.)
I was fired from my first job after two weeks, when the guy who hired me went on vaca­tion. The fir­ing was done by a ner­vous-look­ing fel­low who'd spo­ken all of three words to me and gave no rea­son at all. For months after­ward, I was still field­ing flir­ta­tious texts from the fortysome­thing ex-Marine I'd been assigned to shad­ow dur­ing my brief employ­ment. (He thought he could get me hired back.) My friend Liz, who worked for an enor­mous restau­rant chain, sur­vived haz­ing to win the ​"most improved serv­er" award after a year dur­ing which she learned ​"to final­ly not suck," but one of her man­agers reg­u­lar­ly slapped her ass on the floor (even after she start­ed whip­ping out her lighter and threat­en­ing to burn him when­ev­er he approached) and anoth­er would reg­u­lar­ly creep up and mas­sage her shoul­der blades — oh to have a nick­el for every unwant­ed shoul­der mas­sage! — while she was ring­ing in orders.
And that's par for the course at a mas­sive pub­licly trad­ed com­pa­ny with a huge human resources depart­ment. My cur­rent restau­rant group has no HR depart­ment, despite employ­ing close to a thou­sand peo­ple (among them a half dozen ​"guest rela­tions" staffers whose full time job it is to pore over the respons­es to our inces­sant feed­back emails for neg­a­tive reviews.) The response to sex­u­al harass­ment claims varies depend­ing on who is doing the harass­ing and who is respond­ing to the com­plaint: The chefs recent­ly fired a cook for repeat­ed­ly cor­ner­ing a cock­tail wait­ress in the under­ground park­ing lot to ask for dates, but a food run­ner who com­plained last year of being con­stant­ly harassed for sex by an exec­u­tive man­ag­er was sim­ply trans­ferred to anoth­er restau­rant. Nor was there an HR depart­ment at Besh Hos­pi­tal­i­ty Group, the 1,200-employee restau­rant group helmed by Louisiana celebri­ty chef John Besh, until the pub­li­ca­tion last month of an expose in which 25 sep­a­rate women accused the chef of fos­ter­ing a Play­boy Man­sion-esque cor­po­rate cul­ture and forc­ing him­self (and inflict­ing what can only be described as two years of ver­i­ta­ble sex slav­ery) upon a young female sub­or­di­nate. I don't want to make too much of this: ​"Human resources" as a field orig­i­nat­ed pri­mar­i­ly as a union avoid­ance scheme; its prac­ti­tion­ers are inher­ent­ly adver­sar­i­al to the inter­ests of employ­ees. But if noth­ing else, the pres­ence of some­one, any­one, devot­ed to the func­tion can — maybe? — serve as a deter­rent to the worst behav­ior, or a psy­cho­log­i­cal com­fort to some­one who knows she is being mis­treat­ed. A union could help, but you could prob­a­bly fit the num­ber of union­ized non-hotel Amer­i­can restau­rant work­ers inside my restaurant.
With­out any third par­ty nom­i­nal­ly devot­ed to employ­ment law com­pli­ance, boss­es oper­ate with total impuni­ty, as a friend of mine learned when her man­ag­er attacked her in the office when she was work­ing as a night­club bar­tender in her ear­ly twen­ties. ​"He was always known as ​'the grop­er' and it was just kind of this hilar­i­ous joke," she recalls. ​"He had an Asian fetish and that was a joke, too. I worked with him for two or three years and noth­ing hap­pened. Then one night I need­ed cash in the mid­dle of my shift, and I went into the office and he's putting his hand up my skirt. I ran out, and after that he sud­den­ly start­ed act­ing real­ly seri­ous with me. One night in the mid­dle of ser­vice, he called me into the office and showed me a video of me serv­ing a guest, then imme­di­ate­ly serv­ing anoth­er and explained that I had just giv­en a drink away with­out ring­ing it in — which was prob­a­bly because she or some­one in her group had a tab — but any­way, there­fore I was being fired for steal­ing. I didn't even argue. I just felt like I had no voice and would be for­ev­er known as ​'that girl.'"
It's hard to say what exact­ly she means by ​"that girl." Every restau­rant is haunt­ed by a few apoc­ryphal tales of ​"that girl" who slipped on a piece of pas­ta while cut­ting in line for staff meal and suc­cess­ful­ly sued for nine months of worker's comp, or for­got her hair­net the day the health inspec­tor came and shut down the restau­rant dur­ing ser­vice, or had some con­flict with the only prep cook who could prop­er­ly exe­cute the foie gras par­fait — and now we can't eat in the back hallway/​chop veg­eta­bles dur­ing staff meal/​have nice things/​etc. ​"That girl" isn't always a girl — and the sto­ries often have some basis in real­i­ty — but it is gen­er­al­ly some employ­ee whose defin­ing qual­i­ty is incompetence/​disposability. Women who work in restau­rants are expo­nen­tial­ly more like­ly to feel acute­ly dis­pos­able in any giv­en con­text, I think because we so often start in semi-orna­men­tal roles, whether as bare­ly-com­pe­tent serv­er trainees hired for our intan­gi­ble qual­i­ties, or as host­esses hired to stand at the front of the restau­rant and apol­o­gize pro­fuse­ly for the cir­cum­stances that led to all the river­side tables being occu­pied right now.
A par­al­lel, albeit more nuanced imbal­ance exists on the oth­er side of the kitchen doors, where you will nev­er, ever, ever find a woman wash­ing dish­es (typ­i­cal­ly, you will find a Lati­no man in trash bags doing the job) and you will vir­tu­al­ly nev­er find a woman grilling steaks, but you'll find lots of women pol­ish­ing glass­es and arrang­ing edi­ble flow­ers on sal­ads and pip­ing metic­u­lous domes and Her­shey kiss­es and hap­py birth­day mes­sages out of over­sized pas­try bags. Women culi­nary work­ers who ven­ture out­side their assigned ghet­tos are often made to feel sor­ry they tried, via sex­u­al assault and humil­i­a­tion: A chef I know was fired from her first job in fine din­ing after the sous chef she'd thereto­fore con­sid­ered a men­tor shoved his crotch into her hands inside a walk-in refrig­er­a­tor. She told peo­ple the sto­ry; soon after, she was fired over a small infrac­tion — being late for a shift. She believes they feared she'd report the assault and want­ed her gone.
Which brings me to a rare redeem­ing trait of the industry's gen­der dynam­ics: As ram­pant as sex­u­al­ly inap­pro­pri­ate behav­ior is, there is also a severe short­age of pri­vate spaces in which that behav­ior has the oppor­tu­ni­ty to rise to full-fledged assault. (This is not to say assault doesn't find places to hap­pen: An August law­suit detail­ing the ​"rape cul­ture" per­vad­ing the — union­ized! — Plaza Hotel described the coa­t­room as a go-to unsafe space for unin­vit­ed grop­ing, and a Texas jury last year award­ed $7.65 mil­lion to a teenage Chipo­tle employ­ee whose man­ag­er raped her in the bath­room, the back office and by the dump­ster out­side in the park­ing lot.) There are no pri­vate offices and very few hotel suites, and the amount of time in a day the typ­i­cal restau­rant man­ag­er or serv­er or even dish­wash­er or coat check girl can plau­si­bly spend away from the kitchen or the floor is mea­sured in min­utes. Most impor­tant­ly, the indus­try itself is frag­ment­ed and dis­persed, its ulti­mate prod­uct hope­less­ly chained to an old-fash­ioned dis­tri­b­u­tion sys­tem that relies on vast armies of human labor­ers, not an exclu­sive clique of ​"It Girl" star­lets. There are thou­sands of chefs and restau­rants with Miche­lin stars and James Beard awards and cook­books and real­i­ty tele­vi­sion appear­ances, and none of them can even begin to approach, even on a region­al lev­el, the influ­ence or reach Har­vey Wein­stein exert­ed in Hol­ly­wood. That might be the biggest rea­son I don't know any­one who has been seri­ous­ly long-term trau­ma­tized by restau­rant indus­try sleaze­bag­gery the way cer­tain jour­nal­ist and media friends have been left utter­ly dev­as­tat­ed by their rela­tion­ships with var­i­ous ​"pred­i­tors" — no one per­son, in restau­rants, can destroy your liveli­hood or ren­der you long-term unemployable.
And yet over the long term I think all the women I know intend to lose the war of attri­tion with this indus­try. ROC Unit­ed found that a third of women who had quit the restau­rant indus­try after work­ing in tipped posi­tions did so because of unwant­ed sex­u­al behav­ior. The dimin­ish­ing finan­cial returns are no longer worth the accu­mu­lat­ed microag­gres­sions — and it gets to the point where every friend­ly high-five between male col­leagues in the line for staff meal feels like a tiny ulcer. I have been wait­ing tables for longer than I ever intend­ed, and since grad­u­at­ing from the prime sex­u­al harass­ment demo­graph­ic, the rare lech­er­ous remark is almost flat­ter­ing. I look young enough that I should have a good five to sev­en years left before I find myself mys­te­ri­ous­ly demot­ed or tak­en off the sched­ule (the fate that tends to befall mid­dle aged servers at Dar­d­en-owned Sea­sons 52, whose age dis­crim­i­na­tion case goes to tri­al this month.) But I still don't make near­ly as much mon­ey as male col­leagues who reg­u­lar­ly make stu­pid mis­takes and get neg­a­tive guest feed­back and come to work vicious­ly hun­gover — and nei­ther do any of the female servers (save the one hyper­com­pet­i­tive twen­tysome­thing wun­derkind who through sheer force of sin­gle­mind­ed per­fec­tion and dogged syco­phancy gets as many VIP tables as the mediocre bro types.) Accord­ing to ROC Unit­ed, full-time female servers make 68 cents for every dol­lar earned by their male counterparts.
But the most dam­ag­ing lega­cy of our profession's insti­tu­tion­al sex­u­al harass­ment may be the last­ing per­cep­tion that what­ev­er we have achieved in the indus­try we owe to the fact that some­one, at some point, just want­ed to get in our pants.
The author works as a serv­er in a restau­rant.
Ursu­la Buf­fay
is a pseudonym.